Are you looking for the best air cooler? Best air cooler for bedroom or dehumidifier? Give yourself a treat by purchasing one of the best air coolers. Do you want to know which Air Cooler is ideal to purchase in 2021? During the hot season in the summer, all you can think about is how to keep your house cool. Normal air conditioners are inefficient and waste a lot of energy. Otherwise, there is also the best electric radiator for the heating systems during the winter season. 
It's ideal for use at home, at work, or in your car. Warm summer days amid the harsh cold season is a wonderful idea, but those summer days also bring sticky humid air and sleepless nights. You will need an appliance to bring the temperature down.  Air coolers are a great way to keep cool. They're simple to set up, operate, and are light and portable enough to transfer from one room to another. Pour in some water and sit back to enjoy the cold, damp air.
Air coolers are becoming more popular, as they provide a type of middle ground between a costly and bulky air conditioner and a regular fan. They can't cool the air like an air conditioner, but they can cool it down with a combination of airflow and evaporation, effectively utilizing part of the thermal energy in the air to evaporate water and lower the temperature before it's forced out by a fan.
These machines won't cool your home as effectively as an air conditioner, but they can provide a colder blast of air than a standard fan, especially when utilized close to the source. And if it's really hot outside and you don't want to spend a fortune, you could find that's enough.
Igenix IG9703 Air Cooler – Best for Portable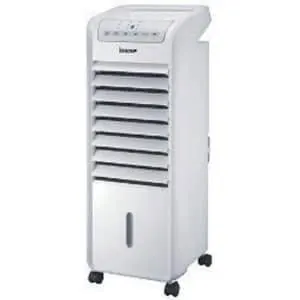 Pros
It has three wind modes that allow you to change the temperature according to your comfort level

There are castor wheels attached at the bottom to shift the air cooler whenever you want

It has a 6-litre removable water tank
Cons
It only comes with a 7-hour timer setting. 
With summer approaching, you should purchase your air conditioner as soon as possible to avoid a last-minute rush. And when it comes to air coolers, the Igenix Portable Air Cooler is hard to beat. With three fan settings, a replaceable water tank, humidification and oscillation functions, and large carry handles for portability, this is one of the most advanced air coolers of its day.
Most significantly, this air cooler is more environmentally friendly than standard air conditioners and costs a fraction of the price of the more expensive air conditioners available.
Air Cooler Features
Quick Cooling Function
The Igenix Air cooler has an ice cooling chamber that quickly distributes cold air around your area. It can chill a 15m2 area or a small room in a matter of minutes.
Multiple Fan Settings
The air temperature can be adjusted using three fan settings: low, medium, and high. This portable air cooler also includes a remote control so you can adjust the fan settings from the comfort of your bed or couch.
Humidifying Function
The air cooler features a humidifying function that distributes cold air around your room by using cold water vapor from its water tank. It takes in hot air from your room and replaces it with cool.
Small and medium-sized rooms will benefit from the Igenix Portable Air Cooler. If you move houses often, this portable air cooler is a good choice. It won't break the bank.
Honeywell Air cooler: Best for a Chilling Breeze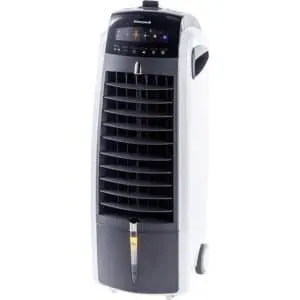 Pros
It has one of the largest water tanks among the portable variants. Its 30-litre water tank continues to provide cold air for hours without requiring refills.

The energy-efficiency of this air cooler allows you to save on electric bills every month. 

It can cool down significantly bigger rooms quickly. The unit can deliver as much as 800m3 per hour airflow, which is enough for medium and big-sized rooms.
Cons
It is an expensive variant compared to other models.
Honeywell's air cooler seems to have more power than your average model, capable of moving 350m3/h of air per hour now at highest settings, and with oscillation turned on, it will gladly cool a sofa or small living room full of hot and grumpy souls. The 10-litre tank ensures it may last a day without needing to be refilled, though you'll still need to clean it on a regular basis to avoid a vile bacterial odor. Honeywell also recommends running the cooler for 15 minutes after use without the cool function switched on to allow the filter block to dry out.
The air cooler is simple to operate, and Honeywell gets bonus points for including a remote control, even if it's a flimsy credit card-style attempt. It's also quiet on lower settings, at roughly 37dBA, though we'd still recommend a nice pedestal or desktop fan with a night-time mode for sleeping, as these may be even quieter. Even then, there are occasions when a fan won't suffice and you'll need a bit more chilling power, and that's when this hefty cooler comes into its own.
Air Cooler Features
Low Power Consumption
It simply needs 120 Watts to function at its best. This energy-efficient cooler can cool even larger rooms in a matter of minutes, up to 262 meters.
Multiple Speed Options
To increase or reduce the temperature of the air cooler, you can choose between low, medium, and high fan speeds.
Quick Cooling System
This air cooler replaces warm and humid air with cold air by using a honeycomb cooling medium. The mesh filters have vibrating louvres that quickly distribute the chilly air around the space.
The Honeywell Evaporative Air Cooler
It's not your typical portable air cooler. It has a powerful airflow that is practically identical to that of an air conditioner. If you don't want to spend a lot of money on an air conditioner but yet want to be comfortable, this is the way to go.
Black + Decker Personal USB Mini: Best Air Cooler for Budget Option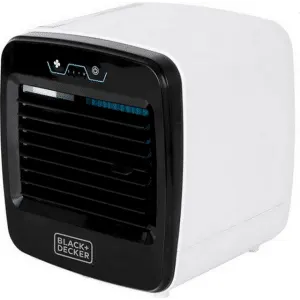 Pros
Budget-option
Portable
Combat the heat
You may want to decrease your expectations,  this air chiller is surprisingly effective. Fill the side-mounted tank with water and place one of the bundled ice packs underneath the honeycomb block that absorbs the water to get a lovely, icy breeze, especially on the medium and high-speed settings. The fan is loud, with an unpleasant whine at higher speeds, but that's to be expected when you're trying to combat the heat.
The minor drawback is that changing the water is difficult, and changing the ice packs may be even more challenging because you must remove the honeycomb block to get them in and out. You'll also have to wait up to 30 minutes for the honeycomb block to moisten before using it. There are no major drawbacks, and it may be powered by a USB port on a PC or laptop, or a spare USB charger if you have one on hand. However, we were unable to get it to function with a USB power bank.
Benross Portable Air Cooler – Best for Investment Piece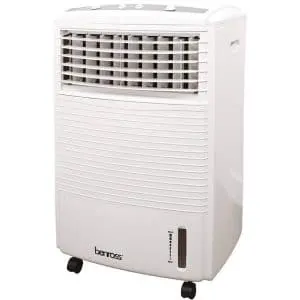 Pros
Wheels make it easy to move the cooler around to where it is most needed

Keeps small spaces like your conservatory or a child's nursery cool in warmer weather

Safe for use around small children and pets
Cons
Cleaning the tank requires the base to be removed 
Benross' 60W Portable Air Cooler and Humidifier is meant to cool down a room and make you feel more comfortable in hotter climates. The Air Cooler is ideal for use in both the home and the business, especially during the summer season. 
This unit can be left in the corner to cool your living room, bedroom, etc., with a 4-hour air delivery and a 7-litre condensation capacity. The base of this air cooler has four caster wheels for easy storage or moving from room to room for daily use.
The Portable Home Air Cooler is a good option if you need a portable air cooler to cool down a small personal space like an office, living room, or bedroom. This highly efficient space and energy-saving air chiller is excellent for household usage due to its small size.
Air Cooler Features
Innovative Design
This high-end air cooler features wide-angle louvres that maximize the volume of cool air blasted into the space.
Energy-Saving Efficiency
This user-friendly device brings with it a number of energy-saving functions, including speed control, a convenient timer, as well as an oscillation function for controlling air rotation. All of these functions work together to provide an effective approach to chill the air in a space at your preferred temperature and speed.
Easy to Use
The unit may be controlled with the provided remote control or by using the face buttons to set the speed and direction.
Complements Your Home Style
The compact home air cooler in fresh white has a sleek monochromatic style that will go with any décor.
Portable and light-weight
The compact weight of the device makes it easy to transport a place in your home, including upstairs. The air cooler performs best when it is placed near an open window, where it can produce a refreshing breeze.
Beldray Air Cooler – Best for Value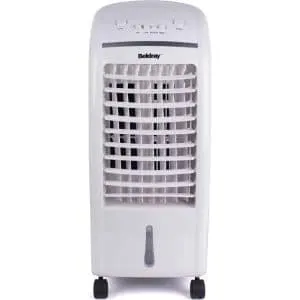 Pros:
You can use this air cooler anywhere you want to since it is highly portable. It can also be used with a USB so you can plug it into your laptop or a power bank anywhere there isn't an electrical outlet.

7 optional colour lights which you can use or turn off

The air cooler is relatively small which means that it can fit almost anywhere
Cons:
This Beldray model has enough power to cool a small room, or you can place it in front of the sofa, set on the oscillation, and enjoy a pleasant breeze. There are three speed levels, and even at the lowest, the airflow is evident. You'll surely feel the chill if you turn it all the way up. Furthermore, this cooler is really easy to use. The two bundled ice packs fit nicely in the bottom of the tank, and you may fill it from the top or straight from the slide-out tank.
When it's operating at full speed, it may be quite noisy, and you'll need to empty and refill the tank on a daily basis if you really want to avoid any foul smells. Basically, this is a superb cooler for the money, even beating out some of our most highly rated pedestal fans in a poll of too-hot testers.
The Beldray Ice Cube Air Cooler can help you chill down throughout the summer months. This air cooler can be placed on your bedside table or even your business desk. This air cooler will assist you in controlling the heat and ensuring that you are more comfortable during the day and night.
Air Cooler Features
Excellent User Control
The direction of airflow, particularly the vertical air flow direction, can be controlled. As a consequence, you'll be able to obtain cool air right wherever you want it.
Large Water Storage Tanks
This air cooler can be used both with and without water. Nonetheless, if you want the most effective cooling, you should combine it with water. The unit comes with two 300ml water tanks, which should be filled with cold water for even better cooling.
3 Different Speeds
There are three air flow speed options to choose from: a gentle breeze on level 1, medium coldness on level 2, and a strong cold breeze on level 3. There's also an LED that indicates which setting the air cooler is on.
Replaceable Filter
It's simple to take off the filter and clean it. You can buy a replacement filter if your current one stops operating properly.
Evapolar evaCHILL  – Best Known Multifunctional Air Cooler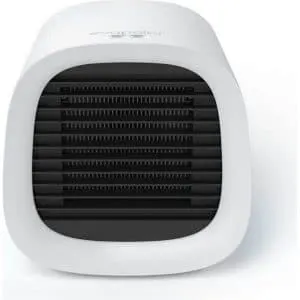 Pros
It has 3 in one functionality

It has a compact design and you can easily move it from one place to another

The leakage proof design and non-organic material construction make it safe to use

Water tank is big enough to allow continuous working time of up to 9 hours
Cons
Some people might find the price a bit prohibitive as it is essentially a personal air cooler
Even though it costs twice as much as most other air coolers, the evaCHILL makes the extra cost seem reasonable. It's a small rocket, with more power than most competitors, and the cooling system, which is built on Evapolar's own basalt-based filters, stays sterile over time, so you won't get the bacteria buildup – and unpleasant odors – that other desktop models acquire if you don't clean them daily. It can last up to nine hours on a single tank of water.
Other positive features include an easy-to-fill water tank that can be filled from the top and simple one-button controls that allow you to cycle through the speeds by simply tapping. It's also quieter than competitors, and can be powered by a USB port or a 5V, 2A USB power bank. It won't cool more than one person at this size, but if you're trying to lessen the heat levels at your desk or in your home office, this cooler will do the trick.
Are you looking for an energy-saving personal air cooler? The Evapolar evaCHILL Air Cooler is a multifunctional portable air cooler with a built-in filter mesh that removes dust particles from the air. This compact air cooler is meant to cool a small personal space in front of the appliance and can run for up to 9 hours constantly.
Air Cooler Features
Compact Design
It has a small footprint, measuring 16.5 x 16.5 x 16.5 cm and weighing only 912 g. It has a handle on the top, so you can easily raise it and move it around whenever you like.
Designed for Personal Use
It's a well-designed product that can chill a 45-square-foot personal space, so you can put it on your desk, in front of your couch, or in your bed. It has a large water tank that can keep the temperature down for up to 9 hours, so you won't have to get up in the middle of the night to replenish it. You won't have to worry about water spilling from the unit if you store it on your desk because it's leak-proof.
Made from Non-Organic Materials
It's called Eva Breeze and it's constructed of non-organic components. It doesn't contain any organic chemicals, so you don't have to be concerned about hazardous bacteria developing within.
3 in One Function
It combines the functions of a fan, air chiller, and air cleaner. You can use it as a personal fan or turn on the water to enjoy the humidified air that will keep you cool during the summer season.
InnovaGoods O·Cool Ionizing Evaporative Air Cooler – Best for Aesthetic Design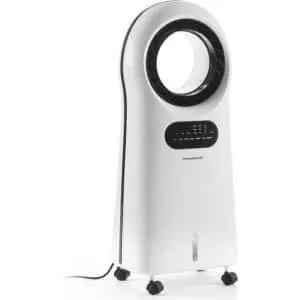 Pros
Made of ABS and PP

Timer (up to 8 h)

3 modes of use: continuous air, natural and night

Tank capacity: 4, 5 l

Remote Control (Battery Controller
Bladeless, Evaporative Air Conditioner with LED OCool InnovaGoods 90W House Climate is one of the latest items available from InnovaGoods for your home. Explore a diverse choice of high-quality products that stand out for their utility, efficiency, and unique design, including lighting, storage, decoration, air conditioning, gardening, pets, and cleaning.
A portable evaporative ionizing air conditioner with four functions to refresh and purify your surroundings: ionizer, ventilator, chiller, and humidifier. This humidifier-ionizing purifier's function is always on, attracting dirt in the air and releasing clean air. The airflow is gently and constantly amplified by its innovative bladeless design. Cleaning is easier with its new aerodynamic technology, which also helps to reduce noise and dangers, making it quieter and safer to use.
A 360º  air diffuser, touch control panel, remote control, timer, three speed settings, and three ventilation modes: regular, natural, and night are all included. It also contains a six-color LED light that adds a modern, sophisticated touch to the design while also creating a more calm and pleasant ambiance. The internal tank has a 3 liter capacity and, like the filter, can be removed for simple cleaning. It also comes with cool packs, which are two removable ice tanks that can be used to boost the cooling effect if needed. The four wheels make it simple to transfer from one room to another in the house, business, or elsewhere. It has a range of approximately 20 m2, a power of 90 W, and is low energy, thus it saves energy.
What is an Air Cooler?
An air cooler is a cheap appliance that is also called a desert cooler, evaporative cooler, swamp box, swamp cooler, or wet air cooler. It is especially beneficial in arid places since it adds moisture to the air.
An air cooler consists of a fan that sucks heated air in and is surrounded by cooling pads on all sides. These pads are additionally moistened by a pump. The air cools as it passes through the moistened pads, and the fan blows that cool, moisture-laden air into the room to reduce the temperature to a comfortable level.
Why is the Best Air Cooler So Popular?
First and importantly, unlike traditional air conditioners, they do not require any installation. They are, after all, movable. You can carry an Air Cooler around with you, put it in any room that requires chilling, take it in the car with you, and even carry it in your bag while traveling.
Moreover, if you have a small room or a large house with many rooms that you don't utilize half of, or your summers are too short to invest in an air conditioner. In comparison to typical air conditioning units, Air Coolers are less expensive and will save you a lot of money on your electricity costs.
How Does the Best Air Cooler Work?
An air cooler operates on the principle of evaporative cooling, which cools the air through the process of evaporation. The warm air from outside is drawn in by a strong fan. This unit also includes a water tank and a water pump. These cooling pads are moistened by this pump, which draws water from the tank. Warm air runs over these water-filled cooling pads, which cools the air down through the evaporation process.
To guarantee that an air cooler works well, it must have well-saturated cooling pads.
What Are the Important Things to Look for in an Air Cooler?
There are two types of air coolers. The larger ones resemble dehumidifiers or small portable air conditioners, and are designed to chill one or more persons at a distance of a few meters. The smaller models are cubes designed for use on a desk or coffee table, and are commonly powered by USB. They are intended to be used as personal coolers.
Both work in a similar manner, with air being blown through an absorbent pad or membrane structure by a fan. As the water on the pad or membrane evaporates, the air around it cools, and the fan blows this cooler air outwards into the room. Many coolers can accommodate one or more freezer ice blocks inside to chill the water for further cooling power.
While part of the water is recirculated, some will unavoidably escape the cooler and end up in the air blasted out by the fan. For this, as well as the fact that the water in the absorbent pad or membrane might become stale, you must maintain the air cooler full and the water in the tank changed on a daily basis. You should really wash the pad or membrane on a regular basis to avoid unpleasant odors.
When looking for an air cooler, you'll see that there are hundreds of models available, each with its own set of features. To get the best value for your money, you should compare these qualities. Here is a list of some of the most significant things to consider when selecting an air cooler that is ideal for your specific requirements.
Portability
All air coolers are, in general, portable. Several of the units are even small enough to fit on a shelf or on your desk. Even though air coolers are larger in size, they normally come with attached castor wheels to make moving them from one room to another a breeze. People frequently purchase multiple air coolers for different rooms since they are less expensive than portable air conditioners.
Remote Control
You may easily run your air cooler with the help of a remote control. Then, you can use a remote control to modify the fan's speed and set a timer, among other things. Lastly, you can also modify the swing setting on some models.
Design
In terms of design, you should look for an air cooler that allows you to conveniently fill and clean the water tank. It should include a variety of speed options. Then, it should be lightweight and equipped with castor wheels so that you may move it around your house with ease.
Multifunctional
Some air cooler models on the market come with a variety of additional features, such as an inbuilt air purifier, humidifier, or dehumidifier.
Humidifier
An air cooler operates on the principle of evaporative cooling, which means that the air passing through the cooling pads is automatically moistened. Some models allow you to control the level of humidification, which helps to improve the cooling impact. This feature allows you to have more control over your room's humidity levels.
Air Purifier
Some models additionally include a built-in air purifier. However, do not expect these units to perform as well as standalone air purifiers. Air coolers and air purifiers do not mix well since air coolers require appropriate airflow while air purifiers work best in an enclosed room.
The timer is an important function because it allows you to turn the unit on and off at predetermined intervals. It's a great feature because you don't have to reach for the remote or the unit to turn it on or off.
Water Tank Sizes
Air coolers utilize a lot of water to cool the air, hence these gadgets use a lot of water. If you want to use the air cooler for more than a few hours each day, you should choose one with a larger water tank. A smaller water tank will necessitate frequent refilling. Thankfully, replenishing is usually simple in current designs, so pouring in water isn't a chore.
Energy Efficiency
Air coolers include a fan and a water pump, so they don't use a lot of energy to operate. The majority of models on the market now use less than a fifth of the energy that an air conditioner does.
Noise Levels
When compared to an air conditioner, air coolers are designed to be quieter. Some types, on the other hand, generate some noise and have various speed settings, including a night mode.
Best Air Cooler: Get One Now
A portable air cooler is a great way to combat the heat this summer. It's ideal for usage at home or in the workplace. You don't have to rely on your landlord or neighbors to allow you to install bulky equipment, and you can build a more pleasant environment to work or sleep in.
During the hot summer months, when humidity levels are low, an air cooler is designed to be employed. These units provide cost-effective, energy-efficient cooling. In addition to the above-mentioned advantages, you should consider the company's warranty, the number of fan speeds, the maximum runtime per filling, and other added features when purchasing an air cooler to obtain the best value for your money.
These appliances are energy-efficient and, in most cases, lightweight and compact enough to move from one room to another with ease. The most significant advantage of air coolers is that they help humidify the environment. These are easy to set up and use. To experience cold wet air, simply pour some water into the water tank and turn it on. These devices have the ability to quickly lower the temperature in a room. These also add some much-needed moisture to the air, all while burning very little energy.