Our depth review will help you in selecting the best all-season tyres in 2021-2022. Tyres are the only contact point between you and the road. Many automobiles have summer tyres, but they don't operate well when the temperature drops and the roads become slippery.
A dedicated set of winter tyres can purchase. However, they can be costly, and storing and changing the tyres to fit the season can be problematic. Replace your tyres with all-season tyres as another great option. It is designed to work in the majority of the conditions and temperatures you're likely to face on the road. Giving you peace of mind that your tyres can handle any weather, no matter how severe. Their grip patterns and rubber materials are made to disperse water. It gives grip on both road and snow surfaces.
Continue reading to find out the best all season tyres. 
Continental All Season Contact tyre – Best Overall All Season Tyres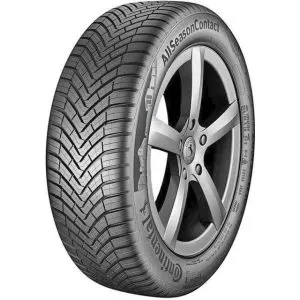 Continental has been producing all-season tyres for a brief time. However, this success follows a string of great results in recent years.
Although the AllSeasonContact places a greater emphasis on dry and wet grip than many of its competitors. It nevertheless dominates in snow tests. On the white stuff, no other competitor could come close to matching its results by even 2%. The excellence of this tyre is evident even from the driver's seat. Also, it provides excellent handling balance and large reserves of grip and traction.
In the wet, rivals Hankook and Goodyear outperformed the Continental, with the Hankook outperforming the Continental significantly in the curved aquaplaning test. The Continental, on the other hand, performed admirably on the wet handling track, with excellent stability and grip as lock applies.
Our overall winner struggled with dry braking, but a high economy score propelled the AllSeasonContact to the top of the podium.
Goodyear Vector 4Seasons Gen-3 – Best All Season Tyres for Driver's Choice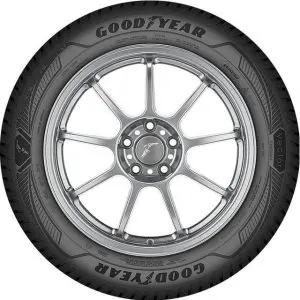 On our test results, the Vector 4Seasons came in the second position, barely ahead of the Hankook. Some drivers may choose the Korean tyre if they aren't concerned with driving in cold temperatures. They almost want maximum braking power in dry and wet circumstances. Nonetheless, the Goodyear worked admirably in both shallow and deep surface water, despite not being nearly as good as the Hankook.
The Vector 4Seasons performed better in the snow than the Hankook. With a second-place overall in fuel efficiency, Goodyear's newest all-weather tyre capped off a great performance.
Hankook Kinergy 4S2 – Best All Season Tyres for Investment Piece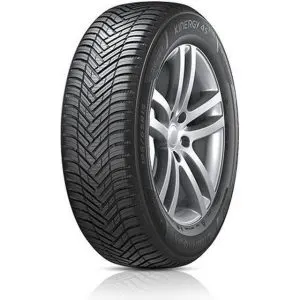 The Kinergy 4S2 is one of the best choices if you're frequently faced with snowy road conditions. However, it's a winner for drivers who want to perform well on both wet and dry roads. Moreover, it has been a strong contender for the top spots.
In the wet tests, the Kinergy outperformed everyone, and it was especially remarkable in the aquaplaning tests when it took two outright victories. It also performed well in the wet circle test, giving decent traction and quick reflexes, but struggled in the snow.
The Hankook tyre also impressed us under braking, coming in third in the dry and triggering the ABS less frequently than the competition. However,  its rolling resistance scores impacted efficiency, therefore we placed it under the runner-up medal.
Michelin CrossClimate+ – Best All Season Tyres for Great Performance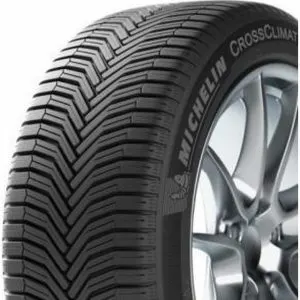 Michelin has purposefully targeted the more normal combination of dry and wet driving conditions seen in the UK with this tyre. It has paid less attention to ice and snow performance.
Despite this, the CrossClimate+ performed admirably in the snow, proving that this is a summer tyre with winter capability. In fact, in our snow tests, the tyre tied for third place with the Goodyear Vector 4Seasons.
This Michelin did okay in wet handling tests like any other best all season tyres out there.  The CrossClimate+'s resistance to aquaplaning was stronger in deep water, and the dry handling component to this year's test may have ended a 4th spot in our thorough review.
Cooper Discoverer All Season Tyres – Best for Budget Option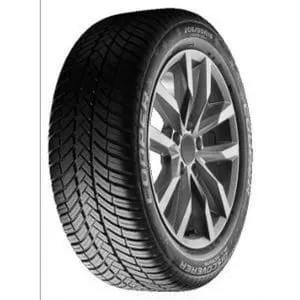 With this tyre, Cooper joined the all-season pack this year, and there's little to distinguish it from its rival, the Vredestein Quatrac Pro.
The Cooper Discoverer took first place in the cabin noise test and placed second and third in the deepwater aquaplane competition. Nevertheless, it couldn't match this performance in shallow aquaplane conditions, where it finished last, the Discoverer's final position in all of the wet tests.
On the track, this will reflect a noticeably lower level of grip than its competitors, despite the fact that the tyre felt well balanced. Braking in the snow was a relative highlight, earning it a podium position, but once again, good handling was hampered by low traction limits.
Vredestein Quatrac Pro – Best All Season Tyres for Consistency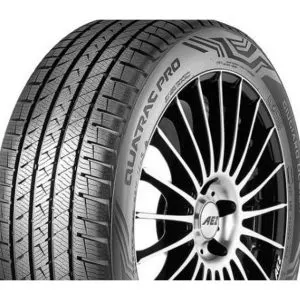 Vredestein has been the king of the all-season tyre category, but we've only just put it in our tests again. The Quatrac Pro is designed for performance drivers. Also, its asymmetric tread indicates a concentration on grip in wet weather. So we're not able to do a dry handling test this year, the Quatrac Pro's overall score may have suffered as a result.
Its performance in the snow was the same as before. However, due to high competency with other rivals,  the test-topper Continental's outperformed everyone. However, it doesn't mean being outperformed by a rival, its consistency is on fire.   Behind the wheel, you could immediately sense how still great the tyres are.
The wet performance was even better, with a victory in the circle test and close to the top braking scores. However, it betters every day if the fuel economy aided in securing the final spot in our test.
Bridgestone Turanza T005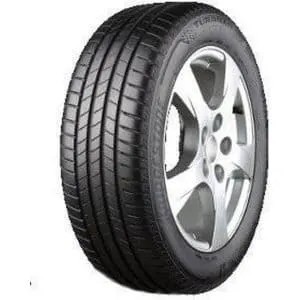 When evaluating the T005, it's difficult to ignore its excellent fuel efficiency. It helps by the fact that it was classified W rather than Y, implying that it was more than a kilo lighter than most of its competitors.
The T005's weight advantage, roughly 750g less than the next lightest, undoubtedly aided the rolling resistance result, but this performance cannot easily be explained away by a different specification, given the T005 has previously topped the test by a significant margin.
A 4% fuel economy gain over the next best is impressive and will appeal to some drivers, but the T005 shows that the performance trade-off for decent fuel economy is a wet grip. It took seven meters more than the winning Hankook and five more than the next best to come to a halt. It was also doing nearly 23 mph when the best had come to a halt, which is a cause for concern.
The T005 proved stable with a secure rear around the handling track, albeit grip deteriorated noticeably as the lock increased. In the dry, it felt more comfortable, with a strong grip on the power and a good line hold, albeit it wasn't quite as crisp as the Conti or Goodyear.
How do we test all the 7 Best All Season Tyres?
We put these tyres through their paces in snowy, wet, and dry situations, measuring rolling resistance and noise levels. The tyres used in the test were all the same size, which is a standard size for family cars. Different-sized tyres will perform similarly, even if they don't match your car's wheels. The testing was carried out by employees wherever practicable.
Snow, rain, and summer days 
In addition to braking, cornering, and accelerating in the snow, good all-season tyres will handle more than a little slush. We put our tyres through similar tests to determine how they handled wet weather. Also, we created a scenario in which tyres could aquaplane in order to see how likely they were to lose traction. Then, we repeated each test numerous times to acquire an average result, just as we did with the snow and dry weather testing.
Cabin noise and rolling resistance
Cabin noise may not be the first issue that comes to mind when purchasing a tyre, but you'll quickly notice noisy ones, which may be rather bothersome. We slowed down from 50 mph on concrete paving and two different tarmac surfaces to see how much noise you'd hear inside. To acquire an average score, we ran the method twice on each surface.
The amount of force resisting the motion of travel is known as rolling resistance, and it has an impact on your car's fuel economy. Cheaper tyres may be appealing, but because they have a higher rolling resistance, you may end up paying slightly more at the pump.

What are the Factors to Look for in All Season tyres?
Keep a few things in mind when purchasing the best all season tires, such as tire size, safety rating, pricing, and other factors. You can shop for all-season tires for your car once you have a general idea of what you want. There are a few things to consider before deciding whether or not all-season tyres are right for you:
Tyre size
The size of tire you require is the first consideration when purchasing a set of tires. The tire size of your vehicle can vary depending on the vehicle. A smaller compact automobile needs a smaller tire than a larger SUV or pickup truck. Make sure to think about the breadth of the tire you'll need.
Most manufacturers advise against buying tires that are smaller than the ones that came with your car. If you wish to upgrade to a different-sized tire, make sure you talk to a professional mechanic first.
Think about tire safety.
Another factor to consider when buying all-season tires is tire safety. To get tire safety ratings, go to sites like safecar.gov and TireRack.com, where you can look up the ratings for a variety of tire brands. You can also look for reviews based on tire brands or major tire dealers on review sites like Tire-Reviews-Online.com.
Costs – Best All Season Tyres
Determine the money you want to spend on all-season tires. Keep in mind that the higher a tire's speed and performance rating, the more money it will cost you. All-season tires are typically more expensive than conventional summer tires due to their increased durability.
Style and ride quality
While the type of vehicle determines the size of your tires, wheels and tires come in a range of styles and patterns. This allows you to customize the appearance of your automobile. There is a tire package for everyone, whether you want a rugged, sporty, classic, modern, or beautiful look. It's crucial to keep in mind that the performance of different tire styles varies.
Low-profile tires, for example, have a sporty appearance and improved handling, but are more prone to damage, produce a rougher ride, have a shorter tread life, and are typically more expensive. It's vital to strike the best balance between appearance and performance. The Tire Pros will continue to provide articles and reviews on a variety of tire brands and types.
Other Tyre Important Factors
While tire size, safety, and cost are the most significant variables to consider when choosing an all-season tire, there are a few more things to consider as well.  Keep the following crucial things in mind:
Traction ratings: These rates the tire's ability to grip the road's surface. The traction ratings are A, AA, B, or C, with A or AA being the best rating.

Tread patterns: For high grip and the capacity to transfer water away from the tire surface in wet weather, look for open treads with a narrower tread.

Mileage: When purchasing tires, search for those that have a high mileage guarantee. If you reside in an area where winter temperatures are mild and you don't drive long distances frequently, it's usually best to stick with all-season tyres.
Regardless of the state of your tread, most car manufacturers recommend replacing your tires six years after they were manufactured. You may be able to keep a pair of tires on your vehicle for up to ten years if you're lucky, but you should check the tread on a regular basis to ensure it is not worn or damaged.
Is it Worth Purchasing the Best All Season tyres? What are its advantages?
All-season tyres may be used all year and don't have to be replaced every six months when the seasons change, which saves money. They're a compromise because they'll never match the performance of winter tyres in the winter or summer tyres in the summer. They are, nonetheless, definitely worth considering.
The popularity of all-season tires has grown because of several causes. One of the most crucial is climate change that is progressing. Winters have been substantially milder in recent years than they were in the previous century or even at the turn of the millennium. Rain and mild frost are more common in December than snow and freezing temperatures, especially during the day. As a consequence, an increasing number of individuals are questioning whether it is worthwhile to get all-season tires, as their efficacy in mild winter conditions outperforms even professional winter tires.
This sort of tire is named universal for a reason, as you can see in the illustration above. All-season tires are equipped to handle any situation. Summer and winter models are successfully replaced. They can be utilized at any time of year. Their utility is obvious, particularly at this time of year when daily temperatures can range from a few to several degrees Celsius. In such instances, regular tires can only be used during particular times of the day. As a result, universal tires are more secure. And that's why the pursuit of the "golden mean" is so fascinating.
When it comes to money, it's tough to overlook the substantial savings that all-season tires provide. Naturally, the cost of purchasing a unit is higher than for seasonal versions. And that's not all the money you'll save with universal tires.
Who is the Most Likely to Benefit from All Season tyres?
As you'll see, all season tyres are always the best option. Vehicle owners who travel tens of kilometers every day should think about their purchases carefully. All-season tires are thought to have a profit limit of 10,000 kilometers per year. Tires that cost more than this quickly wear out, necessitating the purchase of a new pair — or even two. As a result, cost savings are inevitable.
These are primarily little passenger cars that aren't utilized for work and solely travel in metropolitan areas. Standard seasonal tires will be more beneficial to company vehicles for interstate routes and trucks. The all-season tyres become a very good choice the less often you sit behind the wheel, and the scheduled journeys are in the vast majority of cases within one city.