Many are fond of cleaning that is considered a hobby, where they can release all their stresses. Before that, have you thought about getting a cordless vacuum in order to make your work easy and fast?
Vacuuming is a never-ending task at home that's made quite burdensome and irritating by just not-so-good equipment like such a cord that's really caught, It is a heavy device that weighs as much as a toddler or a bothersome bag you're constantly having to change. Be doing yourself a favor and start vacuuming a little easier with a cordless vacuum. 
Cordless vacuums can be easier to handle, store, and transport. However, there are a lot of significant features you need to remember when finding the right one. Adding the first off-brand vacuum you see online is not the way to go. You'll also want to know bin size, charging time, battery life, surface capability, price, attachments, weight, brand reliability, and more. Before buying a new one, make sure that you have the knowledge of the components, materials, and what are features they offer as well as knowing their capabilities when using it at home. 
When reviewing and testing, we considered each of these factors, and also customer reviews. We discovered these price-value cordless options that will be discussed below.
Cordless Vacuum vs Hand Vacuum 
In many instances, the only distinction between a cordless vacuum and a hand vacuum is the long extension of the cordless vacuum, which enables the brush head to touch the bottom. Even if rare, some two-in-one versions come with a handheld vacuum that can be removed. You can also use it for cleaning without floor extension—a great perk when cleaning furniture or staircases.
Dyson V11 Torque Drive – Best Cordless Vacuum for Convenience and Great on Rugs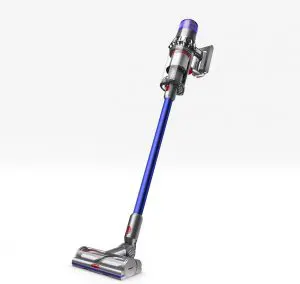 Pros
LCD Control Panel 

Respectable Run Times 

Powerful

Maneuverable

Carpet Cleaning 

Bare Floor Cleaning

 AUTO Power Mode

Quiet 

High-Quality Filtration

Easy Maintenance
Cons
Heavy

Long Recharge Time

 Non-Swappable Battery
This cordless vacuum does have two main factors that distinguish it apart from the other cordless vacuum cleaner out there. An LCD screen on the back as well as an automatic suction adjustment. The LCD screen allows you to know how much battery life you've left. This feature guarantees that you will never be caught short while vacuuming between the sofas. 
This vacuum's self-adjusting suction functionality is indeed a bit more nuanced. When cleaning, it reduces or increases the amount of suction depending on the type of ground surface you clean. This enhances the battery life as well as helps keep Dyson from damaging your floors. 
This vacuum is a stick vacuum with basics. Our tests show that this cordless vacuum picked up over 95 percent of the dirt we placed in. We were also impressed by the large debris tests: there are a lot of vacuums that were just plowing crumbs from one side of the room to another. While this one had specialized gaps from its brush head to help guarantee more pickup.
Vacuum Power 
This is one of the major selling points of the Dyson Brand – is the V11 Torque Drive's ability to smartly optimize suction as well as its running time through all the types of floors. Constantly, we were impressed by this vacuum's ability to move back and forth from rug to hardwood without waiting for the vacuum to readjust. That being said, we still believed the need to sweep hardwood floors, though because of the impossible cracks and the crevices the cleaner head could not reach. 
When the first vacuum test ran on the area carpets and rugs, the storage bin seemed to be completely full. It making us believe that the Dyson was far more efficient in collecting dirt, dust, and hair than the standard one.
Best Cordless Vacuum Drive Attachments 
This vacuum comes with 6 attachments: a high torque cleaner head, a mini motorized tool, a combination tool, a crevice tool, a sturdy dirt brush, as well as a mini soft dust brush. We've got heaps of use out of the crevice tool and the mini soft dust brush. The crevice tool has been good for taking into hard-to-reach particles around the house, whereas the mini soft dust brush cut the time it would take to dust our condo by half. To switch out the attachments, all we would have to do is hold down the red button on the attachment and drag it out of the vacuum—very simple.
Pet Hair 
The vacuum cleaner did a great job of reducing the number of pet hair droppings, as well as debris from around the house.  It did take a little more trial and error to choose the appropriate tool for every task. Firstly, we were using a combination tool with diagonal-cut bristles that push back to show the suction head. We discovered that even when it came to getting pet hair off of the couch, it worked out pretty well, but it wasn't perfect at all. 
We had much more prosperity with the mini motorized tool, which operates as a mini version of the high torque cleaner head. This attachment was especially efficient at reaching into those angles on couches and chairs. We suggest getting advantage of all the many included attachments to assess which one works the best for each cleaning task.
Cost 
This vacuum is a big-ticket cleaning component — but all those familiar with Dyson know that the brand's good performance reflects the cost. Whereas the investment may be large, we think that it is worth considering how easy and efficient it can be to clean our floors. 
Every single piece and attachment of this vacuum feels firmly developed, and as long as you're in the habit of taking care of your stuff. It will last for years, if not more so than a decade. Dyson also develops its product lines to be repaired, not to be replaced, and even provides service centers in the majority of major cities.
Overall
Best Cordless Vacuum R
eview
It is indeed important to remember how simple it is to use this vacuum. The lightweight, cordless design has made it much easier for us all to vacuum more routinely. We've been using this every day prior to actually long. The high torque cleaner head turns smoothly and therefore can swivel into narrow areas with relative ease. We also discovered that the cleaner head's wide-diameter brush roll was much more resistant to tangling long hair as well as eating rug edges than the ordinary vacuum floor. 
The said cordless vacuum cleaner, with a stick attachment as well as a cleaner head, is portable enough to store well. The charging wall mount makes it much easier to select up for a quick pass across the house. Just put everything back on the docking station when you're done, and it will be fully charged for the next time you use it.
This vacuum does have three power settings—auto mode, eco mode, and boost mode—each that has its own set of uses. Auto mode utilizes built-in sensors to modify the suction power depending on the type of floor and was adequate for many other tasks. Eco mode hastens battery life, and it has less suction power than most other modes. It might be helpful if you have a big house and want to vacuum the whole thing on one charge. Boost mode looked good for spot cleaning, but this was disturbingly intense, it was too powerful, making it difficult to push the cleaner head around. 
LG CordZero A9 Kompressor – Best Cordless Vacuum for Easy Jobs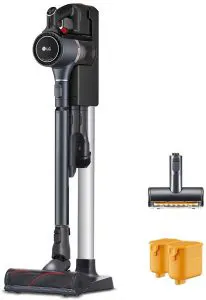 Pros
Picks up more pet hairs from all types of surfaces

Picks up more small and large debris without any problem.

Reconfigurable into a handheld vacuum.
Cons
It requires a lot of regular maintenance.

Small dirt compartment.
This vacuum is a cordless vacuum with so few equals. During our cleaning assessments, 90 percent of the sand, pet hair, as well as crumbs we put in were collected. We discovered that we've been ready to clean carpets for more than 30 minutes than 1 or big messes for 16 minutes between the two batteries included.
While this cordless vacuum gives the LG CordZero A9 Compressor a money-back guarantee, the A9 Compressor has two major advantages: its charging stand. It allows users to store it and its accessories wherever you want without needing to drill holes in walls, and the Compressor, which helps to increase the dirt capacity and guarantee that the bin is fully emptied. 
Build Quality
This vacuum has an all-right build quality. Most of it is made of plastic with a metal wand as well as rubber grips. There is also a small rubber wheel on the bottom of the floor and carpet nozzles. This design appears pretty durable, but the clear plastic dirt compartment could've been damaged if something went down. Whereas the vacuum itself is efficient to assemble, the charging rack is much more problematic and you'll need to look at the guidelines on how to assemble or reconfigure it. 
Best Cordless Vacuum

Maintenance

This vacuum is hard to maintain. Quite a few parts ought to be maintained, but that each part could be easily reached. 
Dirt compartment
You need to remove the battery first to remove this part. Push the button at the bottom of the bin, then pick up and twist the counter-clockwise cyclone filter to remove it. Seeing as it's small, this part needs to be emptied routinely and washed inside with a combination tool. 
Cyclone Filter
This part can be removed once the dirt compartment has been removed. This should be cleaned under water and afterward left to dry. 
Exhaust Filter
This part can indeed be turned counterclockwise to discard it. It should be cleaned at least once a month with a brush or running water. 
Pre-filter
When the exhaust filter has been taken away, the pre-filter can now be removed. You can clean this with a brush or work on it underwater at least once per month. 
Power Carpet Nozzle and Power Floor Nozzle
The two nozzles have always had the same cleaning directions. To remove this part, use either a flat-blade screwdriver or coin to open a single cover lock. Afterward, the brush cover can be rotated upwards and now the brush can be pulled out. It should be inspected before you're using it and, if necessary, cleaned. You can even use the vacuum crevice tool to clean it. You can also wash off the remaining debris with only a wet cloth. 
Power Punch Nozzle
You can turn this component upside down in accessing the brush roll. Also, you can use a crevice vacuum to clean it. Get a wet cloth around it to clear the remaining debris. This must completely dry every part that has been washed with water first before using it again. Do not dry the filters in direct sunlight. 
Portability
It's a very portable vacuum. It is indeed compact, It doesn't feel quite heavy in your hand. It has a carrying handle to make it much easier to take you from one room to another room. 
Best Cordless Vacuum:
Battery Life 
This vacuum has excellent battery performance. There are 2 batteries, which enable you to use one battery whilst also charging the other battery. One battery does have a minimum battery life of around eight minutes while using the 'TURBO' mode with the wand as well as the Power Carpet Nozzle. Even so, you can extend the battery capacity to more than 35 minutes by using 'Normal' mode with both the wand and the Power Carpet Nozzle. You could double its total running time by switching the battery for a fully charged one. This vacuum does have three white LED lights, which steadily turn off to imply when the battery bar is low.
Quality of life 
This vacuum comes with several features of quality of life. At the top of its handles, there are three easy-to-reach buttons that control its power levels.  The '+' button allows you to switch between three power-increasing modes which are the standard/normal, power, and the turbo, which you stimulate by pressing and holding down this button. The '-' button switches between both the power levels in reverse, so that you can lower the suction. After this, there's also an easy on/off button above the two buttons. 
That being said, if you want to adjust the vacuum to various surface types, users need to truly change the head either with the Power Floor Nozzle or even the Power Carpet Nozzle.
Dyson V10 Absolute – Best Cordless Vacuum for the Price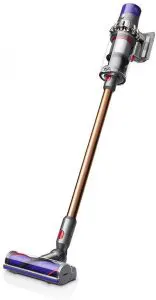 Pros
Not Too Loud

3.5-Hour Recharge Time

Weight

Maneuverability:

Versatility:  

Filtration
Cons
No Swappable Battery

Power Trigger

Large Handheld Unit
Dyson unveiled and said that it would stop creating new corded vacuums because of just how confident their team was in this vacuum – Dyson V10 Absolute. 
After we have tested this vacuum, we discovered that it was apt for its Absolute moniker. The vacuum comes with all you need. A powered brush head made for wood floors, a motorized mini brush for cleaning upholstery a soft hardwood brush, a combination of upholstery as well as bare floor tools, a crevice tool, a cleaner head, and a soft dusting brush for computers and gentle objects.  They are all attached to a 5.6-pound, wall-mounted package, allowing it one of the lightest cordless vacuums in the sector. 
Without even a hesitation, the Dyson V10 is putting all its tools to good use. In our testing lab, 89 percent of the dirt we left behind was collected. The battery tests were also controlled. It can execute for 60 minutes at such a low setting, ideal for regular maintenance. For extreme cleaning, the Absolute can be set up at the highest setting for 9 minutes.
The drawback of this vacuum is its obscenely expensive price tag. Even now, if you want zero power or battery life limits, this is a cordless vacuum to purchase. 
Carpet cleaning
This vacuum is great when cleaning a carpet. On a medium-stack carpet, we discovered that it quickly absorbed debris, removing visible surface litter in less than 23 seconds 
This vacuum pushed some rice across the rug instead of pulling it up. This concern could have been caused by an open & close switch on the front of the motorhead that regulates a small shutter—which is required to facilitate a switch to be made among collecting larger particles. It provides additional suction. But shutter doors make it even more difficult for the machine to succumb to such types of debris. 
There are a lot of vacuum cleaners that do not pick up roughly as much debris from carpet surfaces as the Dyson V10 or its predecessor, the V8. 
Bare Floors 
This vacuum is effective for cleaning together across edges as well as bare floors. The tile was very clean, with very little visible surface debris. 
Best Cordless Vacuum:
Noise
This vacuum is indeed a loud one. It drops below the limit at which hearing protection is recommended, but is noisy enough just to irritate those with sensitive hearing. The sound power of the V10 reaches 78 decibels in max mode. That would sound about 60 percent louder than the older version for comparison.
Convenience 
Since we're not giving vacuums a rating of convenience, we're looking at design and build quality as well as factoring those components into the overall score. This vacuum has a large dustbin, which requires smaller trips to the garbage can. But to reach the emptying bin, you have to remove the wand; it's hard and a bit of a hindrance. 
With a 25.2-volt lithium-ion battery, this vacuum can run at low power for 52 minutes per charge, around a third longer than the previous Dyson vacuum. It operates for a paltry six minutes at the maximum power setting. 
Furthermore, even using this vacuum stick means holding down the button for the whole day you're cleaning. There is no switch on or off. Dyson models are not just a good choice for those who don't have the strength or endurance to keep the trigger down while carrying and steering the vacuum.
Tineco A10 Hero – Best Cordless Vacuum for Smarter Featrues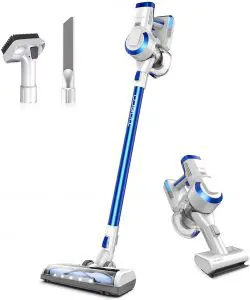 Pros
A versatile and lightweight cordless vacuum

Easy to remove Li-ion battery

bright LED light

HEPA filtration helps keep allergens inside the bin
Cons
Short run time in max mode 

The crevice and brush tool does not even have a quick-release latch

Dirt capacity is small 

The cleaning head doesn't go fully flat which limits reach under furniture
This cordless vacuum cleaner, one of the best value selections for cordless stick vacuums. It's got a lot to contribute to—Lifes are regarded to be affordable workhorses. This cordless vacuum is delighted by its robot vacuum cousins. If you are really worried about getting into a completely new brand, this Tineco A10 Hero is supported by a two-year warranty.
We really like the fact that this stick vacuum cleaner grabbed up to 47 percent of the dirt we put in—more than an impressive performance. And furthermore, this cordless vacuum has the endurance to match our top choice, with a maximum of 7 minutes and a regular of 14 minutes. Unlike most of the Dyson, you can purchase additional batteries and switch them for even more cleaning time. 
This vacuum comes with the standard scope of attachments, such as a crevice tool, a mini-powered brush, as well as an upholstery brush. Whilst also none of these impressed us, we really like the fact that the default brush head does have bright LED lights to support us spot dirt and dust somewhere under the furniture. 
Best Cordless Vacuum: Battery Life & Power Mode 
Like with the Dyson V6, V7, as well as V8, this Tineco A10 does have two power modes: Low and Max. 
This vacuum cleaner is powered by a 21,6 V 2000 mAh lithium-ion battery. These are all the types of batteries that produce what is often alluded to as "fade-free power." This implies that the battery will produce virtually the same full power (it really doesn't fade whereas the battery is being knocked down), then it just stops. 
The battery can be removed. This is really a feature that several people desire the Dysons had, nothing in them. We've seen the same feature on a few other stick vacuums and it's common. The notion is that this enables you to use multiple batteries – so when you are using one, the other is on the charge, and if one is exhausted, you just strike another one. For instance, if you have 2 batteries, you would then effectively boost your running time. We must refer out that this vacuum cleaner comes with only one battery, and if you want another, you're going to have to purchase it separately.  Tineco also has another version of the A10 termed the A10 Master, which comes equipped with batteries.
Recharging
The recharging of the battery takes about 5 hours – from either a fully depleted battery to a fully charged battery. It is mentioned that the manual states, "Do not charge the battery over the time recommended, that might trigger heating, deflection or burning." It seems a bit weird, as we have imagined that most people just plug the battery in and don't watch the time wisely.
Cleaner Head
The width of the cleaning path is indicated as 10.4 inches. Definitely, this is the width of the whole cleaner head. We measured the width of the suction channel and that was about 9.25 inches. This is the average for a vacuum stick. Stick vacuum cleaners often do not even have a cleaner head of the same size as just a full-size upright or canister vacuum.
We also like a row of five small LED headlights on the front of the cleaner head. It helps when vacuuming in darkened areas and under the furniture. The cleaner head itself also has a low profile, making it very easy to slide under low furniture.
We've observed, however, that you can't lay this vacuum flat without the cleaner head actually lifting off the floor. It was a remarkably bizarre design, and that was unexpected. If you're going to have to get under very low furniture and try to lay down the vacuum flat, you will be running into it and it can be irritating. 
Noise Level 
This vacuum was tested in both power modes that used a digital noise level meter. The meter was placed three feet in front of the cleaner head with both the vacuum in the upright and running position.
Peak decibels in Low Power mode hit a maximum of 70.0 dB


Peak decibels in Max Power mode hit a maximum of 71.5 dB
We were somewhat shocked that the unit was nearly as loud in Low Power mode like the one in Max Power mode. In comparison, the Dyson V7 in Low Power mode hit a maximum of 65.0 dB and reached its peak of 74.0 dB in Max Power mode.
We felt that this cordless vacuum cleaner had a bit of a high-pitched whine that we didn't actually like. But the easy unit is not what we would consider a loud vacuum cleaner. 
Filtration 
This vacuum cleaner has two filters. There's really one pre-engine filter and one post-engine filter.  Both filters are rinseable in water and can be repurposed.
The post-motor filter is a HEPA filter that would be a nice feature since it helps trap pet dander, bed bugs, mold spores, and so on. These are all the types of filters that are helpful in households with asthma or allergy sufferers. That being said, we have not seen in any of the literature that this vacuum cleaner has a sealed system. HEPA filtration is often far more efficient when coupled with a sealed system.
Battery Life
This is a controversial area with many other stick vacuums, and it can be frustrating for customers. The marketing materials of this vacuum cleaner state the following: 
Running time of 25 minutes in Low Power mode

Running time of 7 minutes in Max Power mode
This is accurate, consequently, when using motorized tools, the vacuum would not run this long. The numbers cited are for non-motorized tools including a combo tool or a crevice tool. Many other manufacturers appear to use a similar method when discussing their vacuum processing time. 
We managed to run the A10 Hero in both Max mode and Low mode, with both motorized tools and non-motorized tools.
How we tested/evaluated these cordless vacuum cleaners?
When we're testing these cordless vacuums, we're hoping for long battery life, easy-to-use, as well as powerful suction. 
We charge each model for 24 hours to test the battery life. Afterward, every vacuum is run always at its highest setting and timed until everything stops working. If the vacuum doesn't really meet the marketed statement of its manufacturer that has to do with its total runtime. We remain aware of and adjust our expectations to see whether, under lab conditions, the vacuum can still do its job properly.
Cleaning shouldn't really be difficult, then let's pay attention to how adaptive vacuum design is: can we start figuring out how to use it without reading a manual? We also take into account the small things: how convenient it is to use; and how swiftly we can change the vacuum accessories, connect the charger, store it, or empty the dirt bin.
To evaluate the cleaning performances, we place 20g of sand, rice, other particles on a test platform blanketed by a medium pile carpet. Before using it, this sand is filtered through a special mesh to maintain a consistent grain size of between 420 and 595 microns. After evenly spreading the sand to the test platform, we run every vacuum over the rugged platform once, at maximum settings. We also inspect to see if every vacuum can collect large debris such as uncooked rice and macaroni. This testing is conducted twice: once with a motorized vacuum head and once with a crevice tool. 
Can I replace the best cordless vacuum with regular ones?
For the most aspect, cordless vacuums must be seen as extra cleaning tools to use it among use of heavier cleaning equipment or in cases in which a full-size vacuum is too bothersome. 
If you're willing to pay more, some cordless vacuum models can stick up toe-to-toe with fully-sized vacuums. Those four vacuum cleaners mentioned above have a suction power similar to that of a regular vacuum. However, this value of suction comes with a price: you're only expecting to be ready to use it for this stage of cleaning for about 9 minutes until it runs out of power and requires to be recharged.