Do you want to learn how to choose the best ironing board? Begin by taking a minute to think how much ironing you actually do. If you're the primary steamer in a family, look for a larger board with multiple settings and a large ironing area.
If either your current ironing board is showing signs of wear, or perhaps you've been lazy lately, ironing on your kitchen worktop with a towel? It's time to move on to the next step and purchase the best ironing board. Having a sturdy ironing board will not only make ironing easier – we're not sure anything could make it more enjoyable. However, it will also allow you to complete this task in half the time. Less fuss, more steam!
Choosing an ironing board may not be as easy as you think. With so many options available for all types of homes and budgets, you should select an ironing board based on what you'll be using it for the most. Whether you have a large collection of smart shirts or you live in a slouchy tee. Choose based on your wardrobe and the size of your family. We've also included a tabletop option and the best ironing board if you're on a budget – or if you iron less frequently than you should.
You'll find all of the best ironing boards that are worth your money in 2022 right here. It can be difficult to find the best budget ironing boards for your needs. That is why we have compiled a list of the best budget ironing boards on the market today. We'll go over all of their information to help you decide which one is best for you.
Brabantia Ironing Board C┃Best Ironing Board for Large-surface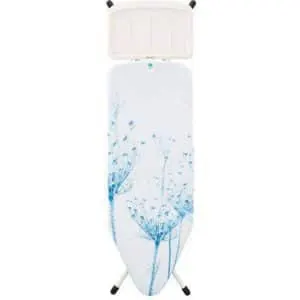 seven height adjustments

steam unit holder

Large surface board
We understand that there is much more to an ironing board than its cover. However, we also understand that people often buy them based on how they look as much as how big – or small – they are. Something about the denim cover on this board makes us feel a little more stylish while ironing.
If you're looking for a compact, easy-to-store board, this one isn't for you. Why? It's because its sturdy construction, XL size (124 x 45cm)and solid steam generator holder means it'll take up a lot of space whether up or folded down. It has 7 height adjustments ranging from 75 to 98cm, making it ideal for even the tallest ironers. And our testers thought it was one of the most stable and sturdy boards they tried.
There's plenty of surface to iron sheets, duvets, and flowing dresses on, so ironing large items is much faster and easier than on a small board. If denim isn't your thing, this board, which is new to the Brabantia collection, is available in seven other colors and patterns.
Minky Ergo Ironing Board┃Best Ergonomic Ironing Board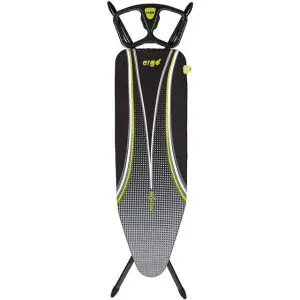 Great for left and right-handers

Ergonomic Ironing Board

5-year-guarantee
This board's futuristic-looking black and silver Prozone heat reflective cover allows for more effective steam penetration. Whilst also reflecting back heat from the iron for more effective crease removal. The above benefit was particularly appealing to one of our testers because it meant they only had to iron one side of a t-shirt to make it more presentable.
We also liked the movable flex guide, which you can place where it's most convenient for you – whether you're left or right-handed – to keep the cord from tangling or dragging across your clothes as you iron. The ergonomic slanted iron rest creates an angled position for the iron to sit, making it easier – and more comfortable – to pick it up, run it over clothes, and then put it back down. There is also a 5-year warranty.
Vileda Carino┃Best Tabletop Ironing Board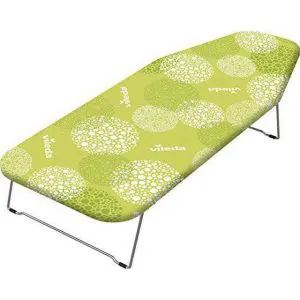 Ultra-lightweight

Compact size

Easy to Store

You can place it anywhere
It has the smallest surface area of the boards we tested (38 x100cm). This is the lightest and easiest to store – it has a hangar and can sit in your wardrobe with your clothes if necessary.  You can simply fold down the mini legs and then pop it onto a work surface or table and start pressing. This makes it more ideal for ironing smaller items of clothing and saving space and time.
The cover is nicely padded, and while we wouldn't recommend it for larger families with a lot of ironing or if you insist on ironing your duvets,. Also, it's fine for t-shirts and jeans. However, if you don't choose a surface that is the proper height to sit on, you may end up with back strain if you iron for an extended period of time.
Vileda 168583 Smart Ironing Board┃Best For Small Spaces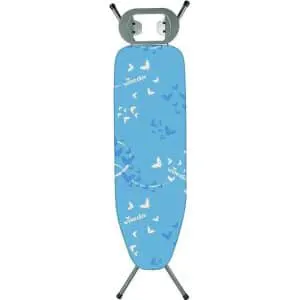 Strong and durable.

Silicone iron holder.

Suitable for small spaces
We appreciated how compact this board was, allowing us to iron in small spaces. So, if you're looking for a board for your dorm room, a small flat, or even a caravan, look no further. But before that, let's look at the features of this board to see if it's the right one for your house.
The metal frame is sturdy, the feet are capped with non-slip rubber, and the ironing board includes a cotton/foam cover. This is to make ironing more comfortable and effective. Safety locks, a small folding size, a lightweight, and an effective design are among the more practical features.
Ironing clothes is difficult enough without having to despise your ironing board.   In fact, a bad board can leave you with a pile of soiled clothes or an aching back. There is no reason for you to sit with such discomfort, so toss that noxious item to the curb and grab a quality board from this item.
If you have limited space at home and also require aboard to assist you in the process, this one is unquestionably the best. The best-to-store, easy-to-use, and comfortable-to-carry board will never add to your problems, but will instead seek to resolve them. This model has a pad covered in 100 percent pure cotton and can even be folded in no time. In addition to being capable of catering to a wide range of ironing projects, . For this feature, it is ideal for college students, craft professionals, and people who live in close quarters.
Lastly, if you are visiting high mountains or sunny beaches, there is no better ironing board substitute than this one.
Minky Ultima Plus Size Ironing Board┃Best With Angled Rest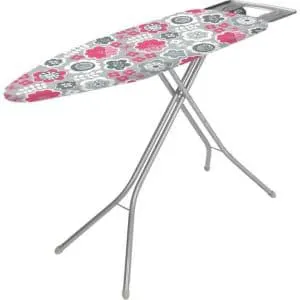 Its design has a simple, natural aesthetic 

The iron's rest is tilted to prevent unnecessary steaming or damage.

This cover uses a metal mesh and foam backing to increase heat tolerance 
This board's design pattern instantaneously adds a soothing aesthetic to your ironing routine. However, the benefits of this board's cover go beyond the surface, as it has a foam back that can withstand steam irons. Underneath that is a metal mesh designed to allow steam to pass through while the iron grates heat up, allowing for faster ironing overall.
Nevertheless, the majority of the design was focused on the rest for the iron. The rest's tilt is intended to hold an iron at an angle that other rests do not. Also, this angle keeps the flat of the iron away from any surfaces. This is to ensure that the iron does not steam when you don't want it to or when you don't have a good grip on it.
This ironing surface has long legs for a traditional four-leg design, as well as rubber soles to prevent slipping. It can be a bit tall for some users, so if you're thinking about buying it, make sure to check the height. Furthermore, it's slightly smaller than a medium board in terms of size, so if you need more surface space to work with, that could be an issue.
Minky Aerial Plus 122x43cm┃Best Ironing Board for Budget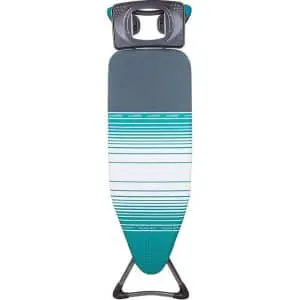 Affordable ironing board

Simple yet elegant design that attracts to buyers

Thick steel legs
The accessories on this board are what compelled us to include it on this list.
If your iron flex is getting in the way, the iron flex holder on this one will come in handy. The addition of a sleeve board allows you to stretch out your shirts' sleeves for proper ironing. This is to ensure that no crinkles in your cuffs or elbows make an otherwise well-pressed shirt look unprofessional.
In addition, the steel legs are extra thick, as opposed to the hollow legs of other ironing boards. This adds weight, which can make setting up this somewhat heavy board difficult. However, it also gives it more grip on the floor, making it less likely to slip around under the movements of your arm or iron.
Russell Hobbs Geo┃Best Value Ironing Board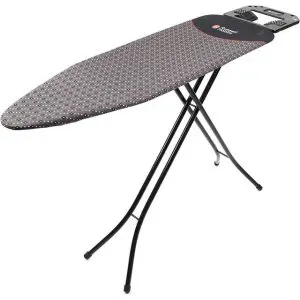 Modern design and eye-catching

The extra-large rest makes it a good board for holding jumbo-sized irons 

Affordable ironing board
Does this "jumbo-sized rest" sound appealing to you? Since this ironing surface has a rest large enough to accommodate even jumbo-sized irons, it is our top choice if you use a large iron for your ironing needs. This iron also neatly folds away, allowing it to fit in spaces where most other irons on this list simply will not work as substitutes.
Despite the fact that it's a small board with a large iron resting area, the designers didn't hold back when it came to focusing on the style. It has an eye-catching white and red pattern. Also, the steel frame has a black powder polish to match the design of the ironing cover. The legs can also be adjusted to accommodate different heights, so while it is a very modern design, it is not lacking in features.
However, this board lacks the slip-resistant feet found on other boards, so keep that in mind if you think it might be an issue. It is also in the size A range, measuring 122cm x 38cm. While the legs are generally balanced to hold irons on one end without tipping, if your jumbo-sized iron is too heavy, this may pose a problem.
How We Test Our Best Ironing Board?
We always hire the best people, whether we're testing TVs, dehumidifiers, or the best clothing steamers. To put the boards through their paces, our testers ironed a variety of items on each board. There was a duvet, a formal shirt, t-shirts, and jeans among them. We tested how simple it was to set up and take down the board for each session, as well as how simple – and safe – it was to store away once we were finished.
What Exactly Do You Need the Best Ironing Board? 
Before delving into which ironing surface is the best, it's important to understand why you'd want a sturdy ironing board in the first place. Ironing is the simplest and most practical way to care for your clothing if you want it to be crisp and wrinkle-free. However, an iron generates such high temperatures that most surfaces will mark or burn in seconds. It makes ironing nearly impossible without a good ironing board.
Even the toughest materials are scorched by irons. Even after a short period of time, countertops, tile floors, and even the steel of washer and dryer tops will show visible damage. An ironing board is made of heat-resistant materials, as well as the edges are often smoothed over to consider removing creases from trouser legs and bends in clothing easier than using other surfaces.
Why Is Choosing the Best Ironing Board Important?
Thus many ironing boards come in a variety of shapes and sizes, and it is critical to select the one that is best suited to your needs. If you do choose a board that is too small, your clothes will not stay flat while you iron them. This can result in annoyance and wrinkled clothing. A large board will take up too much room in your laundry room or closet.
Several boards are covered in cotton, while others are covered in synthetic material. The synthetic cover is more durable than the cotton cover, but it is also more prone to slipping. Enough that, if you like to iron with a lot of pressure, you might want to get a board with a cotton cover.
Different Types of Ironing Boards
Given the fact that all ironing boards undertake the same function, there are various types with varying additional functions. These factors must be considered before purchasing an ironing board. The type of ironing board you should buy is usually determined by your ironing demand, space, the types of garments you normally iron, and your preferences. There are several types of ironing boards, according to broad classification.
Built-in Ironing Boards
These boards are also known as mounting boards since they unfold from a door on the wall. They are generally quite convenient and are used in apartments or small ironing rooms where users are concerned about not having enough space to store even an ironing board. These are installed in small spaces to make use of the common area for household ironing.
You will be particularly worried about its installation because it will take a toll on your head to install it.  And then, it will be too difficult to remove if you are required to do so. We will simply state that you do not need to be concerned because, even if they have been installed, they can be uninstalled in a matter of seconds. However, we have some reservations about this type because it restricts your freedom and allows you to only iron where your board has been installed.
Tabletop Ironing Boards
These are also known as compact boards.  They typically have short ant-like legs and are designed to be placed on top of a table or a high enough slab. These types of boards are popular among college students or people who want to solve the problem of limited space. So, what distinguishes it from built-in ironing boards is that it does not limit your freedom and allows you to iron wherever you want.
Another benefit is that you can easily transport it and use it while traveling anywhere. The cherry on top is that they are very inexpensive and will not cost much. Since there is no such thing as 'all good and no bad,' you must also consider its drawbacks. Extra-large garments are typically difficult to iron because their ironing space is limited in comparison to standing boards. Some of them can also be folded and are ideal for crafts such as quilting and sewing because they take up little space. And besides, they are portable, with very little weight, and thus easy to transport. In our list, we have included the best tabletop ironing boards. 
Standing Ironing Boards
These are the traditional design of ironing boards, which are typically made of a metallic base and a smooth heat-resistant pure-cotton top. They are designed to be as light as possible while remaining sturdy in their frame so that ironing garments do not become unstable. The ironing boards have strong legs that keep the board from collapsing. Furthermore, they have adjustable height options, allowing you to conveniently adjust the height and iron. They have additional features such as a dedicated space for hot irons, hangers, racks, and hooks.
Folding ironing boards 
This can be moved from room to room and will accompany you if you move. They are typically inexpensive and fully adjustable, allowing you to adjust the height as needed. However, some people struggle with their weight, and if you're short on storage space, they can be inconvenient when not in use. A wall-mounted ironing board or a small tabletop ironing board are both options.
Small Ironing boards 
These are light and compact enough to fit on a coffee table or kitchen counter. They take up far less storage space than a traditional ironing board, and some even include a hook so you can hang them on the back of a door or in a closet. If you despise wrestling with a traditional ironing board, a small ironing board may be the answer. They are also ideal for anyone who has limited strength or prefers to sit while ironing.
It's important to remember that because the surface area is smaller, ironing larger items will require more repositioning and faff than on a regular ironing board. However, if you usually iron smaller garments or don't iron a lot of items at once, this shouldn't be too much of an issue.
Standard sizes of the Best Ironing Board
These boards are available in five standard sizes, so consider how much ironing you'll be doing to determine which size you'll need. If you only press shirts, a small board will suffice. Suits and dresses, on the other hand, will require something a little larger. A full-size ironing board will make the job easier if you'll be ironing sheets. The largest boards are 135cm long (more than 4ft 5in) and 45-49cm wide (17-19in), so make sure you have enough space before purchasing one.
Sizes are as follows:
A: 110x30cm

B: 124x38cm

C: 124x45cm

D: 135x45cm

E: 135x49cm
Buying Guide for the Best Ironing Board
Simply because different ironing boards have the same end goal does not imply that they are all the same. There are numerous specifications and features that distinguish them from one another. Even if you want to buy an ironing board, you should be aware of the various important features to consider before making a purchase decision. These are some of the major factors to consider in order to make an informed decision.
Before purchasing, try to determine the weight of the board. The lighter it is, the easier it will be to fold up and stow. Heavier boards, on the other hand, are typically more stable. Some heavy-duty boards are equipped with wheels to make them easier to manage. If you have a steam generator, you may require a heavier-duty board to support the weight of the iron while keeping the board stable.
Ease of use
The last thing you want is to end up fighting with an ironing board that won't stay up, or one that squeaks with every minuscule movement, and if you have a small home, making room for one is a battle in and of itself. Most ironing boards come with a tray to rest your iron on and fold down easily for storage.
Size
Make certain to purchase the best ironing board that is the appropriate size for your needs. If you have a lot of items to iron, make sure to get a large enough ironing board. If you're just getting started, a smaller board might be better.
Material
The ironing board's top should be made of a heat-resistant material such as steel or aluminum. This will help to distribute heat evenly and reduce the risk of your clothes being burned.
Height Adjustment
Adjustable height is one of the most important features to look for when buying the best ironing board. This allows you to adjust the board's height to match your height, making it more comfortable to use. The majority of boards have a locking system that keeps them in place while in use.
Space-saving Design
Many modern best ironing board designs are foldable and can thus be stored when not in use. This is a great way to save space in small apartments or houses.
Hand Holes
Many ironing boards have small hand holes on the side that can be useful for holding onto while ironing. This helps to keep the board in place while also giving you more control over the garment.
Cotton Cloth
As it will come into contact with your clothes, the cover of your best ironing board is an important consideration. Look for a cover made entirely of cotton, as this will be gentle on your fabric and will help prevent scorching.
Iron rest 
Iron rest is the metal section at the wide end of the board that holds the iron when it is not in use. Most ironing boards come standard with an iron rest. If you have a steam generator, make sure your ironing board has a large and strong enough rest to hold it because they are larger and heavier than regular irons.
Tapered tip 
Look for an ironing board with a thin, tapered end if you frequently iron trouser legs and shirt sleeves.
Child locks 
Some boards are now equipped with child locks, which prevent your board from collapsing unintentionally and keep it closed when you move it.
Flex guide 
A flex guide is a screwed or clipped attachment that is screwed or clipped to your ironing board to keep the iron's cord from becoming entangled or trailing on the floor.
Non-slip end caps
Most ironing boards should come with these on the feet, but if they don't, you can purchase them separately. These are to prevent slipping and sliding when pressing garments.
Sleeve attachment
A sleeve attachment is a smaller board that can be used to sew sleeves, collars, pleats, and other small, fiddly details.
Storage rack
If you frequently use ironing aids, such as those listed above, a board with an integrated shelf or storage unit is useful.
Hanger
Some boards include a hanger to keep items from creasing while you finish the job. Setting up your ironing board is aggravating enough; don't let your iron push you over the edge. We discovered that some brands are far more prone to developing flaws than others.
Is an Ironing Board Safe?
When you're dealing with something that holds a hot iron, there's a huge safety factor to consider. If a board tips over or collapses while ironing, it may damage a carpet and, in the worst-case scenario, burn you or someone else. Boards must be tough and sturdy, with rubber or plastic-tipped legs to prevent slipping, especially when ironing items that require more pressure, such as jeans.
The best ironing boards also have safety catches to prevent them from collapsing while ironing or accidentally opening when stored. If you're frequently putting the iron up and taking it down to tidy up, keep an eye out for how heavy they are, as the bulkier and heavier the board is, the more difficult it may be to maneuver.
Get Your Next Best Ironing Board Now
Ironing can be a time-consuming task; even getting the ironing board out of the closet can be a chore. A good ironing board, on the other hand, can make all the difference. The ideal ironing surface provides a smooth place to lay clothing flat for the best crease-free results, whether you use a traditional or tabletop ironing board or an ironing mat. It should be stable and not wobble, and it should not feel like a workout to set up and takedown.
Formal attire is hard to maintain. However, many situations necessitate a refined approach when presenting, speaking in public, or attempting to maintain a higher level of civility. Since not every ironing board provides the same level of care for clothes, the information presented here is intended to assist you in selecting the best ironing board for your home or situation.
For anyone who likes to keep their clothes looking neat and tidy, an ironing board is a must-have household item. When selecting an ironing board, there are a few factors to consider, but the most important factor is your needs.
When making a purchase, consider the size, design, and additional features. Before you buy, double-check the dimensions of the board and look for a model with a cotton cover.