Sometimes rainfalls can disrupt your trip and enjoyment. If you're still hoping for sunshine to come, then it's worth having one of the best waterproof jackets in your suitcase. Having the best waterproof jackets are indeed a perfect investment for you. It would be perfect in a way that if you do not want something that interrupts your day. You can still enjoy the whole day despite the weather conditions. A top-notch waterproof jacket can turn a soggy and grumpy slog into such a dry and enjoyable adventure promoting the features that are worth buying for.
The primary purpose of a waterproof jacket is to keep you dry; however, it should go further than that. Your waterproof jacket also should be comfortable to wear. It also allows the steam to escape so that you stay dry from the inside. This will help you adjust your temperature as well as keep things all the way through your adventure.
Since we will discuss this matter later, in order to save you more time, we have reviewed a list of the best waterproof jackets available online that you can choose between. Below are the reliable waterproof jacket brands that will help you keep you dry, warm and give you stress-free. We've gathered the best waterproof jackets below:
Columbia Watertight II Jacket – Best Waterproof Jackets for Affordable Option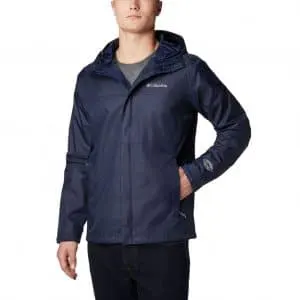 Pros
Keeping you dry when it rains
Fits well
The mesh liner serves as protection for the 2-layer construction, causing the jacket pretty comfy.
Cons
Its hood can become loose in windy weather as well as impede peripheral vision.
Doesn't fit well especially if you are wearing a bike helmet
Does not even have pit zips for better safety for backpacking or hiking.
One of the most affordable options out there, this waterproof jacket is not only carrying a reliable brand name. But also is still a wise option among many. No doubt – this lightweight waterproof jacket is made up of two layers of mesh film. Not really too bad looking for this price's adult jacket but its comfort level allows you to wear it on a rainy day while walking. Also, if you feel playful on a hiking trip in the mountains.
The value of this jacket is very impressive – you can't go wrong with it if you're searching for a simplistic yet functional rain jacket. Although it may not be the best choice for activities that consume a lot of energy or time. It is definitely suitable for yard work as well as daily walks. It is perfect for everyday use despite of raining heavily or just light, it helps you not to get wet for it will covers you perfectly.
Water Resistance
This waterproof jacket kept us dry and passed our side-by-side shower tests and managed to keep the rain out while we were dealing in it. The hood is simplistic and has no fastening features on the back, which indicates that this can feel puffy and possibly lose. It does not bring a particularly large peripheral vision. Nevertheless, it works enough to keep the wearer's head dry. This waterproof jacket has a fair-sized brim over the brow, primarily keeping the rain away from the wearer's face, but it's not tightened.
Breathability and ventilation
This item utilizes Columbia's Omni-Tech waterproof, two-layer, breathable laminate. It is really a state-of-the-art fabric technology that just doesn't breathe like many other 2.5-layer fabrics we've tested. That being said, throughout the low energy as well as cool-weather activities. There are a lot of people who will acquire the mesh liner very comfortably. Other than being a little less breathable, this waterproof jacket has no pit-zips, which implies it isn't that great for more aerobic activities such as hiking as well as backpacking.
Comfort and Mobility
This design is very convenient; it is also shape-fitting enough to be used all around the city. The seamless nylon taffeta liner feels really good on the chin and brow when the hood is cozied up; the hood gets fine when taking a look around, and the athletic-cut jacket enables for rational freedom of movement for the arms without revealing your waist; after all, when you reach up, the sleeve's wrist area did pull back.
Design of the Pocket
This jacket features two hand-warmer pockets, one being a pocket with a reverse zipper, letting for a small package. These pockets get in the way even when you're wearing a backpack, since this waist-belt ends up right on top of them, making them useless. The zippers also would bite into the hips of the wearer with heavier loads as well as extended outings.
Weight
This waterproof jacket did weigh at 13.5 ounces, which amidst its two-layer design, is similar to many of its top rivals. That's hardly ultralight, but it really is light enough for a casual day hike or even a baseball game where you might want to have a fair jacket.
Durability
The nylon face fabric on this jacket is thick, but it has no ripstop weave. If you're intending to bushwhack or prune your berry bushes, other designs are more resistant to snagging and tearing. This budget brand is mildly less sustainable than many, but the quality is good as well as the price.
Packed Sizes
This design is among the bulkier models we've been testing. On the positive side, it seems to do stuff and stows it in the left pocket. It matches well, it's easy to stuff, and the zipper is easy to handle. Referring to weight, although this model is not therefore almost as compact as most of the products we tested, this is still relatively compact and easily fit in the backpacks for casual occasions.
Black Diamond Storm Line Stretch – Best Waterproof Jackets for Lightweight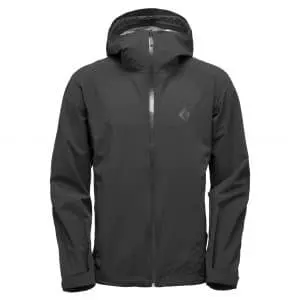 Pros
Compact and stretchy – mobility and convenience at the maximum standards
The soft interior offers additional warmth.
The hood is suitable with all profile helmets.
Fairly priced for the quality of the fabric and enough for the features that offer
Cons
5 Layer design does not have the best possible breathability
The fit seems a bit too boxy, so it doesn't give the additional stability.
When the weather is problematic but the hiking trip is finally decided, this waterproof Jacket should be kept in your backpack. This compact, windproof as well as waterproof has a four-way stretch design together with underarm gussets that allows you to climb and attain without any movement restrictions. And even if the rain occurs, the built-in helmet hood will prevent you from getting wet.
The versatility of this jacket is adored by its competitors for various reasons. It is indeed well-equipped to ride a motorcycle as much as to walk a dog when it's raining. In addition, the material is also developed to be durable – lots of washes do not change its quality performance whatsoever. If you're still making investment in a multipurpose jacket, this might be a good thing to start this one out. No wonder why there are a lot of people are buying this waterproof jacket brand and it is obviously that this brand has included in our list of the best waterproof jackets to purchase in 2021.
Weather Protection
Representing its feature waterproof membrane as well as a durable water repellent (DWR) finish, this waterproof jacket is a strong hindrance against raining and wind. Though its jacket has a 2.5-layer design, this is still magnificently weather-worthy. It was really perfect for hiking and biking trips — all of which included at least one rain pours—and it held up incredibly well while keeping your base layers dry. The pit zippers are DWR-coated, the front zipper includes YKK waterproofing, as well as the hand pocket zippers are encased with gracious flaps that help avoid water from slipping inside.
Comfort and Stretch
This waterproof jacket is indeed a stretchy face fabric that offers the jacket introduced elasticity and comfort. The bump in free movement is particularly great for mobility-dependent activities such as hiking, climbing, biking as well as running. Not many rain jackets feature the same stretchiness in relation to the competition. This brand is a remarkable competitor with a similar 2.5-layer design and added elasticity, but it appears to lack hand pockets and pit zips. Overall, this jacket brand is one of our favorites in this category for its low price and great overall performance.
Weight and Packability
About 8.3 ounces, this waterproof jacket is one of the lightest portable rain jackets in the industry for my women's extra-small size. Other brands are slightly heavier, although the REI includes a chest pocket that the Storm Line lacks. This brand did a really good job of balancing weight and features.  When it's time to put it down, this waterproof jacket easily stows into its right-hand pocket, which includes a carabiner-ready loop for clipping into a climbing harness as well as backpack.
Breathability
2.5-layer rain shells usually do not breathe and same also the 3-layer hard shell jackets, and we just found this to hold true with Storm Line Stretch. While you're enjoying to your activity trips like mountain biking and running with a fully zipped jacket, sometimes it struggled to cool down effectively.   Furthermore, it is somewhat absurd to expect excellent waterproofing and excellent breathability—often sacrificed—and particularly at this price range. On the positive side, this waterproof jacket brand features generous pit zips that work well for rapid heat dumping.  Eventually, the linen inside the jacket is textured and just doesn't feel plastic, but it's still a bit sticky on the wet skin. That's also particularly problematic when you try to slide damp, bare hands in your pockets.
Build Quality and its Durability
Due to its enhanced elasticity, this jacket is considerably more tear-resistant unlike the other non-strong rain jackets. Sad to say, BD does not really list the deniers of this brand.  More pertinently, you can still wear the shell in a series of backpacking packs and have no difficulties with deformation or rubbing.   All the seams are stable, the zippers hold well, and the jacket looks fairly new after rigorous testing. Overall, we're confident that this Storm Line will continue to oppose regular outdoor use.
Marmot Jacket – Best Waterproof Jackets Minimalist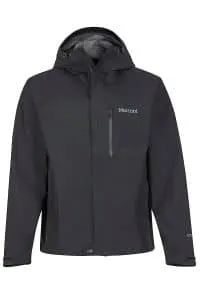 Pros
Incredibly a water resistance even in the heaviest rains and snows
Zippers on the jacket also are waterproof, retaining your valuables safe.
Expandable hoods can be tightly buttoned to protect the face from extreme weather conditions.
Angel-Wing technology enables freedom of movement without limitations.
Cons
It could be a little too spacious in the torso and in the arms.
Washing and drying directions may be difficult to follow.
Considered by many as one of the best waterproof jackets on the market, this waterproof Jacket got you by the balls. From excellent material to top features like such a thick hood and uncomplicated hem toggles, this waterproof jacket doesn't have too many disadvantages. One simply cannot go wrong with spending in this piece and then wearing it the heaviest storms.
This waterproof jacket is indeed an upgrade from every point of view. The price you have to pay is very well worth taking into account the high-end fabric, finer details as well as minimalist design. Though its jacket isn't perfect, it's certainly a tough brand for most of the outdoor activities you could envision. The lifetime warranty of the brand makes it even more attractive to consider buying. No wonder why most of the consumers are very attracted to this piece, knowing that it not just offering a lifetime warranty but also offers a high-quality feature that is really worth buying for.
If you wish to know more about this waterproof jacket, Marmot Minimalist Jacket, you can scroll down below to know more about what the piece has to offer you when you consider buying this jacket. Below are the key features that you might want to consider.
Water and Wind Protection
With a strong Gore-Tex Paclite design, this Minimalist jacket is an impressive performer in tough conditions. Paclite is a 2.5-layer design that is similar in design to many budget-friendly and durable models, but its considerable face fabric is so much better suited to heavy rain, snow and wind. In addition, we've found that the DWR coating is doing a good job of moisturizing and also has a long-life expectancy. The Minimalist's hard shell-like protection is pretty incredible considering the affordable price tag—you're going to have to spend a little more on a 3-layer jacket to hit it.
Breathability
In contrast to many designs, Paclite is not known for its breathability. The material would then shed longer rainfall very well, but the membrane is a quite dated design that can't cope when you're working hard. As a consequence, the smooth interior is mildly plastic and also slippery as you sweat. Fortunately, Marmot contains pit zips for heat dumping, that also make the Minimalist effective for cold-weather hiking. However, for backcountry skiing or other high-performance activities, we feel that it's worth investing in this waterproof jacket brand. Jackets such as Patagonia Galvanized and Arc'teryx Alpha FL are considerably more expensive, but they offer an all-in-one solution for backpacking, skiing as well as alpine use.
Weight and Packability
We've often thought it ironic that this piece has chosen the Minimalist name for this jacket. It is definitely not ultralight: the strong exterior fabric as well as the feature-rich design push the total weight of the male medium to 14.9 ounces. For comparison, some other brands are almost 5 ounces lighter at 10.1 ounces. You can also get a minimalist hard shell that is upgraded to the Paclite Plus design to a much lighter 10.9 ounces. But you're going to budge on features, which doesn't include pit zips and a chest pocket, plus it costs quite expensive. In the halfway point, keeping in mind the impressive weather resistance of the Marmot and its decently priced price, the weight does seem reasonable. But ultralight hikers as well as cyclists ought not take the name of the jacket to their hearts.
Even if it isn't the lightest rain jacket like the other, we're shocked that Marmot decided not to include a pocket with the Minimalist. When their own lightweight PreCip and top rivals are stowing in their hand pockets, this Minimalist jacket appears to lack a two-sided zipper. However, if you use the shell for backpacking or travelling, you can slide it into the hood and fasten it with the back cinch-cord. When stowed, this jacket isn't very lightweight – regarding its size and shape —but it does the tactic of everyday wear and the rare backcountry trip.
Build Quality and its Durability
We really like this jacket a lot—it is indeed placed at the top of our waterproof jacket in 2021 —and one of the best perks is the quality of its design. As such, nothing we've taken to wearing can compare the quality. The exterior does have a super-clean, high-end feel and look, and this piece really nailed the details that have remained moist over time and a long-lasting cinch cord and toggles. All the zippers are easy to handle and also have worked smoothly over the years, and we especially like a strong main zip with large teeth as well as a large zipper pull that's glove-friendly. It's clear that this is one of the lightest and most compact designs, but outside of using a shell for activities not designed for skiing or rock climbing, we have few worries about its durability.
Snugpak Torrent – Best Waterproof Jackets for Mobility and Comfort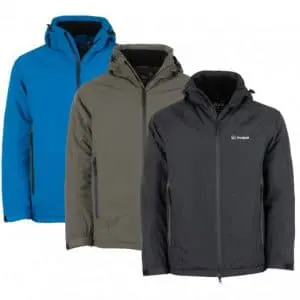 Pros
It helps keep you warm up to -5°C
Water-proof and breathable
Removable hood
Cons
Could be too hot to go hiking.
Heavy jacket
If you're planning to head out into the winter conditions, look no further than this waterproof jacket – Snugpak Torrent. Capable of keeping you warm to-5°C, it uses Paratex Dry fabric over its fully taped outer top edge as well as Paratex Light on the inside. It is indeed essentially a trade-off between warmth, waterproofing as well as breathability.ie Simply put, it's best for circumstances where you're heading to be completely inactive – like stargazing or doing some night photography – than those of regular physical activities such as hiking. That being said, its underarm vents are beneficial for adjusting your own temperature, and then when it gets very cold, windy as well as rainy, its covered neck warmers, deep hand-warmer pockets, and glove-friendly Velcro wrist tights truly come into their own. All that takes time and effort, this is not a jacket to be worn finely.
Berghaus Deluge Pro – Best Waterproof Jackets for Lightweight Design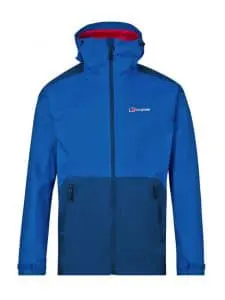 Pros
Waterproof fabric Hydro-shell
Lightweight design
Slim fitting
This waterproof jacket is indeed a valuable and durable waterproof jacket for both genders that won't cost a lot like any other jackets out there. Fully water-resistant due to its Hydroshell fabric and its adjustable hood, this jacket is a stylish and not over-designed product that is well suited to British weather. It's ideal for a long walk or hiking, with an adjustable hood, as well as a few pockets up front that are close to the aspects using waterproof zips, as there are no pockets on the chest. Its main benefit is that it weighs a maximum of 378g. That makes it so good to take outdoors as an urgent situation must-have a waterproof layer.
Ack WolfSkin Mount Isa Women's Jacket – Best Waterproof Jackets for Adjusting Sleeves and Comfy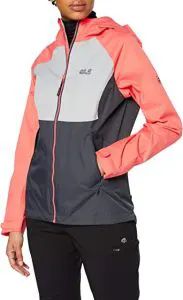 Pros
Breathable and moisturizing
Smooth, soft pieces
Adjustable sleeves, hood, as well as hem
Cons
Pockets really aren't fully waterproof
This waterproof jacket is indeed a great women's all-rounder. The fabric is smooth, soft and easy to wear, while offering all-important protection from wind and rain. The outer layer is breathable, with a soft mesh inner layer to keep it more comfortable without adding extra bulk or weight. There are several extra features to make this waterproof jacket a comfort to wear: a drawstring hem to keep the wind and wet, an adjusted hood with two additional drawstrings that can be modified to ensure that your field of vision stays clear, waterproof zips as well as two hand pockets. The design is indeed stylish and clever, with a variety of colors to choose from. The only slight drawback is that we found the outside pockets let some water in at the bottom in very wet weather.
Women's Hooded Waterproof Winter Parka – Best Waterproof Jackets for Winter Season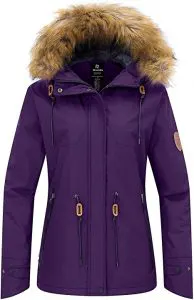 Pros
warm
Water-proof
Wind-proof
Cons
This woman's jacket is an awesome all-in-one jacket. It's a waterproof and windproof ski jacket that actually looks quite fashionable. It's insulated with fleece as well as stuffed with cotton, so that should be excellent to keep the body warm.
The jacket's outer shell is made up of 100% polyester and lined with a water-repellent coating. It also has a lot of different pockets, that's why it's great for skiing as well as other winter sports. You can bring everything that you need on you; there is even a pocket for your goggles too.
The jacket's hood is detachable, just like the fur collar. This jacket however still features elastic cuffs, with such a thumbhole and expandable cuff tabs that will prevent you from the wind. The adjustable powder skirt as well as the drawstring on the hem are there to make sure that the wind does not really bother you.
FJÄLLRÄVEN Men's Keb Eco-Shell – Best Waterproof Jackets for the Price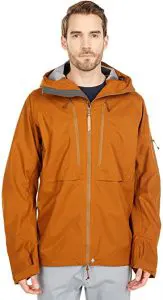 Pros
Lightweight
recyclable Eco-Shell fabric
Air-peak hood
Two handy pockets of the chest
If you're willing to invest a little more, this waterproof Jacket somewhat does it all. This crafty technical waterproof jacket has also been designed by folks who understand the feeling of what it's like to go hiking. First of all, it doesn't have hand-pockets. If you've already carried a backpack up a hill, you'll know that perhaps the hip-belt blocks reach to the pockets of your hand. So here they are replaced by strikingly deep and well-designed chest pockets that are both spacious and have elasticated pockets to place gadgets.
Another unique feature also includes a wired hood that stands up to severe weather conditions and can fit over a ski or bicycle helmet, even while ventilation openings on the side allow a sweaty hiker to get out of the steam. When being used, this jacket feels custom made for the mountains and stays dry in driving rain, thanks to both the flap behind the zip and therefore the stretchy, old recycled Eco-Shell polyester fabric. Unlike the other waterproof jackets that make the fabric without the use of any harmful PFC chemicals, the spray needs to be reproofed moderately more often.
Nevertheless, this new waterproof jacket is worth the hassle.
Men's Mountain Waterproof Fleece Ski Jacket – Best Waterproof Jackets for Mountain Climbing and Multi-purpose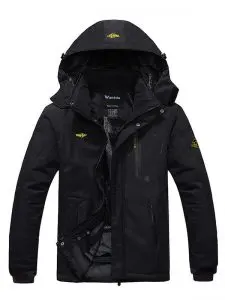 Pros
Multi-purpose
Insulated
Water-proof
Cons
You must consider purchasing this waterproof jacket if you're searching for a good ski jacket. It's waterproof and insulated, so you stay dry and warm. The jacket is coated with fleece and padded with some 1200g of cotton for overall heat retention.
This jacket also has a number of windproof features, like adjustable cuffs as well as stretch gloves with a thumbhole. It has a windproof snap powder skirt inside, and a drawstring on the hem. The jacket hood is indeed windproof as well as removable.
The storage space is what makes this jacket awesome for skiing as well as related winter sports. There seem to be five different pockets on the jacket, so that you can bring everything you need portably. This jacket does have an extra for the variety; it's currently available in 6 different colors.
What do you need to do with your best waterproof jackets?
Some are designed for high-intensity activities such as running or cycling. They make breathability their main feature; working to keep you more comfortable by letting all the excess heat escape.
Others maintain durability, waterproofness, and breathability and these are suitable for sports like mountaineering as well as ski touring. They use hard-wearing, waterproof fabrics that might also find it stiffer on the body but it can hold adapt to the height of the mountains, like abrasive rocks or heavy backpacks.
Many other people, consequently, look for a waterproof jacket that gives day-to-day protection as well as sits between these two things. The choice of these jackets is much wider, supporting a variety of brands, prices, fits and color schemes, some lighter in weight and many other stronger obviously it depends on your personal taste.
What are the things to look forward to in wearing the best waterproof jackets?
This would be a place where the 'fashion industry isn't looking to break it. A well-made jacket doesn't just keep you completely dry even in a steady rain, but it does a lot more than that. Water-and wind-proof hoods guarantee that you are more comfortable and can now map and enjoy views, as well as water-proof pockets keep your valuables safe and accessible. You're going to have to decide if you want an all-in-one waterproof jacket that keeps you warm and also dry but is larger and heavier to carry around, or a compact shell that wraps up small and you can put up with it.
As when the weather begins to cool down and the rainy season might be around the corner, you may still probably wonder what jacket you're thinking of investing in. With several options available, the choice isn't that obvious. One criterion that will help enormously close down the search phase is waterproofing. Not only, you have to look after its durability in the long run, but it is also a reliable choice for every member of the family and particular events.
How to Select the Best Waterproof Jackets?
The first one is to decide whether the jacket is completely waterproof or just water-resistant. The best waterproof jackets keep you completely dry whilst also waterproof jackets protect against light rain showers of the kind that come and go quickly. When selecting the perfect waterproof jacket for you, let your choice be dominated by that distinction.
What do you use your waterproof jacket most regularly? Are we talking about multi-day hikes in the summer, where something lightweight – and something small – would make your life easier? Or are you going to use it mainly for walking a dog on rainy days? In which case, go for something bulkier and lined up for extra warmth.
A certain way, waterproof jackets with eco-friendly authentication are then all the rage amongst these top brands. This welcome trend focuses for clothing that do not use PerFluorinated Compounds, toxic chemicals that pollute our environment. Traditionally, they have been used to make weatherproof clothing for its water and dirt-repellent features. The big brands are now studiously ignoring PFCs in favor of the new eco-friendly fabrics and making a big commotion about them.
Other Options
Such as protecting toward water, these new materials are usually breathable to limit how sweaty and smelly you get while you're active. A few of them are quick-drying, which would be more helpful when you're out strolling in the rain showers.
Nevertheless, with many other options, you're also going to have more layer-ups to stay warm in cold weather, so choosing one of the best puffer jackets and one of the best base layers are a great option. You can keep it warm when the temperature dips and strip it off when it gets warm.
The color you pick does not seem vital, but brightly colored choices are a smart decision if you're planning a hiking trip up the mountains. That's going to keep you noticeable and also dry as you boldly walk up the mountain and go for a long hike, wrapped in the waterproof jacket you prefer.
What Are the Things to Look for Before Buying the Waterproof Jackets?
All waterproof jackets keep rain, snow and wind out, but breathability would be just as vital as waterproofing. The effect of breathability is based on the ability of the jacket to move the moisture produced by you from the inside of the jacket to the outside. The much more breathable your jacket is, the more comfortable and convenient you would then feel.
There seem to be two major categories of waterproof material – membrane and coating. In both ways, the membrane or coating is adapted to the inside of the face garment of the jacket. A durable water repellent finish, or DWR, is not really the part that makes your jacket waterproof. This is adapted to the outside of the jacket and serves as the first line of defense against snow and rain.
Membrane
A membrane is indeed a technical material that has dozens of microscopic holes on its surface. These holes are so tiny that the liquid cannot be placed in, although they are large enough to allow the vapor molecules to get out. Usually, membrane jackets are much more cost-effective, but they do better than coated jackets.
Coated
Rather than a membrane, a rubber-like layer is sprayed as well as painted on the inside of a fabric that creates a waterproof barrier. These categories of jackets are of great quality and better placed to low and mid-level activity.
Insulation
If your primary concern is warmth and insulation. Then you must consider this tip before buying a new one.  They all do a great job of keeping you warm, but we're afraid they still can't beat the likes of high-fill down or Prima Loft insulation. However, these types of insulation will do just great for the entire winter.
Waterproofness
With rainy seasons, that's never a horrible time to start looking for a better rain jacket. Remember that not all of their jackets are waterproof. The waterproof ones are made from lightweight material that repels water and dries faster. One perk is that all of the rain jackets are packable, too, so that you can bring them everywhere.
Packability
We all realize how tough it is to fit a puffy jacket in your luggage. It's going to make it impossible to fit anything else in there, and it is knowingly hard to bring this one during your trip. Choose something that offers a variety of lightweight, packable, down-insulated jackets. If you're traveling a lot, this is a must-have for you, as most of these jackets even come with a little pouch that can fit into your carry-on.
What are the features that You Consider Looking for?
There are few things that you should consider before buying a waterproof jacket online. This is to ensure that you are purchasing the right one for you, so you don't have to waste spending so much money on your pocket. Below are the few features to look forward for before buying a waterproof jacket:
Comfy Fit
You should have to choose the one you're comfortable wearing. A few of them look like a jacket long enough just to cover the waistband, whereas others chose it short and tailored. Even so, if you buy a jacket for a particular activity, there are several factors to consider when you try. With climbing, for instance, are the pockets high enough just to clear your harness, as well as can you still see your feet? Or if you want it to run, would it be tailored enough to sit close to the body as well as lessen the drag?
More overall factors include: do your sleeves cover your wrists as you are moving your arms around? Are the materials too tight on the shoulders as well as your underarms? Always know that you can wear a jacket at a temperature range, so consider deeply about the layers below and choose fit appropriately.
Zip
Several other jackets use what is termed a hydro-seal zip to keep water out: a rubber mechanism which binds shut when closed. Other jackets use a storm baffle, which would be a piece of material folding over the zip. Both methods are efficient; the zip is lighter and far less bulky, whereas the storm baffle appears to be more durable.
Some of the jackets also have pit-zips that follow the underarms and can be opened if you get too hot. All jackets ought to be breathable, but this inclusion is great for convenience if you know you're sensitive to heat.
Hood
The role of the hood is basic: it protects your head and face from the elements. A well-designed hood can make even the rainstorm feel like a light shower. Some of the hoods feature a wire peak that allows you to 'customize' the fit and shape of your hood. Other jackets possess larger hoods to fit the helmet, which is more helpful if you're planning to wear your climbing as well as cycling jacket.
When you put up your hood, assure that it fastens tightly around your head and face without blocking your view; that the hood is a physical barrier for your eyes; and that it is easy to turn your head without restricting your movements.
Pull Cords and Velcro
Waterproof jackets ought to have nice quality cord or Velcro seals on the head and wrists to keep the water out. The Velcro tabs should really be easily reached and sealed, and the elastic pull-strings must be placed rationally.
How to Wash Your Waterproof Jackets?
If your waterproof jacket doesn't work as it used to, the first step you need to do is to wash it. Over time, dirt, mud and particular grime – like vehicle's exhaust fumes – it can coat the outside of your jacket and its linen. This impacts its waterproofing features by removing the DWR.
Sweat, skin oils, as well as other factors can affect the breathability of the jacket too, triggering a build-up of the breathable membrane. Wash your jacket will help to remove dirt and consider your waterproof jacket breathable again.
This may lead to poor breathability and limited waterproof potential. Wash your waterproof jacket as guided by the package and bring a cleaner.
Use a sponge, cloth, or brush to apply it straight to any dirt and stains. Use the cleaner in your washing machine as a wash-in protector for wider reach. This process is similar to that of a wash-in reproof.
Get the Best Waterproof Jackets Now
If everything else fails, and your jacket is really out of repair, then maybe it's okay to challenge yourself to purchase a brand new one. There's a lot to choose from all sorts of features and functionalities to help you fight the elements.
So, isn't it very hard to choose in which waterproof jacket are you supposed to purchase? A great way of determining this is to decide what you're going to use mainly for. If you're doing major hill walking, you might like a stiffened hood, storm flaps, as well as pockets for additional storage space. Even so, if you're climbing, you may also want to take into account something that would be a little tougher, it has a much more relaxed fit for easy movement and also has adjustable cuffs and hems.