The Best waterproof trousers are an essential piece of clothing for winter hikes, in particular.  These are items of hiking gear that we never want to have to use. However, it ends up using it quite frequently due to our lovely climate here in the UK.
There are some pretty poor waterproof trousers on the market, and most of us have seen them at some point. You know, the ones that made you wetter than the rain because of condensation buildup. The ones that were shaped so poorly that your stride could only reach about afoot. The ones that had a gaping hole on the thigh after being slightly nicked by a bramble bush.
Okay! That's the end of our whining. What's important to know is that there are good waterproof trousers out there, and as luck would have it. Finally, we've listed all of them for you in this round-up. Since they aren't all clammy, hot, and unbearable, there are some that are worth wearing even when it isn't raining.
We've compiled our top picks for the best waterproof trousers in town. This is to support you in your search for waterproof hiking pants. Also, we have included a buying guide at the bottom with a list of important features to consider.
Patagonia Torrentshell 3L Waterproof trousers│Best Editor's Choice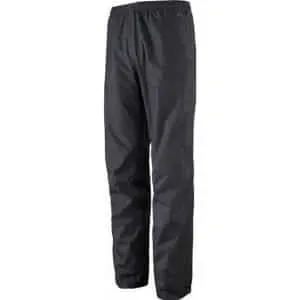 Bluesign approved

Fair Trade Certified

contains recycled nylon
These are a high-performance, long-lasting, and reasonably breathable pair of overtrousers. They're made of a tough three-layer fabric that won't make you sweaty. You also get outstanding waterproof performance.
Two-way side zips extend from cuff to thigh, making it easy to pull these trousers on over boots. There are two zipped pockets as well as the trousers can stuff into a stow pocket with a handy carabiner clip.
Marmot PreCip Eco Waterproof Trousers│Best value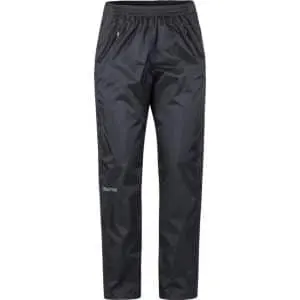 PFC-free

bluesign approved
For several years, we ignored Marmot gear, and it wasn't until a companion showed up to a hike. Wearing one of their Highlander Down jackets that we decided to do some research on the brand. That was our terrible mistake! Due to their sleek, stylish designs, they've become one of our favorites.
These waterproof trousers from Marmot are appealing to all because they offer good value, good performance, and sustainable credentials. PFC-free DWRs aren't as long-lasting as fluorocarbon-based DWRs. However, Marmot has developed a new technology that allows the waterproof coating to last longer here.
These lightweight trousers are made of a 2.5-layer durable and breathable fabric. They have a baggy fit that allows for quick and easy fitting over clothing. This will help even more by the full-length side zips.
Berghaus Hillwalker Waterproof Overtrousers│Best Known for a Proven Classic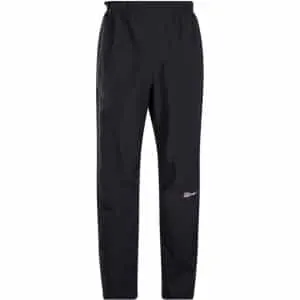 When the rain starts falling, you'll have nothing to worry about if you're wearing these waterproof overtrousers from Berghaus. They're completely waterproof both inside and out thanks to their two-layer trademark hydro shell fabric.
These trousers are available in a wide range of sizes from Berghaus. So, they will fit almost anyone. Moreover, the 2-layer Gore-Tex fabric with a mesh lining is more comfortable than relatively stiff 3-layer fabrics. This is so much better without sacrificing performance.
The side zips reach the top of the thigh. This will allow them to be worn over boots, and an external storm flap covers the zip to keep the rain out. The waist is elasticized, and there is an elasticized drawcord. All of this adds up to a good all-around option for many walkers. Also, the price for Gore-Tex trousers is reasonable. The mesh and storm flaps contribute to the increased relative weight.
Many reviewers praise the trousers' high-quality fit. It stated that they are extremely comfortable and just never bunch up or fall down. Furthermore, many customers praise the pant's waterproofing capabilities, asserting that they can be worn. Lasttly, this will protect you from any type of heavy weather conditions.
Mountain Equipment Ibex Mountain Pant│Best Waterproof Trousers for a hassle-free option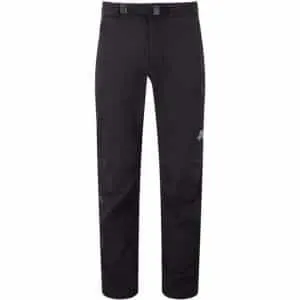 three-layer Drilite Stretch 20D fabric

100% polyester with PU membrane
Changeable weather can be challenging, however, these super-comfy trousers are designed to be worn next to your skin all day. These will work well enough for speedy hikers in most conditions. They are extremely light, have great four-way stretch, a gusseted crotch, articulated knees, and impressive waterproofing and breathability ratings.
However, these are probably best for three-season use because they don't provide much insulation on cold days. The integrated belt ensures a comfortable fit around your waist, and there are two zipped pockets. There are also ankle zips if you require them. Just keep in mind that you'll be trading off lightness for some toughness with these beautifully streamlined and flattering pants.
Rab Kangri Gore-Tex Pants│Best for tough Mountain Adventures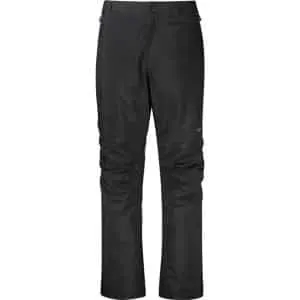 Three-layer Gore-Tex for exceptional waterproofing

Articulated knees for ease of movement

Full-length, two-way side zips

Under-boot loops
The Rab Kangri is designed for days and weekends when the weather is bad. It features three layers of Gore-Tex for waterproof protection, as well as an outer fabric made from recycled material. As an outcome, the trousers are as tough and durable as any waterproof jacket you'd rely on to protect you from the elements on a winter hill walk or multi-day hike.
The full-length side zips make them easy to slip on over walking boots, and poppers allow you to leave the zips undone for ventilation when the weather permits. When it's time to hunker down, the waterproof zips with an internal storm flap will keep even the most torrential downpour at bay.
There's a fully adjustable, elasticated waistband with a Velcro-style adjustment for a comfortable fit, as well as loops for attaching an under-boot cord to keep your lower legs dry in long, wet grass. All of this earns the Rag Kangris a spot on our list of the best waterproof hiking pants.
OMM Kamleika Pant Men│Best for Extreme Comfort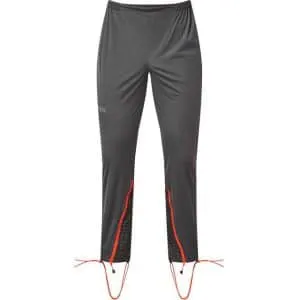 This is a brand that specializes in outdoor equipment for hikers and mountain marathoners, offering the best waterproof walking trousers in men's sizes, with the Kamalika Pants being some of the most popular pants featured on the site.
If the name "waterproof" isn't enough to reassure you of their effectiveness, you might be interested in knowing that they are also specifically designed to reduce humidity build-up inside your clothing.
The Kamleika Pants were purposefully designed to allow you to exercise for longer periods of time without letting bad weather or sweat build up slow you down or dampen your mood. Wear the Kamleika Pants to stay focused and achieve your desired goals. The comfort of these waterproof walking trousers also helps with this aim, with a soft base layer that stretches to almost double its size, allowing you to exercise without any constructions impeding your progress.
These trousers are especially useful for all of you trail runners out there. They're not only comfortable for long runs, but they also have a kick guard panel for uneven terrain. This has hooks on the zips to get a closer fit to the shoe, which prevents debris from getting inside while trail running.
Enough that, if you're looking for the best waterproof trousers for extreme comfort, durability, and waterproofing properties, this offering from OMM is a must-have.
Regatta Chandler Overtrousers III│Best Cheap Waterproof Trousers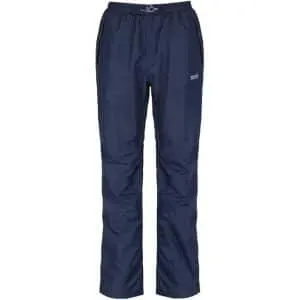 These are the least expensive on the test.  They have an internal lining that makes it a little bit more difficult to pull them on over boots, and the short zips at the bottom don't help much either.
Some of the best waterproof trousers are noisy to walk in,  these seem especially so, and they are rather baggy, so they flap around a lot in the wind. To mitigate this, poppers on each ankle help cinch them in at the bottom. They were definitely comfortable to wear, and the elastic waistband ensures a good fit.
One thing that bothers me is how easy it was for us to overheat in these. Some ventilation zips would have been nice, and they aren't particularly light or packable, but for the price, you can't expect much.
Craghoppers Kiwi Pro Waterproof Trousers│Best for Comfy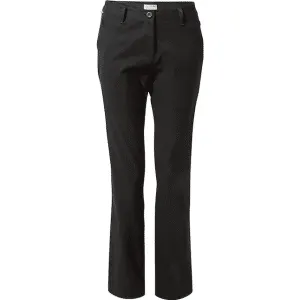 The Craghoppers Kiwi Pro Waterproof Trousers are not over trousers like many of the other best waterproof trousers. Conversely, you wear them all day and they will keep you dry in the event of a rainstorm. The fact that they don't look or sound like waterproofs is my favorite part.
They certainly did their job in a short shower during testing, but if you run hot, you may find them a little warm. There is no ventilation zips to compensate for this, but on cooler days, they should be fine. The range of motion is what you'd expect from a standard pair of walking trousers, and they're extremely comfortable.
What Are The Things to Look for in the Best Waterproof Trousers?
Waterproof trousers come in a variety of shapes, sizes, fits, and qualities.
As a basic guideline, the general style of the trouser isn't very important in terms of performance; what we really care about is the quality of the waterproof trousers.
At their fundamental, waterproof trousers have two primary functions: to keep and to be breathable in order to prevent moisture buildup inside the trouser. Depending on what you intend to use the trousers for, toughness, packability, and insulation are all important factors to consider.
Important Key Features in Waterproof Trousers
The best waterproof pants are the completely waterproof while also being breathable enough to prevent moisture buildup on the inside. You should also consider their weight, pack size, and long-term durability, as well as details like water-resistant pockets, thigh vents, and lined waistbands.
It's worth noting that there are two types of waterproof trousers available: overtrousers and wear-all-day trousers. When the weather turns bad, you pull out your overtrousers from your pack to wear over your regular walking pants. Wear-all-day-trousers, well, we don't think we need to explain, but they're the ones you can wear next to your skin from the first mile to the very last.
Each type has advantages and disadvantages, and the choice between the two determines largely by the circumstances. Overtrousers are your best bet if you're expecting start-stop rain, whereas if you're expecting non-stop rain or snow, you might want to go for the wear-all-day kind.
Waterproof and breathability
The best waterproof trousers must be both waterproof and breathable. Without breathability, you'll end up sweating underneath and getting just as wet as if your legs were directly rained on! Choose the highest possible MVPR and hydrostatic head numbers.
Lightweight and thin
Trousers require low weight and small packed size. To obtain the best specifications in this area, we recommend that you have to see our list here – the problem is that they can be a little more expensive if you don't shop around.
Fit
These are frequently baggy, but with these articulated knees, they can be perfectly fit more snugly. If you want a closer fit, look for a seam around the knee and a slightly angled shape in the leg. Whilst also regular waist-height trousers are adequate for most uses, those mountaineering in extreme winter conditions may prefer the extra upper-body protection that bib-style salopettes provide.
Waistband
This area is frequently elasticized for added comfort. A drawcord provides additional fit control, while Velcro tabs, press studs, or belt loops provide even more fit customization. The ability to attach braces is ideal for mountaineering or scrambling.
Leg zips
The longer the zipper, the easier it is to put on trousers while wearing boots or crampons. This is also an area that can easily leak, especially when the zip flexes at the knees. Water-resistant zips may keep some water out, but because they can still leak. They're equipped with an internal flap designed to channel any water that enters this area. External storm flaps are ideal, but they are cumbersome and heavy.
Waterproof Trousers: Ventilation
Condensation can form even in the best waterproof and breathable fabrics, so it is critical to increasing ventilation between showers. A trouser with long side zips and two or three zip pulls provides additional ventilation at the calf, knee, or hip.
Scruff patch
The inside of the ankle takes a beating and quickly wears out from being scuffed by boots, crampons, rocks, and undergrowth. If you're going to be hammering this area on mountain walks, look for an extra panel of material here.
Fabrics
Higher-priced overtrousers, in general, use more breathable 3-layer laminated fabrics, which reduces the chances of condensation forming on the inside of the fabric. Mesh linings help reduce the stress, as any condensation holds away from the body. However, such linings make a trouser heavy and can snag when you are putting the trousers on over boots. A lightweight trouser comes of 2-layer or 2.5-layer fabrics, which tend to show more condensation.
Toughness
It is critical for winter and mountaineering use, where you can wear these trousers all day clambering through snow and ice and over rock so that the fabric does not tear or split. Heavier-weight fabrics tend to hold up better to abuse, and some of the tougher trousers reinforce around the inside of the ankle to protect against crampon spikes.
Other Considerations For Choosing Waterproof Trousers
Waterproof trousers have a membrane, also known as a coating, that acts as a barrier, preventing moisture from penetrating the fabric. The membrane can be used to keep driving rain, snow, sleet, and hail at bay.
Whether they're the best waterproof running trousers or designed for another purpose, including such walking, all waterproof trousers come traditionally of a 2.5 layered fabric with the membrane bonded to the pace and backed with printed or raised inner 'half' layers.
While two-layered waterproof walking trousers are typically the least expensive option on the market, they are often bulkier, heavier, and warmer. The premium 3-layered options, on the other hand, are more expensive and have a slightly higher water wicking capacity.
This is due to the waterproof-breathable membrane that wedges between the face fabric as well as the wicking tricot in 3-layered options. This will provide more robust protection and a longer lifespan than most common waterproof trousers' 2-layered fabric.
We hope that this brief guide on how to choose waterproof trousers has been helpful and that it will help you choose the best item for you from our shortlist.
Different Types of Waterproof Trousers
Waterproof trousers aren't the most fashionable piece of clothing, but they'll come in handy when the heavens open. Though some walking trousers have a durable water repellent (DWR) coating, this isn't going to provide enough protection in heavy as well as sustained downpours.
So what do you want from a new pair of waterproof trousers? They must, of course, keep the weather out, but we also want them to be lightweight and packable in the event of good weather when they will be living in your pack. If it does start raining, they need to be easy to pull on in order to minimize how wet you get, so we like to see long zips to help with this. We also want pockets, vents, and a slim fit so they don't act like sails in the wind. They must, of course, be comfortable.
Overtrousers
Waterproof overtrousers are especially popular in areas where the weather is unpredictable, as they can provide short-term coverage when rain falls unexpectedly.
Wear-All-Day
As the name implies, this type of waterproof trouser is best suited for extended wear, such as during workouts and throughout the day. Wear-all-day waterproof trousers can be worn next to the skin without the need for additional layers.
Both types of waterproof trousers provide distinct advantages and deciding which is best for you is dependent on factors such as personal preference and the weather conditions you expect to encounter while exercising.
This may seem obvious, but if you know you'll be exposed to inclement weather, we recommend investing in a pair of overtrousers. This allows you to put them on at the drop of a hat if bad weather strikes.
However, if you know you expose to inclement weather all day, investing in a pair of wear-all-day trousers is the better option.
Are The Best Waterproof Trousers 100% Legit?
The best waterproof trousers are available in any color you want as long as it's black. And they say a lot about their owners.
At one end of the hiking, spectrum is the eternal optimists, certain that the skies will remain clear and that their waterproof trousers will spend their lives rolled up in a pouch and stowed in their hiking backpacks. Optimists, who recognize that we are frequently at the mercy of unpredictable weather systems, acknowledge that the skies will occasionally fill with rain clouds and that walks can be soggy affairs unless adequate waterproof protection is available. At the other end of the spectrum are the no-holds-barred hikers, the ones who already know how to waterproof hiking boots, striding to the summit or walking the next stage of a long-distance path, fearless of the monsoon that is set to accompany them all day.
These differing perceptions determine the investment required in waterproof trousers to complement your best waterproof jacket, ranging from a cheap and cheerful pair to a serious outlay for a pair required to withstand the deluge day after day.
What Are You Waiting for? Get Yours Now
Keeping warm and dry is essential for enjoying and succeeding in the great outdoors. BushWear offers a wide selection of waterproof clothing and overshooting trousers to keep you dry and comfortable.
We have a trouser that will meet your budget and exceed your expectations, whether you are pushing through a game crop or crawling over the heather. You don't have to worry about choosing what's best for you, we have already compiled the best list. All you have to do right now is to read and discover more.
Many waterproof trousers are quite universal, so consider what is important to you. Remember that some over-layers do not have waterproof pockets, and if you're looking for insulated trousers, be prepared to make a slight sacrifice in terms of weight and speed of flexibility, and movement.