Breastfeeding is a great way to supply your baby with nutrients as well as a chance to bond and connect with the newest member of the family. A breast pump can be quite useful in some situations, such as when you'll be away from your baby. If you want to share feedings with your partner or have feeding or supply issues. Pumping has a tendency to make moms feel like milk machines. If you've decided to breastfeed for the long term, there are a few things you can do to make the process a bit less, well, sucky. 
Even if you expect to exclusively breastfeed, having a breast pump on hand is beneficial. Why? It can aid in increasing your milk supply, particularly in the early stages. Breast milk production is based on supply and demand, so pumping for a few minutes after nursing or adding in a pumping session is an hour. This will help you increase your supply.
When you're away from your baby, whether at work or just getting some much-needed alone time, pumping can help prevent engorgement and keep your milk supply up. If you wish to be able to give your infant breast milk when you're not there, the resulting milk storage comes in handy.
Although the choice of a breast pump is influenced by a variety of factors such as lifestyle and personal preferences. There are many breastfeeding parents who consistently favor a few brands and models. Here's everything you need to know about choosing the best pump for you, as well as the top choice in 2021. 
Medela Freestyle Flex Breast Pump – Best for Hands-free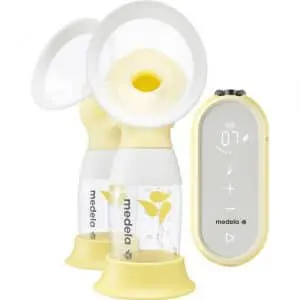 Pros
Hands-free, and lightweight unit.

 

Mimics the natural sucking rhythm of babies — more comfortable.

 
Double pump system for more milk in less time.

 

Easy to use and clean.

 
Cons
The charge only lasts two hours, so it might need to be recharged a few times a day.

 
The suction power could be better.

 
Are you a working mom?  Then a hands-free breast pump, like the Medela Freestyle Flex, is required for you to have one. This breast pump is made for on-the-go mums. It's really convenient because it's small enough to put in a bag or even a pocket. The two-pump method enables more milk to be produced in less time, which is extremely efficient. 
The pump is linked to the My Medela app, which is really useful. You may keep track of your pumping sessions so you don't forget how far you've come that day. The 2-Phase Expression technology is more pleasant and effective for you since it replicates babies' natural sucking cycles. Because the breast pump is so quiet, you can use it while doing other things. It can be used close to a sleeping partner or a newborn without waking anyone up. 
Digital display
It includes a timer and a memory button, as well as an illuminated digital display. It might help you especially in organizing your pumping sessions. 
Carry bag
The breast pump carry bag accommodates all of the necessities for a pumping session. Plus, because the Medela Freestyle kit is so light, moms can take it outside without breaking a sweat. 
Rechargeable battery and lightweight motor.
This is ideal for women who live a hectic, on-the-go lifestyle yet still want to breastfeed their children. You'll be able to get through a lot of pumps thanks to the battery charge.  A full charge can last two days of pumping many times per day. 
Cooler set
When you're on the go, at the workplace, or away from home, this cooler set makes it simple to pump and keep your milk fresh. 
Breast shields 
The Freestyle comes with two sizes of Personal Fit breast shields, allowing parents to select a comfortable fit that suits their needs. 
Hands-free
This pump may be used hands-free with the use of a customized bra. This frees up time for busy moms to do other things while pumping, including chores. 
Quiet
The quiet pump allows moms to pump milk discreetly at work without disturbing the rest of the office. 
Durability
This pump appears to be nicely built for such a small, lightweight pump. It's small enough to fit in a purse, and the ability to use it hands-free with a specialized bra is a convenient feature for busy moms. 
Short tubing
The unit's short tubing is a lovely touch. They aren't too long to pull out of the pump, which is convenient during feedings. Moms despise it when tubes pop out of their breast pumps in the middle of a squeeze. 
Easy to use
Although it has a few more parts than some other pumps, it does not appear to be complicated or frightening. Moms should be able to quickly figure out how to use this unit and won't have to spend much time studying the instructions. After taking this device out of the box, they should be able to start pumping right away. 
Performance and portability.
You're unlikely to find a breast pump with such a good balance of performance and portability. You won't feel like a pack mule carrying all the heavy equipment because you can carry this bad boy wherever. 
Philips Avent Manual Comfort Breast Pump – Best for Portability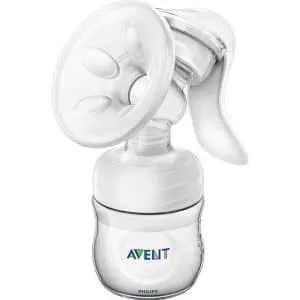 Pros
Easy on your back because its design doesn't require you to lean forward.
Cons
Can squeak a little sometimes while operating.

 

You have to press it hard against your breast to form a vacuum.

 
Rather than the longer, thinner bottle found, the Philips Avent Manual Breast Pump has a compact, wide bottle attached to it. This breast pump is also compatible with various Philips Avent bottles and milk storage containers, which may be a plus for women. 
This pump's modest, compact form makes it simple to position and use – you can even handle it with one hand. It has an angled neck that uses gravity to allow your milk to flow directly into the milk collection bottle, eliminating the pressure on your lower back from leaning forward. A gentle massage cushion is included with this pump to help increase milk flow.
Furthermore, mothers who aren't satisfied with simply washing their portable pumps will like the fact that this unit can be disinfected in the microwave or by soaking it in boiling water. 
Haakaa Silicone Manual Breast Pump – Best Milk Catcher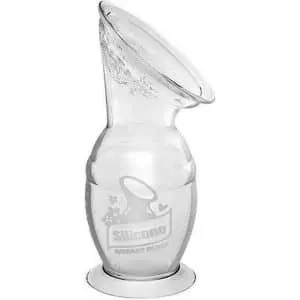 Pros
It's extremely cheap.

Easy to use.

Perfect for traveling.

 
Cons
It won't completely empty your breast.

 

Measurements on the bottle are a bit inaccurate.

 
This is an extremely cost-effective and transportable alternative. The Haakaa provides a practical solution for storing breast milk that might otherwise go to waste: Attach the Haakaa to the breast opposite the one your baby is nursing on to save milk that is released at the same time! It's also ideal for removing a tiny bit of milk when stopping or reducing breast fullness in between feedings. 
There are no problems regarding open or closed systems because there is no real pump involved but the Haakaa demands more physical labor than an electric pump. Because of its design, spilled milk is a possibility if it is knocked over, it may be worthwhile to spend the extra money on the storage cover. Despite the fact that this Haakaa pump is named a pump, it does not actually pump anything. However, by the time you're done with it, you'll still have a large volume of breast milk. 
All you have to do is attach this BPA-free silicone gadget to one breast while feeding on the other. Then sit back and let nature run its course. This pump on your breast will gather any excess ounces you might have otherwise wasted as you let down. Then your milk begins to flow from both breasts. When your breasts are engorged in the start of breastfeeding, this can help you feel more comfortable by removing a small amount of milk.
The best aspect is that there is no discomfort or extra effort required on your behalf. 
Elvie Double Electric Breast Pump – Best Known for Gamechanger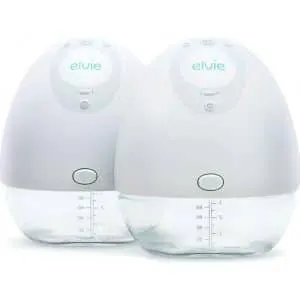 Pros
5 parts for assembly and cleaning 

 

app-enabled and the app tracks milk output in real-time

 
automatically switches from stimulation to expression mode

 

7 suction settings for variable intensity

 

recharges in 2 hours via micro-USB

 
Since its launch a few years ago, Elvie breast pump has received a lot of attention. It's a wearable, wireless pump created with the goal of bringing women's technology out of the dark ages.  The claims are rather ambitious, with terms like a big gamechanger. 
Hands-free, wearable, and portable
Elvie is a breast pump that fits directly on your breasts and has a motor built into the breast cup. This is a significant shift from a standard breast pump with an external motor. The Elvie is hands-free, wireless, tubeless, and extremely quiet. Everything is contained in a single device that fits within your usual bra, from the machination to the milk collecting. 
Setup
To get started, put the wearable pump together and lay it against your breast. To ensure the pump is properly positioned at your nipple, you'll probably need two hands to get started. When you've experienced let-down, you can clip your nursing bra closed. 
You'll need a good nursing bra to keep the Elvie pump in place at your breast, especially if you produce enough milk to fill the storage bottles. After that, you may theoretically sit back, relax, and do anything you want. 
Performance
Many women who have used the Elvie adore it, but a considerable minority of them despise it. While some people describe the Elvie as game-changing and emancipating in comparison to other pumps. It's entirely worth the money.  The Elvie's most common compliments are that it's portable, practical, and unobtrusive. 
Visibility and tracking
The collection bags are hidden inside the breast cup, with limited visibility or physical access. As a result, many women say it's difficult to tell how much milk they're collecting, which can be perplexing, if not downright nerve-wracking. If you're a first-time pumper, this may be the usual, but if you've done it before, you'll notice that not having real-time visibility is a major change. 
Mobility
The main reason why ladies adore the Elvie is that it allows them to maintain some level of freedom while pumping. You can wander about, have your lunch, work at your computer, drive, or do anything you want to do.  However, the device still necessitates a certain amount of "stationary activity." Bending or any genuine activity causes it to fail.  
Power
Lastly, the Elvie isn't known for its power, and its suction isn't as strong as the Spectra S1 pumps. Because of its moderate suction, several women claim it is less efficient than other pumps. As a result, it's not the ideal option for raising milk production. 
Mam 2 in1 Electric & Manual Breast Pump – Best for Ease of Use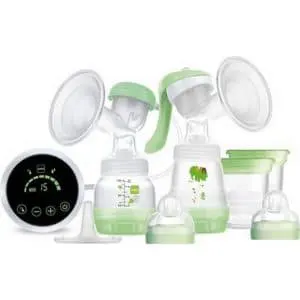 Pros
Can be used as a manual or electric breast pump

 

Easy-to-use touch screen

 

Rechargeable battery

Lightweight, particularly as a manual breast pump

Compatible with MAM's full range of Easy Start bottles

Storage pots mean you can store your breast milk in the fridge or freezer

 
Cons
Bottles started to leak after a few weeks' use

 

One-size-fits-all funnel

 

Can only be used with compatible MAM bottles

 

No storage bag provided

 
A lightweight, portable pump with a rechargeable battery that can be switched from manual to electric pumping fast and effortlessly. The one-size-fits-all funnel cannot be removed, which may be inconvenient for some. 
The MAM 2in1 Single Pump gives mothers the most options when it comes to expressing their milk. There's no need to pick between electric and manual pumping when you have this pump.  All of this in a single gadget! The electric pump device has stimulation and expression modes that mirror your baby's natural sucking behavior, as well as up to nine different suction intensities for maximum comfort for moms. The pump may be plugged in or operated freely anywhere mum wishes, due to the rechargeable battery that lasts for 5 hours! 
Privileges
For the sake of convenience, many mothers have both an electric and a manual pump, but this can be costly and leave you with a plethora of different parts to store. A two-in-one breast pump comes in handy in this situation. It not only reduces the quantity of equipment you need, but it also allows you to smoothly transition between manual and electric depending on your demands. Both choices are available in one easy-to-use pump with the MAM 2-in-1. It combines the efficiency and convenience of an electric pump with the convenience and privacy of a manual pump. 
Assemble
The pump comes with clear, easy-to-follow paper instructions, as well as an online demonstration and explanatory video. Setup is easy — it takes around five to ten minutes to unpack and organize everything. 
The electric pump is fully charged out of the box, so you may use it right away after washing and sterilizing the parts that interface with the milk. You have the option of pumping directly into a bottle or unscrewing the bottom of the bottle. And, adding a storage container to save the milk while expressing.
The bottles and storage containers are nice additions, and the manual hand pump is a fantastic idea. You have the option of using the tougher shell funnel or adding a softer silicone fitting for more comfort. 
Comfortable
The MAM is comfortable and simple to operate, allowing you to multitask at home or when out and about. While other breast pumps can make you feel like you're wearing a vacuum cleaner, the MAM 2-in-1 provides a more pleasant experience. It immediately starts at the lowest setting and there is a small pause anytime you adjust it, which many mothers will like. 
The suction can be readily adjusted thanks to the 9 various strengths, ensuring your comfort at all times. For more comfort, you can utilize the tougher shell funnel or add a softer silicone inlay. When our tester, Sam, used both alternatives, there was no friction, but he preferred the silicone fitting to the plastic cone. Unfortunately, the breast shield is one-size-fits-all, which may make finding the correct fit difficult for some mothers.
While Sam usually loves to lean forward to ensure she gathers as much milk as possible, she was able to sit comfortably and didn't have to lean forward if she didn't want to. 
Discretion and Practicality
One of the most versatile pumps to use at work is the MAM 2-in-1. You won't be relying on a power connection because of the rechargeable batteries, and you may pump manually at any time with the ergonomic manual pump handle. The pump can be used for repeated 20–40-minute pumping sessions and recharges whenever it is plugged in. The hub's battery life is clearly stated, so you'll know when it's time to recharge it. There are no spare batteries required, and the gadget is simple to plug in and recharge. 
Safe and Stable 
The pump is well-made, and the motor unit is suitable for outdoor use. For hygiene reasons, there is also a funnel cover for the electric top. The bottles did start to leak after a few weeks, according to Sam, but the pump itself is pretty sturdy. 
Tommee Tippee Closer to Nature Electric Breast Pump – Best for Budget Option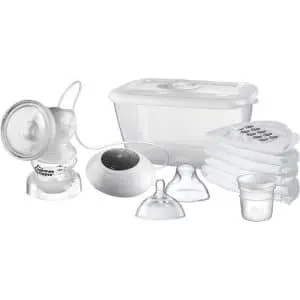 Pros
Affordable

 

Functional

 

Practical

 
Cons
Noisy

fiddly to put together

 
Tommee Tippee is a well-known business that makes a wide selection of baby bottles, sterilizers, toddler cups, as well as soothers.  It was founded in America over 50 years ago and arrived on our shores in 1965 as part of the Mayborn Group, a US-based childcare company. It has grown into a market leader in dinnerware, cups and beakers, and feeding goods throughout the years, mostly due to its staple Closer to Nature range. The Closer to Nature electric breast pump as part of its award-winning infant feeding collection and therefore is specifically designed to emulate a baby's natural feeding activity. 
How does the Tommee Tippee Breast Pump work?
Despite the fact that it was a pain to put together, it impresses us by how well it worked once it was done. When it comes to expressing yourself, you have four options: light, low, medium, and high.
Tommee Tippee suggests starting with the light mode to increase milk flow, then increasing up to a higher setting that feels natural for you – similar to how a baby feed in two phases. Despite the fact that the electric pump is loud, the settings are simple to operate. 
Extras Included with the Breast Pump
The Tommee Tippee Closer to Nature pump comes with its own microwave-safe sterilizer box. It also includes breast pads, a milk storage jar, a few spare components, and a bottle with a baby teat, making it an excellent value for money kit. Tommee Tippee has included a handful of spare parts. The pump, predictably, does not work with other bottle brands, but only with Tommee Tippee bottles, so if you were hoping to use it with something else, you won't be able to. 
Chicco Naturally Me Electric Breast Pump – Best for the Price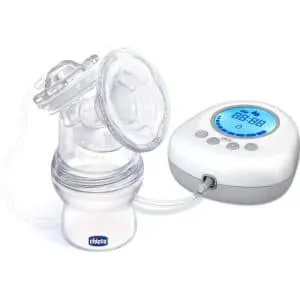 Pros
Electric AC/DC Adaptor

 

Can use batteries

10 settings according to mothers' requirements

Handy one-touch adjustment

LED screen

Comes with a 150ml milk container
Chicco's NaturallyMe Electric Breast Pump is easy to use, efficient, and pleasant. It can be used to stimulate lactation, expel a surplus of milk, or provide an additional supply of milk if the infant is far away.  In all stages, it includes an exclusive digital display on the LCD screen that shows the elapsed time. The level is set in a simple manner. Its keys are simple to use: simply touch them to adjust or modify the settings.
It's small and portable, having dual power. Its ergonomic design, which includes an inclined shell, enables a comfortable and relaxed expressive position. Its silicone surface with an 'extra-soft effect' ensures that it adheres exactly to the breast and is as mild as possible. The pump has two functions: the accompanying cover can be used to preserve the milk, and the teat can be used to deliver milk to the infant. This has a convenient base that ensures optimal stability so that no milk spills. 
Operation
You don't have to put yourself in any type of precarious position in order to express enough milk for your baby's meal. Chicco has even researched a bell with an ergonomic and truly revolutionary design that allows a woman to draw milk from any position, including a comfortable armchair. This allows the mother to feel quite comfortable, which, as you may know, is the best approach to increase milk production. Furthermore, the bell has a very soft silicone coating that provides great delicacy in contact with the mother's breast as well as excellent comfort. 
There are two stages to using the Chicco breast pump. The stimulation phase is triggered as soon as you turn on the device. In this phase, the breast pump works at a high speed to stimulate milk flow. After two minutes, the pump automatically switches to expressing mode, which slows down the work rate to ensure that the milk is expressed as efficiently as possible, precisely like your baby's mouth. 
Simple and Intuitive
This breast pump offers ten pumping levels to choose from, which is fantastic. As a result, the mother has the option of selecting the level that appears to be most appropriate for her needs, ensuring optimal comfort at all times. This breast pump is both intuitive and effective, and it also manages to be quite simple. The mother gets a useful display where she can select the level of extraction and examine the amount of time spent. 
Accessories and power supply
It is a dual-power product, which means that you can connect it directly to the electric current using the special adapter included in the packaging, but it can also be used with batteries. A battery-operated breast pump is essential for all women who must be away from home for long periods of time and must therefore pump their breasts frequently throughout the day, even when they are not at home. There is claimed to be an electrical outlet nearby. The battery operation makes it excellent for out-of-town visits and travel. 
It comes with two useful accessories: a cap that allows you to securely close the bottle and preserve the breast milk. Then, it allows you to give your baby the breast milk you have extracted right away, which can obviously be used from your baby's first days of life. 
Do You Really Need a Breast Pump?
Because everyone's situation is different, you'll need to consider your lifestyle, employment status, feeding preferences, and the length of time you want to breastfeed before deciding whether or not to buy a pump. A good pump is a must-have if you want to work outside the home once the baby is born and continue to breastfeed. However, if you anticipate being with a newborn for the majority of the time, it may not be as important. 
If planning on being away from the baby on a regular basis.

 
You're looking to maintain your milk supply.

 

When dealing with low supply or engorgement.

 

You prefer feeding baby expressed milk.

 
Numerous health insurance policies now cover the cost of a breast pump for nursing mothers and fathers. Call your health insurance provider to learn more about your individual benefits and what you'll need to do to receive your free pump. 
Closed vs. Open System Breast Pump
If you're looking for a breast pump, the first thing you should think about is whether you want a closed or open system. Because "closed system" and "open system" aren't medical terminology, brands can utilize them in a variety of ways. If you encounter a term in a product description, make sure you know what it implies from a particular brand! 
A closed system breast pump has a barrier that keeps overflow milk from flowing into the pump system. This contributes to the overall sanitary state of the system. No system can be entirely closed since the suction function of the pump requires some air to flow in and out. A truly closed system, on the other hand, will come as close as possible.
This barrier is absent from an open system breast pump.  There's a chance you'll come across a used breast pump on the market. While it's tempting to go for the cheapest option, certain parts of a breast pump can't be thoroughly cleaned after being exposed to another woman's breast milk. Since the chance of someone else's milk reaching the pump in an open system is increased, many people avoid purchasing these pumps secondhand. 
What Types of Breast Pumps are There?
Pumping moms can choose from a variety of goods on the market. Some are more essential, while others are purely discretionary. When deciding on which pumping products to buy, think about your own circumstances. What works for one mother may not be the perfect fit for you and your child!
If you're unsure whether something is fitting correctly or performing as it should visit a lactation consultant or a local breastfeeding support group. As you navigate your feeding journey, communities for breastfeeding and pumping women might be beneficial. These are the most important support systems of all. Breast pumps are divided into four categories:
Hospital-grade breast pump
These heavy-duty pumps have larger motors and produce more "sucks" each minute. They extract milk swiftly and are quite quiet, but they're big and inconvenient to transport. Typically, hospital-grade pumps are rented or purchased. 
Electric breast pump
Suction and speed are both adjustable, making it efficient and portable. While all versions require energy to operate, certain types come with rechargeable batteries, allowing you to pump without being attached to an outlet. Electric pumps often come with a carrying bag and a refrigerator for transporting milk, making them a popular choice among working mothers. Single electric breast pumps are available, but the more popular—and more efficient—option is a double pump. 
Wearable electric breast pump
Wearable breast pumps, which have grown in popularity in recent years, are exactly what they sound like: a hands-free, entirely portable breast pump that you can wear right in your bra. Pump "cups" that fit over each breast, flanges, and milk bags make up the pump. Wearable pumps allow you to pump discreetly and in a variety of postures, regardless of where you are. 
Manual breast pump
To create suction and pump your milk, these breast pumps employ the pushing motion of your own hand. Some are simple to use with just one hand, while others require two. These pumps are silent and tiny because they don't have a motor, making them ideal for travel or infrequent pumping. 
When Is It Appropriate to Use a Breast Pump?
Pumping can begin once breastfeeding is established, which is usually four weeks after the baby is delivered. If your baby is in the NICU, if you're having problems breastfeeding, or if you want to pump solely. When your breasts are still feeling full, they recommend initiating a pumping session after one feeding each day. You can also start introducing your baby to a bottle around this time. 
Your personal situation will determine how long you breastfeed and pump. According to the American Academy of Pediatrics, it advises aiming to breastfeed exclusively for the first six months, then continuing to nurse while additionally giving solids for the rest of the first year. However, you must do what is best for you, your family, and your daycare situation in the end. 
How often are you planning to use the breast pump?
A simple hand pump may be all you need if you'll only be gone from the infant on occasion and your milk supply is firmly established. To express the milk, place a cone-shaped shield on your breast and squeeze the handle. An electric pump is a preferable alternative if you're returning to work full-time or will be away from your kid for more than a few hours per day. Consider getting a pump after your kid is born, when you'll have a better idea of how you'll use it. 
How much money can you spend on the breast pump?
Medical supply stores, most drugstores and baby stores, as well as many discounts department stores and internet sellers, sell breast pumps. If you're going to buy a breast pump online, be sure it's from a reliable provider. Electric pumps are usually more expensive than manual pumps. Don't borrow or buy a used personal-use breast pump because there's a chance of contamination.
If you're pumping milk while your baby is in the hospital or prefer to feed your infant expressed milk rather than breast milk, you might choose to rent a hospital-grade electric breast pump from a hospital or medical supply store. You'll need to purchase the apparatus that connects your breast to the pump if you rent a pump. The cost of purchasing or renting a breast pump is usually covered by most health insurance plans. 
Is it easy to assemble and transport the pump?
If the breast pump is difficult to construct, disassemble, or clean, it will be frustrating, and you may lose interest in pumping. Ensure that any elements of the pump that come into touch with your skin or milk may be removed for cleaning after each use.
Look for a lightweight type if you'll be carrying the pump to work every day or traveling with it. Some breast pumps come with an insulated portion for keeping expressed milk in a carrying case. Keep the noise level in mind as well. Electric vehicles are quieter in some ways than they are in others. If discretion is required, ensure that the pump's noise level is appropriate. 
Is the suction of the breast pump adjustable?
What you find comfortable may be unsettling to someone else. If you go with an electric pump, make sure it allows you to adjust the suction and cycling speed. 
Is the size of the breast shield, correct?
The cone-shaped cups that fit over your breasts and nipples are known as breast shields. If you're afraid that the normal breast shield will be too small, inquire about additional possibilities with individual manufacturers. Shields that are larger or replacements are frequently offered. If you wish to pump both breasts at the same time, ensure your pump has two breast shields. 
What if the electricity fails?
It is necessary to plug in an electric pump. You'll need a rechargeable battery pack if an outlet isn't available or if the power goes out. You should have a manual pump on standby in case of an emergency.
Ask for assistance if you're not sure which sort of breast pump is ideal for you. A lactation consultant can assist you in making the right decision, as well as provide support if you begin to use your breast pump or run into problems. If you haven't worked with a lactation consultant before, ask your doctor, certified nurse-midwife, or baby's doctor for a referral, or check with a local hospital's obstetrics department. 
You Might Need Breast Pump Accessories
You may wish to buy extra breast shields and valves to have on hand for when you don't feel like washing up soon after pumping. It's difficult to find the time right after a feed, especially if you're pumping several times a day. A drawer with spare parts will come in handy if you're sick or just want to spend some time with your infant. Pump parts must be replaced on a regular basis to ensure that you obtain the best suction. 
A breast pump bag with compartments can help you organize all of your spare components and keep everything in its proper place. Many breast pump bags come with insulation or a built-in fridge to make it easier to transport your expressed milk when you're on the road. Anything to make lugging everything a little less difficult.
By allowing you to express milk without having to remove your bra, a nursing bra or hands-free pumping bra can provide you with more mobility and assistance. You need breastmilk storage bottles so you can keep that liquid gold safe inside the fridge or freezer. If you plan to pump at work, you should also buy breast milk storage bags or a small cooler bag with ice packs to keep your breast milk refrigerated until you return home. If your workplace has a refrigerator, take advantage of it; however, if you have a long commute, you'll need a way to transport those bottles home safely.
Some accouterments aren't essential, but they can make things easier – like a bottle drying rack, or a nursing cover that can allow you to pump in public without feeling self-conscious.
What are the Things to Consider When Purchasing the Breast Pump?
Expressing milk with a breast pump is indeed an effective way to provide a baby with a complete diet while allowing a mother to do other things that are important to her. The breast pump you use will determine the volume of milk you express and how easy it is to express milk. Before purchasing a breast pump, it is a good idea to compare them. When comparing breast pumps, consider the following criteria. 
Price
You have three choices: purchase an electric pump, purchase a manual pump, or rent or borrow an electric pump. Although electric pumps are more expensive than manual pumps, they are less expensive than formula milk. With an electric pump, you can pump more milk in less time and with less effort. A manual pump is less expensive and useful if you don't have batteries or can't charge them. A manual pump is time-consuming and labor-intensive. If you're only going to use it once in a while, renting is a good idea. If you decide to rent, make sure you get the breast-pumping gear. 
Hygiene
When purchasing or renting a breast pump, search for one with a closed system. Between the motor and the collection kit, a closed system pump features a barrier. It also prevents contamination of your expressed milk by outside air. There are no barriers between the motor and the collecting kit in open system pumps. As a result, milk that enters the tube may be kept within mistakenly, causing mold to grow and contaminating the motor, which is impossible to clean. Before using the pump, make sure the tubing and other parts are completely clean and dry. 
User-Friendliness
Choose a breast pump that is portable, simple to assemble, and quiet to make breastfeeding easier. Breast Pump Comparison Chart is a good place to start.  
Comfort
To avoid extra discomfort and pain, the flanges must fit snugly around the breasts and nipples. When the nipple is suctioned, it might create friction with the plastic, causing abrasion and infection in the mother's nipple. To meet this requirement, the market offers a wide range of sizes from which to pick. 
Pump effectiveness
The efficiency of a breast pump can be determined by how much milk it produces in the shortest length of time. This can be determined by the breast pump's speed and suction intensity. You can also ask other mothers which pump works best for them. 
Durability
The motor's strength is determined by how often the pump is used. So, before purchasing a breast pump, one must determine whether she will use it on a regular basis or only occasionally. This will assist her in determining the best motor for the pump. The right decision will ensure that the breast pump lasts as long as possible. Take note of the warranty duration for each pump as well. To assure top quality and warranty support, buy authorized breast pumps.