A dog harness allows you to have more control over your dog than a regular collar while also decreasing neck strain. When it's time for a walk, attaching a lead to your dog's collar is the most convenient option, but it's not necessarily the best alternative for both comfort and control. If you have a dog who can't stop pulling on the leash when you take them out, a harness should make things much simpler for everyone.
Holding the dog closer to your side and spreading the weight evenly across the dog's body rather than concentrating it all on the neck allows you to better control your pet while also making them feel more secure. Not every dog is suited to wearing a collar and lead, especially if they pull excessively while walking. A dog harness, on the other hand, can offer them a lot more comfort while also giving you more control when your dog sees something particularly fascinating. Harnesses are also beneficial to dogs with broad chests, such as Akitas, Boxers, Basset Hounds, and German Shepherds, so it's something to think about.
Whether you want to try a dog harness for the first time or are sure it's the best option for your dog, we've compiled a list of the best dog harnesses, so you can make an informed decision when it's time to purchase, regardless of your budget.
Julius IDC K9 Dog Harness – Best for Lightweight Dog Harness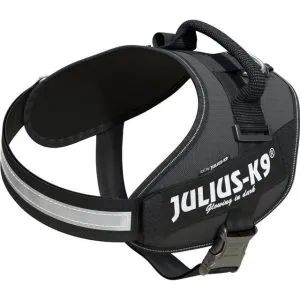 Pros
Chest circumference: 71-96 cm.

The closeable handle allows the dog to hold them firmly and lifted securely.

Heavy-duty buckle for safety and comfort.

Water repellent surface.

Interchangeable hook and loop patches.

Glows in the dark keeping you and your dog visible in dim light.

Skin-friendly inner layer keeping your dog comfy.

Torch holder – you need light at night while walking.
Cons
Some customers found that the clips were a little stiff when they first used the Julius K9 harness.
To pull your dog requires a high-quality product that will last a long time and can withstand the strain of your energetic dog. Julius power harness manufactures entirely of EU-made materials and adheres to the highest quality standards. This is the ideal all-around dog harness. 
Even professionals in dog handling and training, including police and service canines, as well as many private dog owners, trust and use Julius K9. This is a reflection of the high quality of the things they produce. The K9 harness comes in a variety of sizes and colors to match your dog's personality and requirements.
The Julius model is strong and made of tough material. It's simple to put on and take off your dog due to a secure and long-lasting chest strap. It looks good. The handle attachment on the back allows us to manage him if needed, and the strategically positioned INOX ring makes it simple to attach to a dog tracker if you have one. This offers little visibility in the dark, which is a bummer.

Although it appears to be costly, it is worth purchasing for. The power harness works nicely with dog collar cameras. Julius K9 harnesses are available in a number of colors and sizes, allowing you to find the perfect fit for your dog.
Ruffwear Dog Harness – Best Known for Toughest Harness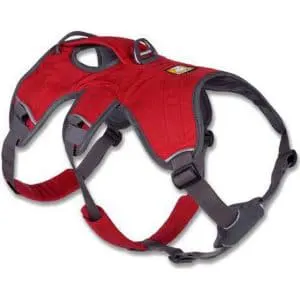 Pros
High-quality dog harness for active everyday wear

Perfect for long walks, hiking, and trail running

Full range of motion for walking or running

Perfect for border collies, Samoyeds, and similar sized breeds

Adjustable chest and belly straps for a customized fit

Sturdy and lightweight nylon material

Robust woven straps adapted from mountaineering technology for extra stronghold

 Hand wash with mild detergent and air dry
Cons
Some customers don't like it. Always remember to give it a try.
The Ruffwear harness is a durable, long-lasting harness that's ideal for hiking and other rough-and-tumble activities. This harness provides your dog wider mobility in order to deal with his or her shifting speeds, directions, as well as contact with the outside environment. If you need to lift your dog over a barrier while walking, its unique design makes it easier and more pleasant.
Shoulder, chest, and belly straps offer good for your dog's comfort, safety, and fit. When dragging or lifting the pet over the barriers while wearing this harness, the force will uniformly distribute across their chest. Finally, despite all of the added functionality it has over some of the other harnesses, the style is still appealing. Because of the three straps, it's a great harness for dogs with movement concerns because it distributes the weight equally.
The harness features sturdy, interwoven nylon straps build for strength without a weak point, so if you're wondering if it'll survive, the answer is yes. The padded material is also extremely breathable, ensuring that your dog remains safe while wearing this harness on a stroll.
This harness isn't inexpensive, and it's on the higher end of the price spectrum. However, because it is a "specialty harness," the pricing seems reasonable, and you get what you paid for. The whole front range harness isn't meant for ordinary strolls through the park; instead, it's meant for a more daring pet, according to reports. This model is ideal for dog owners who enjoy lengthy, adventurous walks with their dogs, as well as those whose dogs are more active, such as Spaniels, Dalmatians, and Collies. 
Puppia Soft Harness – Best Dog Harness for Softness and Comfy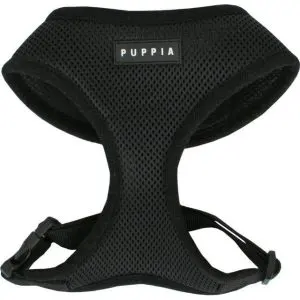 Pros
stretchy and breathable

Ideal for puppies or smaller breed dogs

strong enough to handle a tugging small dog

This harness is a terrific alternative for growing pups and a comfortable option for smaller breeds, thanks to the affordable retail price. Made of a highly soft and supple air mesh cloth with a single side clasp that fits around the dog's chest area.
The Puppia soft harness is one of the crowd's favorites, and we think it's the best choice for little dogs as a first harness while training. The Puppia harness composes of light mesh cloth and is both exceptionally comfortable and rather robust thanks to its padding. When in use, the harness puts no tension on your dog's neck and distributes any pressure or strain evenly across his chest. We've used one on our Jug and it fits nicely thanks to the adjustable strap, so even if you have a 'chesty' breed like a Pug or Jug, this should be acceptable.
This D-ring at the back of the vest will allow you to clip your dog's leash on. We believe that this is the best product to use while teaching a young puppy since it allows you to keep your dog under your control while still knowing that they are in good hands and supported. Because this harness lacks reflective material, we recommend only using it for training during the day. This dog harness is available in a variety of colors, including light blue, brilliant orange, and beautiful green. You'll be able to discover the right fit for your dog thanks to the wide range of sizes available.
Hurtta Active Harness – Best Dog Harness for Active Dogs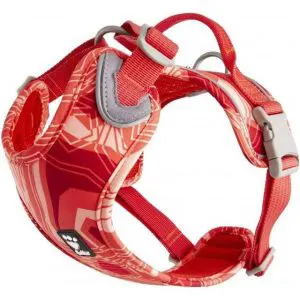 Pros
Has a size chart to get your dog's perfect chest fit for comfort.

Side located buckles – no need to lift your dog's legs to get into the harness.

Has a fully adjustable collar and chest strap to ensure a perfect fit.

Comfortable for your pet with buckles above the harness padding

Better visibility in the dark with 3M reflectors throughout
The Hurtta Active Harness is a high-performance harness for dogs of all breeds.   This is a version of Front Range that is more adventurous. It's comfortable to wear and unobtrusive while active, and the adjustable collar and chest strap ensure your lovely dog has a better fit as it pulls. The vest's reflectors boost visibility in the dark, keeping you safe from vehicles and bike riders. This harness also has a handy handle on the rear that can use to tether your dog in the car by threading a seat belt through it.
The active harness has become the "go-to" harness for most trips, including hiking, camping, and city strolling. That's extremely tough and can handle even the most powerful dogs without breaking, while yet being extremely comfortable. It's visually pleasing and comes in a variety of colors. We believe that this is an excellent choice for anyone looking for a new harness for their dog!
Ezydog Chestplate Dog Harness – Best for large breed gods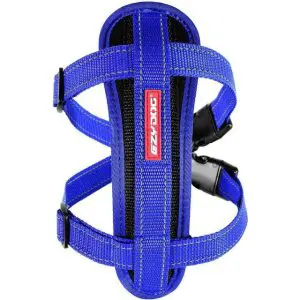 Pros
Broad chest plate that spreads the load to support your dog, 

give maximum comfort and more control over traditional harnesses.

High-visibility reflective tape woven into the fabric for visibility at night/low light

Seat Belt attachment – Includes attachment with quick release snap shackle 

Adjustable around the girth to give your dog the perfect fit

Comes in a large range of colors and sizes



Cons
for smaller dogs, the collar appeared a little wide.
The Chest Plate Harness distributes the load equally across the dog's chest rather than the throat. It allows both you and your furry buddy to enjoy pleasant and delightful walks. The EVA chest support conforms to your dog's shape, making each harness a one-of-a-kind fit. This harness does not rub your dog in any discomfort because of the easy-to-adjust straps. The shape of the chest plate thoroughly creates and tests to match every canine type, so the Chest Plate Harness is an excellent choice for every breed.
These Chest Plate harnesses are perfect for dog training because of the load distribution across the chest. This is the harness for you if you pull your dog on the leash or you simply want more control. 
The Ezydog chest plate harness features an EVA chest plate that conforms to your dog's body shape for a unique fit, making it suitable for dogs of all shapes and sizes. It has a quick-release buckle closure, rust-proof D-ring lead attachment, and reflective stitching, making it simple to fit and adjust.

We couldn't propose this harness without adding the Ezydog Zero shock lead, which would work well with this or any other harness to ensure maximum comfort for both the pet and the person while walking.
Kurgo Tru-Fit No Pull Dog Harness – Best for Adventure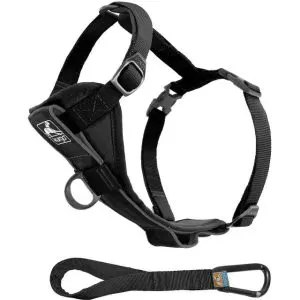 Pros
Broad, padded chest plate for extra protection and comfort.

Compatible with any vehicle seat belt system.

Includes a carabiner and 10-inch dog seat belt loop.

Functions as an auto or walking harness.

Five adjustment points for a perfect fit on dogs of all shapes and sizes.

All-metal hardware.

Crash-tested 

Machine washable. Line dry.

Easy to get on and off.

Can use in car travel as a restraint with a dog car harness.
The Kurgo Tru-Fit Dog Walking Harness stands out in part because it features a vest form that won't constrain a dog's neck. Not like other regular harnesses that would when someone tugs on the leash to distract their dog from a dashing rabbit or an attractive fragrance. This harness composes of sturdy, long-lasting materials that won't pill or rip from your dog's sharp nails or fray from typical pulling and play.
Due to the no-pull front attached D-ring, the Kurgo Tru-fit is an ideal harness for everyday usage and training. Another advantage is that this harness has been crashing tested and may use to properly restrain your dog in a car. It comes with a 10-inch seat belt tether.
Its fit is ideal for long runs or walks around the neighborhood, at the beach, in the park, or in the city.

By relieving stress on the trachea and sternum, the chest plate gives comfort. The harness features five adjustment points so you can design the perfect fit for your pooch. It has quick-release buckles and provides you the control you need and want. If you frequently take your dog for long walks and drives, this is an excellent option.
Halti Non-Pull Dog Harness – Best for Active Dogs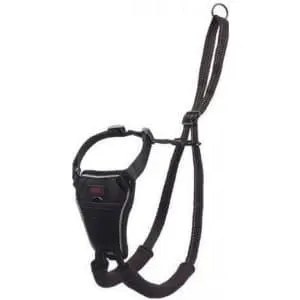 Pros
The HALTI No-Pull Harness is an instant solution for dogs who pull when walked.

SQUEEZE AND LIFT THEORY – the harness tightens on the dog when they pull on the lead.

It is an ideal harness for small and medium-sized dogs and recommends to use with a HALTI Training Lead.

Comes in a range of three sizes
This is the harness for you if your dog is an active dog. You still want to be in control on your walks, even if she or he pushes and pulls, therefore a non-pull harness is a quick fix for pulling dogs. The Halti ethos is to provide no-pull dog training tools. The Halti no pull features a unique design with a small chest plate and two padded straps that run 'underarm,' allowing for maximum range of motion and keeping your dog cool.
Because it is designed to tighten on the dog when they pull on the lead, the Non-Pull Harness is simple to use and fit. This will eventually stop the dog from pulling and allow them to walk in a more controlled manner. The halti training lead highly recommends use with the harness, and we reviewed it in our post on the top 10 dog leads.
The Non-Pull Harness offers in three sizes – Small, Medium, and Large – to fit almost any dog breed and size.
What is a dog harness?
A dog harness differs from a traditional collar or a slip lead in that it wraps around your dog's body, making it a more secure and pleasant way to connect a lead and walk your dog. Many people now use collars to keep their dogs from pulling or to avoid choking them if they do pull. Dog harnesses are also an important training tool.

Because you can obtain additional attachments that work with the car safety belt, the best dog car harnesses are also a terrific method to keep your dog secure and in place while driving.
Why Do You Get a Dog Harness?
Because the pressure from a harness is more equally distributed throughout your dog's body, dog harnesses are great for teaching your dog not to pull. It is clear that small and medium dogs lack the neck strength to handle because a collar wraps around the animal's neck. This holds your pet in place and prevents it from going about.

A harness provides more support to developing pups and dogs, and even more for injured or handicapped canines, as it allows your pet to participate in numerous activities and play while recovering. It provides support for your dog whether walking, standing, or climbing stairs, as well as giving you control over how you walk your dog. A harness recommends by the majority of adoption dog centers and veterinarians.
Good Benefits of a Dog Harness
Dog harnesses are made to fit snugly around your dog's chest and down their back behind the neck. They're normally made to distribute pressure and stress equally so that your dog doesn't injure himself. Working dogs usually wear harnesses to make it easier to handle them while also preventing their necks from being jerked too hard, which can cause major problems for the dog.
A harness helps both the dog and the owner: the owner is in control because the dog is held firmly and won't choke if they suddenly yank, as well as the dog is held much more securely and comfortably. This will make walking a more enjoyable experience. Have you ever noticed a dog yanking on the leash and making a strange noise? With a harness attached to the leash, this may be avoided.
Dog harness Versus a Collar
Let's begin by asking if you'd want to be dragged around by the neck.  If a collar is pulled excessively firmly, it can cause harm to the tissues in a dog's neck. It also restricts a dog's respiration, which is audible. Remember that lack of oxygen can really cause a dog to become more confused, rather than a climber suffering from altitude sickness.
Harnesses include a D-ring near the dog's shoulder blades on the back, which makes it simpler to keep the dog's midsection near your legs rather than out front. This makes it easier to persuade the animal to heel. These harnesses are also considerably safer to wear, especially in congested areas or in situations where a dog might feel frightened. We've all been down that path where a dog's collar suddenly slides and you panic, invariably causing even more anxiety in the process.
Some dog harnesses have a soft grip at the top. It allows you to quickly hold the dog if it tries to get into a fight or is simply too eager to meet another dog. These grips are also a gift for assisting dogs out of rivers or lakes with steep banks because dogs normally depart water at the same spot they entered.
Receiving the testers revealed that some harnesses were designed with the comfort of the dog in mind, while others were not. Whether your dog is tiny, medium, or large, get the best dog harness that fits properly over their chest and front legs for the best comfort. It's worth looking into the many types of harnesses to make sure the fit can be changed to your dog's needs.
What are the things to look for when purchasing a harness?
It's not easy to pick the best dog harness because there are so many to choose from on the market. In this article, you found some of the factors that will help you in selecting the best dog harness for your pup.
Harnesses come in a variety of shapes, sizes, materials, and accessories, making it difficult to determine which option is the best for your dog. We needed to come up with certain points and checks to help grade the harnesses and rate them on individual merits before we came up with an aggregate score when we received the tests from the kind firms. Reviews, as always, can reveal a lot about a product. While you should always take reviews, both positive and negative, knowing what other customers thought and experienced is a wonderful approach. This is to help you decide if it's the perfect one for you.
So, while you're shopping for a harness, keep the following factors in consideration:
Strength
The harness must be robust and constructed of durable materials such as nylon to withstand the elements and allow you to fully enjoy your outings. Check the main material, as well as the strength of the O-ring and any buckles, on your leash clip. Look for any reviews from customers who are dissatisfied with their purchase a few weeks or months later.
Comfort
Is your dog comfortable enough in the harness? When we received the testers, it was clear that some harnesses were designed with the dog's comfort in mind, while others were not. Whether your dog is tiny, medium, or large, you'll want the harness to fit properly over their chest and front legs for best comfort; it's worth looking into the many types of harnesses to make sure the fit can be changed to your dog's needs.
Safety
You want to make sure that the clip and leash on the harness you purchase can be secured securely so that even the largest dogs are safe. Reflective material; if you plan on walking your dog in the dark, we strongly encourage you to choose one with reflective material.
Easy to put on and take off.
You'll want a harness that can be put on and taken off as easily as it can be put on. We've had several harnesses that were difficult to put on and take off in the past. The clip attachment is the same way; you want to be able to put it on quickly so you can maintain complete control during your walks. To save time and minimize frustration, choose a harness that is straightforward to put on and take off.
Worth the investment
You want to get what you paid for as a dog owner. You don't have to go for the most expensive one. Instead, you will choose the dog harness that best fits your dog's lifestyle. You'll notice that the best one isn't the cheapest or the most expensive on the list. This harness would be the ideal match for large dogs and it would be the best choice for those seeking to go on adventures.
What are the Other Things to Look for?
When it comes to choosing a harness for your dog, there are a few more factors to consider. The first is whether or not the harness has a handle attached to it. This is a valuable feature for extremely powerful dogs who require a little extra muscle to hold, but it also aids in the training process for those who are just learning how to behave and can be used instead of a dog barking collar.

The front clip is a great alternative to the traditional clip that is worn around the shoulder. When it comes to telling your dog where it needs to go, they provide you a little more control and better steering. Furthermore, the front lead, aids in preventing the act of tugging.
Reflective strips will be included on some dog harnesses. This is especially important if you'll be strolling at night and need to make sure your dog is visible to other road users as you head home or start your walk. It keeps them safe while also assisting you in locating them if they walk off or become lost in the dark.
Buying a Dog Harness Online 
You need to know your dog's measurements if you're shopping online. A guide on where to measure your dog and how to apply those measures to the harnesses they sell is usually available on specialist web stores. If you're unsure, contact them and ask.
Under the Consumer Contracts Regulations, you have the right to cancel an online purchase at any time between the time you make the purchase and 14 days afterward. If you want to cancel, you must do so within this time frame. Following that, you have another 14 days to return your items for a full refund.
Unless the store specifies otherwise, you are responsible for the expense of returning an unwanted harness. We recommend getting proof of postage or sending through recorded delivery in case the retailer disputes your return. If the worth of the items has been lowered as a result of you touching them more than was necessary, the shop is permitted to deduct from your return.

It's not a good idea to take your dog on a walk to test if it fits. Even if it's a dry day and your dog is normally well-behaved, you can bet that'll be the day it rolls in something it shouldn't. Instead, test it out in a dry garden or indoors.
Get a Dog Harness for Your Lovely Dogs Now
Harnesses for dogs are an excellent method to keep your dog comfortable while also ensuring that they are not injured if they pull. When compared to using a collar and lead to handle your dog, most dog owners now prefer to use a plush and padded walking harness with a lead attachment.

Walking your dog is highly important, and you may need more than just a collar and leash to keep your pet under control. Control and safety considerations may necessitate the usage of a harness. When you have a harness on, you may have better control over your dog while out and about, and you'll be the envy of your relatives and friends who have trouble controlling their dogs. A dog harness is nice and will provide you more control over your puppy and dog while keeping you relaxed outside.
We've listed the best dog harness mentioned above in order to help you decide which the best dog harness is right for you.