Nothing is more irritating than a clogged drain. Drains are clogged with food, hair, and other grime and debris, and they can become fully blocked at times, whether in the kitchen sink or the bathroom plughole. The best drain unblocker dissolves or disintegrates whatever is clogging your drains, allowing your drainage system to function again.
The first approach in restoring the flow of your drainage system is to choose the best and most effective drain unblocker.   Investing in a good unblocker will provide you with peace of mind in the long run, as well as save you money on the expense of hiring a plumber on a regular basis. Nonetheless, it's important to remember to read the instructions for the unblocker you've chosen attentively.  This will keep you safe while also guiding you toward attaining the best possible results that are both long-lasting and satisfying.
Maintaining your drainage system cleaning is a perfect thing to do and needs regular maintenance. This is to prevent future clogs and it's unhealthy. What's the best drain unblocker? Following our study, we've got you covered if you're tired of going back and forth seeking the best drain unblocker UK. In this article, we've looked at and listed the best unblockers that have delivered their promises.
HG Liquid Drain Unblocker 1L – Best enzyme-based drain unblocker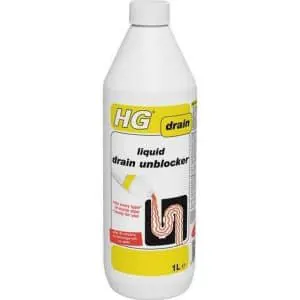 It is an extremely powerful unblocker that delivers great results

Unique, simple, and easy to use

Ready-to-use straight from the box

Works within 30 minutes

Effective solution for stubborn blockages
HG Liquid Unblocker is a ready-to-use unblocker that is safe, unique, and immensely powerful for removing blocked drains in the sink, shower trap, or toilet. The unblocker is ready to use right out of the box, which means it doesn't need to be diluted before use, reducing the risk of splashing or other spillages. Furthermore, when poured down the drain, the unblocker does not splash or foam.
To use, pour the unblocker down the drain and wait for the liquid to permeate. The blockage will clear in 30 minutes, and your drainage system will be as good as new. Rinse with water vigorously for increased benefits and care. Moreover, unlike other unblocking agents, HG Liquid Unblocker will not worsen the blockage and is safe for use on plastic drain pipes.
If a tough clog prevents the drain from running, fill the sink halfway with warm water, then add 3 cups or 300 mL of HG Liquid unblocker and let it sit overnight. Rinse with warm water in the morning. The unblocker, combined with the power of the water, will clear any hard clogs, leaving your sink spotless.
However, the unblocker should not be used on aluminum or zinc.
Buster Bathroom Plughole Unblocker – Best drain unblocker for hair-clogged baths and showers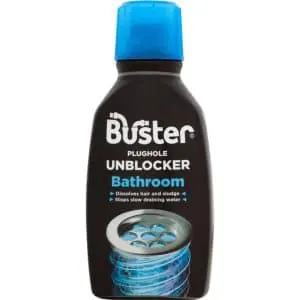 It is simple and easy to use

Delivers much better results if applied overnight

No need to mix or measure it's a ready-to-use product

Effective and powerful soap, hair, and sludge cleaner
Buster is the most popular plughole unblocker brand in grocery stores, and it can be found in most major supermarkets across the country. That's the only solution on the market that can dissolve human and animal hair, which is the most common cause of blockages. This makes it extremely effective at blasting through stubborn plughole buildups and restoring water flow. It's also effective against soapy sludge, bath oil, and toothpaste, all of which can cause bathroom blockages.
Slowly draining water in the bathroom is inconvenient, but it's all due to the same culprits: soap, hair, and sludge. These wastes are continually accumulating in our drainage system, and if they are not removed, they will eventually cause a complete blockage. The Buster Bathroom Plughole Unblocker was created with the goal of removing bathroom clogs. This unblocker is made out of a unique combination that works rapidly to dissolve soap and hair, allowing pipes to flow freely and cleanly.
Remove as much standing water as possible before slowly pouring the entire 300m bottle through the plughole and wiping away any residue. For optimal effects, leave for at least 15 minutes or overnight. After that, give it a good flush with plenty of hot water.
Ecozone Enzymatic Drain Sticks – Best Drain Unblocker for Budget Option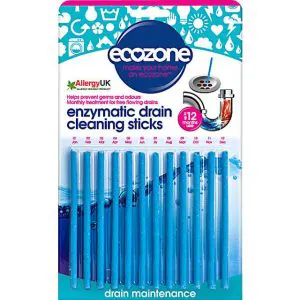 Provides continuous treatment – i.e. the sticks are working all around the clock preventing clogging and removing residues

Breaks down fat, grease, and food which cause blockages and bad smells

Uses enzymes and powerful natural bacteria to break down blockages

It is safe to use with septic tanks
The Ecozone drain sticks are a brand-new concept in drain cleaning. The sticks degrade practically anything that passes through the plughole, resulting in clogs and foul odors in the kitchen and bathroom. Drain sticks use powerful natural bacteria and enzymes to keep your drains running and smelling fresh.
The Ecozone Enzymatic Drain Sticks are a revolutionary drain unblocking and maintenance product that can help prevent blockages from forming for up to a year in each package. These sticks are well-designed to break down practically everything that makes its way into the plughole, causing a foul odor in the kitchen or bathroom. The Ecozone Enzymatic Drain Sticks maintain your drains free-flowing and smelling fresh by using a powerful natural bacteria and enzyme combination. Each packet has 12 sticks, which will last a year and give support, avoid blockages, and foul odors.
Mr. Muscle Kitchen and Bathroom Drain Gel – Best all-around drain unblocker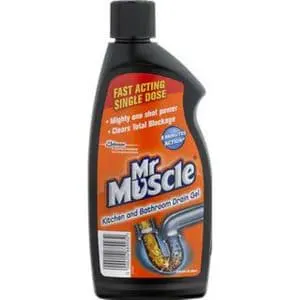 Plenty of gel – 2 liters in total.

Works fast.

Cheap but effective.
Mr. Muscle unclogs kitchen, bathroom, and bathtub drains, as well as all other types of clogged drains. Only a blocked toilet or a sink with a waste disposal device will prevent you from using it.  The thick, hefty gel pierces through the confined water to reach the drain clog. The drain can be unclogged in 5-30 minutes for minor clogs.
If your drain is clogged with hair, soap, and other junk from months or years ago, let the gel sit overnight to dissolve everything.  Two 1-liter bottles of Mr. Muscle Max Gel are included. The amount you pour down the drain is determined by the severity of the clog.
Several customers claim that pouring half a bottle was sufficient to unblock the drain. The company recommends draining the drain with hot water once the gel has completed its task. They also recommend putting 250ml down the drain once a week to maintain your pipes clear and fresh.
The 2-pack is reasonably priced, so ordering them every month will not be too expensive.
HG Duo Unblocker – Best drain unblocker for Strongest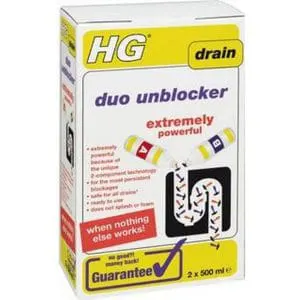 Very strong and your best chance of clearing a serious block

Instructions pretty clear

Multiple attempts in one set to clear the problem

Definitely a last resort option

Clears blockages caustic soda cant sometimes
When HG Duo is compared to traditional drain unblockers, it's clear that the competition doesn't stand a chance. This two-part mixture works to unclog even the most stubborn obstructions in the bathroom and kitchen.
In this instance, all you have to do is adjust the amount of each component you add. Thus, in the bathroom, you'll add a 2-1 ratio of bottle B to bottle A, and in the kitchen, you'll invert the ratios. There is a minimum time requirement, which in this case is one hour. However, as we always recommend, leaving it overnight is your best bet. If you've tried boiling water and other options before trying this extra strong one, leaving it overnight is probably your best bet.
When you look at other people's thoughts, you'll notice that the capacity to clear blockages is possible; it's called the strongest for a reason. Therefore, HG Duo gives you an advantage on an even playing field and, in our opinion, is the best drain unblocker in the UK right now.
The important thing to increasing your chances is to eliminate as much stagnant water as possible, allowing the formula to enter the pipes directly. This delivers the most concentrated remedy to the source of the problem. From here, leave it overnight, then run your taps as directed in the morning to see where you are.
Kilrock Rhino Drain Unblocker – Best for Highly Effective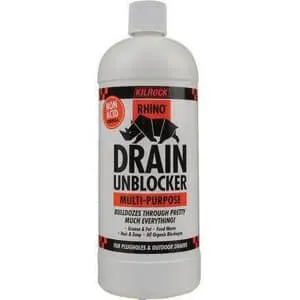 Rhino Drain Unblocker has a highly effective

the non-acidic formula that bulldozes through pretty much everything

Provides a rapid unblocking action. 

Heavy-duty, ideal for clearing grease, fat, hair, soap, food waste, and all organic blockages.
Kilrock's bathroom plughole unblocker is a must-have cleaning device for your bathroom. It fights bathroom clogs quickly with a powerful formula that easily breaks down hair, soap scum, and other debris that can cause water to drain slowly from your plugholes. This both cleans your plugholes and bulldozes through them to clear them. Simply apply 150ml once a week to maintain your plugholes fresh and free-flowing so you don't have to be concerned.
The Kilrock Rhino Drain Unblocker Non-Acid Formula is the most powerful non-acid drain unblocker available. This potent solution is meant to eliminate organic matter-related obstructions effectively. It quickly sinks to the blocked area, where its vigorous activity begins instantly to break down grease, hair, soap, coffee grinds, frying fats, and other substances.
Rhino Drain Unblocker, created by Kilrock Manufacturing, is one of the best and strongest drain unblockers now on the market. It contains close to 85% sulfuric acid and can practically chew away anything you may have trapped down your drain. Kilrock, on the other hand, faces a difficulty because the product will be prohibited under the alleged new regulation.
To solve the difficulty, Kilrock's bright minds devised an alternative that not only maintained the efficiency of the unblocker but also avoided the usage of acid as a fundamental ingredient. It's just as effective as the acid-based variant, but it's made without acid.
How Does a Drain Unblocker Really work?
A build-up of food, grease, and other disgusting stuff that find their way down your plughole clogs and blocks most drains. Enzyme-based and chemical-based drain blockers are both available. What is the best drain unblocker?
Enzyme-based cleansers will dissolve any clog in their path and should not harm your pipes. On the other hand, these Chemical-based cleansers work by causing a reaction with something causing the clog and then removing it by producing gaseous heat.
However both forms of drain unblockers are effective in clearing the causes of clogged drains, the enzyme-based unblocker is safer and will not harm your pipes. Give it a shot, and if it doesn't work, call a plumber.
How long will it take to leave the drain unblocker?
Always follow the instructions that came with your drain cleaner while using it. So, as a rule of thumb, you should let your drain unblocker work for around 15 minutes before flushing it with plenty of hot water. If this doesn't work or just somewhat solves the problem, you may need to apply again right away.
Where can you purchase a drain unblocker?
There are many different drain unblocking products available, and most large and small hardware stores should have a good selection. Larger stores will almost certainly have everything you need, and you can frequently find them in the cleaning aisles of large supermarkets.   If you're looking for something specific and can't find it in a store, a short search online will almost certainly lead you to what you're looking for. You are at the right place.
How to prevent Future Drain Clogs?
You've discovered the drain unblocker you want to buy. Then, you're crossing your fingers that it will clear the clog for you, which we believe it will! However, now that you've gone to the trouble of conducting all of this research, purchasing a solution, and unblocking your drain, you want to make sure it doesn't happen again.
There are a few things to remember that you can easily do to try to keep your drain from clogging on a regular basis, however here are the basic tips and it's important. Here are some of our suggestions:
Hair is among the most common causes of blockages; you may prevent this by using plughole guards that you place over your plughole and clean on a regular basis.

Make sure you're not flushing something too large down the toilet.  There have been multiple instances of people attempting to flush nappies down the toilet; do not do so.  Wipes, feminine products, and even condoms do not degrade when exposed to water.

If you're cooking something that leaves a lot of fat on your pan, put it in a container and throw it away since fat is heavier than water and attaches to the U-Bend in your plumbing system, eventually clogging it.

If you have a plate with a small amount of food remaining on it, empty it into the garbage rather than forcing it down the plughole. It's one of the most prevalent methods for clogging a pipe.

Don't spill paint down the drain.  You'd be surprised at how many people do this.
Best Drain Unblocker Buying Guide
Finding the best drain unblocker for your drainage system might be difficult. It's difficult to find the perfect product for your requirements. If you've tried all of the home remedies and procedures and nothing seems to be working, it's time to try a commercial drain unblocking solution. However, before you go out and buy any old drain unblocker, there are a few things you should know and consider. Please continue reading.
Type of Blockage
To begin, determine the level of severity as well as the sort of obstruction you're dealing with. This can assist you in determining how powerful your unblocker should be.
Best Drain Unblocker: Maintenance
Do you have problems with drain clogs on a regular basis? This could indicate that your plumbing or drainage system is in poor condition. Regular plumbing maintenance from your local plumber is recommended, as is the usage of drain cleaners on a regular basis.
Type of drain unblocker
There are many various types to pick from. Choose the one that best meets your requirements. Make sure that you select the appropriate drain unblocker for the problem. Some drain unblockers concentrate in different areas; for example, some are wonderful for the hair, while others are great for gunge buildup, and so on. Before purchasing a product, always read the description and reviews.
Quality
Choose an unblocker that won't harm your pipes. It must also be safe to use or apply, particularly at home. As a result, quality may be more important than pricing.
Don't choose a granular unblocking agent
Granular unblocking chemicals might cause more harm than good, so choose for a liquid solution that is also potent. Don't worry, we didn't include granular solutions in our list.
Avoid Harmful Products
Chemicals, particularly acids that can cause burns, are included in the solutions, which are often corrosive. Keep them out of reach of children at all times, and use them with appropriate face protection and gloves. Any contact with the skin or eyes should be avoided at all costs. It's corrosive, so wash it off for at least 20 minutes if it comes into touch with your skin.
Best Drain Unblocker: Read the reviews
A lot of the drain unblockers aren't particularly detailed, and a lot of the material is pretty much the same. The only way to tell the difference is to read other people's evaluations, especially the negative ones, so you can figure out what the unblocker can't handle and whether you need an alternative.
Most remedies have worked, however, there have been a few instances when we've used a less expensive drain unblocker and it's taken two bottles to properly fix the problem, and there was one time when we had a tennis ball stuck in the gutter, which it didn't fix!
All in all, it's important to remember where the unblocker will be applied. Will you only use the unblocker at home or will you also use it in public areas like hospitals and restaurants? The type of unblocker you use should be appropriate for the location where you'll be applying it. You can be confident that you'll acquire the ideal product for your needs if you take all of this into account.
With that being stated, if you want to get the job done right, the products mentioned above are the best drain unblockers 2021 for your drainage system that you can get right now.
Get Your Next Best Drain Unblocker Now
Consider what you wash down your toilet or your sink on a regular basis. Different types of oil and food particles get washed down the drain when you wash your dishes. Hair, soap, and dirt find their way through your home's plumbing system when you take a shower. The buildup in your shower and sink drains may cause havoc on your home's sewage lines and pipes if you don't clean them out on a regular basis. It is essential to plan drain cleaning on a regular basis in order to avoid future difficulties and property damage.
Most of the clogged drains start with small. They only get worse if they aren't treated right away. Cleaning your drains on a regular basis reduces obstructions when they're little, saving you money on expensive drain repairs.
What are you waiting for? Go and get your next best drain unblocker now. We've already done our part by listing the best products we've mentioned above. Apart from the condition of your drainage system, routine cleaning protects you and your home safely. A clogged or filthy drain can emit odors or even spill sewage water into your home. Both of these problems endanger your comfort and health. Furthermore, sewer water might leak into the interior structure of your home, weakening it in the process.