Sleep is necessary when there are no interruptions and distractions. Snoring, among many other nighttime noises, can startle you awake and keep you staring at the ceiling for hours, unsure how long your body can go without sleep. These best earplugs for sleeping will help you get a night of better sleep without distraction. 
High-quality earplugs are a simple solution for a noisy sleeping environment because they dramatically minimize noise. Even better, an earplug is to entirely block out sound, so you won't have to worry about missing your alarm clock or missing an emergency. Earplugs are a simple, inexpensive, and efficient way to filter out noises that would otherwise disrupt your sleep, such as traffic or your partner's snoring. The most common designs compress for insertion and then extend once inside the ear canal. Others take up residence in the ear's outer canal. 
While there are many various types of earplugs on the market, not all of them are ideal for sleeping. Other types of earplugs are designed for situations where the user is awake, such as noisy workplaces, concerts, or travel. The noise reduction rate refers to the sound that the earplugs can block out. Sleep earplugs are available in a variety of materials, forms, pricing points, and other features. We'll go over our favorite alternatives, explain who they're best for, and discuss additional considerations to consider when looking for the perfect pair.
From noise-canceling earplugs that fully block out sound to affordable yet effective reusable selections for the guy on a budget to noise-masking earplugs that fall somewhere in the center, you'll soon be sleeping like a baby. We provide the best earplugs for traveling for you to choose from. Because maybe the world would be a better place if we all had a decent night's sleep. 
Mack's Pillow Soft Silicone Putty Earplugs – Most comfortable earplugs for sleeping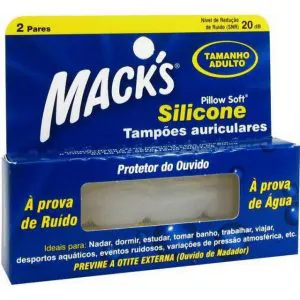 Pros 
The silicone material is highly moldable

 

Multi-use with an airtight seal

 

Designed to fit children and adults

 
Putty earplugs, unlike foam earplugs, cover the exterior aperture of the ear rather than plugging the ear canal. For people who find foam earplugs annoying, scratchy, or excessively pressured, this makes them more comfortable.
Mack's Pillow Soft Silicone Putty Earplugs have an NRR of 22 decibels and are best suited for decreasing steady background noises rather than sharp bursts. They're simple to mold to the form of your ear opening and most users find them comfortable to wear. Some people find them a little too big or waxy to touch. 
These earplugs can relieve ear pressure and pain while flying in addition to offering noise reduction while sleeping. They're also waterproof, so you can wear them in the pool or at the beach if you need to keep your ears dry. 
Why is it better than the other earplugs for sleeping?
Mack's Slim Fit Soft Foam Earplugs are a wonderful alternative for dealing with airline noises, loud music, or a busy street. They came out on top in almost all of our objective measurement tests, and our four-person test panel gave them the most votes. We particularly enjoy that they come in a handy 50-pair plastic jar for simple storage, which is roughly the size of a small coffee mug. Testers with bigger ear canals, on the other hand, found that they were a little loose. 
3M E-A-R Earplugs Foam Yellow – Best Earplugs for Sleeping & Comfy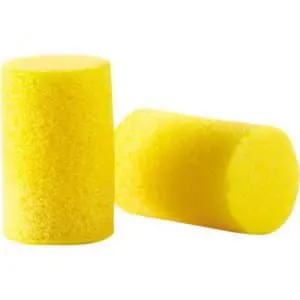 Pros
Sleepers who want earplugs designed for comfort

 

People with large ear canals

 

Value seekers

 
The best earplugs for sleeping may be a good choice for sleepers who want a comfortable and adjustable earplug. These earplugs consist of a special silicone material that will quickly mold to the contour of your ear. These noise-canceling earplugs offer a 22-decibel noise reduction rating and should help you sleep through the ambient noise and snoring.
There is only one size for these earplugs, which can be changed. To fit snugly inside your ear, the maker designed them to be larger than the normal earplug.  These earplugs should provide an airtight seal once they've fitted to your ears.  Because this earplug is waterproof, you can wear it while swimming to keep water out of your ear. 
Another Vital Factor
It's important to remember that earplugs require a tight seal in your ears to function properly. However, because everyone's ears are different, no single off-the-shelf earplug guarantees to fit everyone. Since earplugs are inexpensive, it's easy to try them out and see what you think, but regular earplug users may want to consider upgrading to a custom set if they can afford it. 
3M Disposable Ear Plugs Foam Orange – Best Earplugs for Sleeping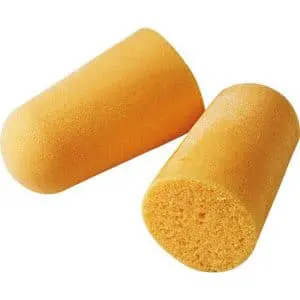 These latex-free earplugs are easy to roll down and insert since they are made of soft, slow-recovery foam. Each pair is packaged in a sanitary bag. These earplugs have an NRR of 33 dB and are commonly used in agriculture, the automotive industry, and construction, according to the company. The creators claim that their product is universally sized. Some internet reviewers, however, claim that these don't suit wider ear canals. 
These were created to prevent snoring and other potentially dangerous loud noises. After several usage or when they grow unclean, they should discard this. Overall, online reviews are positive, while some people have complained about the size and that the earplugs do not remain in their ears. 
Alpine SleepSoft – Best Earplugs for Sleeping and Known for its Great Features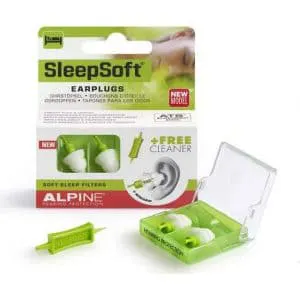 Pros
With extremely soft filters, specially designed for (side) sleepers

 

 Handy and compact storage box

 

 Minigrip. This handy grip makes removing the earplugs even easier.

 

 With Alpine Cleaner to easily clean the earplugs

 

 Can be worn all night

 

Also suitable for apnea, snoring during pregnancy

 

Silicone-free

 

Reusable

 
A good night's sleep is crucial to your performance and well-being. Alpine earplugs allow you to sleep through the night, even if there is a lot of noise outside. 
The average damping of Alpine SleepSoft earplugs is 25 dB. Disturbing environmental noises are muffled as a result. You will, however, hear substantially louder noises. Of course, you'll be able to hear them less clearly. Many people find that wearing earplugs makes it simpler to fall asleep and wake up. Alarm clocks, doorbells, and children's voices can still be heard. 
Quality rest is essential to your physical and emotional well-being, whether you're at home, traveling, or on vacation. However, noise from other people in the room, such as fellow passengers, adjacent activity, or even snoring, can keep you tossing and turning. SleepSoft is the answer to a restful and comfortable night's sleep.
Minigrip 
The earplugs are even easier to remove with this useful grip. The Minigrip is a small, unobtrusive grip that is constructed of a soft substance. As a result, even side sleepers will be unaffected by the Minigrip. 
Snoring
Snoring sounds can be extremely loud, exceeding 95 decibels. It's like being at a rock concert! Even if you wear earplugs, you will most likely hear this type of snoring. It makes no difference which earplugs you wear. 
If you want the most effective noise suppression, we recommend seeing your local ear care specialist for custom-made earplugs. They offer the advantage of having a perfect fit because they are an exact replica of your ear canal and totally close the ears. 
A filter system that is one of a kind
SleepSoft earplugs include specific acoustic filters that eliminate annoying and hazardous noise that interferes with a good night's sleep. Snoring sounds and ambient noise are eliminated, allowing most individuals to fall asleep more quickly and sleep more soundly. The specific filters keep you from feeling cut off from the rest of the world. The alarm clock, doorbell, alarm, or the sound of a wailing baby are all audible. SleepSoft earplugs are ideal for use at home, in the classroom, or while staying in a hotel or camping. 
Materials
SleepSoft earplugs have a unique shape that provides additional noise reduction and an extremely comfortable fit. The AlpineThermoShape material, an Alpine invention, is responsible for this. The earplugs fit flawlessly because this substance adjusts to the contour of your ears. You don't feel any pressure in your ears. Because ATS does not include silicone, it does not cause allergic reactions.
Soft filters are really comfortable to wear.
The only sleeping earplugs on the market with ultra-soft filters, SleepSoft will have you sleeping like a log. However, if you feel the earplugs to be too long, you may easily cut off a portion of the filter/stem.
Alpine Cleaner
Alpine has created a simple cleaning tool for removing earwax from earplugs. The earplugs will perform better and last longer if they are kept clean. 
Cleaning and lifespan
The earplugs' longevity is determined by how often they are used. The lifespan of the earplugs can be extended by keeping them clean. Lukewarm water and soap can be used to clean the earplugs. 
Classic II E-A-RSoft Yellow Neon Earplugs – Most Reliable & Best Earplugs for Sleeping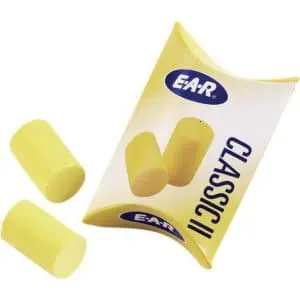 Pros
Soft, pliable foam offers comfort for wearing over an extended time

 

The low-pressure foam makes plugs less noticeable

 

Earplugs are easy to roll down for quick and easy insertions

 

Advanced foam formulation for all-day wearability

 
Classic II E-A-Rsoft Yellow Neons earplugs offer a smooth feel for in-ear comfort and are built of an innovative foam composition for all-day wearability. These high attenuation earplugs are available in one size to comfortably suit a wide range of ears and are ideal for a variety of noisy situations. E-A-Rsoft Yellow Neons earplugs are a great choice for any hearing conservation program because they are brightly colored for compliance sighting. 
The 3M E-A-Rsoft Yellow Neons Uncorded Earplugs provide noise reduction and reliable hearing protection by sealing the ear canal with soft, slow-recovery foam. The tapered earplugs roll down and into the ear canal easily, then expand for a comfortable, secure fit. Earplugs are packaged in a plastic bag to keep them clean until they are used. 
Chipping, chiseling, cleaning, drilling, furnaces operations, cutting, heavy equipment business functions, machining, metal repair, repainting, pouring/casting, power fastening, riveting, sanding, sawing, and welding are all suggested uses. Agriculture, automobile, chemicals, construction, general manufacturing, healthcare, oil and gas, and pharmaceuticals are all businesses that employ these earplugs.
Arena Ergo Earplugs for Sleeping – Best Known for Dual Purpose Earplugs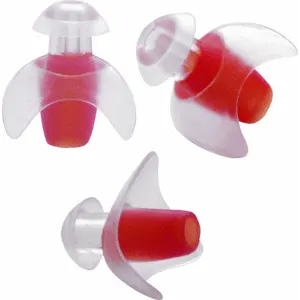 Pros
hypoallergenic

 

reusable earplugs

 

Can be used for both swimming and sleeping

 
The Earplugs are made of flexible silicone and have a two-tier form that should be pleasant and functional for most sleepers. This set's tiny form is unobtrusive, low-profile, and simple to operate. To facilitate easy removal, a little pull-tab is attached to the side of the plug. 
The Earplugs can suppress ambient sound, snoring, and other noise by up to 27 dB when worn. These earplugs have a chamber meant to equalize pressure in addition to their sonic reduction capsule.
To help consumers find the appropriate fit, two different ear tip sizes are offered. The malleable silicone and streamlined form should make them comfortable for the stomach, back, and side sleepers. These earplugs can also be used to suppress noise in loud places such as music halls, airplanes, and other loud environments.
Bose Noise Masking Sleepbuds – Best earbuds for sleeping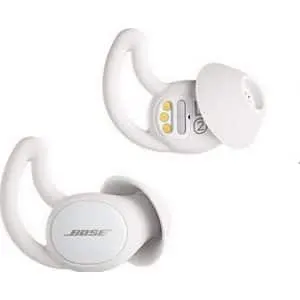 Bose is known for its noise-canceling technology, which is not the same as noise masking. The Sleepbuds mask does not have an NRR because it does not block or cancel external sounds. They're like miniature white noise machines that slip into your ears
They link to an app that allows you to choose from a collection of white noise and environmental nature sounds. You may also control the playback volume and length. If you'd prefer to utilize them to wake you up, there's an alarm feature as well. These may be a suitable option if you suffer from tinnitus. Many patients with tinnitus find comfort with sound masking. 
These sleep earplugs come with three different tips, allowing you to find the perfect fit for your ears. The design, which incorporates a combination of durable plastic, is intended to provide comfort to all sleepers, including side sleepers. 
These Sleepbuds must be recharged on a regular basis and will last for about 8 hours, allowing you to obtain a good night's sleep. The Sleepbuds are said to be effective in masking transportation sounds like traffic. They don't work as well for some folks when it comes to snoring. 
Zoggs Silicone Ear Plugs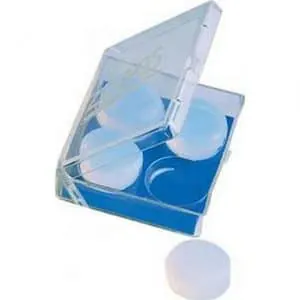 Pros
Reusable

 

Washable

 

Hypoallergenic Silicone

 

Affordable

 
The NRR of these washable, reusable earplugs is 32 dB. They're composed of high-quality, hypoallergenic silicone and are suitable for a variety of noise and pressure conditions, including concerts, water sports arenas, and construction sites.  
The manufacturers emphasize that the material can be cut to make it more acceptable for youngsters and adults. These earplugs are suitable for side sleepers because no lengthy ends protrude. 
How to Choose the Best Earplugs for Sleeping?
Sleep could be disturbed by so much noise. It's not only taxing, but it is also harmful to one's health. Earplugs are a low-cost and effective noise-canceling device. There are several different types of earplugs available, including noise-canceling choices. 
Choosing the best earplugs for sleeping can help you get a better night's sleep. However, because there are so many varieties, you'll need to weigh a number of aspects before deciding which earplugs are best for you. Quality and comfort are especially crucial, but other factors may play a role in your decision. Earplugs should be chosen based on the size of your ear canal and your own preferences for materials. 
We'll go through the most important features to look for when buying sleeping earplugs. On the surface, earplugs may appear to be very identical, but concentrating on the features that differentiate them might help you find a pair that is right for you. Here are the things that you need to consider when purchasing the best earplugs for sleeping: 
Cost
The cost of a set of earplugs is usually determined by the materials used and their reusability. Disposable earplugs start at an affordable price when purchased in bulk. Reusable pairs are usually above the price of what the disposable earplugs have offered, while some more technologically advanced noise-canceling devices can be a little bit pricey. 
The best value will be determined by how you intend to use it. Reusable earplugs will save you money in the long run if you plan to use them every night and don't mind cleaning them regularly. The expense of disposable earplugs on a monthly basis might quickly add up. Disposable earplugs, on the other hand, may be a better bargain if you only use them infrequently or don't want to clean them in between usage. 
Single-use vs. reusable
Some earplugs are designed to be used only once, while others are designed to be reused. To keep costs down, disposable, single-use earplugs are frequently made of less durable materials. They can be really convenient because you don't have to clean them after each use. 
Reusable earplugs are made of more durable materials that can withstand nightly use. They must be cleaned on a regular basis, which may be inconvenient for some owners. They do, however, produce less waste and may save you money in the long run.
Materials
Foam, silicone, wax, and latex are some of the materials used in earplugs. The most prevalent and cost-effective option is foam. Silicone models often rest at the ear's entrance and rarely, if ever, pierce the ear canal. Many people regard wax earplugs to be the most effective, however, despite the fact that they are only used once, they usually come at a greater price. 
Latex may be present in some earplugs. This should not be a problem for most people, but those with latex allergies should carefully read product specifications to ensure they choose a latex-free model. 
Noise Reduction
The noise reduction level is determined by the noise reduction rating (NRR), which specifies how many dB the earplugs can block out. The higher the number, the greater the possibility for noise reduction. The NRR of earplugs is usually between 22 and 33 decibels. Options on either end of this spectrum may be appropriate depending on your needs and how loud the noises in your bedroom are. 
Comfort
If you're going to sleep with earplugs, you'll want to make sure they're comfortable. The materials, size, and shape of your earplugs can all influence how comfortable they are for you. Unfortunately, there is no straightforward way to predict which earplugs will be the most comfortable for you, so selecting the right pair may need some trial and error. 
Other options for sleeping in a noisy environment
Sleep is, without a doubt, the most crucial part of feeling your best. You can eat well, exercise regularly, and listen to all of YouTube's guided meditations, but if you're up all night tossing and turning because the person lying next to you is snoring like a freight train, you're not going to wake up ready to face the day. 
To totally block other sounds, external white noise machines can be used in conjunction with earplugs. They can also serve as an alternative to earplugs. 
Other noise-canceling gadgets, such as earmuffs, are also available for use when sleeping. Despite their high NRR, most individuals find these earmuffs uncomfortable to wear while sleeping because they fit over the head like regular headphones. 
Is there anything else you can do to lessen evening noise?
While earplugs are a cost-efficient and effective approach to reduce nocturnal noise, there are other headphones, sound apps, white noise generators, fans, and room adjustments to consider. 
There are a variety of sleep headphone designs available, some of which are worn in the ear and others which are worn outside. Some sleep masks and pillows contain built-in speakers that allow sleepers to listen to music without using headphones. Sound apps can be used on your phone or tablet, as well as with headphones. Music, meditations, nature noises, sleep stories, and other things may be included. 
White noise machines generate a constant background sound that some people compare to flowing water or radio static, which can help obscure out other noises. A fan can produce a similar result. 
Finally, alterations to the room may be beneficial. Soft materials, such as draperies and carpets, can absorb sound and make a room quieter. Soundproof curtains are a good option if the noises are originating from outside.
Is Sleeping with Earplugs Safe?
When worn as advised, experts generally consider earplugs to be safe, although there are some concerns to be aware of. Earplug use on a regular basis may induce earwax buildup, which can lead to dizziness, tinnitus, itchy ears, and hearing problems. Furthermore, placing an earplug in too deeply and/or removing it too rapidly might cause ear canal injury.
While the purpose of wearing earplugs is to block out noise, there are certain disadvantages. Important sounds, such as an alarm clock or a crying child, may be less likely to wake you up.
Sleepers should follow the manufacturer's directions to reduce some of the potential hazards connected with earplugs. Keeping your hands and ears clean, properly inserting and withdrawing the earplugs, and cleaning or disposing of them according to the instructions should all help to make them safer and more pleasant. It's always advisable to consult your doctor if you're concerned, have an underlying problem, or are experiencing pain or discomfort. 
When to use the earplugs for sleeping and when is not the time to use them?
Do you have a companion who snores? Are you a resident of a busy street? Is your next-door neighbor's dog barking all night? If you're reading this, chances are you already use earplugs at night or are well aware of why you should. Earplugs, on the other hand, aren't a long-term answer, and you should think twice about wearing them every day. 
Earplugs are great for tolerating noisy surroundings that you can't control for a short period of time, such as plane trips, noisy commutes, or a late-night party next door. However, you should not use them on a regular basis or for an extended period of time. Earplugs are beneficial, but other strategies to decrease noise intrusion are preferable. The less that touches your body, the better. Because people move around while sleeping, everything you have on or in your body is likely to shift, if not completely fall out. 
What about custom earplugs?
Custom-fit versions are a costly upgrade worth considering if you use earplugs frequently and want a more comfortable alternative to disposables. Custom earplugs may not block more noise than well-sealed foam earplugs, but they do feel a lot more comfortable—especially for side sleepers, thanks to their reduced profile. 
Earplugs that are custom fit provide a secure and pleasant fit. An impression of an individual's ear is used to create the bespoke earplug. As a result, they efficiently enclose the ear, lowering sound volume. These earplugs with a custom fit are offered for a range of applications. Some earplugs are solid, while others feature filters that allow for acceptable sound levels while preventing harmful noise levels. 
Get the Best Earplugs for Sleeping Now
Now that you know the most important factors to consider when buying the best earplugs for sleeping, you can look at our list of top options. It's a collection of some of the best earplugs for each of numerous categories, chosen according to the criteria given above. 
The importance of good sleep to our physical and mental well-being cannot be overstated. Background noise can prevent you from falling asleep fast or make it difficult to stay asleep. You'll find that the best earplugs for sleeping are worth their weight in gold, whether you work the night shift, have noisy neighbors, or simply need an extra edge when trying to sleep. 
The best earplugs for sleeping will keep you from being disturbed by outside noises. They minimize the number of sound waves that reach your ears, allowing you to clear your thoughts and get a good night's sleep.