Although your fence may not be aesthetically pleasing, it may be the most vital part of your garden, particularly if you have children and/or dogs. It is indeed also one of the most expensive parts of your garden, so it's a good idea to look after it and protect it from bad conditions by purchasing the best fence paint. Preventing mildew and splintering in the first place is typically far more economical and convenient than replacing a section of your fence. 
Nowadays, there is a high-quality fence option to suit almost any purpose or preference. If you want to work quickly and efficiently, utilizing a fence sprayer is often the best option; however, you'll need a pretty thin fence paint to avoid clogging. However, if you're willing to invest some time upfront, you can apply a thicker product using a paint brush and walk away from certain that you won't need to repeat the process for quite some time.
Once dried, modern fence paints are usually completely safe for plants, animals, and children. Certain fence paints are even safe to touch while they are still wet, however, we recommend keeping pets and children away in any case, as you don't want paw- or fingerprint-prints ruining your work. Furthermore, we'd advise covering any neighboring plants to minimize unsightly drips on their leaves. Normally, a regular dust sheet will suffice. 
Is it Worthy to Purchase the Best Fence Paint?
Though it may appear to be a hassle, and it most certainly is, it is well worth the time spent preparing your fence before painting it. Without a doubt, you'll need to handle any damage. Fence paints are meant to prevent, not to repair, damage to the fence. You do not need to sand the wood, but cleaning it is always a great thing, and you may want to consider treating it for mold and algae, especially if you notice any early symptoms of it establishing a foothold in the wood. 
Keep in mind that the instructions may be based on "ideal" conditions. They assume, for instance, that the fence is in good condition and that the fence paint is applied over a base coat of a comparable color. If you're going to paint your fence over an entirely different color, you're going to need additional coats and may want to purchase a small pot and conduct a test paint first.
Furthermore, if your fence is in desperate need of repair and you need to move immediately. We're going to look at the best fence paint today. The best color to paint a fence in a small garden is to create the illusion of additional space. Then, we'll show you how to paint a fence using a variety of various types of equipment and show you the best fence paint 2021. So, if you're about to paint your fence, you've come to the right place. 
Cuprinol Ducksback (Wood Protection Silver) – Best Fence Paint for High-Quality Formula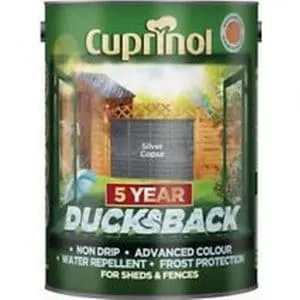 Pros
Safe to use around plants and pets.

 

Quick to dry.

 

Gives rich coloring and even distribution.

 
Cons
Only apply it on a warm, dry day

 
Cuprinol Ducksback is specially formulated to repel water while preserving a vibrant color for up to five years. This is a water-based fence paint with added wax. This is how the paint acquires its water-repellent quality. Essentially, the water seals the color into the wood, while the wax adheres to the fence and deflects rain.
The Ducksback collection is available in three colors. However, this wood protection silver is a lovely shade, warm and rich without being too dark. This is an excellent choice for your fence if your garden receives a significant amount of rain throughout the year.
We enjoyed that we could apply the paint to a variety of areas, which enabled us to tie together disparate garden pieces. The stunning long-lasting color provides weatherproof protection, while the water-based recipe is completely safe for plants and pets. 
RONSEAL (Brown) – Best Fence Paint for easy-to-apply timber paint for all rough sawn wood in your garden.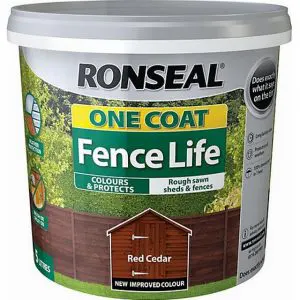 Pros
Can be used on any wooden structure.

 

Only one coat is required.

 

Protects against moisture and sunshine.

 
Cons
A second coat is required for a really rich color.

 
Ronseal One Coat Fence Life is indeed a paint particularly formulated for rough sawn iron. This product is ideal for fences, sheds, as well as other exterior surfaces. It features a quick-drying composition and is the ideal ally if you need to complete the job quickly. 
For years, Ronseal fence paint has been a mainstay in many gardens throughout the UK, and with cause. Its fence paint comes in a variety of classic colors, as well as some less traditional colors if you're feeling particularly fancy. Although, for the majority of us, it is the superior protection provided by Ronseal fence paint that makes it a solid choice. 
This beautiful medium oak fence paint is rich and dark and adds a lot of style and color to a fence. This is, however, a water-based fence paint that contains no harmful chemicals. As a result, it is safe to use in gardens with dogs and plants, and you can even use it on wooden planters. 
One Coat Fence Life is completely 100% showerproof and resistant to all weather conditions, guaranteeing a beautiful color that lasts up to two years. This is really a little period; we believe it is reasonable in light of the price. UV screening is included in the protection, which protects the wood from greying over time. 
The product is simple to apply, whether by brush or spray. A liter can cover up to 6m2 when applied with a brush, however, this amount decreases significantly when applied with a sprayer. 
RONSEAL FENCE LIFE PLUS (Dark Oak) – Best Fence Paint for Low maintenance paint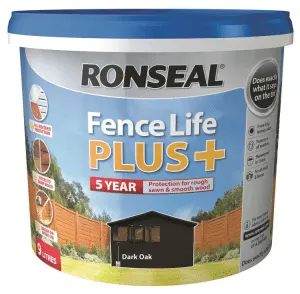 Pros
It is easy to apply.

 

Beautiful stain-like quality.

 

It ensures UV protection for long-lasting colors.

 

Weatherproof.

 

Suitable for both rough sawn and smooth planed wood.

 
Cons
If you're searching for low-maintenance paint, consider out the Ronseal Fence Life Plus. This paint is suitable for rough sawn as well as smooth planed timber surfaces. This paint is tough on everything from sheds and fences to trellises and outdoor furniture. 
The product is easy to apply and one liter covers an area of up to 6m2. This paint is designed to survive the test of time, requiring two coats on rough sawn wood and three coats on smooth planed wood. It gives up to five years of protection.
The product is ideal for uncertain weather because it becomes shower-proof in just one hour. While we encourage applying it on a sunny day, if it rains during the application, there is no need to be concerned. This paint applies to both dry and wet wood and has a lovely opaque finish. 
Additionally, we appreciate the variety of colors. The palette, which includes both traditional and contemporary shades, appeals to a broad range of interests. Whichever method you select, simply apply the product with a brush or, for faster results, a paint sprayer. 
The only aspect we dislike is the paint's consistency. This stuff is watery and sloppy. If you're okay with dripping paint, this is a great product to consider. 
Johnstone's Trade Woodworks Shed & Fence Treatment Wood Paint (Brown)
– Best Fence Paint for Budget-Friendly Option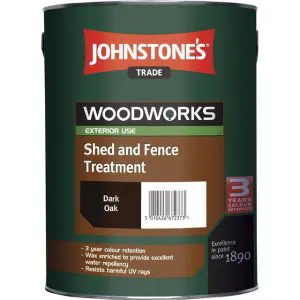 Pros
Use with: All-Purpose Preserver
Substrate: timber, fencing, wood

Touch dry in 30 minutes.

9L tub 

Colour: 7 colors available
Protected for 3 years
Cons
Paint can dry darker than pictured.
When your desire yearns for remodeling but your wallet begs you to hold off, Johnstone's Trade Woodworks and Fence paint may be an excellent solution. The product, which is easy to apply with a roller, paintbrush, or paint spray, claims to cover any defects in a single coat.
Johnstone's 
Woodcare 
range 
is 
ideal 
if 
you're 
looking 
for 
a 
traditional 
color 
for 
your 
fences. It 
is 
quick-drying 
and 
will 
keep 
your 
fence 
protected 
for 
3 
years.
This paint 
offers 
protection 
against 
water 
and 
UV 
rays 
too. 
So, it 
won't 
rot, 
and 
the 
color 
won't 
dull 
either. 
On the bright side, the product is, therefore, safe to use around children, pets, and plants. After an hour of drying, Johnstone's Trade Woodworks and Fence paint touch dries in thirty minutes and takes a second coat after two hours, if necessary.
The product, which is supplied in 5L or 9L tubs, contains oxide pigments that stick well to prior paint. Johnstone's Trade Woodworks and Fence paint has excellent adhesion and will not peel or break when painted over creosote or other treatments. However, its longevity is questionable. After about a year, the intense sun and elements, combined with normal wear and tear, cause the product to fade and peel. 
CUPRINOL LESS MESS FENCE CARE – Best Fence Paint for Quick Drying Formula that Protects all Garden Timbers.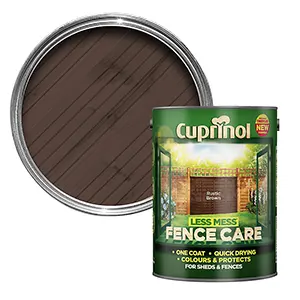 Pros
One coat coverage minimizes work. 

Easy application formula and high viscosity minimize messes. 

 

Specially developed for protection. 

Quality pigments ensure a rich color. 

Water-based formula and is safe to use around pets and plants.
Cons
A 6L tub is enough for roughly 30m², depending on wood type and porosity.

It might need more than two coats.

The paint cannot be applied with a sprayer.
Cuprinol Less Mess Fence Care is indeed a high-quality paint that is formulated to provide years of protection with a hassle-free one-coat application. The product is easy to apply and has a viscous consistency that does not drip off the brush. 
As you would imagine, the viscous consistency of the product compromises its covering power. Indeed, a 6L tub is only adequate for 30m2. Even so, this is sufficient for the majority of homeowners, and the product offers excellent value for money.
Although the product was developed specifically for rough sawn wood, it can also be used successfully on smooth planed wood. Coverage is also compromised in these cases, and multiple coats may be required. 
On a better outlook, the product features a quick-drying formula that dries to a water-repellent state in approximately an hour. If two coats are required, the second coat can be applied approximately four hours later. Due to the paint's non-toxic formula, it is safe to use around pets and plants. There is no strange odor, and the unique pigments ensure a consistently rich color. 
Johnstone's Garden Colors Best Fence Paint (Steel Smoke) – Best for Versatility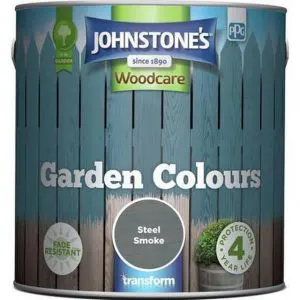 Pros
Quick to dry – takes just 2 hours

 

Protects against all weathers – finish remains bright and bold

 
Easy to use – simply build up the color to achieve your desired finish

 

Can be used indoors in a well-ventilated space if needed

 

Reasonably thick so doesn't produce much splatter

 
Cons
Maybe a little streaky on the first application although it evens as it dries

 

More than one coat may be required so painting will take you longer

 

Best applied on bare wood as opposed to previously colored

 
If you're looking for something a little more vibrant to liven up your garden, this Johnstone's Garden Colours paint comes in an array of stylish shades. It features a range of blues and pinks, as well as everything in between! Additionally, it is suitable for use on the majority of wooden garden surfaces, including fences, sheds, and garden furniture. 
We used the Steel Smoke to paint a small wooden playhouse, which came out beautifully and looked brand new in no time. It dries quickly and leaves a lovely waxy, water-resistant finish. The paint will protect up to 30 m2 for up to four years. 
If you're looking for durable, long-lasting fence paint that's a little different from the standard wood colors, this Johnstone paint will help you have some fun in the garden! 
Cuprinol Garden Shades (Blue) Seagrass – One of the Best Fence Paint on the Market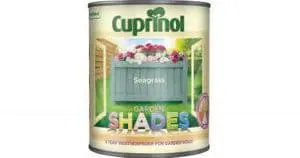 Pros
Specially developed colors to protect wood fences and sheds, garden furniture, and other outdoor wood surfaces.

 

This paint brings versatility. 

A selection of contemporary colors comprises elegant and dramatic choices

 

Tough and resistant

Easy to apply with a paintbrush or sprayer.
Cons
It can take up to 3 coats to achieve a flawless result.

Tins are made of a flimsy material. 

Colors sometimes dry to brighter shades.

 
Cuprinol Garden Shades is an exterior paint collection for wood and masonry materials such as stone, brick, and terracotta. The outstanding formula provides up to six years of protection on wood, making this everyone's favorite paint. 
Garden Shades are simple to apply with a brush or a spray and are available in a range of vibrant modern colors. Special pigments ensure a vibrant color that accentuates the natural texture of wood, enhancing the look and feel of your fencing. 
Cuprinol Garden Shades will enhance the beauty and longevity of your garden. This paint emits a seagrass hue that has been specially formulated to complement the natural color of your garden. It is manufactured by Cuprinol Woodcare Treatment, a company with 75 years of experience in developing high-performance products with superior finishes. 
This has been rigorously tested to ensure its superior quality and performance. It's perfect for decking, fences, garden furniture, and sheds. We like that we could apply the paint to a variety of surfaces, which enabled us to tie together disparate garden pieces. The stunning long-lasting color provides weatherproof protection, while the water-based recipe is completely safe for plants and pets. 
How to Choose the Best Fence Paint?
The garden fence serves as more than a barrier between your property and the outside world. It will be the first thing that your guests notice. Combining a decorative and defensive role, the fence must defend your property against invaders while also blending into the scenery of your yard.
For homeowners, wooden fences are an enduring choice. Timber fencing is a warm, informal, and adaptable material that can be painted in a variety of colors to fit your garden or express your personality. However, what qualities define the best garden fence paint? Water resistance and durability are unquestionably the two most critical characteristics. However, there are further factors.
Suitability – 

Ensure that the color you choose is appropriate for the thing you are renovating. Not all fence coatings are suitable for use on sheds or outdoor furniture. Likewise, not all paints are appropriate for all types of wood or surfaces.

 

Protection – 

The paint should provide years of protection against the elements, UV radiation, mold, and discoloration.

 

Quick Dry – 

It is preferable to use quick-drying paint. In this manner, a stray wind will not be able to grind your recently painted fence.

 

Finish

 – Take on the look that appeals to you. Some paints bring out the natural and warm color of the wood, while others are glossy and conceal the wood's natural appearance.

 
Best way to paint a fence: brush or spray
After painting fences with brushes and a spray gun, we can confidently state that the best and easiest method is to use a spray gun. The majority of water-based paints are extremely dilute and easily sprayed via paint sprayers. Additionally, it is far faster than painting with a brush. We are aware that many people do not own a paint sprayer. If you don't have one and you perform a lot of DIY, it may be worthwhile to consider purchasing one. Paint sprayers are not prohibitively expensive and can be used for a variety of do-it-yourself projects. If you prefer to paint your fence using a paintbrush, this fence painting brush package can save you time. 
How to spray-paint your fence?
Spraying a fence is a very straightforward procedure. To begin, dilution and stirring the fence paint are necessary. After that, mask off any portions of the fence that you do not want to be painted. For instance, suppose your fence posts are made of cement. Dust covers are also an excellent way to preserve your patio and lawn areas. 
Then begin painting. When you first begin painting, pay close attention to the amount of paint that comes out of the gun. Reduce the amount of paint that comes out if streaks or drips form. It is preferable to conduct this in a section of the garden that will remain hidden from view for the majority of the time. Once the settings are dialed in, it's simply a question of making light passes along each fence panel. Adhere to the manufacturer's directions and apply the specified number of coats.
Protect your garden with a piece of cardboard from any overspray from your neighbor. Simply drape it over the fence panel's rear. Spraying a fence is a simple procedure. The tuning of the parameters, on the other hand, demands practice. However, adjust the spray so that no paint pools or drips on the surface. After that, feel free to paint! 
How to paint a fence with a roller?
Painting a fence with a roller might be challenging and time-consuming, but it is possible. It requires a specific roller. You'll note that the roller is significantly smaller than a standard roller. This is because each fence slat must be painted individually. 
Additionally, if your fence panels are rough-textured, you will require a brush. This guarantees that you get into every corner and cranny of each fence slat, ensuring complete coverage. While we would argue that using a roller to paint a fence is not the quickest of the three methods, it does require close attention to detail, which might make it feel that way. 
What Are You Waiting for? Get Your Best Fence Paint Now!
This article has whittled down the wide selection of available best fence paint to just seven of the best. Always choose one that offers excellent added protection, rot, degradation, and insect bites. It will remain preserved for an extended period of time and will not quickly peel or fade. Additionally, it is very simple to apply and does not drip or create a mess.  Determine that this has all of the things necessary for high-quality paint but is also versatile.