Are you searching for a foundation brush that will last you for a long time? Finding the perfect foundation isn't the end of the process, you will find something that fits liquid, cream, or powder. From buffing bristles to the classic beauty blender, the type of foundation brush you use can completely change the finish you get. Also, it can even make your makeup look like a completely different kind of product.
Some say that your make-up is only as good as the skincare you use underneath it, but we'd also include the tools you use to apply it. A good foundation brush can transform into a flawless, dazzling finish even while allowing it to last longer on the skin. The perfect one won't make you spend hours in front of the mirror trying to remove streaks. Then it won't absorb so much product that you end up using three times as much as you would if you applied it with your fingers.
It works well with concealer, highlighter, bronzer, and blusher. Try dampening your brush before using it like a sponge for a dewy finish. Previously, the best brushes were made with animal hair like sable or goat. However, synthetic bristle technology has advanced to the point where we can no longer tell the difference between natural and synthetic hairs in most cases. There's no need to be concerned about cruelty because all of the brushes here are made with synthetic bristles.
Brushes are generally expensive, but if you choose the right one and take good care of it, you can save a lot of money. It's now time to find the best foundation brush to achieve that desired finish when applying it.
Bobbi Brown Foundation Brush – Best for Full Coverage Face Brush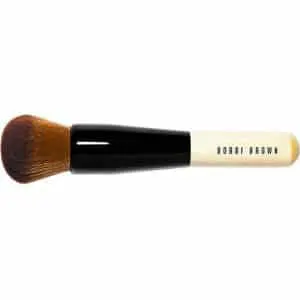 We've long been admirers of the full coverage touch-up brush, which we use to rub out concealer, so we had high expectations for this full-coverage face brush. This synthetic fiber brush features a domed design with densely packed medium-firm bristles. It goes with liquid, stick, and powder foundations, and it can even be used damp for a more radiant finish.
This is the quickest and easiest way to get a flawless, streak-free finish out of all the brushes we tried. It delivers decent coverage with the first layer and doesn't absorb too much product, so you only need one layer.
Clinique Foundation Buff Brush – Best buffing foundation brush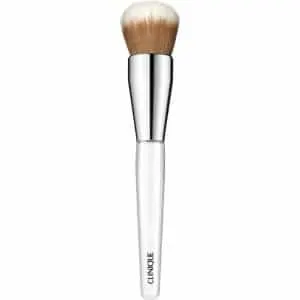 This foundation brush gives an airbrushed, glowing, and radiant finish like nothing else we've tried.   The bristles are softer and gentler on the skin than many other brushes of similar design. It evenly distributes product and requires very little effort to buff out without streaks. This is an excellent choice for anyone new to applying foundation with a brush. It's compatible with both cream and powder foundations, as well as cream bronzers.
One of our top scores is this foundation brush! It passed all of our performance, design, and usability tests with flying colors. This one appealed to us because it comes with a case that you can easily slip into your handbag when you're on the go.
By Terry Tool-Expert Soft Buffer Foundation Brush – Best Known for Softness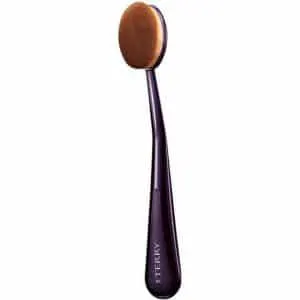 We haven't used a brush like this before and were pleasantly surprised to discover that it's not just a trick. The bristles are densely packed and rather hard, but they are still extremely soft. The finish is flawless, and the coverage is excellent. You won't need to apply multiple layers of the product or worry about color leaking into the bristles. Wielding our index finger over the handle, as if we were holding a knife, offered us more control.
Real Techniques Expert Face Brush – Best Foundation Brush for Budget Option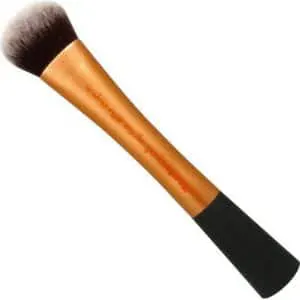 This brush promises to help in the application of product layers for a more opaque base as well as a full-coverage finish. It's a traditional style with an angled cut that'll work well with a liquid foundation.
If you're looking for superb brushes on a budget, go no further than Real Techniques, whose brushes match favorably to high-end brands. This professional face brush is a circular, domed brush with densely packed but soft bristles that may be used with liquid or powder foundations. We frequently finish by pressing powder over the regions of our faces that are prone to oiliness.
You'll need a foundation brush that won't take up too much room in your bag. It can quickly clean up your makeup without interfering with your meticulous contouring. The Real Techniques Mini Expert Face Brush is required.
This rose-gold buffing brush is identical to its full-size sibling, but with a smaller handle. It provides tailored coverage without caking or creasing your foundation. The ultra-plush synthetic bristles are structured like a dome for simple liquid and cream foundation blending. They can also be used to top up liquid blush or bronzer. Despite its low cost, we found the brush to be gentle on the skin, with no evidence of bristles shedding during use. Overall, this is no exception to the rule that all excellent things come in small packages.
Sisley Foundation Brush – Best Known for Uniqueness & Ideal for On-the-Go Travel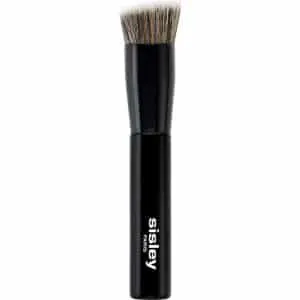 This is a unique foundation brush since it's small, almost the size of a travel brush. However, it provides you with more precise control over the movement than a longer handle would. Since the brush head is small, you can get right into the creases and nooks of your face to buff out your foundation to perfection. For its size, it's ideal for blending under-eye concealer. Lastly, it's our go-to multi-tasking brush for on-the-go make-up. It's also compatible with both liquid and powdered solutions.
Mac 170 Synthetic Rounded Slant Brush – Best Foundation Brush for Effortless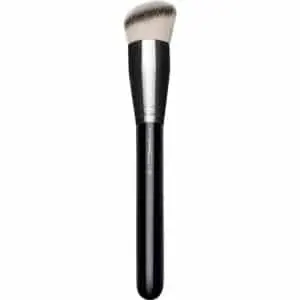 With a reasonably wide brush head and densely packed bristles, this swiftly blends a well-blended base. It's become our go-to brush for days when we only have a few minutes to get ready since it provides a gorgeous, soft-focus finish and good coverage with minimal time and effort. The slant enables for precise work in the creases of your face while remaining mild enough to not obstruct circular buffing motions otherwise.
BareMinerals Beautiful Finish Brush – Best Foundation Brush for Silky Soft Head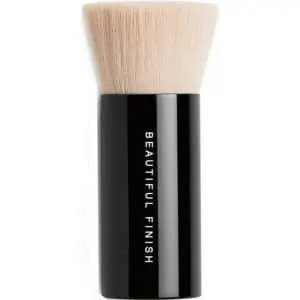 When it comes to loose powder, most foundation brushes aren't going to cut it. Unlike liquid or cream foundations, powder foundation is best applied with a broad brush and carefully buffed into the skin. The bareMinerals Original Powder Foundation Brush is our favorite because of its unusual convex center and silky soft brush head, which both contribute to an even and smooth finish. These crimped bristles take up precisely the appropriate amount of powder for personalized coverage. The chunky handle makes it simple to maintain a tight grasp while blending.
Essentially, the Original Powder Foundation Brush is the quickest and most straightforward item in the collection. This bareMinerals recommends twirling the brush in the foundation lid, tapping off the excess, and then applying the product to the face to avoid a flat, powdery finish.
Brushes or Sponges?
Before taking sides in the endless foundation brush vs. blending sponge discussion, it's vital to evaluate the tool you'll be utilizing, as well as your ultimate result. If you adore makeup and don't possess a cosmetic sponge, you may wonder if you're the only beauty-obsessed person on Earth not to take the plunge. And if you're dedicated to your BeautyBlender but can't recall what a foundation brush feels like on your skin, you may have the opposite problem. You may no longer be sure if your current makeup application is, in fact, the best way available. Do beauty sponges truly outperform traditional makeup brushes? That is, after all, the million-dollar question.
A makeup sponge and a traditional foundation brush have a few key differences. Neither is necessarily superior to the other. It really all boils down to your skin type, the type of cosmetics you put on your skin, and your own preference. If you're undecided about whether to buy a BeautyBlender or go back to a foundation brush, allow us to provide just a bit more clarity.  There are a few fundamental differences between a cosmetic sponge and a basic foundation brush. Neither is inherently superior to the other. It all boils down to your skin type, the makeup you use on your face, and your own preferences. Above all, you must like the sensation of a tool on your skin and be able to tell yourself it's good.
Allow us to provide some clarity if you're on the fence about whether to get a BeautyBlender or stick with a foundation brush.
Foundation Brush
The application of foundation is notoriously challenging. It may take some practice to get it to blend in perfectly and appear absolutely natural. This can be difficult because the purpose of the foundation is to make it appear as if you have flawless skin. For decades, a simple foundation brush sufficed, and for many cosmetic enthusiasts, it still does. For one thing, a good brush lasts longer than a sponge, so you won't have to replace it as frequently. Here are a few additional compelling reasons to use a foundation brush.
If you have dry skin, you can use a brush to apply foundation directly to your skin without dampening it first. Dry skin types require all of the moisture they can get, and putting water on your face will just make your skin drier. It potentially causes clumpy makeup.
Brushes are also great for applying full-coverage makeup. Brushes absorb less makeup than sponges due to their bristles. As a result, you save money on the product over time and can apply foundation to your face more precisely for full coverage that blends smoothly.
Sponge 
There are a number of compelling reasons why the BeautyBlender cosmetic sponge is so popular. To begin with, it glides over your face with ease, which is especially beneficial around the delicate eye area. Skin injury is reduced when there is less yanking and pulling. Sure, replacing your BeautyBlender will cost you extra money. However, if you're the kind who rarely washes her beauty brushes and runs the danger of re-using a bacteria-infested brush on your clean skin, you're better off with a tool that you'll have to replace.
It's a multipurpose sponge that can be used not just for foundation, but also for concealer, bronzer, and highlighter, thanks to its makeup blender shape. When you consider how much you'll use your BeautyBlender and how you'll need to buy a separate makeup brush for almost every application type, you could decide that the cost is well worth it.
Given BeautyBlender's success, it's no surprise that other sponges with similar shapes and structures are now available. Although some of these sponges have received better evaluations than others, the BeautyBlender remains the gold standard for cosmetic sponges. The BeautyBlender may be washed, reused, and recycled. It's suggested that you replace it every three months.
How to choose a foundation brush?
If you want to achieve a full-coverage appearance, use a firm kabuki brush.

A lightweight stippling brush is ideal for achieving a sheer finish.

You'll need something slanted or ergonomically curved to reach those hard-to-reach places on your face.
Each brush is created to serve a unique purpose, therefore no two are the same. Since foundation brushes provide a seamless canvas that can better stick to your skin or your primer, they can even assist your formula to stay smoother and last longer. Rather than leaving you to roam aimlessly through the beauty aisle, wondering what your brush choices say about you, we've simplified the process by highlighting the only brushes you'll ever need for any application.
What Are the Things to Look For When Purchasing a Foundation Brush?
Today, it appears everyone who manufactures makeup also makes makeup brushes. The overabundance of tools makes searching extremely difficult for inexperienced consumers. It's difficult enough for a pro to navigate! Watching YouTube tutorials, in my opinion, does not help the loss. In most cases, you'll end up falling deep into a black hole of contradictory data and emerging with pricey proposals but no real approach.
The appropriate beauty products and tools can make a difference in how you feel about your daily regimen. Having the right makeup brushes is, in fact, an important part of your makeup regimen. It's often the brush, not the makeup product, that makes the difference. Makeup brushes are available in a variety of forms, sizes, colors, textures, and price ranges. There's a good reason behind it. We guarantee it. Almost all makeup brushes have certain basic characteristics in common. The shape of the bristles, as well as their length, diameter, and density, influence how the beauty product is applied to your face and whether it achieves your intended results.
We contacted a few of my favorite makeup artists for their tips on how to choose and utilize each type of foundation to get a flawless finish, no matter how much coverage you prefer, to get the lowdown on the best equipment to use for your foundation application.
Class/Quality
Quality is really important. The higher the quality of the brush, the better. Brushes made of the highest quality, high-end materials will last longer and give you the flawless makeup look you desire. Look for soft bristles that aren't torn or ragged while evaluating the quality of your brush. To avoid shedding, a secure metal ferrule should be used to hold the bristles in place.
Even if you have the most expensive makeup on the market, if you don't apply it with a good brush, the difference will show up all over your face. A good makeup brush has densely packed bristles, a solid wood or plastic handle, and a shape that smoothly and evenly applies and blends makeup. It should properly transport makeup to your skin, which means the brush shouldn't lose a lot of it in transit. Brushes that are built to last will allow you to perform your cosmetic magic for years to come.
Although it may be tempting to invest in a professional set of 32 beauty brushes, fight the urge.  When it comes to brushing collection building, the unwritten rule is to buy brushes one at a time. You'll quickly figure out which brushes you need on a daily basis as you master your makeup application technique, as well as which unique brushes you should add to your kit. Consider carrying an extra set of basic brushes with you if you travel frequently or prefer to reapply makeup throughout the day. Seven basic brushes are recommended by makeup artists to help bring your face to life.
Price
You may have heard that 'expensive' equals 'best pick,' but keep in mind that price does not always imply quality. There are a plethora of options accessible. Rather than depending on the price tag, carefully examine the brushes for the characteristics listed above.
Shape
Your foundation application will be greatly influenced by the form of your brush. Sponges work well for light, sheer coverage, while densely packed oval brushes work well for applying powder foundation for a flawless blend. The denser the bush, the denser the coverage, as a general rule.
Powder " versus " Liquid
Brushes for liquid, powder, and cream foundations are all different. You'll want to use a flat brush for full coverage liquid foundation since it lets you apply a paint-like technique for streak-free precision. If you prefer powder foundation, a fluffy yet thick brush with a large surface area is ideal.
If you prefer powder foundation, a fluffy yet thick brush with a large surface area is ideal.
Care
Taking care of your brushes is important. The more you care about caring for your brush, the longer it will last. Brushes made of synthetic materials should be cared for as follows. Simply wash the bristles in mild liquid soap, rinse thoroughly, lay them flat on a dry towel in a horizontal position, and air dry, leaving extra time for drying. It's crucial to keep in mind that the handles should never be submerged in water. The bristles will be damaged with time, which will often result in shedding. For individuals who apply makeup once a day, we recommend cleaning your brushes once a week.
Cruelty-free
Animal hairs are no longer necessary because high-quality synthetic materials are now accessible on the market. Sensitivity to animal hair is a disadvantage for some persons who use natural bristles. Allergies to animal products can be triggered by brushes rather than cosmetics.
Natural vs. Synthetic
Although having a fluffy makeup brush made from the finest animal hair or fur may seem luxury, it is not the most sustainable or cruelty-free alternative. Synthetic brushes have gone a long way, and there are many eco-friendly and budget-friendly options to consider. It's also crucial to find out whether or not a company uses animal testing. Cruelty-free is the way to go if you want to be compassionate to animals while also being hypoallergenic.
What Is The Best Way To Apply Foundation With A Brush?
Start with a little foundation and build up to obtain that full coverage. Apply your preferred foundation to the back of your hand before applying it to your face with a large brush; this will ensure a smooth, even application.' It's also important to think about your skin type; certain brushes provide full coverage, while others provide a delicate veil.
Best Foundation Brush For Acne-Prone Skin
A thicker coverage foundation and a tapered foundation brush are the perfect tools to employ if you want to cover up pimples and acne. A tapered foundation brush is precise enough to target specific areas. After that, use a stippling or buffing brush to achieve a smoother finish by evenly distributing the foundation and ensuring that no product gathers around uneven areas. For an added skin boost, search for foundations that contain skin-loving ingredients.
Best Foundation Brush For Dryer Skin
Preparation is required when applying foundation to skin that is prone to dryness. Whether it's with an AHA wash or a powder exfoliant, make sure you've incorporated frequent exfoliation into your skincare routine. Apply primer to cleansed face before applying a base from our list of the best foundations for dry skin with a stippling or buffing brush.
What Are You Waiting for? Get Your Best Foundation Brush Now
Since a flawless base is required for the remainder of your makeup to settle perfectly on top, fixing any mistakes as soon as possible is critical before it dries and won't budge. This is where the advantages of a flat top brush come into play. The first step to creating a flawless complexion is selecting the right foundation for your skin, but a poorly applied base cannot be disguised. If you use the wrong foundation brush – or, even worse, your fingers – you'll end up with a patchy look that won't last past noon.
Purchasing the proper tools for your foundation requirements can be done on any budget. A good foundation brush will blend your foundation into a flawless base that's ready for your contour and blush. Not only will the right brush save you time, but it will also prevent you from wasting product and pushing dirt and oil from your fingers into your skin – provided, of course, that you're using a clean instrument. When looking for a nice foundation brush, it is always important to read study reviews and look for one that is built with high-quality bristles that will not shed while in use.