High chairs aren't your priority when your baby is a newborn, whether you're still bottle-feeding or breastfeeding. Your baby will most likely be in your lap. However, once purees and small bites are introduced, your baby will require a high chair to keep him upright at mealtime.
Choosing the best high chair is essential for a good mealtime experience. Learn about the most vital safety and features. Allow us to help you in finding the best high chair. We've gathered the 8 best high chairs for 2021. We put them to the test to see which ones should be used or avoided, and which are suitable for specific conditions. To find out the pros and cons of each candidate, we tested each chair for simplicity of use, ease of cleaning, quality, and more. This information might help you determine the best high chair option for your baby.
Peg Perego Siesta – Best High Chair for Rolling Chair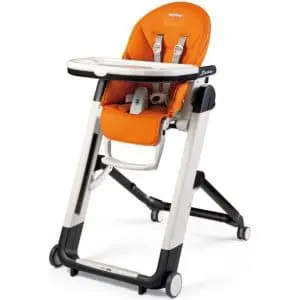 Pros
Adjustable

Great quality

Foldable
Cons
'Tricky to roll

Hard to clean
The Peg Perego Siesta is indeed a high-quality chair that can be used for many years. This chair is well-made with features including reclining, height, and footrest. This choice is ideal for a self-feeding hungry toddler, It is a good place for newborns to relax with a bottle. The said high chair is available in a variety of colors. It is very easy to clean. The chair features wheels for easier movement about the kitchen, as well as a safe and simple Stop & Go Brake system. This chair folds up little, making it ideal for limited spaces or parents who wish to keep their belongings hidden.
Several parents find the wheels difficult to maneuver because the back wheels swivel but the front wheels do not. This is made easier by rolling it backward and guiding using the back wheels rather than the front. While the cloth is easy to wipe clean and the tray is dishwasher safe. There are so many dark corners for dirt to hide that it's nearly impossible to reach them all. Notwithstanding these minor flaws, we were delighted with its quality and adaptability, and feel it will satisfy a wide range of families.
Ease of Use
The Peg Perego Siesta is one of the crowd's favorite high chairs to use. It proved to be an appealing seat for placing the infant right away. The baby was supported by the passive crotch restraint built into the seat while we got her properly secured in the 5-point harness. 
Ease of Cleaning
This is exceptional, and it's easy to see why Peg refers to it as "first-class" fabric. It's not only attractive, but it's also stain-resistant, easy to clean, detachable, and long-lasting. Simply clean it with a moist towel and a non-acidic detergent. Even after rigorous use and several daily cleanings, users report no difficulties with long-term durability. 
The tray and tray liner can both be washed in the dishwasher, but we always recommend hand-washing plastic pieces in warm, soapy water to reduce chemical leaching. It always came off with a jolt, no matter how slowly we tried to remove it. Before you go snapping the tray off inches from your baby's face, make sure there's nothing on it that could harm him or spill on the floor. Aside from that, the tray was a good size, big enough to fit a plate and a cup.
Quality
This is genuinely exceptional in terms of quality. The beautiful quality of this piece of furniture shines. It features auto-lock, mar-resistant caster wheels to the rubber net storage pocket on the back of the seat. Its attractive mix of metals that make up the chair's structure is not only appealing to the eye. However, it also helps to keep the chair stable, especially while moving to one of the chair's nine various height possibilities. The chair moves up and down the frame with ease, and it can be adjusted to accommodate anything from your dining table to the counter-top bar. 
As previously stated, the 5-point restraint harness was made up of sturdy, adjustable straps that did an excellent job of keeping infants firmly strapped in position. We liked that the restraint post was attached to the seat rather than the tray. It allows us to set the tray flat on the counter while buckling the harness and keeping the infant in position.
Setup Time
When you're enthusiastic about the arrival of a new baby product, it's easy to forget that most products come in multiple pieces rather than being ready to use right out of the box. Do not be alarmed if the prospect of an hours-long, multi-tool assembly makes you shiver. This chair took several minutes to set up. All you have to do now is snap in the wheels and attach the tray, and you're ready to go. The instruction manual, which consisted entirely of images, was well illustrated and simple to follow.
OXO Tot Sprout Chair – Best High Chair for Ease of Cleaning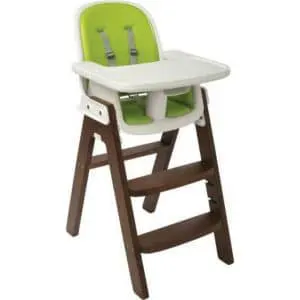 Pros
Stylish

incredibly easy to clean

It will last until your child is tall enough to sit on an adult chair

the tray can be removed with one hand

adjustable height and footrest
Cons
Big investment

no folding or recline functions
The OXO Tot Sprout highchair is indeed a thing of beauty and style, a highchair that transforms into a child-eating chair. This highchair has a great treasure, with wooden legs and a beautifully designed plastic seat and tray.
OXO Tot is a new design-led collection of infant equipment. The American company is known for its universal design philosophy and intelligent variety of baby equipment. This OXO Tot Sprout highchair is part of the feeding and weaning collection.
The Sprout has an adjustable height seat with smooth EVA foam cushions, a 5-point harness, a removable crotch post and tray, and strong wood legs. It is suitable for children aged 6 months to 5 years. The Sprout is available in three trendy colors: taupe, orange, and green, as well as a birch or walnut wood finish. The Sprout is available in three trendy colors: taupe, orange, and green, as well as a birch or walnut wood finish.
With a few small tweaks, it can simply be turned into a child-eating chair as he or she grows.  The infant seat pad is replaced with a new seat pad, and the tray and restraints are removed so that your growing child can sit at the table.
What to Be Aware Of This Baby Chair? 
If your infant is still floppy when sitting up, the Sprout isn't appropriate for first weaning because it doesn't recline. Although the Sprout has a small footprint, it does not fold and is somewhat hefty, thus it is not suitable for individuals who require a portable highchair.
Who should use the OXO Tot Sprout high chair?
Design-conscious parents looking for a useful highchair that also doubles as a piece of furniture.
Graco Swift Fold High Chair- Best for Overall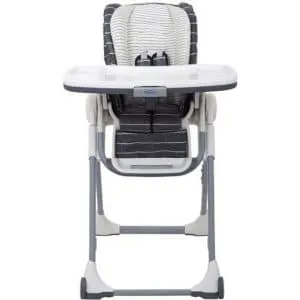 Pros
Grows with baby

easy to store

Lightweight
Cons
Flimsy tray

only has two wheels
This high chair can accommodate kids from infants to toddlers. Use the recline position to feed the baby. It can be used as a standard high chair or a booster once he is able to sit up. The high chair is also collapsible, making it simple to throw in the trunk while going on vacation or to Grandma's place. The High Chair converts into a toddler table and chair, allowing you to use it for many years. It supports youngsters up to 40 pounds in the baby reclining and infant booster positions, and up to 60 pounds in the toddler booster and youth chair positions.
Leander High Chair – Best for Ergonomically Made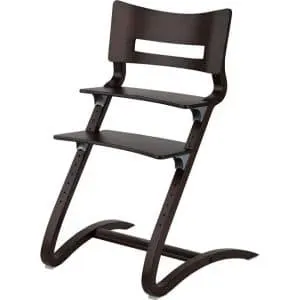 High Chair features
A beautiful elegant design in beechwood.

Easily adjustable seat, foot- and backrest

An exceptional safety bar with two settings.

Encourages good posture.

No harness is required.

Tray available

Easy to clean

6 timber colors

Machine washable cushions in 7 colors are available
A comfortable high chair is a must-have for your child. The timeless style of the Leander high chair complements modern interior décor.  The molded backrest and the better fitting safety bar offer better seating support as well as comfort. Its gently curved legs provide the chair stability and keep it from toppling backward. The high chair has a slightly bouncy structure, which allows movement along with your baby. These movements help your kid become more aware of his or her body and to sit more calmly at the table.
The backrest, seat, and footplate are all adjustable to provide the best possible seating position and ideal comfort. It ensures that your child can use the chair for many years – even until maturity.
The dining table is crucial.   Sitting at the table provides your kid a sense of belonging as well. A baby seated at the appropriate height at the table is more capable than we think, whether eating, playing a board game, drawing, or doing homework, and adults can participate while sitting comfortably in their chairs.
iCandy Mi Chair – Best High Chair for its Versatility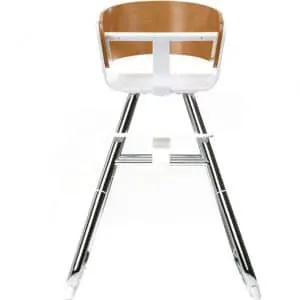 High Chair Features
Suitable from birth to 6 years

Beautifully crafted, versatile piece of furniture

Designed for maximum longevity

Full-size highchair with removable hygienic tray

Comes with tray, crotch bar & post, optional harness, and chair/rocking chair attachments

Easy to convert from high chair to chair or rocking chair

Simple to clean, hard-wearing surfaces

Optional use waist harness with iCandy one touch buckle

High back to support the younger baby

Comfort pack available for added comfort available in a range of colors
High Chair Review
The iCandy MiChair is indeed a trendy highchair that transforms into a stunning piece of children's furniture. The highchair is a timeless piece of furniture that may be used from birth with the iCandy MiChair Pod. When feeding, the iCandy Pod simply docks onto the highchair to raise the baby off the ground and up to parent height. Parents and children can make all important eye-to-eye contact, which is so vital in the first few months of life.
This iCandy MiChair strikes the ideal mix between natural materials that add warmth and the functionality of high-grade plastics. The chair back and rocking chair skis are made of FSC-certified Beech and Birch plywood from sustainable sources. Its legs are designed to complement the iCandy pushchair line and have the brand's characteristic high shine chrome finish.
Also, the tray is designed for modern families living with hidden inbuilt release paddles that are simple to operate. Its design prevents debris from becoming caught on any surface, making it simple to clean. The hygienic tray may also be washed in the dishwasher, making cleanup a breeze.
As your child grows, the iCandy MiChair transforms into a trendy child's chair or rocking rocker, giving them their own unique piece of furniture and instilling a sense of ownership. Both the chair and the rocking chair are suitable for children under the age of six.
Childhome Evolu High Chair – Best Bundle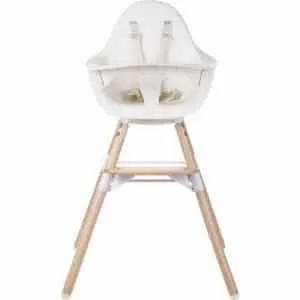 High Chair Features
          Modern Eames-like design

          Molded plastic seat

          Timber legs

          3 seating heights

          5-point harness

          No weight restrictions

          Suitable for breakfast bar

          Converts to low chair

          Machine washable cushion available

          Basket available

          Harness, safety bar, and footrest included
This Evolu High chair is a stylish high chair with a wood base and molded plastic seat. The contemporary design has earned numerous international accolades for its versatility and functionality. Its chair's adaptability is due to its legs, which can be shortened to fit a children's table or expanded to fit a breakfast bar.
When your child outgrows the high chair, it can easily be transformed into a low chair that fits a children's table or desk. The Childhome's Evolu High chair is a high-quality device that complies with all applicable safety standards.
Bloom Fresco Chrome -Best High Chair for Stylish Design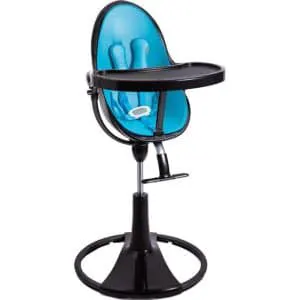 Pros
Suitable for newborns

recline 3-position recline

360-degree swivel

various height settings

3-position footrest

two tray options

wide range of seat cover colors

beautiful design
Cons
Expensive

Bulky

Heavy

difficult to recline

tricky to clean
The Bloom Fresco's space-age design is truly amazing — better than any other highchair we've seen.   There's a 5-point padded safety harness with adjustable shoulders to keep your baby safe. It swivels 360 degrees, making it easy to get your baby in and out of the car seat or to achieve a better feeding position.
The chair can be easily fitted to various tables or counters thanks to a pneumatic-assist technology that allows it to be raised (up to 104cm) and lowered (up to 93cm). If you have a breakfast bar in your kitchen, the new Loft version can be extended up to 116cm. There's also a 3-position footrest that may be changed to provide a comfortable seating position for your child of any age.
The fact that this high chair is ideal for babies makes it truly remarkable. It has three recline settings, may using as a charming cocoon-like daytime bed for young kids. You may remove the tray and utilize the chair at the table as your child develops. This is perfect for eating, playing, and drawing.
The Bloom Fresco comes with two trays: a large feeding tray for finger foods and a tiny play tray for when your toddler is beginning to feed himself. Both are dishwasher safe and may be simply removed. The Bloom Fresco High Chair is an expensive alternative, but it comes with one micro-suede seat cover and can be used until your child is roughly 4 years old.
What to Be Aware Of This High Chair?
This is a heavy highchair at 13.8kg, and despite the fact that it has wheels in the base, I find it difficult to move. The Fresco Bloom's wide base (68cm) takes up a lot of floor space, and you can't put it away when it's not in use because it's so big and unwieldy. It's also a little difficult to recline the seat.
Despite the fact that the seat cover is wipe-clean, it does become a little filthy and faded after a while. Replacement covers are, however, available. If you wish to clean the Bloom Fresco, it's also a pain to remove the seat cover and the safety straps.
Who should use the OXO Tot Sprout high chair?
Parents who are looking for a highchair that is so attractive that they will proudly display it for years.
High Chair Features
fresco chrome is suitable from newborn to 36kg/79lb 

3 recline positions; fully lie-flat newborn cradle, semi recline & upright seat, easily activated using a light touch pull handle 

360-degree swivel 

5 point safety harness with padded shoulder straps & bloom smart buckle  

pneumatic up/down height adjustment

removable harness straps 

super-sized, scratch resistant & anti-slip adjustable feeding tray & second smaller play tray  

fresco chrome allows for both up-to-the table & traditional tray high chair positions 

removable click-in/click-out aluminum safety bar 

It is removable sculpted booster seat 

removable aluminum footrest with 3 adjustable height positions 

easy to wipe clean nook and cranny free seat unit 

large, scratch free wheels concealed in base for easy movement 

trays made from FDA food-grade plastic & stainless steel parts that are removable & dishwasher safe 

booster seat engineered to direct spills away from the seat unit 

push-button quick release harness straps for effortless height adjustment
Béaba Up & Down High Chair – Best Known for Adjustable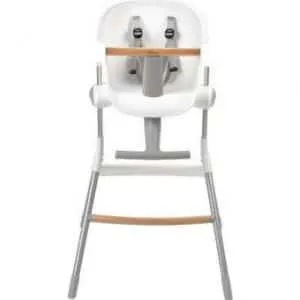 Pros
safe, easy to assemble

height can be adjusted to six levels

easy to clean

removable tray included
Cons
no newborn set

only goes up to 36 months
The Up & Down High Chair is a height-adjustable designer high chair with an ergonomic design. From 6 to 36 months, Béaba' High Chair adapts this chair to all dining settings. It allows your kid to participate in all aspects of family life. This is not essential to use any DIY tools. The Up & Down system allows you to modify the height on 6 levels in a matter of seconds.
This high chair is also a well-thought-out design that properly fits your child's body form to provide maximum comfort and ensure an ideal eating posture with their parents. It has set out to provide parents with an ultra-modern and attractive high chair that will embellish their interior, recognizing the importance of interior design.  Béaba's Up & Down high chair turns mealtimes for kids and parents into unique shared experiences.
High Chair Features
Adjustable 5-point safety harness

Patented Up & Down technology, allowing the chair to be adjusted at 6 different levels

Removable baby meal tray

No sharp edges, comfortable design

Stable structure with a large footprint
Stokke Clikk High Chair – Best Portable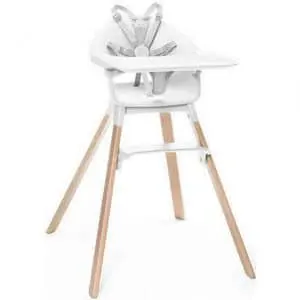 Pros
Stylish

adjustable footrest

Lightweight

easy to clean tray

dishwasher-safe tray

strong safety harness
Cons
Expensive

unable to adjust the height

fiddly harness to fit and clean
Stokke High Chair is a leading baby gear brand for numerous reasons. It has high-quality materials, visually engaging design components, and a heartwarming background.
But it's Stokke's dedication to designing items that promote family bonding that really sets them apart from the competition. Their passion is to create designs for their Stokke Clikk high chairs. The new Stokke Clikk are classic instances of great high chair design, visually stunning, and capable of drawing right up to your dining room table. This High Chair is remarkably ideal for your kids. 
The Stokke Clikk is more lightweight, with a lower price tag to match, but that doesn't mean it's any less luxurious! For the youngest members of your family, the Clikk gives an especially well-crafted place at the table. The Clikk was created with children aged six months to three years. This specialized provides a more toddler-friendly high chair experience. It features a dishwasher-safe removable food tray and an ultra-lightweight, easy-to-assemble frame. The Clikk is built of extraordinarily high-quality materials, as are all Stokke items, and comes in a variety of attractive colors.
Tool-free assembly
The space-saving design Stokke Clikk is a highchair with a modern, uncomplicated design that makes mealtimes a breeze. You won't need to buy anything else because everything you need is included in one box, including the highchair, tray, and harness. The Stokke Clikk lets you focus on what matters most – family time – with a one-minute, tool-free assembly.
Convenient and easy to transport
The Stokke Clikk can be neatly packed away because it can easily detach the legs. This makes traveling enjoyable. You can take the Clikk with you everywhere you go, whether it's in your yard or at a friend's.
Ease of Cleaning
The highchair's tray is detachable and dishwasher safe, and the chair can be wiped clean for added convenience. Because there are no uncomfortable nooks and crevices for crumbs, you won't have to spend hours cleaning the Clikk after your BBQ. Even the five-point harness may be washed in the machine!
Ergonomically designed to grow with your baby
Stokke Clikk High Chair is appropriate for children from six months to three years. Its adjustable footrest allows for seamless and simple adjustments, ensuring that your child is comfortable at all times. Its ergonomic design supports your baby's spine as they grow, and there are three seating arrangements to accommodate them as they grow. An optional cushion is available for added comfort. It allows your child to sit in their highchair for extended periods of time.
When Do You Need a High Chair?
Most parents may anticipate their child being ready to sit up in a high chair around the age of 4 to 6 months. Many parents look forward to this period since switching to a chair frees up some space in the kitchen and at the table. It also allows your infant to participate in some of the things that the rest of the family does, which is beneficial for social development.
You won't need a high chair until your baby starts eating solid food, which is normally around six months, because you'll be breastfeeding or bottle feeding for a long time. But, you'll be able to use it for another two or three years or longer depending on the seat.
Getting Baby Started in a High Chair
You can now get your infant used to being placed in a high chair In the weeks leading up to regular food introduction. Allow them to take the chair for a "test drive" and become acquainted with their new little throne. Offer them a plate, cup, and spoon to play with, and you'll have one less thing to worry about when it's time to introduce solid foods.
Between the ages of 4 and 6 months, babies are ready to start eating basic meals. There are certain significant markers that your baby is ready to consume regular meals and sit in a high chair. Always choose a high chair with good head and neck control.
For some babies, being able to participate in social interactions at meals is crucial to enable everyone to eat in peace. Make sure the high chair is positioned so the baby can see you and feel included in the festivities, but not so close to hot or pointy objects on the table.
Different Types of high chairs
Whereas the what and how of feeding your baby may be your primary concerns, having the best baby high chair for your individual needs can help ease the transition to solids. The following is a list of the several types of high chairs that are available:
Wooden high chairs – These classic styles of High Chairs are back and the modest finishes and clean lines work in almost any setting. Some are simple throwbacks, while others have modern features like adjustable height, reclining seats, and convenient storage foldability.
Plastic or metal frame high chair – this often enables quick clean-up, portability, and a simple fold for storage. These are also some of the most cost-effective solutions.
Full-featured high chair – certain multi-functional seats can be used as high chairs, cradles, and even swings. They normally come with all of the bells and whistles, such as an adjustable seat with recline, a tray table that can be stowed away, and casters for mobility.
Portable clip-on high chair – These legless high chairs attach to several types of tables or counters to provide a solid, safe seat for baby practically anyplace — at home or on the go.
Booster feeding chair – Attach a booster feeding chair to a dining chair that you already have. When your youngster is ready, he can draw up to the family table in these chairs, which usually come with retractable lap trays.
Convertible high chair – These high chairs can work similarly to a plastic or metal frame high chair during the toddler years, then fold up into a booster when the baby becomes a little older. After that, some of them can even be used as conventional dining seats.
How to Choose the Best High Chair for your Baby?
Do you live in a small apartment and eat your meals at a small table? Then a booster-style seat that buckles directly to one of your chairs or clips to a counter would be ideal for you. It allows your child to take a seat at the table. Do you have a larger table, or do you have different eating locations in your home? Then a stand-alone seat with its own tray that can be easily moved from room to room might be the best option.
Whenever it comes to cleaning, several parents are willing to sacrifice form for function, opting for whichever high chair best matches their preferred aesthetic. If you know you'll be scrubbing constantly or getting into nooks and crannies, you might want to stick with a basic, plastic model or one with a wipeable cloth.
The appropriate high chair for your family is one that makes feeding your infant simple, safe, and enjoyable – so once you've made sure it satisfies safety regulations, it's all about your family's budget, style, and how you want to use it. To identify the greatest fit for you, consider the following:
Space
To feed your child as he sits in the chair, you'll need to be able to easily navigate and reach it. Smaller kitchens may benefit from a more simplified form, such as a portable high chair that attaches directly to the table or boosters that attach to your dining chairs.
Use  
He may be able to utilize the chair from infancy through toddlerhood, depending on the chair. Many high chairs these days are designed to grow with your child. Always choosing something can be transformed from an infant seat to a toddler booster and eventually to a chair.
Cleaning
When your baby reaches the age of a toddler, he will begin to learn to feed himself. Because there will be spills, splatters, and crumbs, you'll need a high chair that's easy to clean. Consider a high chair with easily removable pieces or materials that can be wiped down for easy cleaning.
The type of tray
Adjustable? Removable? Is it okay to put it in the dishwasher? Look for a detachable, wide, and durable alternative that is easy to clean.
Portability
For families with smaller kitchens, this is especially vital. Some conventional types are difficult to store, which means they will take up valuable kitchen and dining area space. Add stability to your checklist if it's important to you.
Comfort
After all, a grumpy baby is unlikely to be interested in eating at all. A well-shaped seat or soft, machine-friendly padding will keep the baby comfy and ready to eat and explore.
Unique Style
Safety should always come first, even if it isn't your primary concern. The high chairs are, after all, pieces of furniture. Different materials, colors, and designs may appeal to you depending on your personal style.
Baby High Chair Safety Important Tips
When feeding babies and toddlers, high chairs give a whole new level of comfort and convenience. It keeps them safe and secure by preventing them from moving about unnecessarily. Using a high chair for your infant guarantees that they are solely focused on one job, such as eating their meal. As a consequence, it's a fantastic approach for them to improve their concentration. Keep the following safety guidelines in mind as you place your child in the high chair:
Always use a five-point harness or a safety strap to secure your baby.

Take a moment to examine the chair before each use. Check that everything is in its proper place and that the chair is not damaged.

If your chair has a locking mechanism, ensure it is securely in place before using it.

Ascertain that the high chair is stable and cannot be easily tipped over.

Always keep the high chair close to you. You should be able to see your child from any location. Make sure it's not too close to the table or the counters.

In a high chair, never leave a baby alone.
It was just as vital for the infant to feel at ease in the high chair as it is for anyone who will be supervising the baby at mealtimes. It is important to know how it works. Understand how to fold the chair, where the locking mechanism is placed, how to properly secure the straps, and how to remove the tray. You don't want to learn these things once the infant is in the chair. You'll also want to be able to display them to anyone who will be present for your baby's mealtimes.