One of the fastest ways to get free TV is to install an over-the-air antenna or what we called an Indoor TV aerial. Did you even know that you can get free access to some of the biggest TV series, specials, as well as sporting events? All you need is an antenna and a good signal to get started. Even better news: modern antennas are far less picky than old "rabbit ears," and many of them can even bring in HD channels.
If you're sick of paying for subscription TV, whether it's through a live TV streaming service, a satellite dish, or perhaps a coaxial cable, it might be time to cut the cord and invest in a TV aerial. This type of antenna feed is ideal for live events such as sporting events and the evening news. You can watch high-rating channels, depending on where you live and your signal receiving capabilities. While a roof-mounted or outdoor television antenna would suffice, your TV already has a built-in tuner. And installing an inside antenna can be less expensive than installing the other well-known cables.
However, there is a lot of variety. So, which indoor TV aerial is best for your TV? Even on "problem" channels, the best TV antennas were able to bring in more channels than the others and offered stronger, clearer TV signals. Here are the seven TV antennas we looked tested at the beginning:
One for All SV9460 – Best Indoor TV Aerial with Useful Features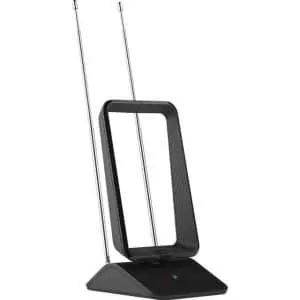 One for All offers a lot of indoor aerials, including the SV9460, which has a few useful features. It's a loop aerial, which means it's made up of a circular loop and doesn't require any special angling. It features a 4G filter to block mobile signal interference. And then it runs on 12V power, so it can be transported away from home and used in a caravan or boat. Although it has a lot to offer, we've seen aerials that are significantly less expensive.
Indoor TV Aerial Features:
Loop aerial,
full HD compatible,
4G filter,
12V compatible.
Design & Box Content
The aerial is unique in that it is somewhat curved to match newer curved televisions. Its shape could also help with signal reception, particularly since it can be rotated 360 degrees. This aerial is quite light, and it also has a shiny finish, which, if it were a smartphone, would be quite simple to get smudged with fingers.
Furthermore, the aerial is connected to the box via a 1.5m coaxial wire, which, although convenient because the box is designed to be close to the TV. It means you don't have many cables to work with. A basic quick start guide is also included, as well as a separate power pack that provides the aerial with its amplification capacities.
In-Use
We couldn't see any visual signs of it working with the mains socket connected, such as a LED  light or anything. This means you have no way of knowing whether the problem with getting a picture is due to a faulty aerial or a faulty power supply.
To be fair, the aerial is behind the TV, behind a wall, and near my cordless phone, so it could be interference; however, the SV9420 includes a 3G/4G wireless signal blocker, so it won't be as vulnerable to the mobile interface.
Default TV
There were 71 channels when scanning for channels on a standard TV. However, repositioning the aerial a fraction and re-running the auto-scan resulted in the same result: 0 channels!
In any case, this indicates to me that the One for All internal aerial may yield erratic results for different people, which is a shame because the quality of the channels it did pick up was quite nice. In fact, with the exception of the rare wobble, the quality was virtually flicker-free 99 percent of the time. The HD channels were also quite clear!
One For All SV9494 – Best Indoor TV Aerial for Budget Option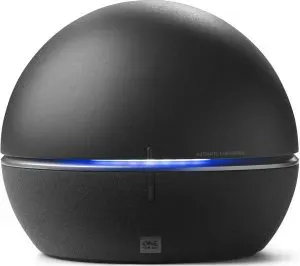 When it came to designing their outdoor digital TV aerial, One For All had a clear goal in mind is to build the most feature-rich antenna on the market. One For All realized that they wanted to supply consumers with an antenna that was more than simply an unsightly piece of metal that they installed on their rooftops, so they priced it high. It has to be unique.
While it won't tell you what the weather is like, the SV9494 appears more like a smart assistant than an aerial. It does, however, have some advanced features. It guarantees to provide an interference-free image, therefore 3G and 4G signals should not create any screen fuzziness.   It's one of the most expensive aerials we've ever tried, so keep reading to find out if it's any good.
However, while the One for All looks fantastic, it would be a lot of money to spend on something that only looked nice. So, what else is it capable of? The product's durability is the second most essential attribute. Because the outer housing contains all of the important components, One for All could include additional, sensitive componentry to boost the signal.
Pros:
Excellent signal collection
Great 4G/LTE interference cancellation
Sleek, elegant design
Weatherproof and waterproof to a high level
4K Ultra-HD ready
Easy to set up (only requires three operations)
Cons:
More costly than similarly attractive alternatives
Despite the price, the range is limited to 25 miles
Cannot be used indoors
August High Gain Indoor TV Aerial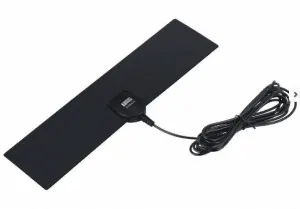 Indoor TV Aerial Key specifications:
Type: Monopole aerial;
Amplified: No;
Cable length: 1.5m;
Extras: None;
Dimensions: 158 x 140 x 70mm;
Weight: 231g
The August DTA240 High Gain Antenna should fulfill your buying requirements if you are a knowledgeable consumer who is always looking for a good bargain on an indoor aerial. With above-average reception, Full HD & UHD potential, and high gain capabilities, this TV antenna is a small little item that punches well above its weight. The aerial also has the advantage of being inexpensive.  
The TV aerial is a monopole-style aerial with a magnetic stand that clamps to a variety of metallic surfaces, including radiators. It can also be attached to the roof of a vehicle, making it a fantastic option for traveling – but keep in mind that it isn't weatherproof, so if you want to use it outside, keep an eye on the sky.
We expected this aerial to function poorly due to its small size and design, yet the August picked up the same channels as the other aerial and was slightly less finicky about placing. However, Freeview HD channels appeared to be more prone to blocky distortions, so be cautious in low-signal locations. Lastly, be aware of the short 1.5m cable.
Pros:
The aerial is so small it will blend in with your décor
Perfect for portable TVs as it is compact and light
Can be used anywhere be it a house, motorhome, or campsite
Solidly built
The antenna can be unscrewed from the magnetic base
Cons:
At 4.9ft, the cable is not that long
Ease of Installation
The August DTA240, unlike some other aerials, does not require an additional plug for installation. It's as simple as plugging the unit's normal coaxial cord onto the back of your TV.
The aerial also comes with a magnetic base, which is a wonderful feature. You may stick it on the fridge, windowsill, bed frame, as well as place it on a shelf or other flat surface. This implies that it multiplies your installation options. It's worth noting, though, that mounting the antenna on a metal surface improves reception quality.
What is the Range?
The August DTA240 is at the top of its game, with a reception range of 50 miles. This is the same type of reception you'll get from a lot of the higher-priced sets. This, combined with the antenna's high gain design, means the aerial puts in a lot of effort and can even pick up tv signals in places where reception is poor.
One for All SV9430 Amplified Indoor TV aerial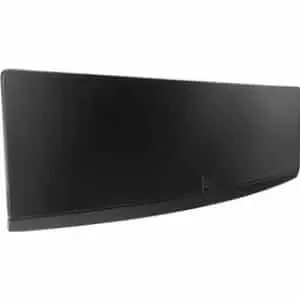 Indoor TV Aerial Key specifications:
Type: Flat-panel;
Amplified: Yes;
Cable length: 1.5m;
Extras: None;
Dimensions: 240 x 48 x 48mm;
Weight: 499g
This stylish free-standing aerial isn't nearly as small as a flat-panel variant, but it fits in perfectly amid your AV gear. It has a built-in amplifier with a filter to block out 4G signal interference, Also, the design is quite forgiving in terms of positioning and angle.
Indoor aerial with an amplifier for Freeview/HD and DAB with a built-in amplifier to increase the signal up to 45dB. It also has 4G and GSM filters built in to reduce interference from other devices like cell phones. The aerial has a large range of coverage and is equipped with a CoAxial cable. Its transmitter's optimal range is between 0 and 15 miles. It is polished in matte black and has a very modern curved shape. Then, it also comes with a power supply.
You can see that it performs well. We discovered that the One for All picked up all of the channels available in our area with better HD coverage than the cheaper, unamplified models. The only time we encountered blockage was on the SD channel, 4Seven. However, if your TV is wall-mounted, the short connection may be a problem. You'll need to keep the power source plugged in because reception with the amplifier turned off is nearly non-existed. 
Pros:
Functional in harsh weather conditions
Easy to set up yourself
Reasonably priced for the quality
Cons:
Connections are not pre-attached and attaching the F cable can be tricky for some.
One for All SV9015 – Best Indoor TV Aerial for Compact Space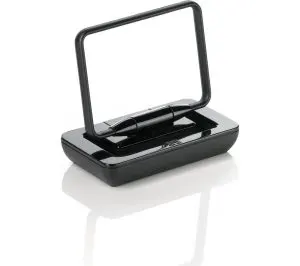 This indoor antenna is compatible with HD DVB-T/T2 broadcasts. You may tilt or turn the fully adjustable loop and tweak the telescopic antenna for excellent DVB-T television reception. The One For All SV 9015 is a small aerial loop from One For All. We put this low-cost model from a well-known brand to the test to see if it's worth a shot.
The One For All improved interior aerial reception, the SV 9015 Indoor TV Aerial is a great alternative. You'll enjoy a cleaner signal and better picture quality thanks to its triple filters.
The adjustable metal loop allows you to get the greatest possible reception while the dual metal tubes give optimal signal reception. The One For All SV 9305 Performance Line Indoor TV Aerial is HD television compatible, ensuring excellent image quality.
Pros:
Excellent reception of Digital TV
HD Compatible
Low cost
Versatile
Cons:
Provide less channel choice
Freeview Indoor TV Aerial 50 Mile Range Amplified Digital TV Aerial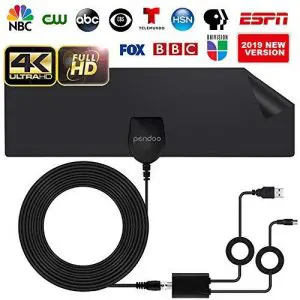 This TV aerial features an improved Powerful 2019 Amplifier Signal Booster to compensate for signal loss caused by distant TV towers, as well as a built-in Smart IC Chip of the next generation as well as Crystal Clear Filter Technology to pick up signals within a 50-mile range. The low signal attenuation of the high-performance Coaxial cable ensures a clear and reliable video stream.
The Freeview TV Aerial uses the most cutting-edge technology available, resulting in exceptional signal reception and conversion. Hundreds of crystal clear digital and HD broadcasts can be found with the best indoor digital TV aerial! Any digitally-enabled TV may receive HD broadcasts and others are available for free in full HD. Never again will you have to pay exorbitant cable or satellite costs!
The Digital Aerial has a built-in butterfly pattern with silver paste circuitry, which improves reception stability even more! Its new upgrade tv aerial has passed all types of testing, and all test indicators reveal that the aerial signal reception has been improved to the best possible condition, with more powerful signal reception and stable transmission!
You can't deny that the installation of the TV aerial is simple, requiring only three steps: unwrap, plug, and scan channels. Install the aerial without the signal booster first if you are within 30 miles of the transmitter.
Pros:
Sleek and stylish design fits easily into the décor of most rooms without being an eyesore
The thin and light build makes it perfect for taking on the go
Offers great receiving range
Cons:
Some people do not like the way that the unit looks and think that it is unattractive
MaxView Contour Plus Indoor TV Aerial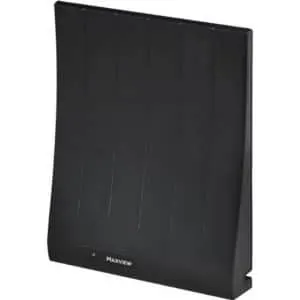 Though its design has flaws, it also has advantages, such as the ability to be mounted on the wall. You will, however, require a strong signal, to begin with, or you may not be able to get many channels. The Contour Plus hails from Maxview's Platinum Quality Range, with a 'Stylish, Modern Design with Silver Finish,' according to the box, and comes from the same stable as the other TV aerial.
The solid, slab-like form contrasts with the customary spokes or fins commonly associated with indoor aerials, as well as the curving edges tapering down to a larger base aid in horizontal stability.
If a relay transmitter provides a good signal, the aerial may be placed on a wall due to its flat back as well as recesses that are ready to slide onto a couple of screws. On the side of the box, there's even a useful template for marking drill holes.
Apart from the necessity to enter two AA batteries to power the internal booster amp, there is no assembly necessary. On the back of the package are excellent instructions and diagrams. When you press the on/off button on the aerial's front, a blue LED flashes every five seconds to signify that the booster is on. If you forget to switch it off, the battery will last about 1,000 hours.
Pros:
Easy setup
Solid and stable
Designed to receive all available digital and analog terrestrial UHF TV and FM/DAB radio channels
Integrated battery-powered signal booster designed to increase signal strength in weaker signal areas
Requires 2 x AA batteries to power (not included)
Can be used at home or in touring vehicles Ideal for students
Dimensions (h×w×d mm) 270 × 222 × 50
Cons:
Needs a very strong signal
Can't tilt
Indoor TV Aerial – Signal reception
All BBC channels, Sky News, as well as ITV, did well, but there are only a few channels that did not. Ultimately, there's a lot of potential here, but you'll need a strong signal.
What are the things to consider when purchasing the best indoor TV aerial UK?
While outside antennas are possible, they are more difficult to set up, and an indoor antenna is a wiser option if you live in an area with strong reception. Before you go out and buy the best indoor TV aerial for Freeview, make sure you consider the following important factors. Before you go out and buy an indoor TV aerial, make sure you consider the following important factors.
Budget
While saving money is certainly one of your priorities, your first instinct could be to get the cheapest antenna available. This can be a costly error because different models have different features that affect how successfully you can broadcast channels. A pricey TV antenna, on the other hand, does not guarantee crystal-clear picture quality. The antenna's performance will be heavily influenced by your geographic location.
When you install your antenna, numerous channels will either function or not work. Don't expect to improve your reception by wrapping aluminum foil around the antenna. The good news is that the picture quality of many broadcast channels obtained via an indoor TV antenna will be far superior than that of satellite and cable providers. Transmissions received by antennas are compressed to save bandwidth, which accounts for the improvement.
Signal Strength
When purchasing for best indoor TV aerial for smart TV, one of the most important features to consider is whether you want amplified or non-amplified versions. When evaluating whether or not you require an amplified version, the most important factor to consider is your location. Because amplified versions are more expensive, it is advisable to utilize a non-amplified, also known as passive, version.
If you live in an area where stations transmit within a 20-mile radius, you'll probably be fine with the non-amplified version. The distance is increased to an average of 50 miles or more in amplified versions. If you live in an urban region, a passive antenna will usually be enough.
To obtain the best access to local channels, suburban and rural residents may choose to invest in an amplified version. Although you may be tempted to buy the largest antenna available in order to get the best reception, this could backfire.
In urban locations with enhanced broadcast signal strength, an overly strong antenna can overwhelm a digital tuner. Keep in mind that amplifiers can be added to your antenna as an aftermarket accessory.
Indoor TV Aerial Availability of Channels
Another thing to think about when selecting an indoor antenna is if it supports UHF, VHF, or both frequencies. Many HDTV indoor antennas are now UHF-only. UHF is just fine in a lot of places, and you'll be able to hear the locals you want. If the broadcast channel is still on VHF, though, you'll need to invest in a dual-channel indoor antenna.
Although determining the best indoor TV antenna for you may require some trial and error, look for a store that offers a generous return policy. If you are unable to broadcast your local channels, you should be able to easily return the antenna for a full refund.
Location
You must first determine the direction of local broadcasts before looking for indoor TV antennas. Despite the fact that the majority of transmissions emanate from the same general direction, there may be some noticeable variances. When looking at the features and evaluations of indoor TV antennas, you'll see that some operate well and accept signals from different directions, while others don't.
The report also includes distance and direction information to assist you in selecting the optimum antenna for your needs. Keep in mind that the tool ignores things like trees and buildings in your neighborhood when browsing for antennas. These internet tools are usually very accurate, so if they say you'll have trouble getting broadcasts, change the sort of equipment you're planning to buy.
Channel Interference
When two transmitters are broadcasting on the same channel and might even interfere with one another, co-channel warnings are issued. Individuals who live between two broadcasts on the same channel may face technological difficulties, despite the FCC's best efforts. The degree of interference, if any, is determined on the transmission's power and the antenna you're using.
You'll only be affected by adjacent channel warnings if you're close to a transmitter. Weaker channels may be blocked by powerful transmitters. With built-in adjacent channel rejection capabilities, many receivers can overcome this problem.
Hardware
The type of cables that come with your indoor TV antenna has a significant impact on its reliability. Choosing antennas with detachable or longer cables will allow for more precise positioning during installation. Most of the time, you'll mount the antenna near a window, and the extra length will help you reach the desired location. If the provided wires aren't long enough, extension cables are available.
After you've chosen a location for the antenna, you'll need to figure out how to mount it. Adhesive strips are included in certain variants to fix the antenna to a window or wall. Larger antenna models may necessitate wall mounting hardware.
Any metal in the vicinity of the antenna should be avoided because it can create signal interference. Connect all cords after you've chosen a place for the antenna. Antenna cables are plugged into the "Cable/Antenna" connection of a television set. When you're ready to use the antenna, the best approach to find stations is to use your remote to do a "Channel Search."
If an antenna is the best option for your home, you might be able to get a few more channels than the minimum.