Are you looking for a massage gun? How to use it? Where can you buy one?  A massage gun may resemble a cordless drill with a tennis ball attached. However, it is far more sophisticated than that. These handheld massage guns are ready to help reduce muscle soreness and muscle tension.
Massage guns have taken over the world of fitness gadgets. These percussion therapy devices use rapid-fire pulses to target tight muscles. It intends to give massage therapy advantages from the comfort of your own home.  Many of the users swear by the device's capacity to relax muscles. It helps improve post-workout muscle recovery and reduce delayed onset muscle soreness (DOMS) by improving blood flow to soft tissues and lowering lactic acid buildup. 
Whereas studies on the therapeutic capabilities of vibration therapy and massage show that researchers have yet to confirm the effectiveness of the massage guns, which are part of the percussive therapy. The motorized percussion of a massage gun penetrates deep muscle tissue, causing muscles to relax after 30 seconds. This may give you a massage in hard-to-reach spots without having to go to a massage parlor. You don't have to ask a partner to do it for you because many of these best massage guns are hand-held with many attachments.
You may have experienced this type of massage therapy in a professional setting if you've ever gone to physical therapy. Or if you had a masseuse or sports trainer work on your muscles. Since more firms are making massage guns available for everyday pain management, you may now enjoy the muscle recovery advantages of massage guns from the comfort of your own home, whenever you want. Scroll down below to know which best massage gun is right for you. 
Theragun Prime – Best Overall Massage Gun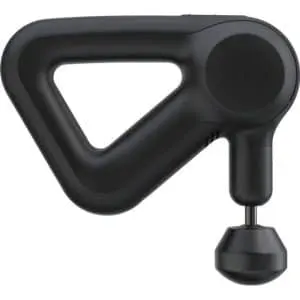 Pros
4 attachments

Ergonomic Grip

Quiet
Cons
Some minor issues with attachments but it resolves in no time
The fourth-generation Theragun Prime tops the list of the best massage guns, with its QX65 Motor Quiet Force Technology claiming to be 70% quieter than prior generations. This Theragun includes five built-in speed levels ranging from 1,750 to 2,400 percussions per minute, as well as four attachments, one of which is a cone-shaped one for pinpointing hand and foot muscles.
Theragun's app integrates with Apple Health, Samsung Health, and Google Fit to provide recommendations to users. It will recommend that you use the massage gun on your glutes or back if you've been sitting for a long time. That's not a cheap massage gun, but users say it does the job well and relieves muscle stress. What amazes us the most, is that when there's something you would like to replace or a refund, they will not hesitate to assist you.
Hyperice Hypervolt Plus – Best Massage Gun for Portable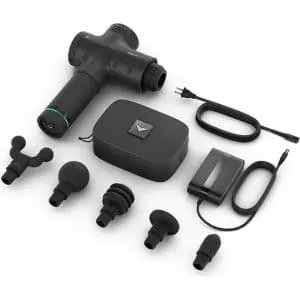 Pros
Quiet motor

It is good for athletes

Has a great battery life

Ergonomic design

Battery recharges quickly

Powerful
Cons
Awkward to hold but you'll get used to it
Many fitness trainers prefer the Hypervolt because it's simple to transport from location to location and use on a variety of clients with different needs.  It weighs 3 pounds and has an ergonomic design that makes it easy to transport in any gym bag. It also has five attachments and three-speed levels, making it a multipurpose tool.
Furthermore, after a battery life of over three hours, it's easy to recharge, and it features a gauge that shows how much battery is left when it's turned on. The Hypervolt is also quiet, due to unique dampening technology that keeps percussion sounds to a bare minimum.
The Hyperice Hypervolt Plus is the company's top-of-the-line percussive massager, with 30% more power than the entry-level device. It's perfect for exercisers who wish to incorporate percussion therapy into their recovery program a few times each week, and it's a popular recovery tool among runners. The Pressure Sensor Technology integrated into Hyperice shows you how much pressure you're putting. It interacts with the company's app through Bluetooth for automatic speed management and personalized or pre-made routines.
There are three speeds on the Hyperice Hypervolt, with the highest being 3,200 percussions per minute. The ball attachment on this model is great for runners who have difficulty in their glutes, calves, or hamstrings. It gets great scores from reviewers for its quiet Patented QuietGlideTM technology and nearly three-hour battery life. Other customers like that this massage pistol has a powerful motor.
Theragun Pro – Best Massage Gun for Athletes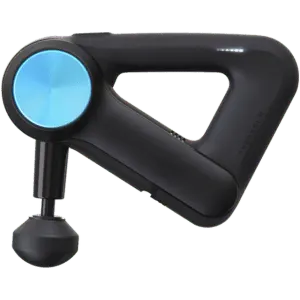 Pros
Good for serious athletes

Long battery life

Intense pressure

Great massage versatility

Top quality

Powerful
Cons
Louder than other massage guns on this list 
Theragun is the original massage gun manufacturer, and the PRO is their top-of-the-line model with a premium price tag to match. With that said, it does its job admirably. This Theragun Pro is for the more serious athlete, who could have professional massage therapy as part of their fitness program and wishes to use a professional-grade recovery gun at home. According to Theragun, this is a one-of-a-kind smart percussive therapeutic device. The Pro penetrates muscles 60% deeper than conventional massage guns.
It has six attachments and an adjustable arm, allowing users of all heights to effectively target any portion of their body. This massage cannon can withstand up to 60 pounds of force before halting. It makes it a formidable percussive therapy tool. Although the PRO's battery life is only 75 minutes, it comes with two rechargeable batteries that can be used interchangeably.
The PRO's percussion speed makes it a louder option, so keep that in mind if you're going to use it in a public place like the gym. It does, however, come with a lovely carrying bag as well as an engaging app.
Four arm positions make it simple to reach every aching square inch, and five built-in speeds let you apply gentle pressure to sensitive places while applying more powerful pressure to tight muscles. This Theragun Pro massage gun is ideal for both athletes and professional therapists. The Pro features an ergonomic design and a simple-to-use UI. This massage gun is one of the best because it has Active Torque Control, which combines power and speed for effective treatment therapy.
HoMedics Pro Physio Massage Gun – Best Budget Option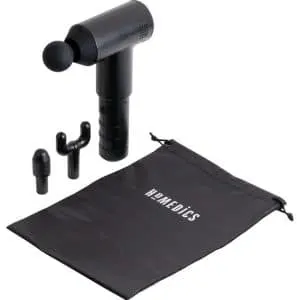 Pros
Speed settings: 3

Battery life: 1.5 hours

Warranty – return within 30 days for a full refund

Included accessories: 6 interchangeable heads and storage case
Finding defects in this near-perfect massage gun was like looking for a needle in a desert, with our expert giving it high marks for ease of use, design, and performance. It glided over our muscles with ease, instantly dissipating aches while generating no additional discomfort. This will less pain, greater recuperation. It also received additional points for its instructions, which include helpful graphics that will help you get the most out of your percussive pistol.
Although the beautiful container it comes in is a little bit big to comfortably carry around, the gun itself is light and surprisingly quiet for its size. This makes it simple to use and a great companion for a relaxing evening in front of the TV. We also liked the ability to turn up the heat or use a frozen massage head, which provided hot and cold massages, respectively, for a pre-workout muscle primer and a thorough cool down.
Theragun Mini – Best Massage Gun for Travel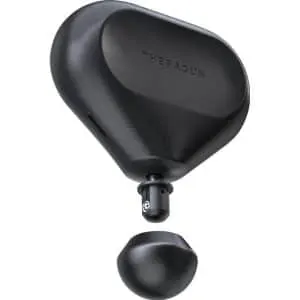 Pros
Lightweight

Good battery life

Compact design and carrying case
Cons
Customers appreciate having the Theragun in a compact, portable massage gun that they can put in their overnight bag or gym bag and take with them on the go. This device is comfortable to hold and includes one conventional ball attachment. It's one of the smallest massage guns on the market, measuring only 5 x 4 x 1.5 inches and weighing so little that you'll hardly notice you're carrying it. The massage gun comes with a neoprene protective case, so you can toss it in there and go.
This massage gun's triangular form makes it easy to handle and use on any part of the body. The Mini utilizes around 20 pounds of force, whilst the Prime and Pro use 30 pounds and 60 pounds of force, respectively. Some reviewers expressed dissatisfaction with the device's lower no-stall threshold, claiming that it does not provide as thorough a massage as other devices. In comparison to the Prime, which has a 16mm amplitude, it has a 12mm amplitude. However, if you're searching for a massage gun to travel with, its small size and weight are unbeatable.
FeiyuTech Kica K2 – Best Massage Gun Value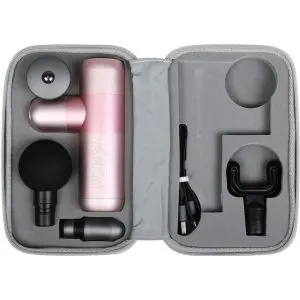 Pros
Effective Therapy

Wide Application

Powerful

Long battery life

Practical reliable
A percussive massage device can help calm sore muscles and encourage recovery after an injury, whether you're recovering from a marathon or simply a Workgroups meeting. When used before an exercise, it can increase blood flow to main muscle areas, resulting in less DOMS and more personal gains.
Any model will suffice if you only intend to use the device to relieve crunched necks and the occasional torn muscle. Look for a gadget that has several attachments and speeds if you are an athlete or are treating someone who is.
Massage weapons and massage treatments, with their technology and the right tip, may appear and sound violent. However, they're designed to penetrate deep into tired muscles, hasten to heal, and get you back to training at your best. It aids in speedy recuperation and improves the performance of your muscles. This is the physiological equivalent of tough love in the age of soft, gentle self-care.
Massage arms can be used before an exercise to warm up your muscles or after a workout to alleviate any potential DOMS. You'll heal faster, have better circulation and lymphatic drainage, be more flexible, and have a wider range of motion, all of which will improve your overall performance.
It's made to be portable and provides percussive massage therapy. By delivering fast bursts of pressure in focused short-duration pulses deep into the muscle tissues, percussive therapy speeds up the mending of muscle fibers. This boosts blood flow to the important areas, which relieves pain and improves function and range of motion, as well as provides a moderate stretch that aids flexibility performance.
Theragun Elite – Best Massage Gun for High-Tech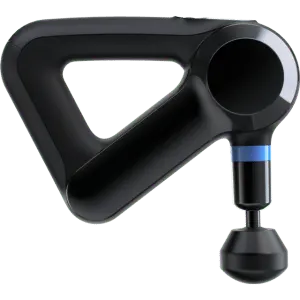 Pros
Ability to pick your own speed

Sleek, smart design

Clear OLED screen
Cons
App needs improvement

Louder than other options
Check out the Theragun Elite if you want to upgrade your massage. This sleek massage gun, which is a newer version of one of our hot picks, has Bluetooth connectivity, an OLED screen, a 120-minute battery life, as well as a customizable speed range to target muscles. You can control the pace of the cannon from your smartphone, which ranges from 1,750 to 2,400 pulses per minute, and the OLED screen keeps track of your speed and pressure level.
The Elite will not only penetrate deeply and ease severe muscular tension, but it will do so quietly, unlike Theragun's previous models. It also includes five attachments, a power adaptor, and a carrying case for convenient storage.
What is a Massage Gun?
Massage guns are small, handheld devices that resemble and, in some circumstances, sound like a power drill. They're virtually always wireless and come with interchangeable attachments. The attachments vibrate or "percuss" at a high frequency and low amplitude of movement when the gun is placed on your muscles and turned on, which enthusiasts believe promotes recovery from workouts and improves overall performance while reducing discomfort.
A massage gun may be used whenever you need to release muscle tension. However, it's especially useful after an exercise to speed up recovery and lessen muscle discomfort. Massage can help to relieve muscle tension and improve flexibility, as well as reduce muscle stiffness, increase blood flow, and minimize muscle soreness. In terms of minimizing delayed onset muscle soreness, there is some evidence that vibration therapy can be as effective as massage therapy.
Does a Massage Gun Really Work?
Massage guns have been demonstrated to reduce delayed onset muscle soreness (DOMS) and improve short-term muscle length in studies. DOMS can result in muscle discomfort for up to 72 hours after a strenuous workout. 2 You can lessen muscular discomfort and assist muscle recovery by using the massage gun on the muscles that were worked during the workout.
The effects of vibration (or percussive) therapy on the plantar flexor muscles, also known as the calf muscles, were observed in a study. The study found a considerable increase in ankle dorsiflexion, or the ability to raise the toes up towards the shins, after a five-minute percussion therapy treatment on these muscles. There was also no significant improvement in the available torque or power of the calf muscles in this investigation. This study reveals the efficacy of percussion therapy to improve a muscle's short-term length.
There has been little to no research that has demonstrated an increase in speed, endurance, or torque. As a result, percussive therapy cannot be stated to increase athletic performance directly. 4 A massage gun can be quite successful depending on what you want to do with it. Massage guns are great for lengthening muscles and relieving discomfort.
How to Use a Massage Gun? 
For users of Theragun, the massage gun is very compatible with the Therabody app, which does have a variety of different suggested routines aimed at weak points you might want to focus on, such as your lower back, or based on your sport, such as cycling or running.  It's free to use and worth installing if you want to make sure you're not concentrating too much on one thing.
If you haven't made up your mind about a Theragun, there are some general guidelines to follow when using any massage gun at home. To begin, when it comes to using a massage gun, less is more. Experts agree that one to two minutes on a large muscle group is more than enough, and unless you've built a lot of muscle, you'll probably want to use a lower frequency setting.
Furthermore, you shouldn't use your new massage gun every day, no matter how exciting it is. Percussive treatment, along with other rehabilitation techniques like foam rolling and Epsom salt baths, is recommended by sports physiotherapists. If you want your massage gun to stay effective, you just need to do it every few days.
Finally, avoid using your massage gun on pulled or injured muscles, since this can aggravate the situation. If you've run a half marathon and aren't sure whether your calf is pulled or just tight, wait 48 hours and use the RICE method (rest, ice, compression, and elevation) before reaching for the massage gun. You should also avoid using a massage gun on sprains or inflammation injuries like tendonitis and fasciitis, and you should never use one on broken bones. Massage guns are powerful tools, so if you're unsure, consult a professional before using one if something doesn't feel good.
How Does a Massage Gun Help Sore Muscles?
Percussion or vibration treatment, which is a sort of massage that provides quick bursts of pressure on muscle tissue, is provided via massage guns. The percussive therapy helps increase blood flow to a hyper-targeted area, which can help reduce inflammation and muscle tension, as well as break up knots that may have formed in the muscle tissue as a result of stress or after a particularly strong workout.  Massage guns do not totally eradicate muscle discomfort, although they can assist in its reduction.
What Are the Things to Look for When Purchasing a Massage Gun?
When looking for a massage gun, consider what you'll be using it for, such as a sports massage that penetrates deep into tight muscles or treating common aches and pains from sitting at a desk all day. Massage guns are not inexpensive. Top-of-the-line firearms can cost several hundred dollars, so you should shop around before making a decision. To begin, check for reviews online.
Since massage guns come in a variety of sizes, think about how heavy and large you want it to be, as well as which muscles you'll want to use them on. Some have heads and handles that can be adjusted. Consider whether you want to carry your device with you; if so, tiny massage guns are a good choice because they can easily fit into a backpack.
Check that the gun, regardless of size, comes with several attachments to help you reach hard-to-reach or challenging areas. It should have multiple settings, allowing you to choose between moderate and powerful percussive vibrations. Additionally, pay attention to how loud or intense the gun is, as this will have an impact on how much fun you have.
When it comes to the best massage guns, having a range of attachments or heads is vital to some customers. Most devices include five attachment head options: cushioned, rounded, fork, and flat, and some cone-shaped attachments that target a specific location. In a massage gun, there are several features to look for. Consider how you will use your smartphone and which features are most important to you before making your decision.
Noise Level
Since the motors that power massage guns can be quite loud, using them on neck and shoulder muscles can be a rather uncomfortable experience. Fortunately, many contemporary models place a high priority on reducing motor noise.
Massage Gun: Stall Force
The amount of pressure you can apply to the massage gun's head before the motor stalls is referred to as this term. It's important because if you want to increase the massage gun's pressure on the tissues and the unit stops moving, it's not helpful and the massage gun isn't doing what you need it to do.
Weight of the Massage Gun
As these gadgets are frequently used with one hand, weight is an important consideration. Weight is important because you need to be able to hold the unit in your hand and have the massage gun hit your tissues. If a  unit that is too heavy can result in a fatigued arm that is unable to target the correct tissues.  You want to know that you can safely and steadily hold the massage gun on the targeted muscle while it's running at top speed.
Customizability
Several other massage guns include a variety of head attachments, while others include an adjustable head angle on the device itself. Some massage guns include both of these features, while others do not. The pinpoint, flat, and curved attachments can be used to target a variety of muscles and tensions. Starting with a flat head attachment would be best to warm up the tissues without discomfort if you're really tight and tender. Consider customizability as you consider which muscles you frequently need to target and which massage therapy you prefer to use on those muscles.
Which Massage Gun Head Should You Use?
It all depends on what type of massage you want. Larger muscular groups, such as the quadriceps, hamstrings, and glutes, are often worked with big round head attachments. On these larger targets, its larger surface area makes it more efficient. A small round head attachment, on the other hand, is a terrific all-around choice that works well across the body.
Some massage guns include a flat head attachment that is excellent for smaller surface area targets like between the shoulder blades and along the length of the IT bands. On denser muscles, a flat head is very beneficial. The bullet-shaped attachment is perfect for tiny muscle discomfort regions like your hands and feet. Simply be aware of the pressure applied with the bullet attachment, since it is concentrated to a small surface area, and avoid bone, tendons, and ligaments at all costs.
Furthermore, the two-prong attachment, which resembles a vertebra, relieves trigger points along the spine, particularly in the lower back. Always be cautious of pressing the attachment against the spine.
What Can I Get from Using a Massage Gun?
Reduced muscle recovery time, reduced stress levels, and enhanced circulation are all potential benefits of massage gun therapy. The lymphatic system and the neurological system may both be stimulated by this form of therapy. Massage guns may also aid in the relief of pain and the reduction of scar tissue.
These massage guns provide many of the same benefits as traditional massage therapy. The effects, on the other hand, are frequently more strong and targeted, allowing for a more intensive level of treatment. As a result, massage guns are frequently used to treat sports injuries as well as chronic pain and discomfort.
Nevertheless, pain relief isn't the only benefit that a massage gun may provide. Without further ado, let's look at the advantages of massage therapy and see how beneficial these treatments may be. After all, a great massage may be beneficial to both the body and the mind.
Benefits of Massage Gun
Helps Reduce Your Stress – A day at the spa is a wonderful opportunity to relax and unwind. Clients, on the other hand, are likely to feel comfortable and at ease for days, if not weeks, after their treatments!
It Improves Circulation – Increased blood flow throughout the body is made possible by loosening muscles and tendons. Improving your circulation can have a variety of benefits for the rest of your body, such as reduced fatigue and pain relief!
Pain Reduction – Massage therapy is excellent for addressing issues such as lower back pain and persistent stiffness. A trained therapist will be able to pinpoint the source of your pain and assist you in developing the ideal massage regimen.
Get Rid of Toxins – Toxins are released through the blood and lymphatic systems when the soft tissues of the body are stimulated.
Increase your flexibility – Massage treatment helps your body realize its maximum range of motion potential by loosening and relaxing your muscles.
Improve your sleeping habits – A massage will help you relax and improve your mood. Going to bed with your muscles relaxed and loosened encourages a more comfortable night's sleep, and you'll wake up feeling less weary!
Boost Immunity – The lymph nodes are stimulated to re-energize the body's natural defense system.
It reduces Fatigue – Massage therapy has been shown to improve mood and sleep quality, making you feel more refreshed and less tired at the end of the day.
Helps Relieve Anxiety and Depression – Massage treatment can help you feel happy, energized, and at ease by releasing endorphins in your body.
Reduce post-surgery and post-injury swelling – A professional massage is an excellent technique to cope with a sports injury or post-surgery recovery in a safe manner.
What Are You Waiting for? Get a Massage Gun Now
Massage is frequently the most effective physical therapy treatment for anyone suffering from aching, stiff muscles. Traditional massage, on the other hand, is often unable to give the speed and pressure that some situations necessitate for efficient pain management. That is why a massage gun can be extremely beneficial to athletes and anybody else suffering from chronic muscle pain.
A massage gun is a portable device that looks like a power drill. With short bursts of pressure, it offers vibration or percussive therapy to the muscles. Deep tissue massage can effectively release specific muscles, stimulate blood flow to the area, and reduce pain and inflammation. You can also treat your injury in the privacy of your own home using a massage gun, which can save you a lot of money.
Our buying guide mentioned above can help you in sorting through all of the options and determining which massage gun is most suited to your physical treatment needs. This will help you in making your purchasing experience as stress-free as possible.