Cleaning an oven is never comfortable, but it has gotten a lot easier these days. The best oven cleaner products must have improved formulas. They are now easier to use, and include fewer harmful compounds. However, harsh chemicals are difficult to avoid with these products. Wearing gloves is a must.
Unfortunately, unless you have enough knowledge, picking the best oven cleaner may be a bit of a minefield. Now you're here, it is important to trust us with this cleaning bucket list.  We've swooped in to find out which ones are worth your hard-earned dollars.
While most ovens feature a self-cleaning function, there may be instances when a little spot cleaning is necessary because burned bits of food, grease stains, and food splatters. It may not need a full cleaning cycle to remove. Cleaning your oven might be one of the most difficult tasks in the kitchen. The right oven cleaning, on the other hand, can make this task easier. 
To earn a spot on this list, an oven cleaning tool must be simple to apply and tough enough to swiftly remove stubborn, oily, or sticky stains. Furthermore, it should remove carbon deposits. Commercial oven cleansers, on the other hand, should not use in self-cleaning ovens. They can cause damage to the oven's liner and etching, preventing the self-cleaning feature from functioning properly.
 
Are you confused about how to clean an oven or even where to begin? Although it may appear overwhelming, the reward of a sparkling clean oven and the promise of better-tasting food. This makes the work rewarding. Fortunately, deep cleaning an oven is not as frightening as you would believe. We've compiled a list of the best oven cleaners for you. Continue scrolling down to learn more. 
Stax Astonish Oven & Cookware Cleaner Paste – Best Oven Cleaner for Paste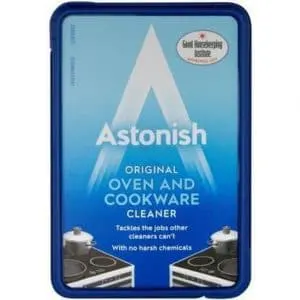 Pros
Perfect For Cleaning Oven, Pans,Cookware, etc

 

Excellent for Glass Ceramic Surfaces 

 

Biodegradable & non-toxic for the hands

 

Approved Vegetarian Society & Animal

 
Cons
Lacks the ease of a spray

 
This Stax Astonish Oven & Cookware Cleaner makes your work easier. When it comes to baked-on and caked-on messes, this oven cleaner product delivers a strong punch. You can apply the paste using a damp nylon scouring pad, rubbed into the spot or stain, and then removed with a clean, damp towel. 
While heavy burnt-on grease may take some moderate scrubbing, it may be well worth the effort to utilize an animal cruelty-free solution that is gentle on the hands. It does not produce fumes. Furthermore, it is simpler to apply a paste only where it requires, leaving no excess to clean away.  
It impresses you at the results of this multi-purpose oven and cookware cleaner. This Astonish product will restore the beauty of your oven, stove, pots and pans, sinks, and tiles while remaining vegan, cruelty-free, and gentle enough to use without gloves. 
This cleaning paste is ideal for removing grease, oil, filth, and even rust. Scoop a little amount onto a damp sponge or rag and apply to the surface to clean. Gently rub in a circular motion, then wipe away any remaining residue with a clean sponge or towel. Due to the abrasive nature of the Astonish Oven Cleaner, it should not be used on plastic or polished metal. 
Method Spray Kitchen Degreaser – Best Oven Cleaner for Scent

Pros
Penetrates and removes grease in minutes

 

Works on microwave interiors and fireplace windows

 

Biodegradable formula

 

Can clean even the most stubborn of grime and stains

 

Is non-abrasive, non-toxic, and gives out no harsh fumes

 

It is environmentally safe and biodegradable

 

Can use on fabric to remove stains and grease as well

 
Cons
The super-concentrated formula may be harsh on the skin

 
Oven cleaners do not have to stink and disagreeable odors are a thing of the past with this Method Spray Kitchen Degreaser.  The cleanser quickly eliminates greasy oven spills while generating a refreshing lemongrass aroma. Burned-on stains and bubbled-over spills dissolve easily with this refreshingly scented cleaner, which may also use in other areas of the kitchen.
The Method cleaning is safe, plant-based components that outperform chemicals in terms of rapidly dissolving and eliminating difficult oven gunk. The product comes in a convenient spray bottle that may use to target small spills. And, treating the whole interior of the oven when it requires to deep cleaning. Using Method spray on a daily basis can assist in preventing drips and spills from accumulating and glaring. 
This is one of the most economical and effective oven cleansers available. The oven cleaner consists with natural ingredients and is free of parabens, phthalates, dyes, and aluminum—yet it is still powerful enough to cut through stubborn problems in minutes. 
The bottle is ideal for cleaning a range of kitchen surfaces, including the oven, microwave oven, stovetop, and drip pans. Additionally, it leaves a fresh lemongrass smell that revitalizes your kitchen as well as senses. 
HG Oven, Grill & Barbecue Cleaner
– Best Value Oven Cleaner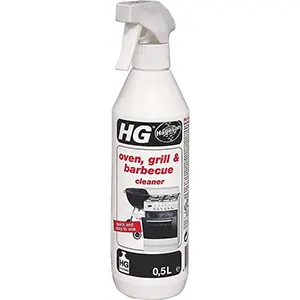 Pros
Removes baked-on grease Quick and efficient cleaning
For use on ovens, grills, and barbecues
For best results warm the oven first
Spray the surface and allow 3 to 5 minutes for the product to work.

Great for spot cleaning

 
This oven cleaner removes stubborn, dried, and even baked-on grease from ovens, grills as well as barbecues. For better outcomes with HG oven, grill & barbecue cleaner, you need to warm first the surfaces to be cleaned. Afterward, spray the surface and allow 3 to 5 minutes for the product to work. Lastly, you need to wipe over the surface with a damp sponge. After the grease has been removed, this would be the perfect time to rinse the oven or grill again with hot water. Repeat the treatment several times.
The ability to apply the solution with a brush made it simple to target specific areas, and the viscosity of this odorless cleaner ensured that it stayed put even on the toughest stains. We kept the gel on for 30 minutes and were shocked by the results. It removed even the toughest oven stains and cut through baked-on fat and oil to reveal showroom-level shininess. 
Mr. Muscle – Best Spot Cleaning Oven Cleaner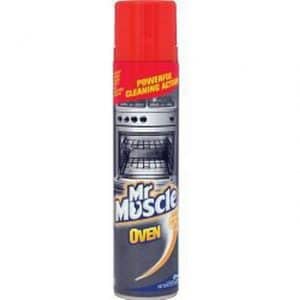 Pros
Can use on ovens and cookware

 

Extra durable

 

Convenient to use

 

Easy-to-use spray bottle

 

Can use on hot or cold ovens

 

Emulsifies the spills and grease so no scrubbing is required

 
Cons
It might damage the skin, gloves should be worn

 
Oftentimes, a cleaning product will not suffice, and you may wish to invest in a tool such as the Mr. Clean Extra Durable Magic Eraser. These rough sponges are four times more effective than conventional cleaning sprays at removing baked-on grease and kitchen filth. These small but strong sponges come in a set of four and do an incredible job cleaning oven racks, caked-on food, and more.
Simply dampen one of these sponges to activate the micro-scrubbers and remove accumulated dirt and grime. The sponges can use throughout the house, including on worktops, stovetops, and in the oven. However, due to their abrasive nature, they should be avoided on polished or nonstick surfaces.
When working with corrosive chemicals, an aerosol is a lifesaver. In this scenario, we could direct the laser-like spray directly at the problem areas, and the pressurization ensured that the fine mist. It was significantly finer than the foams created by manual sprays – offered significantly more even coverage. 
The instructions advised that the cleaner should be left on for 30 minutes before removing with a damp cloth or sponge, and upon doing so. We discovered that some extremely difficult stains had been blitzed. The distinct outline outlining the treated region further demonstrated the product's ability to eliminate filth while leaving oven surfaces gleaming clean. 
Cif Perfect Finish Oven and Grill Spray – Most Versatile Oven Cleaner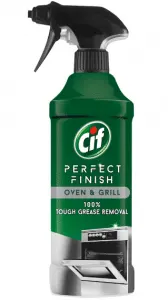 Pros
Works overnight

 

Cleans grill grates, too

 

Cleans up to two oven racks at once

 

Can be used on the BBQ grill

 

Restores sparkle

 

Tough on grease stains

 
While most people associate Cif with the classic lemon-yellow bottle, the Cif family's newest addition. This is the perfect finish oven and grill spray which comes in a grass-green spray bottle with a child-resistant nozzle. It's another spray that's supposed to be kept on for 30 minutes before "rinsing." This is undoubtedly tricky when it comes to ovens, so we chose to wipe away the thick foam with a damp cloth instead. The results were incredible — stains we'd neglected for years vanished. Lastly, we achieved comparable results by leaving the lotion on for half the time. 
Cif Cream Cleaner – Best Protective Oven Cleaner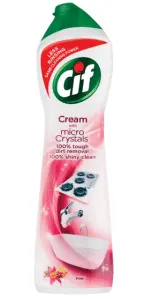 Pros
Packed with millions of micro-crystals made from natural limestone

 

The fresh scent of flowers

 

100% tough dirt removal

 
To be completely transparent, this is not a product made expressly for ovens, but given how many households depend on it. For that purpose, we felt it was only reasonable to give it a try. Among the obvious benefits are the formulation – the thick cream is not only easy to apply. But also contains all-natural cleaning particles generated from limestone – and the bottle, which is both recyclable and manufactured from recycled plastic. However, is it capable of oven cleaning? 
Yes, to an extent. It battled with some of the worst stains. It excelled at removing lighter ones and easily cut through oil without the need to leave the solution on. While it is unfortunate that the most powerful oven cleansers are always the most toxic.  However, this Cif Cream Cleaner is an excellent solution for anyone looking to remove minor stains without resorting to a chemical cocktail.
Ecover Oven & Hob Cleaner
– Best Oven Cleaner for Heavy-Duty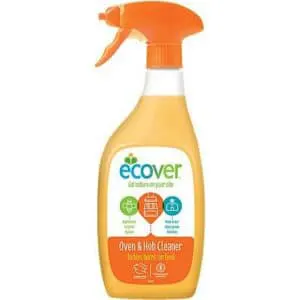 Pros 
Powerful degreaser for ovens, hobs, pots, pans, BBQs.
No fumes
Fresh plant-based fragrance.
Convenient, ready-to-use
The bottle is 100% recyclable Plant-astic!  Cap is widely recycled- check local recycling
This Ecover Oven & Hob Cleaner is indeed a part of the Ecover household and cleaning products range that utilizes powerful plant-powered ingredients rather than petroleum-based ingredients for a more environmentally friendly choice in your products.
All of the Ecover products come from Ecover's plant-roofed ecological factory where they utilized both plant and mineral ingredients to help you limit the use of toxic chemicals in your home and keep the effect on the environment to an absolute minimum. It is ideal for removing tougher patches of burnt-on grease, and a Steel Care Cream for troublesome areas. 
While this product strives to cover all bases, some users have reported that multiple applications are necessary to obtain the intended results, and removing all of these products can be challenging at times. If we were to gift an oven cleaning kit to a loved one for whatever reason, this is the one we would choose.
The instructions stated that we could speed up the stain removal process by placing it in a hot oven for 10 minutes. We chose to apply the spray – which dispenses as a thick, white foam – to a cold oven for the recommended 30 minutes. When we wiped it away, we discovered that a seriously thick build-up of grease and grime had been removed. We required very little extra elbow grease to remove the toughest stains. 
Diversey Suma Grill – Best for Fastest to Kill Common Bacteria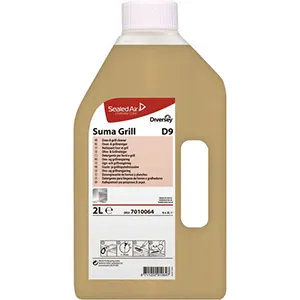 Pros
Cost-effective removal of heavy deposits of grease, fats as well as carbonized soil.
The unique formula is suitable for use on hot surfaces up to 350°F/175°C.
Ideal for use on ovens, grills, and salamanders and diluted for cleaning of fryers
Kosher and Halal Certified
Easy-to-apply and rinses swiftly and completely to reduce overall cleaning time.
This heavy-duty oven cleaner can also be used on grills to remove grease and grime. A neutral odor as well as powerful alkali cleaning action, which is intended to help to remove even heavily carbonized soil, makes this cleaner great for professional kitchens. This pack contains six 2 liter bottles.
This oven cleaner is not only intended to remove oven-related filth. However, this also kills hazardous bacteria — a pleasant benefit at a time when we are more determined than ever to eradicate bacteria from our homes. The disadvantage is that it is a far better disinfectant than an oven cleaner. Technically, this is a smart investment. It easily removes small stains and grease marks, but you'll likely need something stronger to remove the most stubborn stains. 
How does the Best Oven Cleaner work? 
The best oven cleaner is a highly basic formulation that is naturally alkaline with a pH value of more than 11.0. They contain alkalinity, which degrades fat and burnt-on food particles that adhere to the oven surface. Afterward, the oven cleaning breaks down the food spills and stains into smaller particles, reducing their grip on the oven surface. This enables us to easily spray or apply the oven cleaner and leave it on for the specified time period. 
A final wipe with a moist cloth is all that is required to clean the oven. The majority of these spray-on or apply-on oven cleaners adhere to the oven's surface long enough to accomplish their job without causing drips, drops, or rust. While the majority of the best oven cleaners are fume-free, non-toxic, gentle on the skin, and biodegradable, there are still certain oven cleaning safety precautions to follow. 
What are the things that need to be Consider When Choosing the Best Oven Cleaner?
Ovens get dirty and oven cleaning isn't the most enticing of household chores. However, the ideal products can expedite and simplify the process. When choosing an oven cleaning, consider several criteria, including the type of burned-on debris, the application method, and whether you prefer natural materials over chemicals. 
Avoid allowing oven messes to accumulate to the point where there is a month's worth of burned-on sugar, unpleasant carbon deposits, and hardened spills on the oven's bottom for the best outcomes. The most effective method of cleaning an oven is to do so on a regular basis to prevent gunk from accumulating. There are numerous types of oven cleaners available, but the best oven cleaner for you is the one that meets your specific cleaning requirements. Keep in mind to: 
Intended Use
The more difficult the stains are to clear; the more cleaning force is required. Mild oven cleaners are ideal for cleaning the entire oven to ensure that spills and dirt are removed. For built-up messes that have been sitting in the oven for weeks and have glazed over and solidified, stronger cleansers are frequently required. Additionally, they may require numerous cleaning applications and even considerable scrubbing.
When choosing an oven cleaning, the customer may not want or choose the most powerful cleaner, which typically comes with an unpleasant chemical odor. Use the mildest cleaning possible that will nevertheless remove carbon deposits and burned-on spills. 
Form
Various types of messes necessitate distinct methods for cleaning an oven. Cleaners come in all sorts of types, and others are better suited to specific oven cleaning jobs than others. Shoppers will find products suitable for use in either a warm or a cold oven under the following categories. Some are suited for either temperature setting, albeit the cold setting takes longer to work.
Liquid concentrate
If you clean your oven frequently, a concentrated liquid makes sense. This sort of product must be diluted with water before being applied to the oven surface with a sponge or spray. The advantage of a concentrated cleaning is that it may be diluted if the burned-on messes are very tough to remove. They're also often more affordable and come in bulk-size canisters that carry enough product to clean industrial kitchens. 
Spray
Simply spray the product and wait for it to take effect before wiping it away with a sponge or soft cloth. Numerous oven cleaners are available in spray form, with each requiring a varying amount of time to dry based on its strength. Spray cleaners are simple to use and flexible because they require no mixing. 
Foam
Oven cleaners are also available as sprays, but instead of liquid trickling down the oven walls, the spray soon swells into a sticky foam, making them more effective at cleaning vertical oven walls. As is the case with liquid sprays, the user merely wipes away the foam and any dissolved residue. Foam is also effective for cleaning oven window glass; it adheres to the glass while softening and dissolving carbon stains, making them easily wipe away.
Paste
Oven cleaners excel when it comes to cleaning small areas, such as a minor burned-on spill in an otherwise clean oven. The user directly applies the paste to the spill. Once the mess has dissolved, it's as simple as wiping it away. 
Natural vs. Chemical Ingredients
All commercial oven cleaners contain caustic chemicals that filled the kitchen with fumes repulsive enough to drive the majority of family members out. While chemical cleaners continue to be popular due to their effectiveness at removing stubborn burned-on stains, a few oven cleansers utilizing less caustic, natural components are also available.
To help in removing oven debris, these eco-friendly cleansers may contain baking soda, vinegar, or lemon. While natural compounds are not as strong as chemicals, they are a practical and eco-friendly solution when messes are small. Furthermore, oven cleansers made with natural substances have a milder odor than those made with chemicals.
Application Time
The time required for an oven cleaner to remove heat-hardened messes varies according to the thickness of the mess, the product's strength, and if the oven is heated. Certain oven cleaners dissolve minor problems in as little as 15 minutes, while others perform best when applied and left on overnight. It's not a bad idea to keep a variety of oven cleaner supplies on hand to accommodate varying cleaning and baking schedules.
Now, Which is the Best Oven Cleaner for You?
Ovens must be one of those appliances in the kitchen that have an uncanny ability to quickly devolve into a culinary crime scene.   There are the steak drippings that have collected in a slimy puddle at the bottom, foods that fell through the rack and have virtually converted into pure carbon, and the slick layer of oil on the glass that has kept you from peering into the oven for months.
Cleaning an oven takes time, and you probably don't do it very often. You are not alone. This is perhaps the most overlooked cooking appliance, not only because it is time-consuming to clean, but also because oven cleaning may be frustrating and difficult. 
Finally, which is the best oven cleaner for you? It is the one that best suits your kitchen and cleaning requirements. For the greatest results with a standard oven, use a moderate everyday oven cleaner. If you are a stickler for cleanliness and regularly clean your oven, this Best Oven Cleaner listed above may be the best oven cleaner for you. Always choose the one that best fits your cleaning style and the demands of your oven. Additionally, when cleaning with chemicals, always be cautious and take precautions.