You might be using the wrong shampoo if you can't achieve that squeaky-clean freshness of your hair and realize it starts to feel greasy. Washing your hair is a necessary part of good hygiene, but doing it too frequently might actually cause more problems than it solves. Investing in a clarifying shampoo that's expressly meant to clear away not only filth and sludge but also keep oiliness in control – almost like a powder for your hair. 
Do you find it difficult to spend more than a day or two without washing your hair? Hair that develops a "chip pan" appearance without a daily rinse is undeniably a beauty irritant. The best shampoo for greasy hair comes into play. 
While perfecting your hair care routine may appear to be a quick fix for your strands, if you're frequently dealing with greasy hair. You might want to hold off on the washing. Washing your hair encourages the production of sebum, the scalp's natural oil, which may sound strange. Washing your hair too frequently can cause the sebaceous glands to overproduce sebum. 
You'll be in a never-ending cycle of lather, rinse, and repeat before you know it. While no one recommends skipping shampoo entirely, investing in oily hair shampoos is your best strategy. Don't know where to begin? We put the best shampoos for greasy hair to the test to determine which ones efficiently combated oily roots. Here's our pick of the best shampoo for greasy hair UK to look forward to in 2021. 
TRESemmé Deep Cleansing Shampoo – Best Value for Money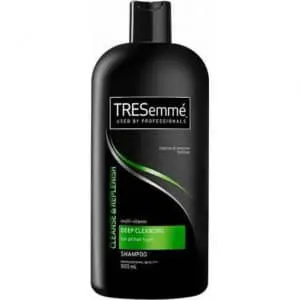 Best Shampoo for Greasy Hair: Key specifications
Volume: 800ml

 

Paraben-free: Yes

 

Silicone-free: No

 

Sulfate-free: No

 
Do you go through shampoo like it's nothing? This jumbo-size alternative keeps hair cleaned for a longer period of time. Testers raved about how clean and soft their hair felt after using it, and we discovered that it reduces oiliness. 
Give your hair a fresh start with vitamin-enriched TRESemme shampoo, which offers gentle cleaning for that just-left-the-salon look. What's the point of using a deep cleansing shampoo every day?
Its multivitamin-infused shampoo gently removes build-up and pollutants that can weigh your hair down and dull its natural shine. TRESemme's cleansing Micellar Technology is gentle enough to use every day, allowing you to reveal fresh, clean, and purified hair every day. Apply this deep cleansing shampoo to damp hair, starting at the roots and working your way to the ends. Work into a lather and massage the scalp gently before fully washing. Apply TRESemme Moisturizing Hair Conditioner thereafter. Finally, add a pop of color with your favorite accessory.
TRESemme was founded on the belief that every woman deserves to look and feel great as if she'd just walked out of a salon. This company is focused on producing salon-quality hair care products. The products were created with hairdressers in mind to help you achieve salon-quality hair every day. 
Bumble and Bumble Sunday Shampoo – Best Shampoo for Greasy Hair and Ideal For Detoxing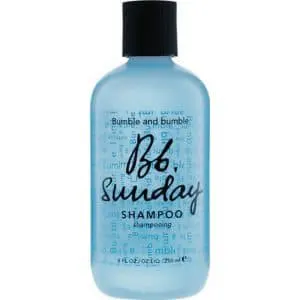 Pros
Deep cleanse

 

Removes buildup and residue

 

Removes excess oil and built-up pollutants

 

For fine to medium hair

 

Ideal for straight to curly

 

Perfect for healthy, oil, non-color-treated

 

Cruelty-free

 
This shampoo is so effective in its cleansing properties that it should only be used once a week. Our testers agreed that it cleansed their hair and scalp, delivering a satisfyingly deep clean, despite the fact that it was designed to wash away everything from impurities to product build-up. 
A weekly detox will remove product residue, hard water minerals, and contaminants from your hair. Use right before masques and color/chemical treatments for product junkies and infrequent washers. Please keep in mind that this product is not recommended for color-treated hair.
This deep cleanser removes product residue, excess oil, and built-up impurities for a fresh, then you should start cleansing. It contains ginseng extract for revitalization, rosemary extract for scalp stimulation, and sage extract for natural cleansing and stimulation. A Detox Complex aids in the removal of buildup and residue from the scalp as well as the hair. 
Redken Scalp Relief Oil Detox Shampoo – Best Shampoo for Greasy Hair and Perfect for Anti-Dandruff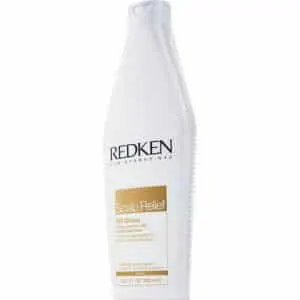 Best Shampoo for Greasy Hair: Key specifications
Volume: 300ml

 

Paraben-free: Yes

 

Silicone-free: No

 

Sulfate-free: No

 
With Redken's Scalp Relief Oil Detox Shampoo, you can now say goodbye to an oily scalp with just one wash. This clarifying, oil-absorbing shampoo has the Interbond Scalp and Lipa-Sponge Systems, which provide important components to both the scalp and the hair to help balance the pH of your scalp. This also helps regulate excess oil, and remove pollutants. Your scalp will be mattified and soothed, and your hair will be clean light and airy thanks to glycerin and lavender extract.
This shampoo is for oily scalps. To fully cleanse pores, absorb excess oil, and purify the scalp, the dry/wet product contains highly absorbent micro-sponges, lipacide to regulate the pH level, and lemon essence. While mattifying and regulating oil, the scalp is rebalanced to its natural moisture equilibrium.
Because greasy hair begins at the roots, this shampoo tries to balance the pH of your scalp for cleaner, healthier hair. We have agreed, claiming that it helped their scalps feel healthier and that dandruff sufferer observed fewer flakes. They also discovered that after washing, hair was easier to untangle and style. 
Living Proof Perfect Hair Day Shampoo – Best Shampoo for Greasy Hair and Ideal for Fuller Hair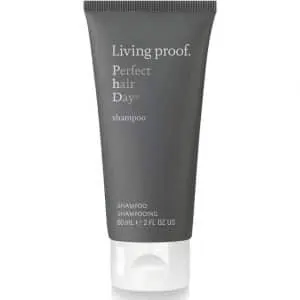 Pros
Good for: Dryness

 

All Hair Types

 

Without Sulfates SLS & SLES

 

Without Silicones

 

Vegan

 
Best Shampoo for Greasy Hair: Key Specifications
Volume: 236ml

 

Paraben-free: Yes

 

Silicone-free: Yes

 

Sulfate-free: Yes

 
With this shampoo, you may get rid of pollutants and debris without robbing your hair of moisture. It did help keep oiliness at bay for our testers, who described their hair as more balanced as a result. Not only did our panel see less greasiness, but they also noticed a fuller-looking head of hair.
It's formulated with our unique Healthy Hair Molecule, which smooths, polishes, and protects strands, promotes visibly healthier hair over time. It helps repel dirt and oil to keep hair cleaner for longer. 
Natura Siberica Best Shampoo for Greasy Hair – Best for Long-Lasting Oil Control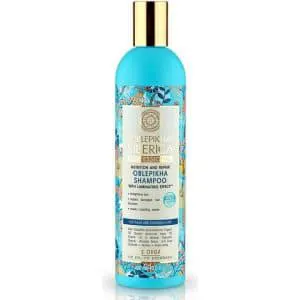 Best Shampoo for Greasy Hair: Key specifications
Volume: 400ml

 

Paraben-free: Yes

 

Silicone-free: No

 

Sulfate-free: Yes
Try to resist the urge to wash your lengths every day. If you're having trouble, however, try this shampoo. Its long-lasting oil control powers were praised by testers, who claimed that it kept their hair cleaner for longer. Even the ends of one tester's curly hair were smoother and bouncier. 
The Natura Siberica Shampoo is non-greasy and won't make your hair look oily or dirty. It appears to absorb rapidly and may be used on both wet and dry hair. Oil Complex detangles hair and makes it simpler to comb through after it's been washed. If you only buy one product from the Natura hairline, make it this one — it's not too pricey and gets the job done swiftly. We've also heard good things about their hair masks, but we haven't had the opportunity to try them yet. 
Philip Kingsley Moisture Balancing Combination Shampoo – Best Shampoo for Greasy Hair and Perfect for Moisture Balancing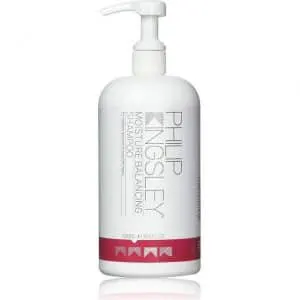 Pros
Provides gentle, effective cleansing

 

Delivers hydration where it is needed most

 

Ideal for medium, textured, longer hair

 

Offers frizz control and reflective shine

 

Packed with antioxidants to protect hair from environmental damage

 
This gentle shampoo was created by trichologists who specialized in restoring the health of the hair and scalp. The smart formulation is filled with a variety of healthy nutrients, including Wheat Protein and Guar, and it's suited for medium-textured hair. It cleanses and regulates hair while also providing just the right amount of moisture – less at the roots and more from the mid-lengths to the ends. 
The Moisture Regulating Shampoo has been specially created to target the driest sections of your hair while also balancing moisture levels. Guar is used for static control and smoothness; whole Wheat Protein is added for strength and hydration. Our moisture-balancing shampoo contains antioxidants to protect your hair from environmental damage and add an extra layer of protection. 
This anti-frizz shampoo is ideal for mixing hair since it helps untangle snarled hair, leaving you with bouncy, lustrous hair all day. 
Serene Scalp Balancing Shampoo – Best Known for Dermatologically Tested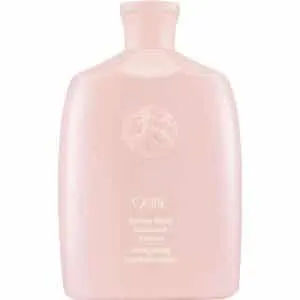 Pros
Dermatologically tested

 

Safe for color-treated hair

 

Free from parabens, sulfates, and sodium chloride

 

Provided UV protection for hair

 

Suitable for vegans

 

Gluten-free




 
This Oribe Serene Scalp Shampoo is a sumptuous shampoo that gently cleans the head and scalp, and says goodbye to dandruff. Hair will be left healthy, hydrated, and flake-free with pea sprout extract to prevent breakages and orange and lemon extracts to maintain moisture balance. 
The Oribe Serene Scalp Shampoo contains salicylic acid, which helps to soothe an itchy, irritated scalp while also preventing dandruff. It's enriched with Oribe's unique compound of watermelon, lychee, and edelweiss flower extracts, which helps to prevent natural keratin degradation and protects hair from environmental damage.
To experience hair and a scalp that feels fresh and invigorated, lather the creamy shampoo into wet hair as part of a daily hair care routine before washing.
This is a really expensive shampoo. However, we often find shampoo bottles for oily hair types and if you want to make your shower look incredible, this is it. It's not just the lovely packaging. Also, the recipe is fantastic for deeply washing while also soothing and nourishing the scalp to avoid flakiness and irritations. 
Head & Shoulders Classic – Best for Cleaning Anti Dandruff and Best Shampoo for Greasy Hair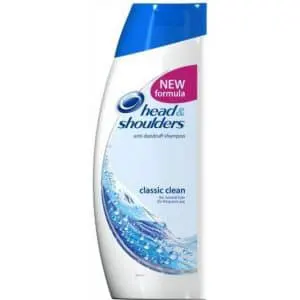 Pros
Works up a nice and emollient lather

 

Results in soft, conditioned hair without leftover grease or residue

 

Significantly reduces dandruff by treating the cause

 

Affordable price point

 
Cons
The fragrance is better than most anti-dandruff options, but still could improve

 
Best Shampoo for Greasy Hair: Key specifications
Volume: Shampoo, 500ml

 

Paraben-free: Yes

 

Silicone-free: No

 

Sulfate-free: No

 
Your hair is one-of-a-kind, which means you'll need one-of-a-kind remedies to keep your hair healthy and dandruff-free. For all hair types, these solutions are carefully created to combat the symptoms and causes of dandruff. Shampoos and conditioners, as well as co-washes and hair treatments, are among the dandruff-fighting products offered by Head & Shoulders.
If you have oily roots but a sensitive scalp, Head & Shoulders Classic Clean shampoo is a great option. Dermatologically tested, ph-balanced, and antioxidant-rich, the product softly cares for and cleans both the scalp and your strands. It's made with 0% phosphates and 0% paraffin, so you can get rid of excess oil without provoking any sensitivities. 
Solu Shampoo – Best Shampoo for Greasy Hair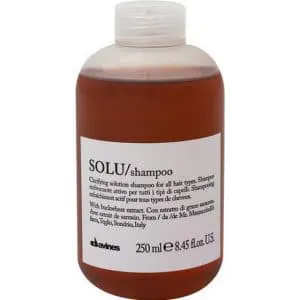 Pros
Deeply cleansing

 

Leaves scalp refreshed 

 

Hair is left soft and shiny

 

All-natural ingredients

 
Davines Solu Shampoo is a clarifying shampoo aimed at removing styling product residue and leaving your hair ultra-clean and more receptive to subsequent treatments.
If you're a sucker for styling products, you may have finally found your match with this one. Buckwheat blitzes build-up and superfluous residue while also adding protein and antioxidants to the diet. It's also sulfate-free, making it ideal for individuals with greasy scalps and dry ends, as well as curly hair types.
We use this clarifying shampoo to give our hair a fresh start after weeks of styling and applying products. The rich, airy solution, which contains eco-friendly ingredients including buckwheat extract, deeply washes locks to remove buildup without stripping moisture. 
Christophe Robin Purifying Shampoo with Jujube Bark Extract – Best Shampoo for greasy hair and for Anti-dandruff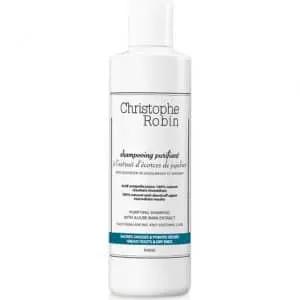 Pros
Eliminates dandruff

 

Eradicates itchiness

 

Calms problem scalps

 

Reduces excess oil

 
The light formulation Christophe Robin's Purifying Shampoo is a lightweight, unique product that works to eradicate dandruff. It reduces itching while also rebalancing and refreshing the hair and scalp.
Christophe Robin's Purifying Shampoo is a lightweight, unique product that works to eradicate dandruff. It reduces itching while also rebalancing and refreshing the hair and scalp. Its unique, natural blend of Jujube Bark, from a tree whose benefits have been recognized for hundreds of years, and Cherry Flower Extract provides rapid anti-dandruff action to minimize flaking, making it suitable for everyday use. A 100 % natural active ingredient lies at the heart of the composition, regulating excess sebum and soothing the scalp for long-term comfort. Use the shampoo in conjunction with the Purifying Scalp Scrub to eliminate your dandruff that has been your concern for a long time. 
For a peaceful and enjoyable shower experience, the soft formula lathers into a delicate foam. You may expect touchily soft, radiant locks and a calm, rejuvenated scalp when you use this product on hair with greasy roots and drier ends. The shampoo gives your hair a new feel and gives it a lovely shine and bounce from root to tip. 
The Christophe Robin Purifying Shampoo is a lightweight product that removes dandruff and reduces itching while also acting as a targeted dandruff treatment. It controls excess sebum and cleanses your scalp from top to bottom. The inclusion of jujube and cherry flower extract helps to reduce flaking while also soothing the scalp for long-term comfort. 
What causes greasy hair?
Your scalp isn't feeling so fresh since it's producing too much sebum, just like your t-zone is. This could be due to a variety of variables, including heredity, hormones, and environmental factors like pollution or heavy perspiration from home workouts. 
Our first instinct is to reach for a dry shampoo or wash our hair more regularly, but this might exacerbate the problem. Over-washing will strip hair of its natural oils, causing even more unwanted oil production. Using too many products can generate a buildup on the scalp, while over-washing will strip hair of its natural oils, causing even more undesired oil production. 
To retrain your locks, limit your shampoos to three times each week, depending on your hair type. We admit it will be greasy for the first few weeks, but your hair will reward you in the long run. 
Why does your hair get greasy all the time?
Various hair types will become greasy after varying amounts of time. Those with coarse or textured hair may be able to leave their hair for up to a week and still look good. Those with fine or thin hair, on the other hand, may notice that their hair is oily after only one day. 
It all comes down to how much oil your scalp produces and how well your hair can transport that oil. When you have oily roots, it's tempting to wash your hair more frequently, but doing so might actually contribute to greasy roots. 
That's because if you try to make an extra day out of it after you've trained your hair into a daily rinse, it can feel unpleasant and oily. The same way that over-cleaning your skin strips it of natural oils, the more you clean your hair, the more oil your scalp creates to compensate. 
If you wash your hair every day, it will take some time to adjust to only washing it every few days. However, after your hair adjusts, not washing it every day will make a significant impact.
What is the Best Shampoo for Greasy Hair that should definitely be used for?
You probably don't have to deal with grease alone.  As a result, it's a good idea to invest in a shampoo that can help with oily hair and is appropriate for your hair type. Always choose something that is more popular and always check the ingredients and everything you have to know.  
You should use a purifying shampoo because it is a deep cleaner that will assist eliminate any extra oil build-up. Use a cleansing wash and follow with your favorite shampoo and conditioner to best fit your hair type. You might also try a hair growth supplement, which feeds hair from the inside out and helps to keep hair and scalp healthy. 
What to eat to avoid greasy hair? What we put into our bodies, like other areas of our beauty routines, can have just as much of an impact as what we put on them. Your diet can have a direct impact on the state of your hair, therefore try to limit your intake of oil and increase your intake of fruits and vegetables. 
How to Stop Your Hair Getting greasy?
It's hard to have a good morning when you wake up late with hair that looks like you slept in a deep fryer. These days it's all about the glossy, disheveled hair. However, there is such a thing as too much of a good thing. 
Itching and seborrheic dermatitis can be caused by an excessively oily scalp. It may also serve as a food source for the fungus that causes dandruff.
However, you do not want to remove all of your oil. Natural oils protect hair and are necessary for a healthy scalp and beautiful locks. Here's how to get rid of the grease without causing damage to your hair or causing irritation to your scalp. 
You Should Wash your hair less often
See if you're over-washing your hair by washing it less frequently.  While hair cleaning is crucial, too much of it can block your roots, causing everything from dandruff to hair loss. This is why maintaining a healthy scalp is so important.   Alternatively, if you wash it every day, consider cutting it down to three times each week. Continue until you see a difference. 
Rinse instead of washing
To see whether this helps, try rinsing your hair thoroughly instead of washing it.  Because regular exercisers are prone to over washing their hair out of habit, try only rinsing after a workout. While sweat isn't oily – it's largely water with a few salts thrown in — if you're a frequent gym-goer, you're likely to have more perspiration build-up around your roots that has to be zapped as well. Rinse your hair well. 
Stop playing with your hair
Stop playing with your hair using dry shampoo to help absorb oils on the hair, whether natural or product residue. 
Sleep on or in silk
The fabric of your pillowcase has a big impact on how oily your hair gets, especially at night. Cotton pillowcases absorb more dirt, bacteria, dead skin cells, and sweat than silk and satin pillowcases do. These things can lead to your hair becoming greasier.  Make an effort to sleep on silk and wash your pillowcases on a regular basis. 
Oily hair can lead to a poor day. The good news is that there are a variety of treatments available to assist you in regaining control. It's also worth noting that the amount of oil you create varies over time and normally decreases as you age.  
Get Your Best Shampoo for Greasy Hair Now
Did you know that using the best shampoo for greasy hair makes it easier to style and maintain your hair? The path to luscious locks begins with one key step: a thorough wash with a shampoo developed exclusively for your hair type! However, with so many shampoo brands to choose from, we recognize that finding the ideal product can be difficult. 
A proper formula will cleanse your scalp and remove leftover styling products, grime, and excess oil without depleting your natural oils, leaving your hair and scalp dry and sensitive.   Then, if you have hair goals, you must familiarize the ingredients and properties that will help you achieve those goals. Avoiding harsh chemicals like Sulphates and Parabens is a must; instead, opt for products that contain a lot of natural ingredients.
To make things less intimidating and a bit more interesting, this article will focus on the types of shampoos you should be using in order to have hair that is not just clean and wholesome, but also worthy of envy.  There's no doubt that having nicer hair will make you feel good. The good news is that with the right products and style techniques, most hair goals can be achieved.  
A good shampoo that is appropriate for your hair type is the foundation of any hair care routine. You can simply select a hair washing product that will help you achieve the results you desire. With this in mind, we hope that our suggestions and guidance can assist you in achieving your goals.