Are you looking for the best weed killer? Then you've come to the right place.
Weeds are as unpleasant, invasive, and annoying as you could ever imagine. You always put in the time and more effort to beautify your garden in order to look rich. These weeds could ruin the look of your beautiful yard or garden. This is one of the common issues in every house owner. However, there are a lot of solutions that will help you effortlessly. That's why people in the house or even a professional green thumb are using this product.
No matter how much you try to maintain your garden in check, it is undeniably easy to end up with more flowers that seem to overrun your whole space. Luckily, there are numerous things that you can really do to recover control of your yard or garden. For example, you yourself cannot only remove the unwanted weeds, but you can also kill their roots. This will make it less likely that those unwanted visitors will probably come back in the near future.
Before we proceed into this thorough guide, there are no things as "weeds" as weed is just only a name for a plant that keeps growing somewhere that you don't basically want it to grow there. Looking for the best weed killer is not always as easy as it seems. You have to choose something that is reliable, trusted, and strong, as well as a type of weed killer you want that will not harm your grass and plants. This guide will help you to make the right choice. We've gathered the list of the top-performing tools and the best weed killers on the market for you. Read more below to guide you in purchasing the best weed killer of all time. 
Roundup Fast Action – Best Weed Killer for Fast Action Option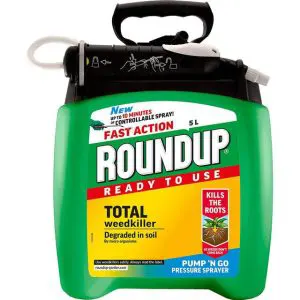 Pros
Easy to use

Great for larger spaces

Fast-acting within 1-2 days

One-touch trigger system to reduce fatigue

Good for replanting at a later stage
Cons
Does require you to keep pets and children out of the way as it may be toxic

Can be difficult to avoid spraying on plants as we

ll as weeds
Getting rid of weeds in your garden can be an onerous effort at times. With the fast-acting pump-and-go weed killer method, Roundup seeks to eliminate the hard work associated with maintaining your garden in outstanding condition. This weed killer solution is easy to use, with a precision wand that allows you to target the weed killer precisely where you want it to go.
The Roundup Fast Action solution is easy to use and convenient. And it was created to get rid of even the toughest weeds faster. Since everything is pre-mixed and ready to use, you won't have to waste time mixing solutions.
The extended wand that comes with the one-touch trigger system allows you to get as near to the cannabis as possible without bending. This five-liter container can even spray continuously for up to 10 minutes. It allows you to get more done in your garden in less time.
The Pump N' Go sprayer is ideal for treating large areas, such as walks and roads, where it might be difficult to treat weeds in confined spaces. In most situations, this weed solution also kills the weed's root. It allows you to enjoy a weed-free garden in 1 to 2 days. You can easily replace the flowers you choose later because no toxic residue remains.
Weedol weed killer – Best Known for Killing Roots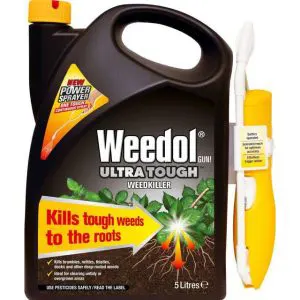 Pros
These weed killers provide ease of use

These weed killers are effective in protecting your plants and seeds
Cons
It has a narrow spray nozzle which requires a long time to spray a bulk of weeds in a large garden
Are you looking for a more convenient way to get rid of weeds in your garden? Weedol is a weed killer that works quickly and effectively. It's bothersome when you try to get rid of weeds in your garden plants and they quickly grow back. With this in consideration, the weedol has arrived to put an end to it. Weeds are killed from the roots up of these products.
The unique dual-action formulation of this weed killer spray will quickly rid the ground of weeds, regardless of the size of the leaves on the weeds. You can use this to control the rate of weed growth all over the garden, including paths, beds, and borders. This will also include gravel areas, drives, fences, and many other places where weeds grow.
Since it kills weeds from the inside out and penetrates through the leaves, it is known as a systemic weed killer. It spreads all around the plants once it has been absorbed. The lawn weeds and garden weeds thrive the most in the UK. This is the best time to start the treatment in order to get the best benefits.
The Weedol Rootkill Plus weed killer is available as a battery-operated power sprayer applicator for continuous spraying. There is a wand that allows you to extend the reach and achieve optimum accuracy. It allows you to use it in large areas while remaining fatigue-free. You can also use the 1-liter Weedol gun for spot treatment to focus on specific weeds or smaller areas.
EverGreen Complete Lawn Food: The Best Weed Killer that Also Treats your Lawn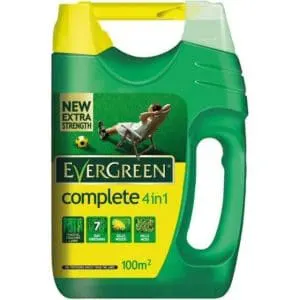 Pros
Excellent results for both weed and moss

Covers a lot of space in one application

One of the strongest weed killer solutions – doesn't require too many repeat applications

Double-strength mix
Cons
Not great for focused or precise treatments

Instructions are a little confusing
The EverGreen Complete Lawn Food, Weed, and Moss Killer is an excellent addition to the arsenal of the busy gardener. Thanks to a blend of components that contains minerals like nitrogen and potassium. This all-purpose solution eliminates weeds and controls moss while also feeding your lawn.
It usually comes in the form of granules rather than a liquid, and you may sprinkle it on your lawn by hand. Though, you'll need to measure the amounts carefully to guarantee a uniform spread. For convenient application, a spreader tool is advised. Because nitrogen is released in a controlled manner, your lawn will continue to benefit for up to six weeks after the initial treatment.
As every expert gardener knows, different sorts of growth require different types of treatment. We identified this EverGreen Complete Lawn Food to be the perfect weed treatment for gardens overrun by moss. It also treats your lawn as we searched through weed killer reviews to find you the most effective solutions available today.
For fast-growing plants like moss, this action formula is the most powerful weed killer – especially when applied in early autumn for year-round protection.
One of the most impressive aspects of this powerful weed killer is that it doesn't take many applications to notice incredible results. Although if your lawn is entirely overgrown with weeds, you should find that after the first or second application. Then the majority of the issues are resolved. This is one of the most powerful weed killer treatments to use if you want to get the most out of your yard by cleaning up your lawn. Just remember that the directions are a little difficult to follow at first.
Roundup – Best Known for Tough Weed killer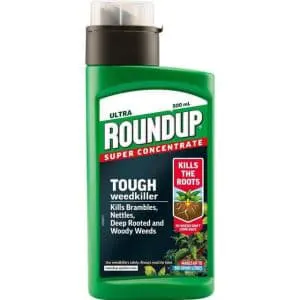 Pros
Best weed killer

This product is very fast and effective

These weed killers get rid of almost all the unwanted vegetation
Cons
These potent weed killers are one of the more expensive options
Weeds are seriously destructive, interfering with plantation operations as well as altering the appearance and lowering the value of crops in their vicinity. You may be sure to get rid of all the weeds with the Roundup Tough weed killer because it is the best weed killer that works from the root and kills the weeds permanently.
When sprayed, it is absorbed by leaves and recently cut wooden surfaces, which then spread throughout the plant, making the weed removal process lasting. For how tough it is on grasses and deep-rooted perennial weeds, farmers can breathe a sigh of relief with this weed killer.
Roundup is the best weed killer to use because it is flexible enough to kill both soft and hard weed plants in the garden, such as Ivy, Asparagus Fern, Wandering Trad, Blackberry, Lantana, and even a tree stump. With a single application, all unwanted vegetation such as trees and freshly cut tree stumps in and around your garden are eliminated, such as those growing through hard places such as patios, paths, tarmac, gravel, and paving.
Before you plant your flowers or renovate the overgrown areas, use this weed killer to clean up all the places that are prone to weeds. After 48 hours, the leaves of the weeds will have developed a yellow coloration. This demonstrates that the mixture works from the inside out to kill the weeds at their roots, preventing them from sprouting again.
To keep your garden looking nice, kill the weeds as soon as possible. You get efficient and quick results thanks to its unique formulation, which combines two effective ingredients. This powerful weed killer is extremely convenient to use because it is pre-mixed and ready to use right away.
Resolva –  Best Known for Its Concentrated Weed Killer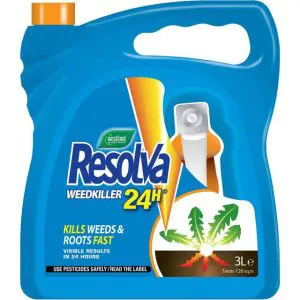 Pros
This weed killing spray is very powerful and effective

These weed killers have unique IQ technology for great performance

These weed killers come in an ergonomically designed spray bottle

The weed-killing spray comes at a great price
Cons
It highly destroys all green plants when it comes in contact with them even the good plants
Are you a farmer or gardener who is having difficulty controlling tough and invasive weeds? The Resolva Concentrate Weed Killer is an excellent option at an affordable price. This weed killer is effective against both weeds and roots, as well as seasonal and deep-rooted permanent grasses and broad-leaved weeds.
You know how difficult it is to eradicate weeds such as bracken, docks, common couch, cleavers, common Nettle, brambles, perennial sow thistle, and others that have taken over a large area with just one treatment. It may achieve fast weed removal results with this weed killer, even on the toughest weeds.
This is due to the presence of glyphosate in the components, which has a powerful and extremely effective systemic impact in killing the weed and its root. Choose a calm day to spray the concentrated root killer for the best effects. That is because, on a quiet day, the weeds grow rapidly and have a huge surface area to absorb the weed-killing spray.
Important Tips
Our tip is to be very cautious about when you spray this weed killer to avoid wasting it and having to re-treat the area. For example, if it rains within 6 hours of application during the rainy season, the treatments will be washed away, reducing their effectiveness. To totally eliminate the weeds, you'll need to apply more of it.
To prevent the weed from growing, you must reapply the treatment for harder weed plants. It's worth noting that this is a powerful weed killer that necessitates close attention to the area where you'll be applying it. This systemic weed killer can be used to get rid of unwanted vegetation and in regions where vegetation isn't allowed.
Do not apply this weed killer for grass in that region unless you wish to eradicate the grass on the lawns. When spraying cultivated plants as well as other vegetation, use extreme caution to avoid spray contact. You should also avoid inhaling the spray or allowing it to come into touch with your skin because it is toxic.
Resolva Path and Patio Weed Killer – Best Known for Ready To Use Power Pump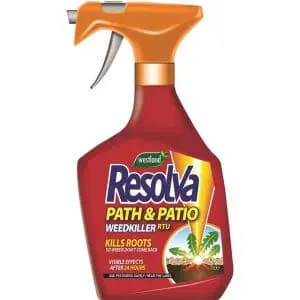 Pros
Fast acting with visible results in a day

Systemic and non-selective for killing various annual and perennial weeds

Comes with a power pump and spray for easier application
Cons 
Some weeds take longer to die but this is common with most systemic weed killers
This Resolva weed killer comes with a convenient pump and spray canister for quick and easy spraying around the yard. Simply elevate the spray lance, pump the handle as recommended, and then relax for about five minutes as the spray lance continues to spray.
It's incredibly convenient not to have to mix your own solution or use a watering can or spray bottle, and you can even refill the container once it's empty, saving you money on a spray bottle or a watering can. The spray is effective on large areas such as patios and driveways, allowing you to quickly target weeds growing alongside other plants. Just make sure the solution doesn't come into contact with your plants or flowers.
It's also a highly fast-acting weed killer, with results appearing in as little as 24 hours. You may use it to kill all of the usual recurring and seasonal weeds invading your garden, however, larger and harder weeds may take longer to kill. Since the entire solution covers up to 160 square meters, you'll probably get a lot of use out of the weed killer before needing to replenish it. Expect it to eradicate weeds such as nettles, bindweed, dandelion, and sometimes even grass.
Westland Resolva Pro Ready to Use Weed Killer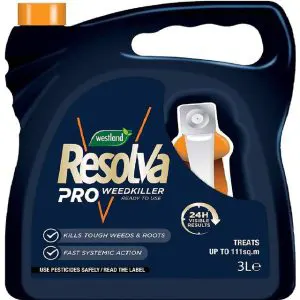 Pros
Eliminates the top worst weeds

Results after just 24 hours

Ready-to-use formula
Formulated to destroy the weeds that are causing you problems in your garden and on your allotment. Resolva Pro Weedkiller removes all types of weeds, including annual weeds like chickweed that smother new plants and perennial weeds like dandelions.
The active ingredient glyphosate gets to the roots of the weed and kills it by affecting all areas of the plant. This weed killer may be sprayed on the lawn to destroy weeds while leaving the grass alone. Annual and deep-rooted perennial weeds are the ideal targets, but it also works on thistles, dandelions, docks, nettles, bindweed, and a variety of many other broadleaf weeds.
After just 24 hours, you'll notice visible results, especially if you apply it in sunny, dry conditions. All known pesky weeds are killed by the systemic action of glyphosate, which kills their roots, branches, as well as blooms. It's best to start spraying in the spring when the weeds are just getting started so that the leaves can absorb the sprays, which should be directed around 50cm away from the intended target. It's perfect for pathways, patios, gardens, flower beds, as well as around trees and lawn edging because of the targeted spray on the nozzle.
Resolva Pro Weedkiller is a ready-to-use spray gun that feels natural and easy to hold. For the best results, we recommend using it on a sunny, dry day.
Buyers Guide: How to Choose the Best Weed Killer for you?
Knowing which weed killer is best for your garden might be challenging with so many alternatives. Every weed killer has a specific purpose, with some killing all types of weeds and others being more selective.
Weed killers are available for pathways and patios, lawns, flower beds, vegetable gardens, as well as general garden use. Some may be quick-acting, while others take longer, not to mention the various substances used, which provide different outcomes based on the type of weed you're attempting to eliminate.
As a result, it's easy to become perplexed by the numerous weed killer alternatives available in UK gardens. Chemical weed killers are divided into five categories, and which one you choose is determined by the weeds you're seeking to eliminate and the location of the weeds. There are a variety of weed killers available, each with its own set of components and consequences. Knowing what kind of items are available and what their primary applications are might help you choose something that matches your needs.
Pre-Emergent and Post Emergent
These weed killers are the two most common forms of weed killers. They are employed either before or after the weed has sprouted from the ground, as the names suggest.
The most prevalent weed killers in the UK are all post-emergent, so choose this choice if you already have weeds to deal with. Pre-emergent are good for preventing growth in the first place, thus they can be used early in the growing season during sowing and planting.
Contact
After making touch with the plant, a contact weed killer will destroy it. These are the most popular types found in spray bottles, and they only need to be applied to the weed and left alone to die. They produce immediate benefits, but they may not be long-lasting, owing to the fact that the chemicals primarily affect the plant's above-ground section.
Contact weed killer usually starts acting in a matter of hours, with noticeable wilting occurring quickly after application. The weed will last for a few weeks before entirely dying out.
Systemic
These weed killers are far more powerful than contact killers, despite the fact that they are used in the same method, by spraying the plant's above-ground part. The primary distinction is that the toxins are absorbed and transmitted throughout the root system by the weed leaves.
This kills the entire weed, including the roots, and prevents it from growing again. Systemic weed killers, unlike contact killers, take longer to destroy the plant, frequently taking several weeks to show results. Systemic weed killers are useful for tougher weeds like dandelions, thistles, and brambles, which require more work to remove by hand.
Lawn Weed Killers
This weed killer, also known as Selective Lawn Weed Killer, is particularly designed to kill any plant other than lawns. After using these weed killers, you normally leave the initial mowed clippings on the lawn. For a minimum of 9 months, the second and third mowed clippings should be fully composted.
Residual Weed Killers
These, also known as residual weed killers, work by poisoning the ground where the weed killer is administered. Due to their potency and the length of time they remain in the soil, many of these weed killers have been banned from sale. They can survive for months or even years in the soil. Weed killers of this type are only used as a last option.
Non-Selective vs. Selective
All of the weed killers described above can be classified as selective or non-selective. Selective weed killers target specific types of weeds, whereas non-selective weed killers kill practically anything they come into touch with, including plants, grass, flowers, fruits, and vegetables!
Selective weed killers are ideal for areas such as lawns and flower beds where you don't want to destroy everything other than the weed. Non-selective weed killers are highly effective, but they are also dangerous to use near other plants because they destroy all plants equally. They should be used with greater caution and precision.
Important Tips When Purchasing the Right Type of Weed Killer
Do you require the best Weed Killer for your garden in the coming days? If that's the case, read our review of the best weed killers now available. Each of which can be ordered online and delivered to your home without fuss. Many of these brands should be known to you, and we've included a variety of spray gun options for targeted low-volume work as well as solutions for covering bigger areas that require higher volume doses.
Whenever it comes to controlling weeds in your yard, the improper weed killer won't do the trick. You must first identify the invading weed before utilizing that weed killer that has been sitting in the shed for years or the first one you come across in the store. Once you've determined out what kind of cannabis you're dealing with, you'll be able to figure out what kind of weed killer will work.
You'll have a better notion of what type of weed killer you'll need for your garden now that you know the many varieties of weed killer available. Consider the following pointers to help you in selecting a proper weed killer:
Effectiveness Rate
Weed infestation is an issue that must be addressed swiftly and without mercy. It can detract from the visual value of your backyard or front lawn, negating all of your efforts to make it attractive. Then the first thing you'll check for is how good a weed killer is and whether it has a long-term effect on preventing further weed growth.
The first step in determining a product's effectiveness is to examine if it has all of the necessary ingredients. You'll need some effective ingredients if you want to get rid of the weed growth quickly. Glyphosate and Imazapyr are two of the most powerful weed killer chemicals. In the product you choose, look for both of these substances.
Type of Weed
What type of weeds do you have in your garden? We've mentioned this above.  You may need a systemic weed killer for difficult perennial weeds like dandelions, yarrow, or creeping buttercup, although annuals may be handled with a contract killer. Also, keep track of whether there are multiple types of weeds or a big number of the same type. If there are a number of different weeds, use a non-selective herbicide.
Weed Location
Determine where the weeds are in your garden and select an appropriate weed killer. If it's on your lawn, for example, you'll need a specific weed killer to keep the grass alive. There are other weed killers that are formulated for certain locations. Patio and driveway weed killers, for example, are effective in eliminating weeds that grow between cracks, stones, and other similar locations.
Furthermore, keep in mind where they are in relation to the other plants you have. If you're controlling weeds in a flower bed or vegetable patch, pick a selective weed killer that won't harm your plants.
The Uses
When it comes to weed killers, there are two types of applications to expect: functioning and concentrated solutions. Concentrated weed killers are non-diluted formulae that must be converted into a working solution because of the high cost of purchasing a working solution.
However, certain high-quality solutions provide a simple and rapid approach to transform concentrate into a functional formula. All you have to do now is combine the herbicide with a gallon of water, and you're done.
Resistance To Water
Choosing a low-cost weed killer may appear appealing, but it comes at a high cost, and the solution is not waterproof at all! And if it rains, you'll have to wait for the lawn to dry before re-applying the weed killer, which will take hours. Herbicides that are rainfast, quick-drying, and long-lasting are the best.
Safety
Know that weed killer contain a mixture of chemicals that might be hazardous to handle, so always check to see whether they're safe to use and if there are any specific directions to follow. Whenever it comes to the ideal weed killer for the lawn, it's important to remember to stay safe and avoid being exposed to potentially harmful chemicals. So, check for the product's extras, such as nozzles and backpacks, as well as anything else that can assist you to spray the chemicals with minimal exposure.
Choose one weed killer that is suitable for dogs and children, meaning it won't harm anyone if they touch the area soon after it's been applied. Keep in mind that stronger weed killers may be more harmful, so study the safety information before purchasing.
What is the best way to apply weed killer?
Look over the directions. Put on some gloves and get to work if you're using a ready-made spray; if it's a concentrate, pour it into a watering can or sprayer and dilute your mixture as instructed on the bottle.
Check the weather forecast to avoid having your weed killer washed away by a downpour or having the combination blown back in your face by high winds. It's also a good idea to apply weed killer first thing in the morning, as this allows the unwanted plants plenty of time to absorb the solution and die.
Some weed killers begin to work within 24 hours, while others may take up to a week to show significant results. Do not reapply without first reading the directions. If you still have persistent weeds after the recommended time, there's typically no harm in giving them another dose to finish them up.
When Should You Use a Weed Killer?
To ensure that the weed killer components are absorbed and taken in, spray only while the weeds are actively developing. Avoid applying on windy days and wait until the weather is quiet to avoid any unintentional spray overs or spillovers. The weeds being sprayed should have enough leaf cover, and you should try to avoid spraying them if rain is expected in the following 6 to 10 hours, which isn't always easy in the UK. If it rains within 6 hours, a second application may be required to complete the job properly.
Other Important Thing to Remember
Always remember that these weed killers do only one thing, to kill your garden weeds. It seems so obvious, however, it's harder than you think to create a product that kills weeds on a pathway without even polishing off your plants and grass in your area and even without damaging your lawn.
How much weed killer do you think you'll need?
If you're treating a small area, a "ready-to-use" weed control solution that doesn't need to be diluted with water may be more convenient. However, if you're treating a large number of weeds across a large region, you might want to select a more cost-effective concentrated treatment. In either instance, only purchase the amount of herbicide required to treat the calculated area. You'll save money and won't have to worry about herbicides being stored safely around the house.
Is there an alternative solution for Weed Killer?
Chemical weed killers aren't always the best option; instead, try natural alternatives like boiling water or white vinegar/acetic acid. The best part is that you may get a flame weeder or flame pistol. It's not exactly environmentally friendly and should be treated seriously, but it does make you feel like a  hero when you're weeding the garden path.
Get Your Best Weed Killer Now
Your patio, lawn, or garden's appearance speaks a lot about you. When you have the right tools, maintaining it is simple. You may create a beautiful outdoor space with a lawn edger, grass moss killer, patio cleaning, and killer, and just a little work on your part.
A weed killer can help in the removal of weeds that are suffocating your lawn or infesting your flower garden. However a lawn rotavator can remove unwanted plants, a weed killer will ensure that you won't have to deal with the problem again for a while. Since we've shown you how to select a high-quality weed killer that will match your demands, it's time for you to decide.
We hope that by completing this list of the best Weed Killers for fighting your home and garden weed problem, our research here can help you in some way and provide you with some suggestions to consider when determining which option will work best for you. These brands have been tried and tested multiple times, giving you a high level of trust in their ability to deliver results. When it comes to choosing the finest weed killer for your lawn, there are a number of aspects to consider before making a final decision.