The best exterior wood paint, just like the best fence paint, is particularly made to not only look good but also protect your doors, windows, shed, and fences.
There has never been a better time to tackle all of your home's exterior woodwork than now. With a smattering of sunny days expected to hit the UK at some point during the summer. If the combined destructive forces of rain, UV light, and general wear and tear have taken their toll on your outdoor wood. Now, it's time to break out the paintbrush, roller, or whatever DIY weapon of choice you prefer. Get to work in the garden with the best protective paints and stains to nourish and rejuvenate all your neglected wood.
Exterior wood will be faced with weather conditions, including sun, rain, wind, cold, and maybe snow. As a result, for a beautiful finish, paint that helps protect the natural beauty and strength of wood is required. However, you want to style as well as substance, so choose a color that enhances the natural beauty of your garden or matches the exterior of your home for a good look.
Nowadays, there are so many exterior wood paints to choose from. It might be difficult to find one that meets your goals and fits your budget, especially if you're a first-timer. To save you time, we've compiled a list of the best exterior wood paint UK currently on the market. In this article, we'll look at the best exterior wood paints review for 2021, as well as their pros and cons.
Rust-Oleum Furniture Wood Paint – Overall Best Exterior Wood Paint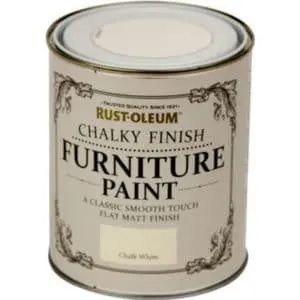 Pros
Excellent coverage

Suitable for a range of materials

Touch-dry in 2 hours

Plenty of color options to choose from

Paint and primer all-in-one
Cons
Doesn't work as well with a brush
Do you want to transform it into your garden furniture and give it a bright new look that will last for years? This garden paint is simple and easy to apply, drying in an hour and ready to recoat in four. It is known for being the best exterior paint for wood.
One of the most versatile solutions for anyone looking to transform some outside wood is all-surface paint. An all-purpose alternative like this Rust-Oleum paint might help if you're looking for the best outdoor paint and if you don't want to switch pots while switching between cast-iron gates and hardwood planks. If and when needed, it's simple to wipe clean – or scrub for more tenacious stains.
The Rust-Oleum exterior wood and multi-material paint is a paint and primer in one that works well on a variety of surfaces. The range of colors offered complements wood, metal, ceramic, and plastic as well. Whereas the manufacturer recommends adding a stain-blocking primer, you should have no trouble getting fantastic results with this paint.
The Rust-Oleum paint is not only quick-drying and simple to apply. However, it also has a long-lasting formula. With only one pot, you can cover up to 9 square meters and it dries in just two hours. It's not the ideal paint to use with brushes because it can leave streaks.
Cuprinol Garden Shades – Best Exterior Wood Paint For Brush or Spray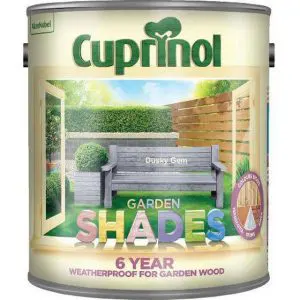 Pros
Harmless to plants and pets (water-based)

Available in a range of colors

Works on bare wood and other materials

Good for brush or sprayer application

Long-lasting design
Cons
It May not live up to its weatherproof claims
Cuprinol might help if you're looking for the best paint for external wood windows or just want something that will last the test of time. Cuprinol's garden shades collection is one of the most popular water-based outdoor wood paint options. This water-based formula provides 6-years of weather protection on wood.
It's simple to apply with a brush, or it's ideal for spraying. Two coats will provide a durable matt weatherproof finish that will last at least five years while bringing out the inherent texture of the wood grain. In about an hour, it should be dry and ready to recoat, so you may add a third coat for a richer, deeper finish. When applying to rough sawn wood, keep in mind that you'll only obtain around half the coverage of planed wood.
One amazing fact about this exterior wood paint is that it also works on other types of materials. The same paint can be used on brick and stone. Furthermore, the water-based solution can be used in a spray system. If you're seeking a consistent and smooth opaque finish on your furniture, this is a perfect option.
Cuprinol's garden shades line includes a wide choice of colors to choose from. Then, the formula lets the natural wood grain shine through, giving the effect of a stain rather than an oily black color. The only drawback is that this fast-drying lotion does not appear to be as waterproof as it claims to be. Customers claim that the wood paint does not protect effectively against the elements, even after applying a second layer to aid strengthen the protection.
Johnstone's Garden Colours – Best Exterior Wood Paint for Garden Furniture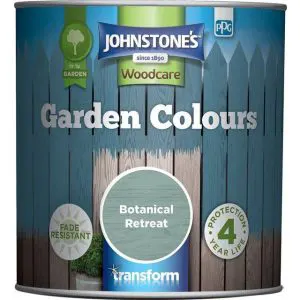 Pros
Water-based paint safe for pets

Suitable for a range of garden furniture

Quick and simple application

2 hour quick drying time

Range of bold colors
Cons
Some might dislike this paint
The Johnstone series is another wonderful option for the best exterior wood paint. This cutting-edge wooden paint solution is available in a variety of colors to complement any garden. Moreover, one or two coatings provide up to four years of protection on all types of garden furniture. Summer houses, seats, tables, fences, and other structures can all benefit from it.
All of your outdoor furniture will be protected for up to four years with the Johnstones wood paint solution, giving you a long-lasting satin finish. This product is water-based, so it won't harm your pets or plants like some of the other best exterior paints.
With a smooth formula that creates an exquisite coat of long-lasting color, Johnstone's guarantees a quick and uncomplicated application. Your garden will also be ready for any unexpected weather thanks to the two-hour drying time. You can apply a second coat after two hours to ensure that you receive the best, boldest look possible.
One minor issue is that, despite the fact that this paint is available in a variety of colors, the colors on the product descriptions do not quite match the alternatives you receive.
Rustins – Best Exterior Wood Paint for Wrought Iron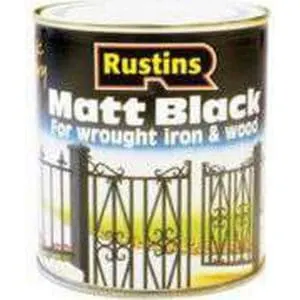 Pros
Water-based wood paint for safety

Excellent gloss finish

Stays strong over the years

Easy to apply

Quick to dry
Cons
Can peel over time. Double-coating is required.
Rustins got you covered if you're looking for the best wood paints that also perform well on wrought iron. These satin-finished exterior paints offer your outdoor furniture a gloss appearance. You may apply one or two coats depending on your needs. Aside from a magnificent gloss surface, you also get excellent weather protection.
Rustins may offer the best exterior paint for you if you're concerned about the environmental hazards linked with oil-based paints. This water-based paint mix ensures that your glossy finish lasts for years while causing no harm to animals.
Even if you only need one layer, the water-based paint is long-lasting and simple to apply. Water can also be used to readily remove the paint, which is difficult with many gloss paints. This interior and outdoor paint option complements a wide range of furniture styles, including wooden furniture. Furthermore, it dries quickly.
The minor of this outdoor wood paint option is that it peels after a while.
Dulux Weather Shield – Best Exterior Wood Paint for Weatherproof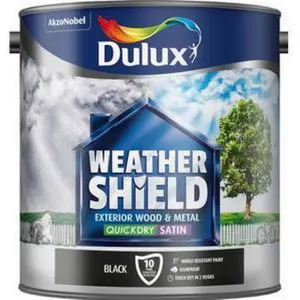 Pros
10-year weather protection

Resistant to mold and cracking

Gloss finish

Multiple colors available

Quick-drying performance
Cons
Dulux is among the most well-known paint companies. For indoors, the firm offers a variety of one-coat satin, matt, and gloss finishes. However, there are numerous colors available for external wood paint. If you're looking for gloss paint that resists mold and cracking, the weather shield option is ideal.
Throughout our best outdoor wood paint review, we noticed that Dulux weather shield paint is extremely dependable, promising 10 years of weather protection. Only a few companies guarantee their best exterior wood paints for ten years. With one or two coats, the waterproof paint comes with a special gloss film that adds added protection.
As per Dulux, this paint can easily last ten years, giving your surfaces a stunning appearance. Before you start painting, make sure the surfaces you'll be painting are clean and sanded to eliminate any gloss.
Any wood that you intend to paint will need to be primed for extra protection. One minor issue is that this paint dries rapidly, making it difficult to spread evenly. Furthermore, you do not receive a large tin for your money.
Crown Quick Dry- Best Exterior Wood Paint for Gloss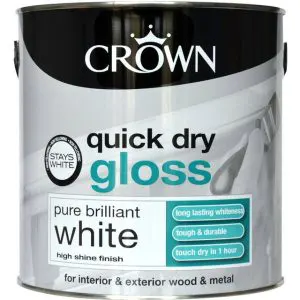 Pros
Great wipeable finish

Range of colors to choose from

Not oil-based

Durable design

Works indoors or outdoors
Cons
Too quick to dry for some people
Anyone looking for the best exterior gloss paint for wood should consider this option. With a simple recipe, the Crown quick gloss paint collection provides you with a satin effect in no time. The Crown formula is ideal for exterior wood and metal, and it works both inside and out, with a non-yellowing formula that lasts.
These external wood paints come in a variety of colors to meet your needs and will help you convert your previously painted or bare wood furniture is only a few coats. The vivid and bold finish of the fast-drying water-centric paint lasts longer. That means you won't have to repaint as often.
Another advantage of these paints is that they have a wipeable and long-lasting finish, making it simple to remove any moss or debris that has accumulated on the fences and gates over time. With a one-hour touch-dry performance, you can get through jobs quickly. It's worth noting, though, that the paint's quality isn't as gleaming as it appears.
Another minor issue is that the fast-drying formula might make it difficult for people to achieve an even look.
Ronseal Weatherproof – Best Exterior Wood Paint In Wide Coverage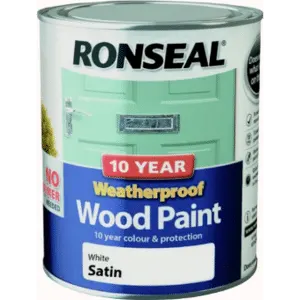 Pros
Quick and easy to apply

Works well on a range of surfaces

Good selection of colors

No primer needed

Provides excellent protection
Cons
Some might dislike this option
This weatherproof product from Ronseal could be just what you need if you have outdoor wooden doors and windows and need paint that will keep them looking beautiful for years. That long-lasting paint comes in a gloss or satin finish and is carefully engineered to flex with the movement of wood This makes it resistant to cracking, peeling, and blistering. It's ideal for bare or previously painted wood. If properly prepared, you should be able to receive 10 years of use before having to repaint.
It dries quickly and is waterproof, making it ideal for painting in inclement weather. For previously painted wood, two coats are required And for raw wood, three coats are required. Lastly, no primer is required. For previously painted wood, two coats are required And for raw wood, three coats are required. Lastly, no primer is required.
For both weather protection and good color performance, Ronseal is one of the most well-known exterior paint firms. In about an hour, the business claims, you'll have a gorgeous finish with one or two applications of paint. As a result, you'll be able to do your garden chores much more quickly.
In a variety of colors to fit any landscape, Ronseal promises waterproof performance and great protection. With a single tin of Ronseal paint, you may cover up to 8 square meters. Furthermore, the paint dries in about an hour, allowing you to begin adding a second layer sooner. To remove prior wood color, Ronseal's weatherproof process doesn't require a primer or many pricey additions. It can be applied directly to wood surfaces or over already painted surfaces. 
Dulux Exterior Wood Paint – Best Alternative Option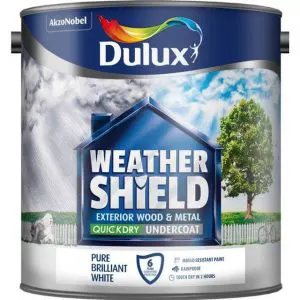 Pros
Offers 10 years weatherproof protection

Easy to apply

Comes in a variety of stunning high gloss colors

Suitable for application across most exterior wooden surfaces
Cons
You may need to use a suitable primer before the first coat
When picking the best exterior wood paint, make sure it is long-lasting, simple to apply, and, let's face it, attractive. Dulux Weathershield for Exterior Wood and Metal checks all of these boxes, earning our selection for best overall paint.
The paint's easy-to-apply flexible formula allows it to be used on a wide range of exterior wooden surfaces, including doors, window frames, garage doors, and porches. Dulux has struck a delicate balance with this recipe, ensuring that the gloss dries quickly yet slowly enough to guarantee that you can get a lovely smooth covering by laying it off.
In terms of weather protection, the Weather shield offers a 10-year guarantee if the surface is in good condition prior to application. The flexible paint film is ideal for external wood, which is prone to expansion and contraction as a result of moisture absorption and release. Since this paint is flexible, it does not split or peel throughout the expansion and contraction process.
Oxford Blue, Monarch Red, and Buckingham Green are among the six colors available. This Conker hue is our personal favorite, as it dries to a warm and deep mid-brown color with a gorgeous high gloss sheen. The fact that the paint is mold-resistant implies that the colors will not stain and will last longer. Only light colors should be used on south-facing resinous woods.
Sandtex Exterior Wood Paint – Best Paint for High Gloss Finish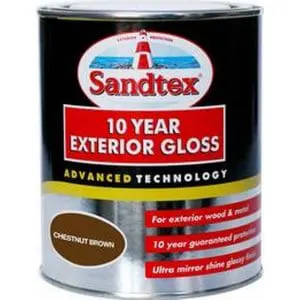 Pros
Tough waterproof finish for exterior wood & metal

Flexible formulation to resist cracking

10 Year Guaranteed Protection

Ultra mirror shine Gloss finish
Cons
Sandtex isn't usually associated with home improvement projects outside of masonry paint. However, if you're looking for a cheaper alternative to the Dulux and Ronseal of the world, try Sandtex's exterior wood paint.
Their high-tech exterior shine may be applied to all wood and metal surfaces, making it ideal for use on wooden windows, doors, sheds, and fences. You may also use any leftover paint on items like metal outdoor furniture because of its adaptability.
The paint's thickness is nearly perfect, ensuring a smooth application and finish with no drips or brush traces. It's also simple to clean up later – simply wash your brushes with white spirit.
Sandtex claims to have a waterproof, robust, and long-lasting protective finish that is guaranteed for ten years. The paint's flexible formula also prevents it from cracking, blistering, or flaking over time.
The high gloss finish is incredibly elegant, with an ultra shine mirror look, and is available in a variety of colors ranging from Chestnut Brown to Box Red. This will give you plenty of room to express yourself.
What Sort of Paint Do You Use on Outside wood?
It's no surprise that we have terrible weather in the UK throughout the year, so picking a paint for outside wood is a big decision. In general, you'll want something that's long-lasting, waterproof or water repellent, and won't fade.
If you're looking for the best exterior wood paint, the first thing you should think about is what you want to paint. This will help you figure out what kind of paint you'll need. You'll need a different type of paint for painting your wooden front door and windows than you would for painting outdoor furniture, decking, sheds, and fences.
For all of us, this means that we'd opt for a high-gloss finish. High gloss is extremely long-lasting, and most wood-specific glosses include flexible film paint. You might wonder why we're so adaptable. Wood, on the other hand, varies in size based on the amount of moisture it contains. When the weather is wet and there is a lot of moisture in the air, the wood will expand. The wood contracts, or shrinks, during dry seasons.
Obviously, the paint layer is not impervious to the wood's expanding and contracting, and if you use bad paint, it will crack and peel. That's why we usually strive for a flexible gloss since it eliminates a lot of these issues.
If you're going to use paint or stain, make sure you acquire enough for two coats to protect whatever you're painting.
Advantages of Using An Exterior Wood Paint
That's easy. Figure out how old the wood is as precisely as possible. It is critical that outside wood surfaces resist UV radiation and are weather resistant. Nobody enjoys standing, so there's no use in subjecting yourself to it year after year by using the wrong products.
The best exterior wood paint transforms worn patio furniture, fence panels, sheds, and decking from drab to fab. This will add extra weather protection to protect your outdoor wood from the elements.
Wood is a living material that evolves with the passage of time. It must be safeguarded and maintained in good condition. Then you'll be able to enjoy the benefits of a high-quality landscape and exterior for many years. Exterior wood paint's fungicidal and insecticidal capabilities are not to be ignored.
Is it Necessary to Seal Exterior Wood Prior to Painting?
That is an excellent question. Let's start with why you might want to seal the wood in the first place. Since wood has natural chemicals that deteriorate paint over time, it's a good idea to apply sealant ahead of time. The sealant guarantees that paint sits atop the surface rather than being absorbed into the wood by sealing the pores. As a result, issues such as warping are avoided. Some products claim that sanding and priming are optional for smoothing and sealing the surface and that the paint is self-priming. However, not all of them do, so double-check. Any of the best exterior wood paint mentioned above is a no-brainer if you want a high-quality self-sealing solution that doesn't require sanding beforehand.
What Are the Factors When Purchasing the Best Exterior Wood Paint?
Look no further than review if you're looking for the best exterior wood paint people can afford to buy. We've spent a lot of time researching the best outdoor wood paints currently on the market. You can rely on this review to help you choose the ideal product for your needs since any of the examined goods will exceed your expectations in terms of meeting your criteria and budget.
Since the specifications and features of these goods are so similar, it may be difficult for first-time purchasers to select which one to buy. However, we have compiled a list of items to think about before making a purchase.
Weather Protection
If you're going to all the trouble of prepping the wood and painting it, you'll want the paint to last. The best exterior wood paint can last up to ten years, but less expensive alternatives can last far less.
It's crucial to remember that the wood must be properly prepared, and the application must adhere to the manufacturer's guidelines. Failure to do so will compromise the paint's durability, causing it to flake, peel, or blister.
Appearance and color
The color of paint you choose will be determined by the color and appearance you wish to give your wood surface. Exterior wood paints are available in a variety of colors to suit any taste. If you wish to match your garden wood to other garden accessories like outdoor bar tables and chairs, garden storage bench, garden obelisks, or garden swing. You'll undoubtedly find the right color. The aim is to select exterior wood paint that matches your preferred color and appearance.
Will there be a long-lasting effect?
Many exterior wood paints are created with the intention of coloring and protecting your wood for many years. For the greatest choice in terms of long-lasting performance, look for properties such as waterproof, weatherproof, fade-resistant, crack, drip, blister, and peel resistance in exterior wood paint. Some paints provide two or more years of protection on wood/.
Safeness
It's crucial to mention that the safety of your plants and pets in your garden is unmatched. As a result, always use external wood paints that are non-toxic to plants and animals once dried. This will protect your garden plants while also enhancing the natural colors of your garden wood.
Application method
The ease of application is the most crucial factor to consider. Many factors, such as paint kind and surface porosity, are likely to influence the ease of application. Water-based paints are much easier to work with than any other sort of paint. All-surface paints, on the other hand, are ideal for quick and easy application on any interior or external surface.
Drying time
Exterior wood paints have different drying times depending on the brand. The drying time may also be affected by the formula of the paint. Some wood paints dry rapidly, while others take longer to dry. The sooner the paint you use dries, the faster you can finish the job and avoid worrying about the weather. For potential consumers, the drying time for each exterior wood paint is clearly specified on the manufacturer's description page.
Area of Coverage
The size of the paint you buy affects the surface area of the wood you want to color. A large surface area necessitates a larger paint size, whereas a small surface area necessitates a smaller paint size. The amount of surface covered per liter varies by product. Double-checking the product manufacturer's description page is the best approach to determine the wood paint coverage area you intend to buy.
Exterior paint that prevents dirt and stains
Dirt-resistant paint makes it tough for stains and residue to harm your paint job. This low-maintenance paint is ideal for the garden's soiled environment.
Washable exterior wood paint
Because you're painting outside doesn't mean you won't need to wipe off your painted surfaces from time to time to remove markings or messes. Exterior gloss paints, for example, allow you to wipe clean your doors and window sills without affecting the final appearance.
Algae & mold-resistant exterior wood paint
Some outdoor paints fight mold in the same way as kitchen and bathroom paints do indoors. Algae and mold-resistant paint is a terrific way to extend the life of your paint job by providing long-term protection for your outdoor surfaces.
Anti-scuff paint
Maintain outdoor flooring, such as porches, with paint that is designed to be more durable and withstand wear. This anti-scuff paint resists stains, keeps your outdoor surfaces looking beautiful for longer, and ensures that scuffs are kept to a minimum. That makes it ideal for garage flooring, as it protects against the movement of heavy things such as lawnmowers and garden equipment, as well as parked cars.
Maintenance
The painted surface may sustain a few hits and harsh dirt over time. Most painted exterior wood, on the other hand, can be simply cleaned with warm soapy water.
If a section of the painted surface has become damaged, simply sand it until it is smooth before applying another coat.
Get Your Next Best Exterior Wood Paint Now
Once you know the right supplies and tools for the task, creating a spectacular-looking outdoor environment does not have to be a difficult or expensive endeavor. You may sometimes add your favorite colors to your outside environment to create the lovely outdoor setting you wish. Painting outdoor surfaces has become a simple DIY job that anybody can accomplish with minimal effort thanks to exterior wood paints.
Exterior wood paint colors are a cost-effective way to add a pop of color to your fences, alter garden furniture, revitalize old conservatory ladders, enhance the natural color of your garden wood, and preserve exterior woodwork from cracks, blisters, and peels. There's no limit to what you can do with exterior wood paint colors to bring color to your outdoor environment.
A fresh coat of paint on your garden's outside wood may make a significant difference. In just a few hours, you can paint and preserve wooden doors, windows, cladding, sheds, fences, and other components.
All of the suggestions we've mentioned above in this post are best for a variety of budgets and finishes. To get the greatest results, make sure the hardwood surface is well prepared and that you follow the manufacturer's recommendations.