If you're looking for the best eyebrow pencil 2021, you've come to the right place. What about a brow kit that will help you create a perfect arch? Just like searching for the best foundation brush, it comes with a thorough and better understanding when it comes to choosing a better and high-quality product. Finding a brow product that fulfills all of those boxes can be like looking for your soulmate on dating sites.
Eyebrows. They've become a part of our make-up routines that we're all paying more attention to overtime. Thanks to the fact that we've finally recognized how transforming they can be. An eyebrow pencil or pen is a must-have in any makeup bag. They make hair-like strokes to top up sparse areas of your brow and create the impression that they are fuller and thicker. They are easy to apply and the perfect travel companion. You want to make sure you're utilizing the right products since they can add definition to the arch.
Nothing beats a set of well-groomed brows when it comes to framing the face. If you ask the professionals, they'll tell you. A pencil is the best option if you want something quick and easy. The great form lends modernism to the face by opening up the eyes, giving proportion to the cheekbones, lips, and nose. It also gives a final touch of polish to your look.
We put this eyebrow pencil to the test by wearing it for a few days to discover which one we preferred. We've compiled and reviewed the best eyebrow pencil UK currently on the market. This will save you a lot of time when deciding which one is best for you.
Charlotte Tilbury Brow Lift – Best Overall Eyebrow Pencil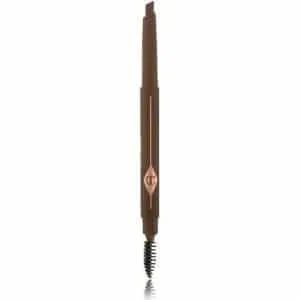 Pros
Refill Available

16-hour wear

Very easy to use

The shape of the tip made filling brows quick work

Great color match

Compact product
Using the Shape, Lift, and Shade tools, create a perfect arch and shape. This brush-tip combs brows while removing excess color. The highlighter end blends in with any skin tone to instantly elevate your brows beneath the brow bone. That brow cream-triangular pencil's form defines and shapes your brow.
Customers adore the texture of this 3-in-1 brow pencil by Charlotte Tilbury, which helps to shape and groom brows with a triangle pencil that defines. Furthermore, they also like the built-in highlighter that lifts, and a brush that leaves brows appearing wonderfully groomed.
The innovative and compact design of this versatile device, which combines three goods into one slim pencil, won over our panel. It was easy to use and filled in brows beautifully, with a great color match, according to testers. There were a few issues, moreover, in that the highlighter wasn't the easiest to blend and one tester thought it didn't make a difference to short brows.
The SuperModel shade (there are five colors to select from) is indeed a favorite, and we can see why: who doesn't want catwalk-ready brows?
IT Cosmetics Brow Power Universal Eyebrow Pencil – Best for Anti-ageing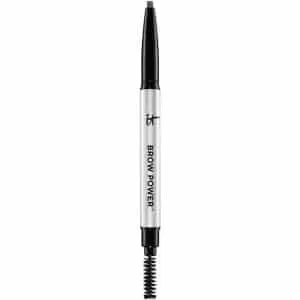 Pros
Universal Taupe shade adjusts to your eyebrow color 

Longwear eyebrow pencil formula that lasts

Built-in spoolie brush delivers a natural, polished look to arched brows

Features brow enhancer ingredients (biotin, lecithin, grape seed, saw palmetto, green tea, and antioxidants)
Your best-selling, award-winning brow pencil is now available in four universal tones to complement every hair color, from the lightest blonde to the darkest brown.  Brow Power is indeed a special oval tip that simulates the look of actual hair and changes to your eyebrow color based on the pressure while also covering gray. The budge-proof product creates natural-looking brows that last, while the built-in spooley brush takes care of the work for you. It's just like your brows, only better!
By varying the pressure you apply to the pencil, you may color match your brows in four adjustable "universal" tones. The claims that this pencil is anti-aging piqued our interest. Its mixture contains biotin, a B vitamin that contributes to good hair, saw palmetto, which helps prevent hair loss and antioxidants.
We found this pencil to be very user-friendly, and it provided excellent coverage in a short amount of time. Women adore the idea of an anti-aging, brow enhancing pencil because our brows tend to grow sparse as we get older. Although we haven't tested it for long enough to determine long-term outcomes after only a few weeks, we are optimistic.
Maybelline Brow Satin – Best Eyebrow Pencil for Budget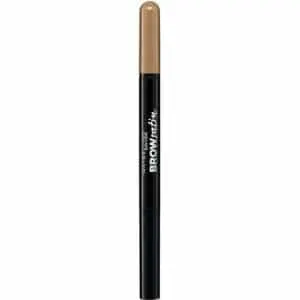 Pros
⦁ Deep Brown shade would suit most Indian skin tones
⦁ The result is very natural-looking brows
⦁ Easy to use
⦁ No sharpening required, no wastage
⦁ The thin point of the brow pencil helps make the outline with precision
⦁ Brow sponge helps to fill in the brows and gives a fuller effect
⦁ Affordable
When it relates to brows, bigger is better. Remember the days of over-plucking and tracing on pencil-thin lines – gorgeously full, thick eyebrows are back, and everybody wants in on this cosmetic craze. Also known as the best eyebrow pencil for beginners.
Maybelline Brow Satin is a dual-ended brow pencil that serves to fill up sparse brows. Filling in sparse brows with eyebrow makeup can provide the appearance of thicker, denser hairs. That thin gel pencil in this product is ideal to fill the eyebrow and define its contour. Due to its size, it is perfect even for thinner eyebrows.
On the other hand, the sponge tip enables you to blend the color seamlessly giving you a richer effect. With carnauba wax, this product gives a smooth application and velvety feel. Furthermore, the pigment of the gel pencil, as well as the cream, is not overly intense. This ensures a natural finish. Available in three shades: Dark Blonde, Medium Brown, and Dark Brown.
This budget buy is two-sided, with a gel pencil on one end and a filling powder brush on the other. It accomplishes exactly what you want it to, which is to give eyebrows a fashionable and natural look in about a minute-and-a-half.
Hourglass Arch Brow Sculpting Pencil – Best Eyebrow Pencil for Rich Pigment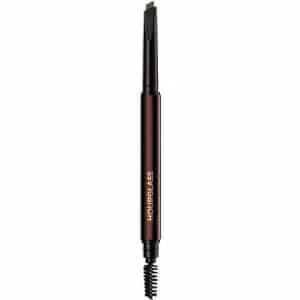 Pros
Buildable formula combines powder, pencil, and wax to create the look of naturally fuller brows

The unique triangular shape allows you to sculpt with broad strokes

Nine shades allow you to customize your desired intensity

The sleek double-ended component has a brush to blend and groom brows into place
A double-ended pencil and a firm, bushy spoolie to tame brows into place are housed in the sophisticated brown-gold package. The twist-up pencil comes in nine different colors. This has a triangular tip with a flat edge for outlining thicker strokes and a thin point for filling in individual hairs.
With a considerable amount of pigment, it produced a good definition at first, but after a few usages. Also, the tip flattened, making it difficult to nail the same detail. The rich pigment, on the other hand, appealed to us because of the vibrant color it produces and the simplicity with which it can be built up in intensity.
This cult eyebrow pencil-hybrid not only comes in nine shades, but it's also a cross between a pencil, wax, and powder. So, it glides on the skin smoothly and creates fuller brows. The pencil has a triangular tip on one end to aid in the creation of perfect arches (can use flat end for broad strokes and the pointy tip for filling in any sparse areas), and a spoolie on the other end for grooming.
What's the best part? Customers love that you can be heavy-handed with it and still have perfect brows. You don't need the delicacy of a makeup pro to get this one right.
Anastasia Beverly Hills Brow Wiz – Best Eyebrow Pencil for Oily Skin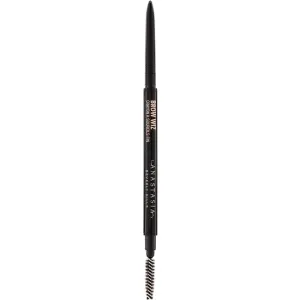 Pros
Cruelty-free

Dermatologist tested

Non-Comedogenic

Gluten-free
Rather than coloring brows in a "block," brow wiz is designed to draw in brows that imitate a natural look with an astounding choice of twelve high pigment colors. It works especially well on oily skin since it contains waxes that are chosen for their ability to remain on all day. We praised it for its precision – it allowed us to shape our brows exactly how we wanted them. Also, its longevity and natural appearance, as opposed to the harsh impact that certain brow products have.
Hollywood's brow expert The Brow Wiz eyebrow pencil by Anastasia Soare is the next best thing to a one-on-one consultation with the Queen of Brows herself.  With a super-slim mechanical nib that can draw in the tiniest of hairs and 10 hues to select from, this pencil will shape and fill any sparse brows.
Is there a general consensus? It's incredible. As one admirer put it: "It's incredibly fine and failsafe because it's so easy to apply, and you can use it to create anything from a soft and discreet brow to a bold Instagram brow. On the other hand, the spoolie is fantastic.
NYX Micro Eyebrow Pencil – Best for Giving a Natural Finish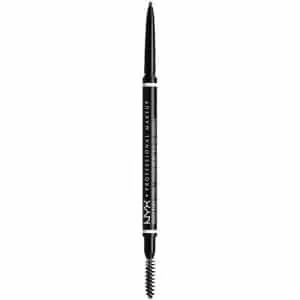 Pros
Travel friendly.

Great packaging.

Glides on easily.

Ultra-thin pencils are easy to use.

Gives a natural finish
With our ultra-thin Micro Brow Pencil, you can create full, gorgeous brows. This micromechanical brow pencil is so exact that it colors even the tiniest hairs for a natural look. Fill in sparse, over-tweezed areas to give your brows more definition. The ultra-thin tip creates ultra-fine lines, giving the appearance of genuine brow hairs.  Colors range from taupe to blonde, black, and everything in between. Filling in your arches with this creamy, high-pigmented micro brow pencil will make them look better than ever!
The NYX Professional Makeup Micro Brow Pencil is a dual-ended pencil that comes in eight different colors to complement any hair color. This ultra-fine tip makes it simple to create beautiful arches by delicately filling in your brows. While the spoolie blends and brushes them into place for a professional look.  NYX's eyebrow pencil has a swivel-up mechanism, is dual-sided, and works well, proving that the best eyebrow pencils don't have to be expensive.
People believe it's the perfect dupe for the more costly Anastasia Beverly Hills Brow Wiz pencil since it has a waxy consistency and is waterproof. The most flexible color is Ash Brown, but Taupe is also a nice option.
ICONIC London Brow Silk – Best Eyebrow Pencil for All Hair Colors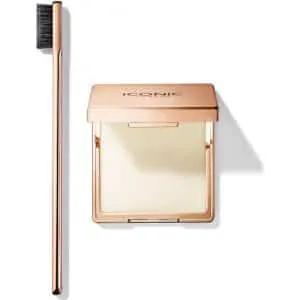 Pros
Perfect for babes of all hair colors

Creating a clear film over your brows gives unbeatable lift and hold with zero chalky residues or crunchiness.

Gripping every single hair, Brow Silk boosts sparse patches and makes arches appear thicker, to save precious brow-filling-in time.
Brow Silk is a really easy way to frame your features. This adjustable brow style adapts to the look you adore – from fluffy and feathered to groomed and sleek. Also, this is inspired by the ancient Hollywood trick of using soap to set brows in place.
The unique composition combines all the best aspects of brow soaps, waxes, and gels in one silky, nourishing balm. This makes it ideal for babies of all hair colors. It delivers incomparable lift and holds with no chalky residue or crunchiness by forming a transparent film over your brows. Brow Silk grips every hair, boosting sparse spots and making arches appear thicker to save time while filling in the brows.
This travel-friendly solution can be used wet or dry and requires no additional sprays. Apply Brow Silk with our unique Brow Groomer for the best results.
Sleek MakeUP Nano Brow Disc – Best Eyebrow Pencil for All-day Wear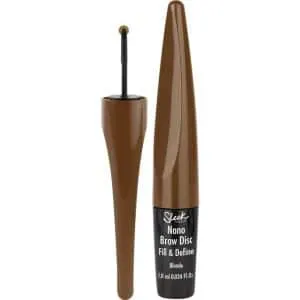 .
Pros
Non-transfer formula

Water-resistant

Sweat-proof

Mimics hair-like strokes

Achieves super precise brows

Defines brows

All-day wear 
Sleek MakeUP Nano Brow Disc is known for its high-quality formulae, and it won't let you down when it comes to enhancing definition. The dual-ended tool includes a spoolie and an ultra-fine pencil tip for a comprehensive grooming experience. Water, sweat, and transfer-proof, the product lasts up to 12 hours and leaves a natural, soft, fluffy finish.
This ingenious liquid brow filler earns points for its effortless application, sweat-proof design (it stays on for up to 12 hours in the heat without smudging), and accurate disc tip, which makes brows look micro-bladed' and 'natural' after use. There are four distinct colors to choose from.
Who Is Using the Eyebrow Pencil? Suitable for?
The eyebrow pencil is frequently used by people who have a very narrow brow with only a few hairs. This eyebrow pencil can be used to outline the contours of the eyebrow or the entire brow, as well as to touch up areas with fewer hairs or repair uneven eyebrows.
Eyebrow pencils are as appropriate for men who want to add more expression to their faces. Men can also emphasize their brows because they are quite crucial for the expressiveness of the eyes and face.
Furthermore, you should be aware that there are a variety of brow products available, and not all of them are suitable for everyone. Use a brow pencil that you can tolerate if you have sensitive skin or are allergic to particular cosmetics.
Which Eyebrow Pencil Color Perfectly Suits You?
Still undecided on which brow product to use? First and foremost, always consider the texture. Since they simply cover the brow hairs, gels are great for adding a minimal amount of color to brows. Pencils and pomades are wonderful for giving your brows a more defined look by filling in any gaps and adding color & shape.
The best eyebrow pencil for you is determined by the color of your hair and skin, as well as the volume and contour of your hair. Always consider your hair color when selecting the proper shade. However, the brows will fade too much if the color is lighter than your hair.  To acquire the greatest potential effect, always consider the natural color of your brows and your own eye color.
Choose your preferred finish.
Try to match your product exactly to your brow hair color for a more natural and delicate brow. Those who prefer a little darker brow or have colored hair should choose a shade darker than their natural hair tone.
Mix and match shades
Your brows shouldn't be one solid color, just like your hair, otherwise, they'll look false and drawn on.  Mix and match your brow products to create a 3D effect for the most natural look. Begin by filling in any gaps with a brow powder kit or pencil, then add depth with a brow gel.
Eyebrow Pencil: Consider the undertones
Always consider the undertones, just as you would while trying on the foundation. Do you have golden or red highlights in your hair? Is your hair darker, with ashier undertones, or is it lighter? For the most natural effect, choose a brow shade that has the same undertones as your skin and hair.
Which Eyebrow Pencil Matches Your Hair Well?
When choosing a color, consider the important factors such as undertone can be important. The undertone should always match the color of your hair and brows. By first determining your hair type, you can discover the perfect color for brown hair.
Choose a brow pencil in a cool, ashy color like Ash Brown or Grey if you have a cool hair type. Warm browns include reddish pigments, so the color of your brows and hair may not match after make-up.
Do you have reddish-brown hair color? Then use warm-colored tones like Ash Blond. In this manner, you avoid having a lot of contrast between your brows and hair tone, and you ensure a natural look.
If you have blonde hair and light brows, your complexion will play a significant influence. Choose a red-pigmented brow pencil if your skin tone is pink; otherwise, go for a more ashy shade.
Choose a light-ash color if you don't have any red in your hair or complexion. Depending on the brightness of your hair, you can choose a lighter or darker eyebrow pencil among the many hues of brown available.
Choosing an eyebrow pencil for persons with natural red or red-colored hair is more difficult. A light brown pencil would be ideal for reddish hair.
How Much Should I Spend for An Eyebrow Pencil?
Eyebrow pencils are available in a wide range of colors and from a wide range of manufacturers. The amount of money that must be spent varies substantially as well. There isn't much of a difference between the various varieties of eyebrow pencils; the pricing is largely dependent on the manufacturer you choose.
You can get eyebrow pencils for as little as two euros at supermarkets and drugstores. However, the quality isn't great because they're usually not waterproof or highly pigmented. Eyebrow pencils are also available in the intermediate and higher price ranges. The quality of eyebrow pencils is highly dependent on the brand.
When it comes to choosing between eyebrow pencils, it all boils down to which one you can work with the best.
Important Factors to Consider Before Purchasing the Eyebrow Pencil
If you don't have naturally shaped, thick brows, don't worry: there are ways to give the appearance of shapely brows.  Using eyebrow pencils is a common approach to fill up thin brows.
When you visit the cosmetics section of your local store or beauty supply shop, there are numerous alternatives to consider. Just as there are with any other type of makeup. Making the proper pick can be difficult with so many options. However, when thinking about a few things before you go shopping can help you select a product that will work best for your brows.
In the following part, we'll show you how to compare and contrast the various eyebrow pencils. We'll go over each of the requirements in detail.
Precision
In terms of precision, the various varieties of brows also play a significant role. It is feasible to work accurately with traditional eyebrow pencils at first, but once the lead wears out, this is no longer viable. Moreover, since firm leads are more difficult to apply, treatments with a creamy consistency are preferable.
After a while, beveled-lead brow pencils are no longer sharp enough to draw very delicate strokes. Eyebrow pencils with a felt tip, on the other hand, are extremely precise but lack color intensity.  Similarly, for precision work, the eyebrow pencil should be as soft as possible, because a harsh pencil can be unpleasant to use on one hand and irritate the skin on the other. Working neatly and accurately needs practice.
Eyebrow Pencil: Ingredients
Eyebrow pencils, like other cosmetics, can include important chemicals. We've compiled a list of the most significant facts about substances like parabens and mineral oil.
Parabens are utilized in a variety of cosmetics as a low-cost preservatives. They are chastised for having an osteogenic effect since their buildup in the human body has the potential to alter hormone balance. As a result, we advise you to purchase eyebrow pencils that are devoid of parabens.
Mineral oils are another ingredient to avoid in your eyebrow pencil because they might cause water loss from the skin. Because the skin can't breathe under the color, the normal regeneration process is slowed.
Properties
Water resistance and the hardness of the eyebrow pencil, in addition to precision and components, are significant considerations. The eyebrow pencil should emphasize the natural attractiveness of the brows by highlighting them. It should also give the eyebrows contour and volume, as well as color an unnoticed brow.
Above everything else, the eyebrow pencil must be waterproof; otherwise, the make-up on the brows may run. Moreover, the lead should not be overly harsh or too soft. A pencil with a hard lead can produce little color, whereas a pencil with a soft lead can only produce dark bars at best.
How to Use an Eyebrow Pencil?
Full, maintained brows can help to frame your face and offer balance to your features. Learning to use an eyebrow pencil can help you get the shapely brow you desire, whether your brows are too light to see, sparse, over-plucked, or just need a little definition. Continue reading to learn how to define, fill out, and shape your brows, as well as how to draw on a natural-looking brow if you've lost your hair.
Before you use your pencil, make sure it's sharp. Rather than using a standard pencil sharpener, invest in a professional sharpener for your eyebrow pencil.
Brush your brow hairs in an upwards motion

with a spoolie or brow brush, generally following the direction of growth. You'll be able to observe your scarce regions as well.

In the direction of hair development,

use short and light feather-like strokes

.  Starting vertically from the center, angle each subsequent stroke in the same direction as your brow hairs.

Blending:

To soften and blend the color, use a spoolie brush.

Fill in the sparse areas with brow powder or a brow kit

for a fuller, more defined look. Next, draw an upper and lower limit with the brow pencil. 

S

et your brows with an eyebrow gel or mascara

to keep them in place for longer.