Choosing the best foundation for combination skin may be challenging, just like looking for the best foundation brush and the best moisturizer. It's important to identify the right formula for your skin, whether it's oily, dry, or acne-prone. However, this isn't always easy. There's a wide range of foundations available, from sheer to full coverage, high-end to drugstore, matte to dewy. How about searching also for the best hair straighteners for looking good every time you're out of town or for work?  It's quite interesting. 
It's important to ensure it's appropriate for your skin type. For example, the best foundation for oily face types is usually matte, whereas dry skin types prefer something a little dewier. The shade match must be perfect and the finish must be to your preference, whether you prefer full coverage, long-wear, or a sheer tint. Now, you have the confidence to face your date today without worrying about the type of foundation you're wearing. 
We're on a mission to make things easier for you, so we've compiled a list of the best foundation for combination skin 2021 according to our Beauty Experts. The search for a long-lasting formula with superb coverage is finally done. Scroll down to read more. 
Urban Decay Stay Naked Hydromaniac Tinted Glow Hydrating Foundation – Best for Dry Skin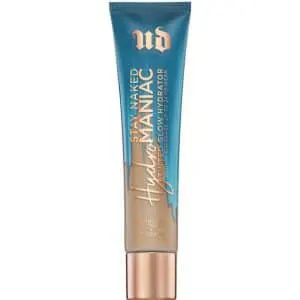 Coverage:

Medium

Finish:

Dewy

Shade range:

12 flexible shades
This dewy, luminous product is just what you've been seeking if you're looking for a foundation that satisfies your skin's thirst. It's light, nutrient-dense, and available in 12 different hues for a moisturizing, second-skin feel. A tinted glow foundation with kombucha filtrate and marula oil for up to 24-hour hydration, coverage, as well as a healthy glow.
New Hydromaniac hydrating tinted glow foundation with a vegan formula that provides up to 24 hours of moisture for your skin. The sheer glow finish with buildable, medium coverage is meant to complement your skin tone by letting your natural skin show through. Hydromania tinted glow foundation is created with Kombucha filtrate and marula oil to provide long-lasting moisture.
This collection of 12 flexible shades is quite forgiving, fitting a wide range of skin tones. It's easy to apply anywhere and doesn't require any tools—we like to blend it with our fingertips for dewy radiance and buildable coverage that lasts all day. To balance out skin tone texture and reduce the appearance of pores and blemishes, use Hydromaniac. Your skin is much more hydrated and healthy-looking after 24 hours. What else could you ask for? The medium coverage and sheer glow finish are designed to fit your skin tone by allowing your natural skin to peek through.
bareMinerals Matte Foundation – Best Powder Foundation for Combination Skin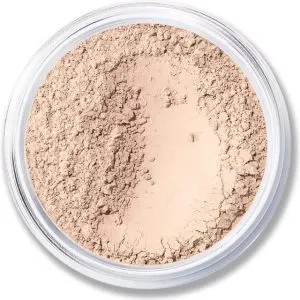 Foundation type:

powder

Finish:

matte

Quantity:

8g

Number of shades available:

2
This award-winning foundation absorbed excess oil and shine for a smooth, all-day finish that doesn't look cakey in dry places. It reduces the appearance of pores while remaining surprisingly light. This powder formula allows for buildable coverage in oily areas while going light on the dry sections. It's a popular choice among persons with mixed skin. Furthermore, with SPF15, you receive a little extra sun protection. Swirl a little amount of powder in the lid till it vanishes into the brush, tap out any excess, then buff into the skin in circular movements.
MAC Studio Fix Fluid SPF15 Foundation – Best foundation for Combination Skin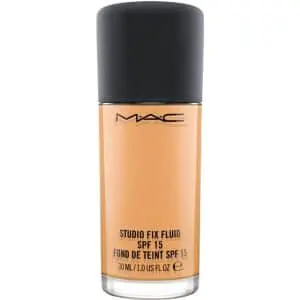 Coverage:

Medium to full

Finish:

Natural matte

Shade range:

67
Also known as the best full coverage foundation for foundation skin. With broad-spectrum UVA/UVB SPF 15/PA++ protection, this modern foundation has a natural matte finish and medium to full buildable coverage. It's simple to apply, create, and blend. It's lightweight and long-lasting, and it reduces the appearance of pores and flaws, giving skin a smoother, more flawless appearance. There are 67 shades in total, with buildable coverage and 24-hour wear.
One of the most well-known foundations, not only because of its extensive shade range and inclusion but also for its dependable coverage and foolproof finish. Always ahead of the game, MAC has long offered a variety of tones and undertones, as well as a wide range of shades to suit all skin tones. This Studio Fix formula also helps to control oil production and resist sweat for 24 hours, and dermatologists have tested it to ensure it won't exacerbate skin conditions like acne.
Estée Lauder Double Wear Stay-In-Place Makeup – Best Liquid Foundation for Combination Skin
Foundation type:

liquid

Finish:

matte

Quantity:

30ml

Number of shades available:

44
This comes with a 15-hour guarantee, which we must confess, we were skeptical of. However, low and behold, it succeeds, leaving a beautiful, matte finish throughout the day and evening without looking unnaturally thick. Moreover, if you wish to add a little pressed powder towards the end of the 15-hour period, you can do so without the worry of caking or clogging. It also doesn't transfer to clothing, which is a huge plus in our book. There's also some UV protection with an SPF of 10. Our best advice is to use it sparingly – a little goes a long way.
Revlon ColorStay Makeup – Best Budget Option Foundation for Combination skin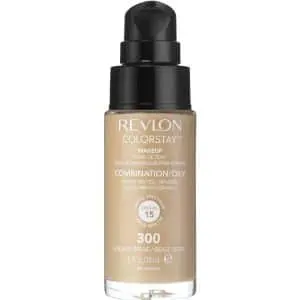 Foundation type:

liquid

Finish:

matte

Quantity:

30ml

Number of shades available:

22
This budget-friendly liquid foundation has a matte finish that lasts all day. It's been a carefully formulated foundation for combination skin, however, we found it to be a little drying, therefore it's best for oilier mixed skin. If you have trouble getting foundation to stay put on an oily T-zone because it virtually glides off your nose. This is an excellent option because it doesn't clog or cake. Revlon's ColorStay foundation, which costs less than ten pounds, provides excellent value, outperforming foundations costing four times as much. Even better,  you might be able to purchase it on a "buy one bottle, get the second half price" offer.
Charlotte Tilbury Magic Foundation for Combination Skin – Best for SPF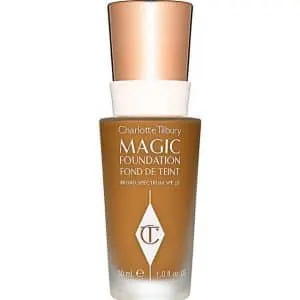 Foundation type:

liquid

finish:

matte

quantity:

30ml

number of shades available:

12
It's a strong statement to consider your foundation "magic", and yet Charlotte Tilbury – make-up artist to stars together with Kate Moss and Kim Kardashian – has every right with this gorgeous offering that took five years to research and development. It works for all skin types, tones, and ages, and it provides adequate coverage while remaining lightweight and natural. Charlotte claims that this foundation feels like a second skin, and while such claims are easy to dismiss, that is exactly how it feels on application – and it lasts. With an SPF of 15, it also provides some sun protection, making it ideal for the summer.
Tom Ford Traceless Foundation Stick Cream – Best Foundation Stick for Combination Skin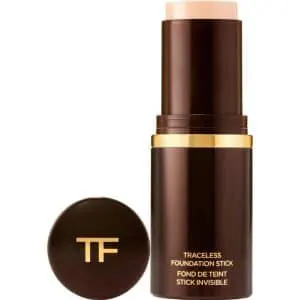 Foundation type:

stick

Finish:

matte

Quantity:

15ml

Number of shades available:

20
Stick foundations aren't always the best choice for combination skin, since the thick, waxy texture can look heavy and clog pores. However, there is always an exception, and Tom Ford's Traceless Foundation Stick is one of them. This formula can be used as a foundation or concealer to achieve a beautiful, long-lasting matte look that stands out from the crowd. Use a little if you want a light appearance; if you want full-on, airbrushed evening glamour, pour it on without worrying about it clogging pores or looking heavy.
Different Types of Foundations for Combination Skin
Other skin types are ignorant of the challenges that persons with combination skin face. Your skin might be oily at times and dry at others. Most of the time, it's a combination of the two.
Finding the best foundation type for combination skin isn't easy, to say the least. Too hydrating formulas can make skin look like it's been sweating grease, and too matte foundations can make dry regions look like the desert.
The best foundations for combination skin achieve overall balance by removing excess oil without caking and hydrating dry areas.  Every product listed below will provide your skin with the nutrients it requires while also making you look beautiful.
Matte-finish liquid foundation
This has a light texture that blends easily for buildable coverage. They're great for blemish-prone skin, but some of them might emphasize flaky skin or wrinkles, which can result in streaking if you try to fix it after the cream has set.
Moisturizing liquid foundation
These foundations have a satin or satin-matte texture and provide light to medium coverage. They're great for giving skin a natural look while also hydrating it without making it feel oily. Ultimately, we think they're better for normal to dry skin than combo skin because the moisturizing finish might make an oily T-zone look even shinier.
Foundations with anti-aging properties and serums.  These compositions are said to provide excellent coverage for all skin types while also claiming to fight the symptoms of aging. But don't be fooled by the marketing hype: manufacturers frequently make inflated claims.
Pressed powder or loose powder foundations
Powder foundations are a simple way to get a smooth finish when you're out and about because they're lightweight. However, they're only suitable for low-level combination skin, which includes areas that are somewhat dry, normal, or mildly oily. The powder can collect around pores on oily skin, and it can make dry skin look even worse. Furthermore, keep in mind that putting the powder on top of an existing foundation can make your skin look cakey.
Powder foundations
With a brush or sponge, these are simple to mix and set to a semi-matte or powdered finish. Some are ideal for combination skin, but choosing the appropriate one is crucial; they can appear heavier than other foundations and exaggerate shine or dryness.
Stick foundations
Sticks are excellent for concealing flaws, especially for touch-ups on the run. However, some have a thick, waxy texture that can appear heavy and cause clogged pores. They can also be difficult to spread.
Best Foundations for Combination Skin: Buying Guide
It's no wonder that many people with mixed complexion avoid using foundation altogether or rather use it sparingly. Many formulas are just excessively thick, blocking pores, triggering outbreaks, and giving you the appearance of having dipped your head in a vat of oil.
Now that foundations are designed specifically for women and men with combination skin, you can get the coverage you need without exacerbating any underlying skin issues. You'll learn how to choose the ideal foundation for your skin that maintains its condition and helps you seem as wonderful as you want to look after reading this guide.
What Makes a Foundation Best for Combination skin?
The formula is the key to finding foundations that work for combination skin. In particular, if you're considering spending time and money on a foundation, it should be gratifying. Extreme finishes should be avoided. Wet and dewy finishes can make dry skin look oily, while ultra-matte finishes can make the dry faces look drab. Look for hydrating matte formulas for dry skin and a demi-matte finish for oilier skin.
Have buildable coverage

Be lightweight (even if it's full coverage)
Powder foundations are not necessary for this skin type, despite popular opinion. There are lightweight foundation formulas that work with your preferences, whether it's a foundation stick, cream, gel, or liquid.
Best Foundation for Combination Skin: Important Ingredients to Look for
If you have a combination of skin types, it's likely that you're unique. The majority of the best foundations for combination skin will have active ingredients that address a variety of common skin problems.
Hyaluronic acid – This is a humectant that helps your skin retain moisture. Hyaluronic acid is a naturally occurring substance in your skin that decreases as you age. One option to boost your levels is to use a foundation that contains it. This improves the suppleness and moisture of the skin without producing breakouts.
Vitamin E – This substance helps to smooth and moisturize the skin by containing antioxidants and anti-inflammatory effects. 
You'll notice a difference in the texture and tone of your skin if you use peptides, which are amino acids that help the body produce more collagen and elastin.
Vitamin B3 – It's also known as niacinamide, and it helps to minimize hyperpigmentation, fine lines, blotchiness, and wrinkles. 
Sunscreen is essential for protecting the skin from dangerous UV rays, and the foundation with SPF ensures that your skin is protected all day.
It's Possible to Have a Happy Combination Skin
What are you waiting for? Get your next best foundation for combination skin now. This is always the best for every man and woman who wears foundation for their work and late nightclubs. The best foundations for combination skin UK offer well-balanced formulas that cater to the needs of your skin type. Our lists mentioned above include solutions that will not aggravate your skin and will offer you the coverage you require.