Lighten your garden with this list of the best solar garden lights 2021, In preparation for some outdoor fun.
The best solar garden lights are a cost-effective and hassle-free approach to illuminate and accessorize your garden. This will allow you to enjoy your outdoor space all year. The greatest solar lights can help alter your yard, allowing you to enjoy your garden long after the sun has set, whether you're working with sprawling yards, a tidy patio, or a cozy balcony.
These best solar garden lights will supply you with the most effective backyard lighting you'll ever need. Solar garden lights are easy to set up and can be placed in almost any place. They will also provide an excellent blend of brightness and tone for your outdoor needs, as well as the ability to survive any form of weather. Installing solar garden lights is incomplete without redesigning your garden using the best fence paint and exterior wood paint for not to give dull vibes. Plus, a weed killer for unpleasant and invasive weeds and a patio cleaner for restoring your patio to its original state, 
However, with so many various best solar garden lights UK on the market, deciding which one is right for your home can be challenging. It comes in a variety of shapes and sizes, and because it is not powered by the mains. Also, it may be placed wherever in your garden. Solar-powered lights are perfect for lighting patios, walks, sheds, decks, and just about any other outdoor place that may use some illumination due to their incredible versatility.
We'll go over some of the numerous different solar garden lights on the market in our buying guide, and then recommend the best solar lights for your garden.
Luxform Leipzig – Best Solar Garden Lights for Top Pick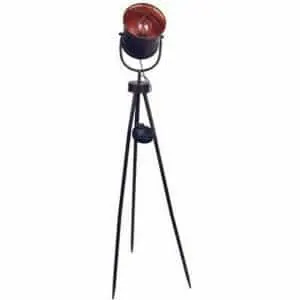 Color: Brown and black

Material: Metal

Dimensions: 40 x 40 x 80 cm (length x width x height)

Batteries required: 2 x AA Ni-Mh 600mAh (included)

With warm white filament LED
This fashionable lamp would look great in any backyard. It should be placed near to your lounge set to provide enough light in the evening. The soft light creates a delightful sense of relaxation. Ideal for adding color to your garden. Its warm soft-tone white Led Light will also add to any seating space. With a sleek yet functional tripod base and a trendy spherical lampshade. The light will automatically turn on as it gets dark owing to a built-in Dusk sensor. Moreover, there is no need for a power supply because it just recharges the two internal AA batteries from sunshine. A full charge should last roughly 6 hours.
You may create a pleasant and personal ambiance in your outdoor seating area with the Luxform Leipzig LED solar study street lamp in your garden. When it gets dark, a beautiful garden demands great lighting, not only to enhance a sitting area but also to draw attention to the most beautiful parts of your garden. It also has a warm white LED light and is steady on the ground, making it an ideal element for a variety of settings.
Luxform Lighting's solar lighting is the fastest, safest, and most convenient way to add ambiance to your garden in the evening. Each lamp is equipped with a cleverly engineered solar panel that transforms sunlight into electricity. This energy is stored in a rechargeable battery that supplies the necessary energy in the evening. Place the lamp in a sunny location during the day to ensure that the battery is fully charged.
vidaXL 40759 Solar Garden Lights – Best for RunnerUp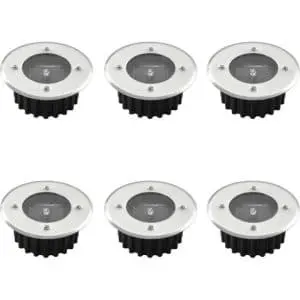 Solar Panel: 2V 30MA

LED: 1pc 10000mcd

Product Size: 8.5 x 8.5 x 3.5 cm

Battery: 1.2V 300MA (Included)

Material: PP, Stainless Steel
You won't struggle to get a suitable spot for these solar garden lights in your yard owing to their simple but versatile design.
The fact that you can just lay them flat on top of surfaces or connect the provided plastic spikes. Then, planting them directly into the soil is one of our favorite features of these lights. The lights shining up at you from either side of the garden path, or lighting up your stairs from ground level, creates a wonderful effect.
Since the lights are so close to the ground, they must be shielded from the rain and dust. The stainless-steel top helps to prevent rust, although the ABS plastic utilized for the majority of the light's underside could be of higher quality.
vidaXL Square Solar Garden Lights – Best for Outdoor Solar Lamp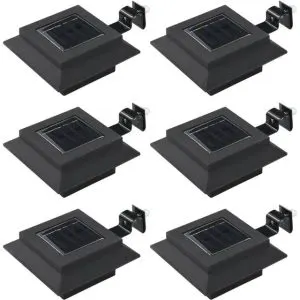 Light color: Black

Power source: Solar

Each solar lamp contains 3 LEDs (3 x 0,06 W)

Each piece with a pre-installed rechargeable AA battery (1,2V / NI-MH 600 mAh)
The AA battery in these LED solar lamps gets charged by the sun. These solar lights for the outdoors can be mounted on the fence or wall, or fitted beneath the roof. Each solar lamp can give 0.18-watt lighting due to three 0.06-watt LEDs within.
These lights convert daylight into power and refresh the battery during the day. They switch on automatically at dusk and run on electricity accumulated throughout the day. The amount of daylight stored determines how long the light lasts.
Solar lamps are low-maintenance, environmentally beneficial, and energy-efficient. These solar roof lights are simple to install thanks to the accompanying mounting brackets. 12 LED solar lamps, 12 mounting brackets, and screws are included.
Luxform Tropez Solar Garden Lights – Best for Path or Pond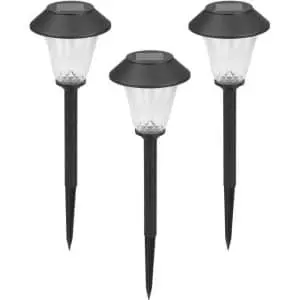 Set of 3 modern skewer lamps

Perfect for along the path or the pond

The lamps work on solar energy and are therefore wireless and sustainable

Dimensions: H 41.5 x Ø 12 cm
During the day, the solar panels turn sunlight into electricity and recharge the battery. The light automatically turns on at night. These lights do not require any wiring and are simple to install.  These lights may last almost the whole night, especially when fully charged. There's an automatic sensor that activates at dusk. Each light is composed of stainless steel and will last for years in any weather. These solar ground spots are ideal for landscaping, garden, and swimming pool illumination, among other applications.
The durability and longevity of these lights are important factors for purchasers, as many of them rely completely on them for outdoor lighting. These are also some of the most attractive outdoor solar lights on the market. Moreover, they would easily blend in with any outdoor house décor, from traditional to modern.
This excellent set of outdoor lights delivers a superb blend of sturdy build and construction, high-quality materials, and outstanding performance. These lights are as gorgeous as they are effective. Each light is bright enough to illuminate your home's pathway properly.
They're also very basic in terms of consistency, function, and installation, requiring only a little force to push them into the ground. They're also extremely resistant to dust and other environmental conditions, making them extremely long-lasting.
LEDVANCE Endura Double Circle – Best Solar Garden Lights for Multifunctional Sensor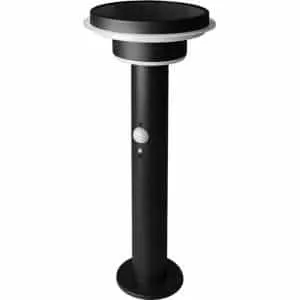 Sustainable lighting with solar energy

Handy multifunctional sensor

Atmospheric warm white light (3000K)

Housing with IP44 protection

Easy installation
This Ledvance Endura Style Solar Double Circle Wall is the ideal lighting option for areas without access to electricity. Solar energy is used to power the light source, which is stored in a lithium-ion battery. Moreover, if you want to be ecologically conscious, this LED luminaire is great. The 6W LED outdoor light saves money by utilizing saved solar energy and has a 50,000-hour lifespan. This implies you'll be able to reap the benefits of sunlight for many years.
You don't want to have to walk outside every day to turn on the garden lighting, do you? You don't have to with this LEDvance solar LED light.  The light source contains a built-in motion sensor and a daylight sensor, so it only turns on when there is movement or when there is insufficient natural light. You won't be wasting any stored solar energy this way.
The LEDvance Endura is protected by an IP44-rated stainless steel housing. This implies that the luminaire on the surface is protected from splashing water. As a result, it can be installed in the garden without difficulty. Fully waterproof LED outdoor lighting is also available for purchase. These fixtures can withstand even the most intense water jets.
Eglo PastionSolar Garden Lights – Best for Motion Sensor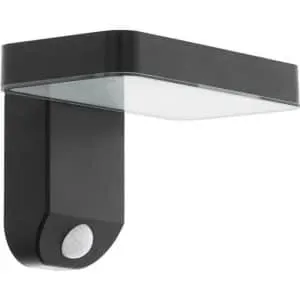 Pastion Solar PIR Motion Sensor Outdoor LED Light in Black

Black finish

Plastic construction

Motion sensor

90-degree sensor angle

8m sensor distance

1 x Li-ion 2200mAh rechargeable battery

Fitted with integral LED module

Class 3, Low Voltage

Non-dimmable

Dimensions: Height 120mm – Width 180mm – Overhang 130mm
Numerous modern houses and gardens can benefit from solar-powered lighting, and Dusk Lighting's extensive collection of solar lights offers a wide selection of styles to choose from. Not only do they have stylish solar-powered wall lights, but they also have external solar lights for safety purposes. This can be mounted along roads and paths, as well as portable solar lights that can be used anywhere.  The Eglo Pastion is a stunning solar-powered and motion-activated outdoor light. No external wiring is required for this superb outdoor lighting option.
With an integrated LED and a PIR motion sensor, the Pastion is indeed a sleek, attractive, and modern solar outdoor wall light. It features a modern design with clean lines and a stunning black finish. This fixture's downlight shape makes it excellent for mounting close to front doors and entrances. This is to provide a welcoming source of light when returning home after a hard day.
During the day, the integrated solar panel on top of the fixture captures energy from the sun to power the light at night. This makes the light simple to install, as it doesn't require any wiring, and it also means there are no ongoing fees. When movement is detected, the light is activated by the embedded PIR sensor. It has a detection angle of 110 degrees and an 8-meter detection range.
Lindby Melinda Solar Garden Lights – Best for Energy Conservation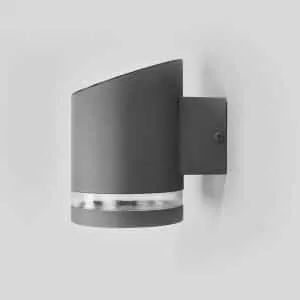 Material: Stainless Steel

Color: Silver

Width: 9 cm

Height: 13 cm

Lightbulb: 1 x 0.5 W LED

IP Code: IP44

Protection Class: III

Including lightbulb
This stainless steel LED outdoor wall light features a timeless grey finish. Traditionally, if you wanted to light a steep wall, you'd have to deal with the issue of not having an easily accessible power source. Melinda, a solar-powered LED outdoor wall lamp, provides a solution. Simply place the lamp where the solar panel will receive enough sunshine, and you'll have a consistent source of light for orientation after dark.
This LED light aids with energy conservation. The modern LED lamp provides a pleasant light source for your house (– for example, living room, dining room, bedroom, kitchen, hallway) or office while saving energy.
It is also suitable for outdoor usage on terraces, gardens, balconies, driveways, and carports. Its protection level IP44 helps to protect against water splashes, making it excellent for outdoor use. Make a great ambiance all-around your home, house, or property by designing your outdoor area.
With Energy efficiency A+, an energy-saving light with the high energy efficiency class 'A+'. They provide you with high-quality bulbs for your lamp, so the lamp can be used directly as lighting. Purchase this high-quality lamp from a well-known brand.
How Do Solar Garden Lights Work?
Although designs differ, all solar lights operate in the same way, with a solar panel, rechargeable battery, and, of course, a lamp. The solar panel is used to charge an internal rechargeable battery during the day. When the sun sets, the lamp is powered by an internal battery. When it gets dark, some lights will turn on automatically, while others will require a human switch.
Where Can Solar-powered lights be Used?
The sole condition for solar light placement is that the solar panel be in direct sunshine; any location that isn't permanently in the shade should suffice.
Is there any wiring that is required?
All of the lights on our list are self-contained, meaning they come with solar panels, batteries, and lamps. Nothing needs to be wired, and nothing needs to be plugged into the mains because they're solar-powered.
Do They Work in the Winter Season?
Solar-powered lights can be used all year, even when the days are shorter in the winter. However, because less sunlight means less charge in the battery, the lights will not stay on as long in the winter.
Are All They Built the Same?
While all solar-powered lights have a solar panel, battery, and bulb, higher-quality models frequently have more efficient solar panels and larger batteries, allowing them to run for longer periods of time.
With so many solar-powered lights to choose from, the best option for you will be determined by your specific needs. Are you looking for a way to make your outside eating experience more enjoyable? Do you want to make your lawn look festive for a special event? Would you like to make your home more visible at night?
It's also worth noting any advertised IP rating, as this will decide how well the lights can withstand water and dust infiltration. The first digit of an IP rating refers to dust protection, whereas the second digit refers to water protection. A lamp with IP64 certification and one with an IP66 rating, for example, should provide equivalent dust protection. However, the latter is better suited to tolerate water infiltration. The higher the number, the better, and you'll probably want IP64 or greater for year-round use.
How to Choose the Best Solar Garden Lights for you?
Take a walk around your yard at night and consider the areas you want to brighten up before choosing your favorite solar garden lights. Then determine which type of solar light is perfect for you. You might choose to paint your driveway, side doors, or even the path itself to brighten it up. Consider how many lights you'll need and how bright they'll have to be to get your desired effect. If you're not sure, adjustable power solar lights can be the finest option. Consider the amount of sunlight a location receives. If your space is limited, you'll need a separate solar panel that can be put in more effectively.
String lights are worth considering if you want to improve the looks of your deck or patio. These don't generate a lot of light, but they're good for the background and give out a nice glow. Nevertheless, if you're looking for solar lights to help you see the steps better, you'll want to look for ones that are bright and suitable for the purpose.
Installation ease and battery life are crucial factors to consider, especially if you want the lights to last all night. If battery life is important to you, try a solar lamp with motion sensors, which will offer light just when you need it and save you money in the long run.
Don't overlook how the solar lights will seem throughout the day. You don't want them to appear cluttered or overbearing. Some have stainless steel casings for a higher-end look, while others have glass lampshades. Some of these can be readily hidden, but make sure they don't become a tripping hazard.
Different Solar Light Types
Security, lighting pathways, adorning driveways, and lighting decks are all common uses for outdoor solar garden lights. Understanding the purpose is the first step in choosing suitable outdoor solar-powered lights. If you're looking for something decorative, look no further. However, if you want to light up a walkway, you'll need strong, focused LED lights.
Path Lights
The purpose of solar path lights is to illuminate a path. These frequently resemble stakes that are driven into the ground, with the solar panel mounted right on top. Worth noting that if you go with this design, your walkway will need plenty of sunlight during the day. Otherwise, path lights with a separate solar panel are a better option.
String Lights
This includes a long cable that links numerous bulbs, which might be small like fairy lights or large like full-size bulbs. String lights are ideally stretched over the target location, which might range from the patio to the flowerbeds. They're made for aesthetics rather than functionality, so they won't let in a lot of light.
Flood Lights
These solar lights are brilliant and strong, filling your chosen area with light. For optimal coverage, they are frequently mounted high on a wall. If you want complete visibility for increased security, they're ideal.
Spot Lights
These emit a narrow beam that may be angled to illuminate a specified area. They're designed to draw attention to specific spots in the backyard and are a terrific alternative to lighting. These, like path lights, are normally fitted with stakes to keep them in place, but they have a much more prominent appearance.
Wall Lights
Solar wall lights, as the name implies, are mounted on your property's exterior walls or fence and offer rapid lighting. These are excellent for nighttime direction and security.
Step Lights
If you have trouble finding your way about your property at night, solar step lights are a must-have. These are mounted along the wall and illuminate the steps more effectively than a single light source.
What Are the Things to Consider when Purchasing the Best Solar Garden Lights?
Solar lights are ideal for today's outdoor lighting needs. The best solar garden lights are the perfect cost-effective alternative for beautifying your yard or garden, brightening up your carport, or just increasing your security.
If you're looking for the greatest outdoor solar lights, we have a great selection for you! Check out what are the important factors to consider when buying the best solar lights in 2021 on the market. As we've mentioned products above,  there are options that will satisfy your needs. Best of all, each of the models discussed above will provide outstanding illumination and performance at virtually no expense in terms of energy!
Before you buy, don't be swayed by online images. These can make the bulbs appear brighter and larger than they are, so read the specifications carefully. If you need to cover a specified area, double-check how many bulbs you actually acquire and the length of any cord.
Consider the lighting tone you want in the garden as well. LED bulbs, which emit white light, are used in the majority of solar lights. Some people may find this too harsh, especially if you're planning on entertaining guests! Invest in solar lights with tinted coverings if you prefer a warm or gentle tone.
If you're about to toss out your current lights, make sure they're truly broken first. They may struggle to charge if there isn't a lot of sunshine. Bring them inside and place them under normal lighting. They will be charged as a result of this! Some models include a USB charger that you may use.
Best Solar Garden Lights: Color Temperature
The color temperature of the bulbs determines the mood of the area that is illuminated. Warm colors are produced by bulbs with lower temperatures, akin to candles and incandescent lamps. Cool colors or blue hues are produced by bulbs with higher color temperatures, which are similar to LED or daylight CFL bulbs.
Coverage Angle And Distance
Coverage may or may not be a crucial consideration when it comes to ambiance lighting. When purchasing a motion sensor security light, however, it should be a deciding element. The sensor's angle of coverage controls how far it can detect motion before the light is triggered.
A temperature of at least 120 degrees is recommended. Any temperature above 170 degrees could be irritating since the light will be activated frequently. A coverage distance of at least 5 or 6 meters is recommended.
Best Solar Garden Lights:
Weatherproof Materials
Solar lights that are placed outside are regularly exposed to rain, dust, and heat. Choose outdoor solar lights that are waterproof or IP 55 certified. These lights are built of weather-resistant materials that can tolerate extreme temperatures.
Flexible Positioning
Some lights have the ability to rotate or flip from front to rear. This implies that by merely moving the head, you may change the direction of light. That type of lighting is versatile and may be used to illuminate a variety of regions with a single installation. Some lights even include a rotating solar panel, which allows you to modify the angle of the panel to gather the most light and fully recharge it.
Settings And Recharge Time
The charge time is the number of hours of sunlight required to fully charge the battery, whereas the run time is the amount of time it takes to generate light during the night. Weather conditions, for example, can have an impact on the charge and run duration. It is suggested that you charge for 6 to 7 hours. A run period of 10 to 12 hours is recommended, but this may vary depending on the quantity of sunshine your area receives and the light's power setting.
Look for a device that allows you to choose between manual and automatic settings. This will allow you to turn on or off the lights as needed, as well as alter the brightness to save battery life.
Best Solar Garden Lights:
Accessories
Check to see if the lamp comes with all of the necessary installation accessories. Screws, extension hinges, and user instructions are examples. The majority of lights are simple to install.
Warranty And Lifespan
The life expectancy of outdoor solar lights is determined by a number of factors. They can live anywhere from 7 to 15 years on average. PV-cell-based panels can endure for up to 20 years. However, the batteries don't last very long and may need to be replaced after a few years. Warranties range from one to three years, depending on the company and product.